Reds top pitching prospect Hunter Greene threw 19 pitches over 100 mph at the Futures Game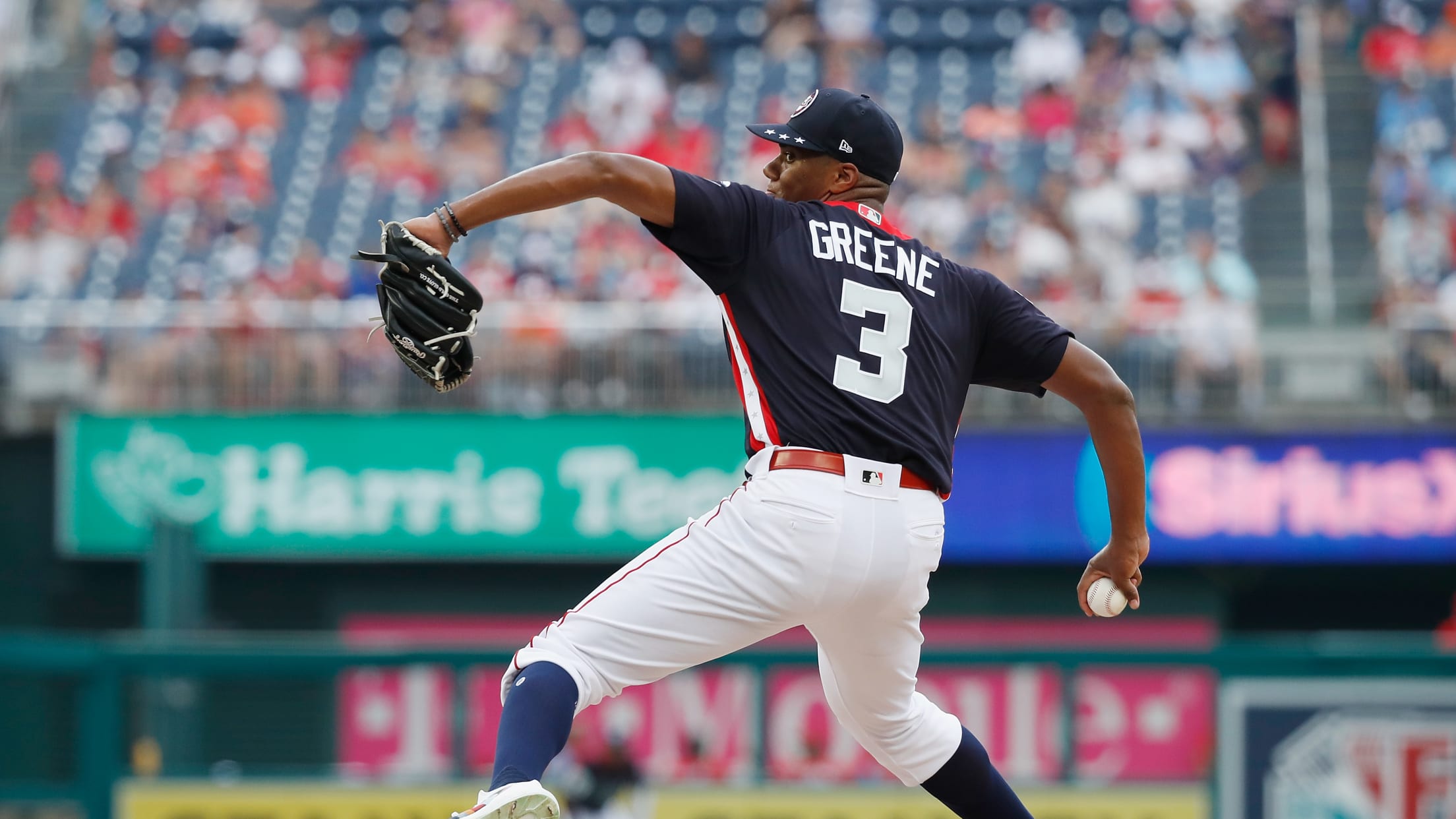 during the SiriusXM All-Star Futures Game at Nationals Park on July 15, 2018 in Washington, DC. (Patrick McDermott)
Hunter Greene was selected second overall in the 2017 MLB Draft by the Reds. Since then, he's spent three games with the Rookie level Billings Mustangs and 16 this season with the Class A Dayton Dragons.
• SiriusXM All-Star Futures Game box score
On paper, the 18-year-old might still look young and not quite ready for the Majors. But on the mound, during Sunday's SiriusXM All-Star Futures Game, Greene looked, um, quite strong.
1️⃣0️⃣2️⃣@HunterGreene17 is bringing the 🔥. pic.twitter.com/PgbiIxa66Y

— MLB (@MLB) July 15, 2018

Yes, 102 mph. And that wasn't the only one. Greene threw 19 (19!) fastballs over 100 mph. You may need some sunscreen for this heat:
He topped out at 103 mph and gave up one run (White Sox prospect Luis Alexander Basabe somehow turned around a 102-mph offering for a solo shot). A few big league teams were also probably pretty jealous watching Greene's performance:
.@Reds prospect Hunter Greene threw 19 pitches 100 MPH+ today in the Futures Game.

Since 2008 there's been 4 teams that haven't thrown that many pitches 100 MPH+
Twins 1
Dbacks 3
Brewers 9
Indians 13

— Daren Willman (@darenw) July 15, 2018
A stat even Green was impressed with:
"It's awesome to be in that company and be able to throw obviously that hard. A lot of work has gone into it: Staying healthy, doing the right workouts, eating right, all that stuff. So, for it to actually come through and happen is really special. That's awesome."
His 103-mph heater would be up there with Aroldis Champman and Jordan Hicks as the fastest in the Majors this year. Fellow Futures All-Star Fernando Tatis Jr., who singled off Greene, was in awe of the pitcher's arsenal.
"That guy's not human," Tatis joked. "He's on another level. Maybe I got lucky or something, but he should be in The Show soon."
And hey, if this pitching thing doesn't work out, the former infielder can also hit a little.