Edinson Volquez ended the no-hitter drought despite Rey Fuentes' best efforts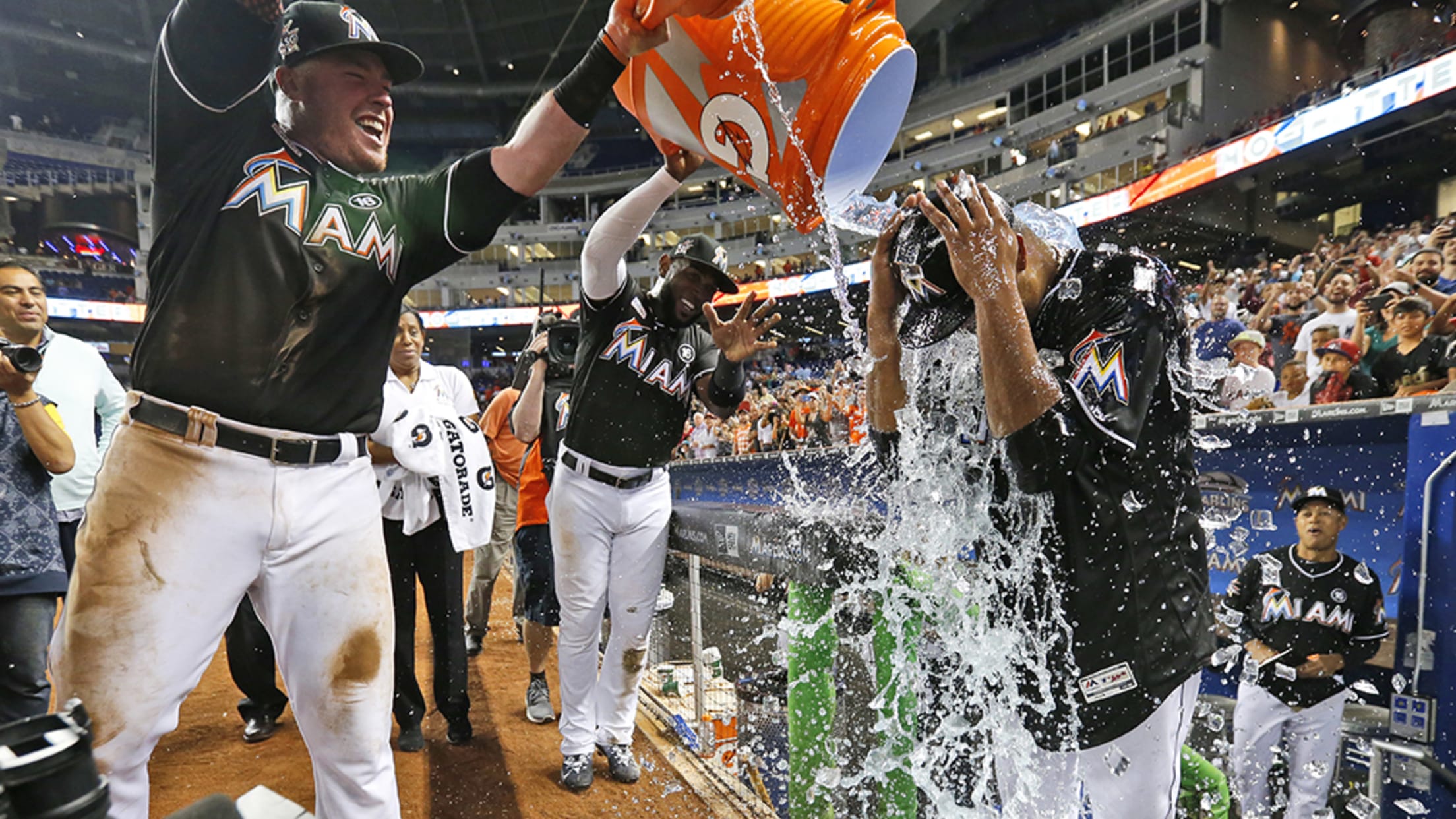 Miami Marlins' Justin Bour, left, and Marcell Ozuna, center rear, pour ice and water onto starting pitcher Edinson Volquez, right, after the Marlins defeated the Arizona Diamondbacks 3-0 in a no-hitter by Volquez during a baseball game, Saturday, June 3, 2017, in Miami. (AP Photo/Wilfredo Lee) (Wilfredo Lee/AP)
Before Edinson Vólquez no-hit the D-backs on only 98 pitches in Saturday's 3-0 victory, the last Major League no-no was thrown by Jake Arrieta on April 16, 2016. It was the longest no-hit drought since 2006, when (oddly enough) another Marlin in Aníbal Sánchez stopped the streak at 470 scheduled game days.
If the D-backs' Rey Feuntes had his way, the streak would still be going on. In the top of the first, Fuentes hit a ground ball down the first-base line. Not only did Justin Bour have to make a nice play to even glove the ball, but there was a bang-bang play at first as Volquez and Fuentes hit the bag at nearly the same time.
"I thought I broke my ankle." – Edinson Volquez on 1st-inning 3-1 putout which almost forced him out of game: https://t.co/qVRsugFGYD pic.twitter.com/M51lym9CGU

— MLB (@MLB) June 3, 2017
If you freeze-frame it, it looks like parkour: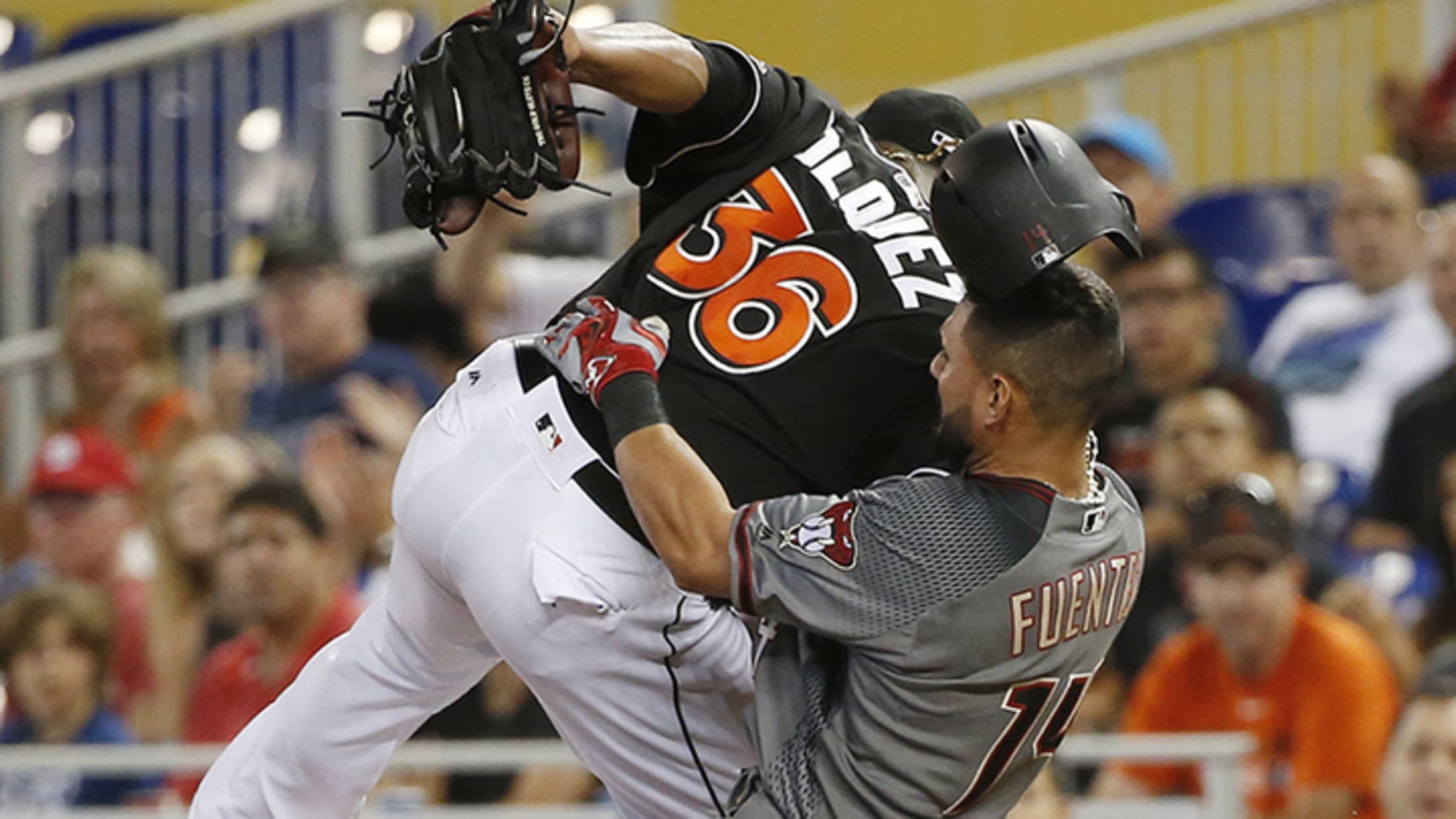 In fact, Volquez's day may have ended early as the hurler turned over his ankle. After staying in the game and twirling the masterpiece, maybe Volquez will become superstitious and try to turn his ankle before every start.
But that wasn't Fuentes' only shot at preventing history. The D-back hit a ground ball to the hole in the fourth inning that required Dee Gordon to go full extension to stop and throw from his knees:
After that, it was almost just an academic exercise for Volquez, who finished with 10 strikeouts and two walks. Only three balls made it outside the infield.
Not only did the hurler finish with a "Maddux" as he needed only 98 pitches to pull off the feat, but his game score was 100. Only eight pitchers in the last 25 years have had game scores at least that high -- with only four of those being no-hitters.
After striking out Chris Owings to end the game, it was time to celebrate.
Once he had the whippped cream cleaned from his face and he was back in the clubhouse, Volquez had a souvenir that he will surely keep close at all times: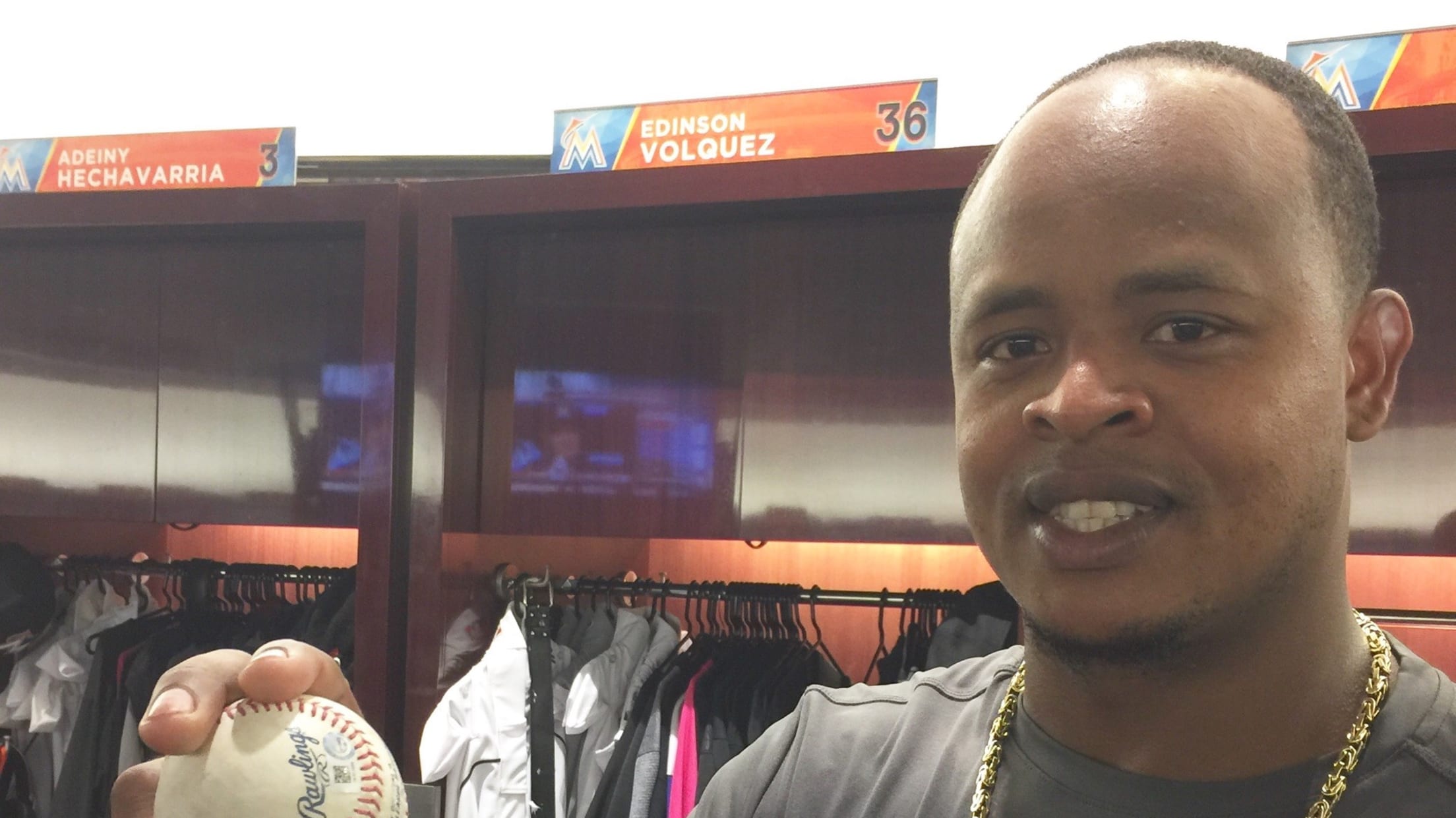 Teams in this article:
Players in this article: