Here are the 10 home runs that defined an epic 2017 season
In 2017, MLB went yard like it never had before: Teams combined to hit a whopping 6,105 home runs this season, a new Major League record.
Of course, not all homers are created equal. So, in this Year of the Dinger, just which dingers will we still be talking about years down the road? Which select few had the biggest role in shaping this roller coaster of a season? Read on for our top 10 -- and if you disagree, let us know in the comments.
10. Albert Pujols hits No. 600
Sure, Pujols isn't quite the dinger-mashing Machine he once was, but only eight players had ever hit 600 Major League home runs. In June, he became No. 9:
9. Cody Bellinger arrives
It's tough to choose just one moment from Bellinger's absurd rookie campaign, but June 13 in Cleveland is as good as any: With the Dodgers and Indians tied at 2 in the eighth, Bellinger took Andrew Miller deep for a go-ahead homer -- one of only two homers Miller allowed to lefties all year.
Bellinger added a three-run shot in the ninth for good measure -- his fifth in three games -- and he never looked back.
8. Nolan Arenado walks off with the cycle
For most players, hitting for the cycle would be cool enough. Arenado, however, had even bigger plans: With the Rockies trailing, 5-4, in the bottom of the ninth, Arenado capped off his cycle -- just the eighth in franchise history -- with a walk-off homer.
It also produced one of the very best photos of the season: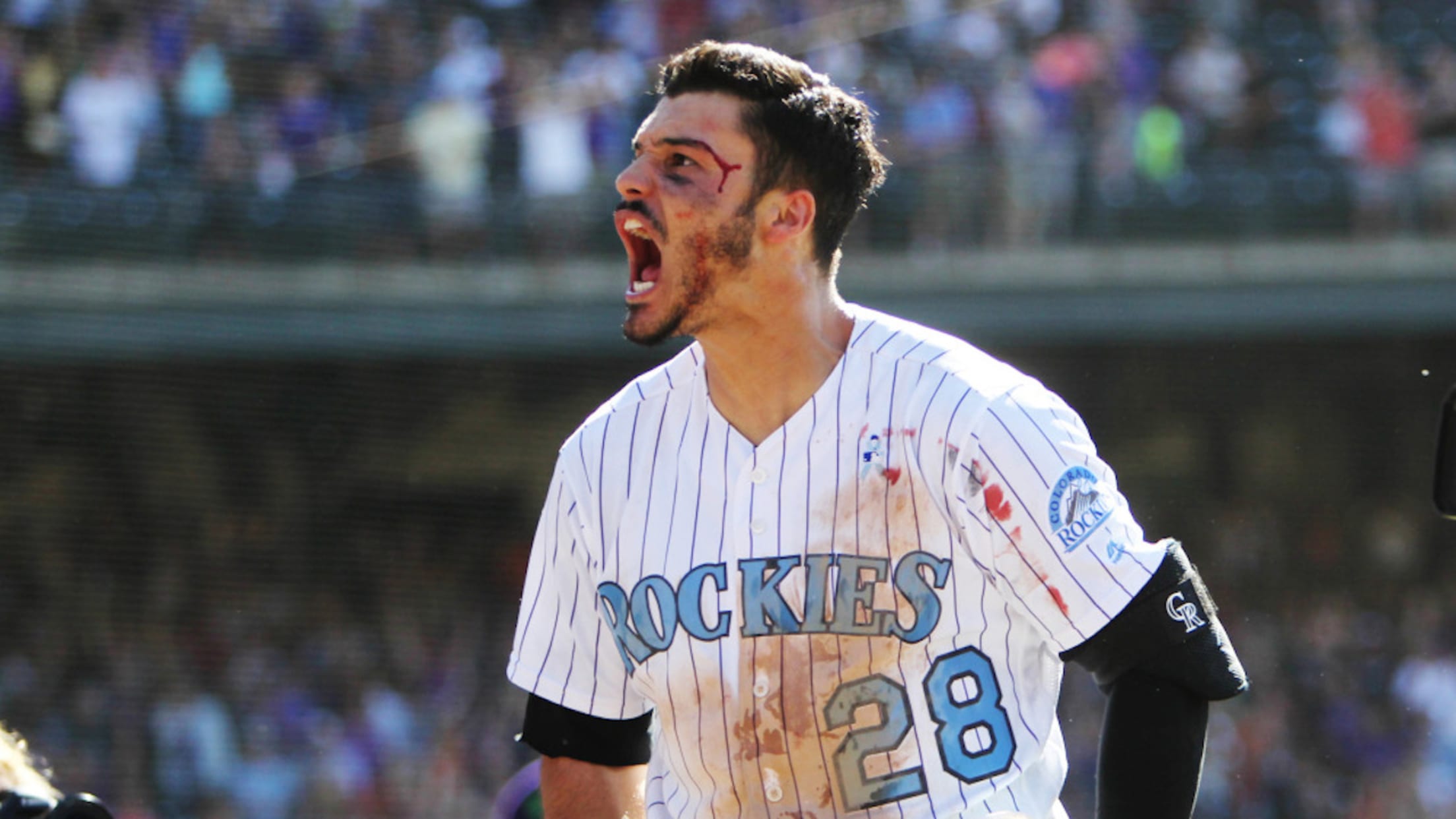 7. Scooter Gennett -- yes, Scooter Gennett -- hits four
Lou Gehrig. Willie Mays. Mike Schmidt. Scooter Gennett. The Reds infielder hit just 35 homers in his career entering 2017 -- and then, in one game against the Cardinals, he hit four:
6. Rafael Devers ties the game
The Red Sox and Yankees hadn't finished 1 and 2 in the AL East since 2009 -- but in 2017, the rivalry was back. On Aug. 13, New York had the chance to finish off a series win at Yankee Stadium and pull within three games of Boston in the division. Aroldis Chapman was on the mound with a 2-1 lead, just two outs away from a win. And then, well:
5. Josh Harrison denies Rich Hill in the 10th
Q: How can a pitcher throw nine hitless innings and still not wind up with a no-hitter? A: When the first run of the game doesn't come until a walk-off homer in the 10th:
4. Giancarlo Stanton makes history
Stanton had his sights set on just about everything this year, from a 60-homer season (alas, not quite) to unsuspecting Marlins Park cameras (nailed it) to Miami's single-season home run record. He accomplished the latter back in August, and because he's Giancarlo, it was his fifth home run in five games:
3. Justin Turner channels Kirk Gibson
Not only did Turner hit the postseason's only walk-off homer in NLCS Game 2, but he did it exactly 29 years to the day after Gibson's legendary blast off of Dennis Eckersley.
2. Aaron Judge nearly hits one out of Yankee Stadium
52 homers, setting a new rookie record. A finalist for AL MVP. An honest-to-god Supreme Court justice in his cheering section. It was quite a year for Aaron Judge -- and to top it off, he even hit 2017's longest dinger, a 495-foot blast that reached parts of Yankee Stadium we didn't think were reachable:
1. Welcome to George Springer's World Series
We thought about going with Springer's home run in the second inning of Game 7, the one that gave Houston a commanding 5-0 lead it wouldn't relinquish. We even could've gone with his homer in Game 6 the previous night, or his homer in Game 5, or ... well, you see where this is going.
Springer was out of his mind this October, but forced to choose one swing, his game-winning dinger in the 11th inning of Game 2 got the Astros back into the Series and put an exclamation point on one of the best games in postseason history. Until next season, everybody.