See what your favorite players were up to during the All-Star break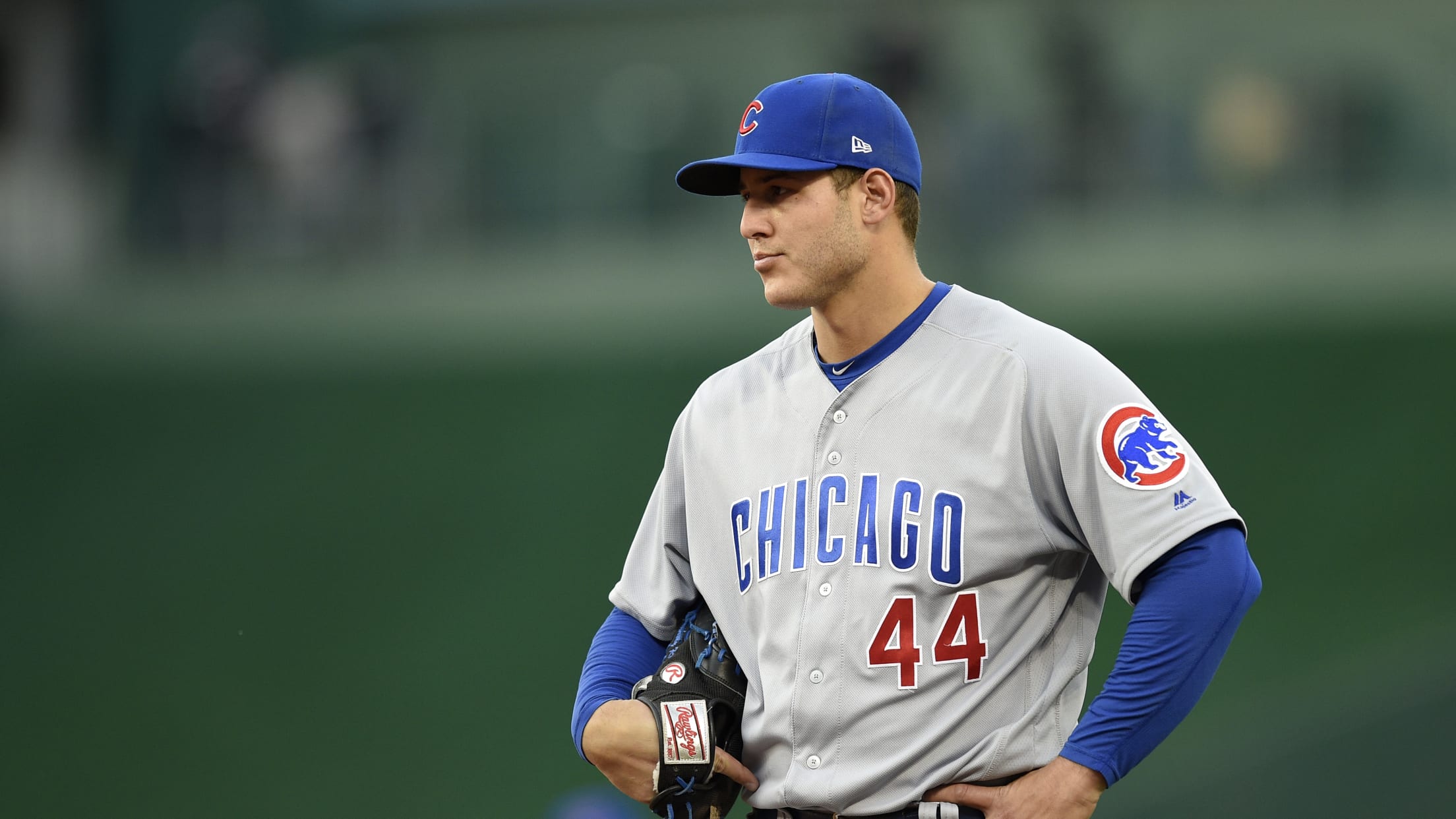 Chicago Cubs first baseman Anthony Rizzo looks on during a baseball game against the Washington Nationals, Wednesday, June 28, 2017, in Washington. (AP Photo/Nick Wass) (Nick Wass/AP)
The All-Star break makes you miss baseball. And don't worry -- it misses you too.
The few days off gives the players a time to relax, unwind and spend some much-needed time with their families. So, to take away some of those "I miss you" blues, let's take a look at what some of your favorite players were up to during the few days off.
Derek Holland took some time out of his break to play soccer with a new, young fan.
@Dutch_Oven45 Thanks a lot for taking the time to interact with your newest fan this afternoon! That was awesome of you guys! pic.twitter.com/MDhvPLow0y

— Shenk16 (@Shenk16) July 10, 2017
Marlins outfielder Christian Yelich didn't have to travel far for a slice of paradise, but he was able to witness a bit of a storm in southern Florida.
Todd Frazier, in true competitive form, took some batting practice in on Wednesday. Maybe there are no days off after all.
At St. John vianney high school getting some BP in let's gooooo ⚾️

— Todd Frazier (@FlavaFraz21) July 12, 2017
Jameson Taillon had a lovely date night in Chicago.
Kaycee Sogard, wife of Brewers infielder Eric Sogard, took a day to herself at the spa while the hubby spent some quality time with their children Saydee and Knix.
Ready to enjoy some time at the @PfisterHotel Well Spa while Eric enjoys some good quality time with the kids ;)

— Kaycee Sogard (@KayceeSogard) July 12, 2017
Noah Syndergaard stayed true to his Thor nickname and brought his mom to Marvel Studios during his break. She seems to be a natural with the hammer.
Rookie All-Star Cody Bellinger blew out 22 candles on his birthday cake Thursday, and his sister shared the cutest throwback photo of the two.
HAPPY BIRTHDAY to my not so little brother. Love you so much kid, you make me proud ❤️ @Cody_Bellinger pic.twitter.com/PeMn0bs5TY

— Ashli Bellinger (@ashlibellinger) July 13, 2017
Newly engaged Anthony Rizzo spent some time in the Bahamas with his fiancee'.
Ryan Zimmerman and his wife, Heather, spent their time meeting music legend Lenny Kravitz. Similarly, Kravitz had a once in a lifetime experience meeting two-time All-Star Ryan Zimmerman.
1 more fun photo from #ASG Week: meet & greet w/ @LennyKravitz following an insane, unforgettable concert at @MLB_PLAYERS party! pic.twitter.com/tbjCKiBQug

— Heather Zimmerman (@HeatherZiMS) July 13, 2017
Recently promoted Ketel Marte posted on Instagram, saying he was more than ready for the second half of the season. And we can't wait to see what the D-backs infielder brings.
Enrique Hernández recently asked his now fiancee' a very important question.
I'm gonna marry the woman of my dreams!!!!!! pic.twitter.com/EFIqz7bor0

— Enrique Hernández (@kikehndez) July 13, 2017
Brandon Crawford and his wife Jalynne are trying spend as much time as they can with their family.
And Justin Verlander ... well, he doesn't seem to have a care in the world.
🏝😎 https://t.co/vozwjweLjD pic.twitter.com/xJg3eioKZK

— Justin Verlander (@JustinVerlander) July 13, 2017
Teams in this article:
Players in this article: