Appreciating Marwin Gonzalez, the Astros' homer-hitting jack of all trades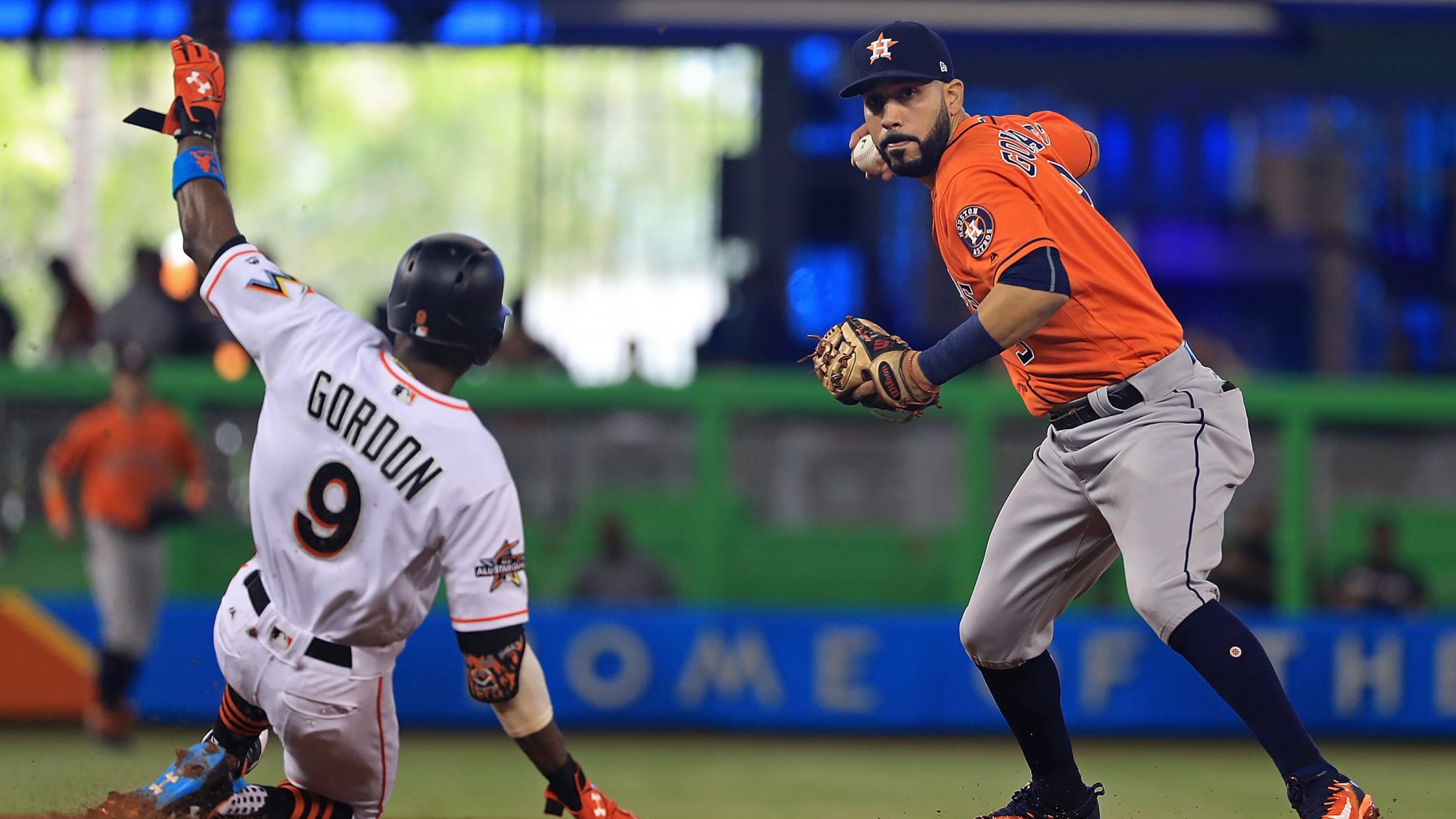 during a game at Marlins Park on May 17, 2017 in Miami, Florida. (Mike Ehrmann)
In a way, the story of the Astros Phoenix-like rise to become a baseball powerhouse is the story of Marwin Gonzalez.
In 2012, Gonzalez made his Major League debut. Then playing just three positions -- third, short and second -- he hit .234/.280/.327 in 80 games worth of work, good for a 65 OPS+. That's below average, but it still beat out the Astros' 55 wins on the season.
As the Astros improved, so did Gonzalez. He became a power-hitting league-average switch-hitter willing -- and able -- to play any position on the field. He was a jack-of-all-trades and a master of none. While that was useful, it didn't separate him from some of the game's other premier utility-players, like Ben Zobrist and Brad Miller.
Among Major Leaguers that had seen time at first, second, third, short, left and right-field from 2012-16, Gonzalez's OPS ranked 12th:

But now he's a master.
As the Astros have broken out and become the most powerful team in the American League -- pacing the Junior Circuit by 12 wins -- so, too, has Gonzalez. He entered August hitting .314/.393/.514 with 19 home runs.
Only five players, including Gonzalez, can claim to have suited up across the field this year, but his OPS is nearly 200 points better than any other:
A slight shift in his stance and a newfound ability to draw walks have seen the sixth-year player transform from a useful piece on the roster to one of the premier hitters in the league. In previous years, perhaps Gonzalez couldn't have fouled off enough pitches to get to the ninth pitch that he could golf out of the stadium in this particular at-bat:
But he stands out among more than just utility players. Though often overshadowed on his own team by stars like Carlos Correa, José Altuve and George Springer, his performance stacks up right alongside theirs, too. He's third on the team in homers, in RBI, in batting average and in on-base percentage. And, he's second in slugging.
.@marwinGF9 aportó su granito de arena en la victoria de @LosAstros con este tablazo solitario. #MLBVenezuela #ArepaPower 🇻🇪👏 pic.twitter.com/dcX67JQrzI

— MLB Venezuela (@MLBVenezuela) July 29, 2017
Even though his glove is smooth enough for shortstop, his bat would rank fourth among first basemen. That's right: Gonzalez's OPS among those hulking mountains of power slots him between All-Star Justin Smoak and rookie Cody Bellinger.
And he's doing it as a switch-hitter. Though he's more comfortable against righties, Gonzalez can hold his own against southpaws, too.
The multiple gloves he carries with him are equally important to the power he brings to the plate. However, it's not just that can play so many positions, it's that he is also so competent at them. He's played 50 or more innings at first, second, third, short and left field.
If the team wants to rest an outfielder, Gonzalez can slot in:
If Jose Altuve is taking a breather, Gonzalez can play. Sometimes, he'll even follow him when Altuve is playing:
He'll display expert reflexes on smashed liners down to third:
Gonzalez has even provided cover with Correa on the DL. Though he may lack the otherworldly defense that Correa provides, Gonzalez's recent turn as a the starting shortstop ensures there is no drop-off of in production at the plate.
Almost any other team in the Majors would love to be able to say they have a player like Gonzalez at shortstop. After all, his OPS is actually six points higher than Correa's and would be best in the Majors at the position.
As bullpens grow ever-larger, Gonzalez's flexibility is a boon to his manager, who doesn't need to worry about an injury, or a day-off, or a double-switch dampening his team.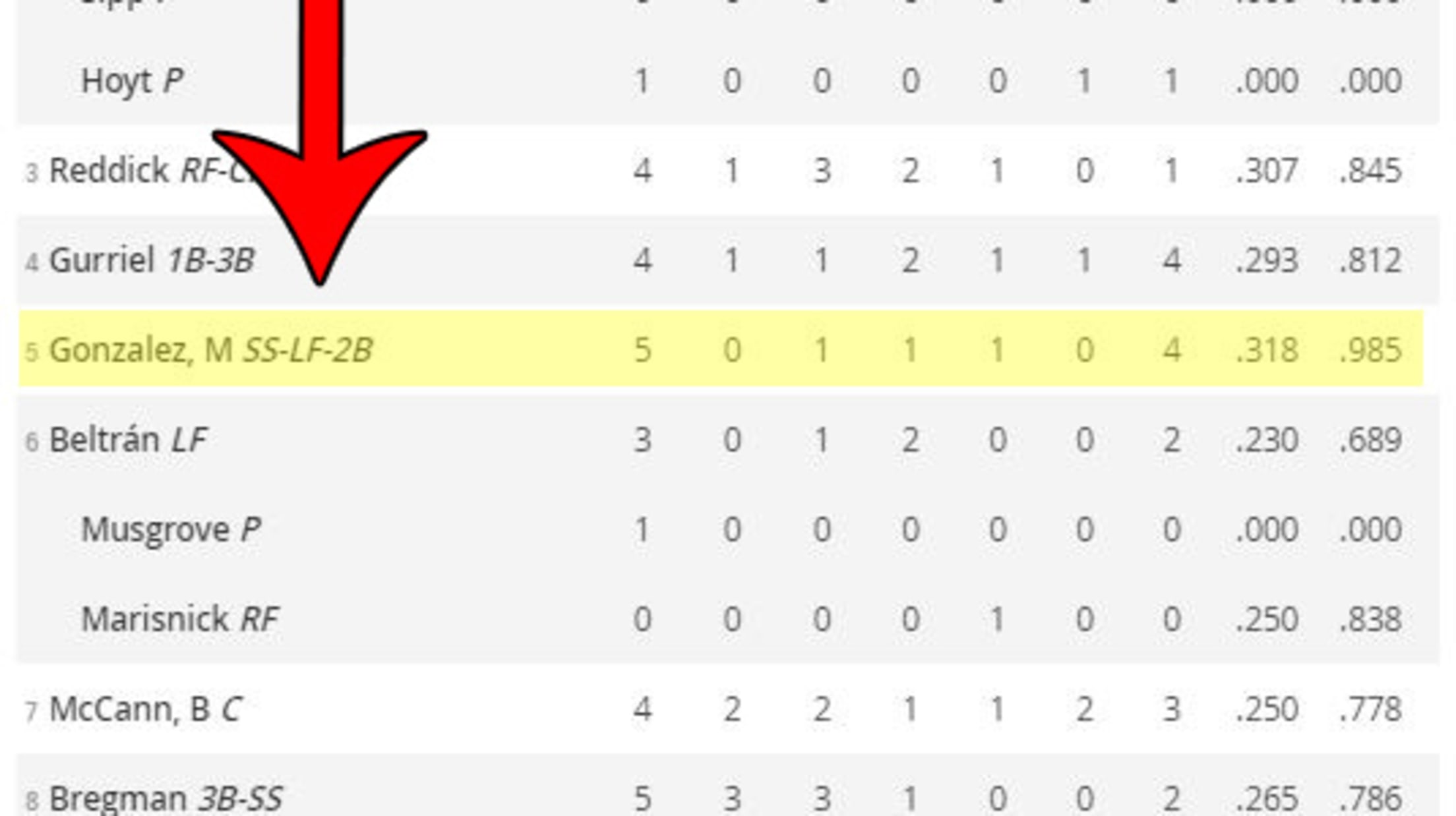 As the Astros continue to push toward a division championship, most of the attention will be on the team's stars. While Altuve's endless base hits and Springer's ability to leadoff games off with a dinger deserve the plaudits, don't overlook Gonzalez's role on the team. He may not be the straw that stirs the drink, but he's a stand-in for every ingredient in the cocktail.
Teams in this article:
Players in this article: