These are the 100 people who will influence the 2018 season the most (Part 4)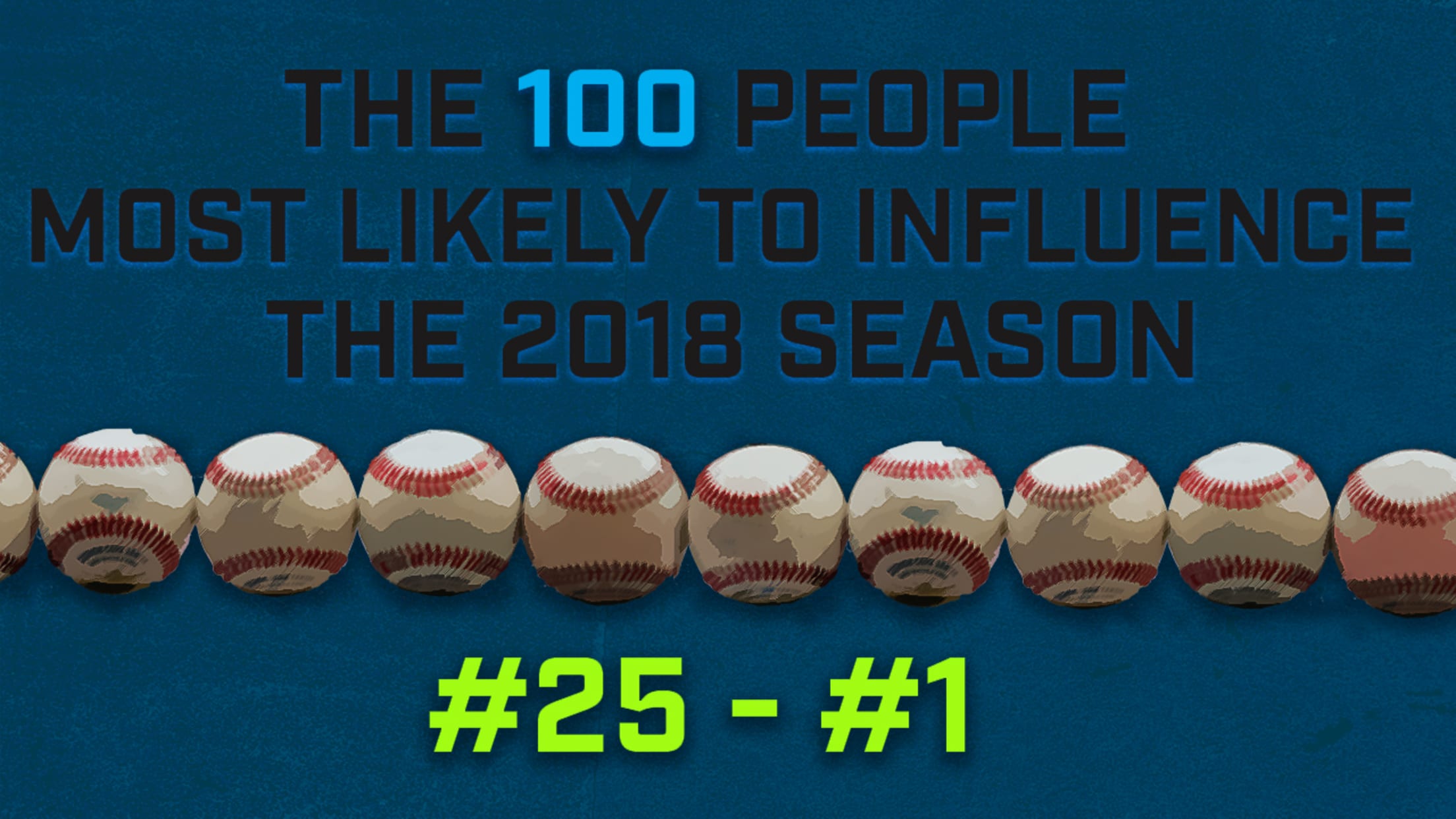 We've got a doozy for you folks: the 100 people most likely to define the 2018 baseball season.
What follows is not a ranking of the 100 best players, but rather the individuals that we believe will have the greatest impact on the general storyline of the season to come. Now there may be moments where you'll see a name and a ranking and disagree, and that's fine. But sorry, these rankings are ours and no one else's.
This post is the grand finale, featuring Nos. 25-1. You can find Part 1 Nos. 100-76 here, Part 2 Nos. 75-51 here and Part 3 Nos. 50-26 here.
#25: Byron Buxton
On a cloudy, windswept evening in July 2013, an old, wrinkly Rockies scout leaned his weight onto a picnic table at Ashford University Field in Clinton, Iowa, and unwaveringly proclaimed the following statement: "I saw Griffey. I saw Andruw Jones. I saw Trout. Buxton is the best I've ever seen."
A lot has changed in the last four-and-a-half years since we heard that, and chances are Buxton won't have a better career than Griffey or Trout or even Jones. But a glance at the second half of Buxton's 2017 season reveals something undeniably special. After almost 700 big league at-bats, something finally seemed to click for the immensely talented outfielder, who slugged .546 after the All-Star break.
Already equipped with game-changing speed and a powerful throwing arm, Buxton's bat doesn't even need to be that great for him to be great. But if it is ...well, let's just say there might be a weathered scout out there driving his way through a cornfield with a deserved smirk stretched across his face.
#24 / #23: Noah Syndergaard / Yoenis Céspedes
2017 was a rough year for Thor and Yo, the best buddy cop duo of all time, as injuries limited the former to just seven starts and the latter to only 81 games. Their absences played a significant role in the Mets 4th place finish in the NL East, and both will be absolutely vital to the Mets' chances of contending in 2018. Here's a refresher on how special these gents are:
You don't get the nickname Thor as a pitcher by mixing speeds and hitting spots. You get it by having a high-90s heater, a slider that could slice down a tree and a changeup faster than most pitchers' fastballs. No pitcher in baseball brings to the mound the sheer voltage and explosiveness that Syndergaard does, plain and simple. If Thor can stay healthy, he's got a great chance in 2018 to break into the "Top-4-Pitchers-On-Earth Group" currently occupied by Kershaw, Scherzer, Kluber and Sale.
It's basically been our life's work amplifying the awe-inspiring force that is Yoenis Cespedes. Why you ask? Well, there's the insane throw in Anaheim, the car that breathes fire, the other cars that don't breathe fire but are still fire, the first HR Derby performance, the yellow arm sleeve and the parakeet, the time he let a Mets clubhouse employee drive his Lamborghini to go buy a waffle iron, the random bullpen session, the blue hair, his enormous chain with his own number on it and, oh yeah, that time he had that BBQ.
If Yo can keep his hilariously athletic body on the field this year, he'll most certainly add to the long and wonderful list of things that make him our single favorite figure in all of baseball.
#22 / #21: Francisco Lindor / Carlos Correa
Whoever decided to feature five of baseball's most promising shortstops shirtless on the February 1997 cover of Sports Illustrated deserves to be in the Hall of Fame. But a lot has changed in the 21 years since that iconic picture, and we believe it's in need of an update.
(Left to right: Trea Turner, Carlos Correa, Addison Russell, Corey Seager, Francisco Lindor)
In baseball's wonderful new age, where a flipped bat or a pumped chest is celebrated in all its glory, all five of these guys are potential icons, but Correa and Lindor are the vanguards. From his smile to his ever-changing hairstyles, Lindor has one of the most electric personalities baseball has ever seen. And Correa is just as charming: He even proposed to his fiance on the field after winning the World Series. There's no reason to think these two Team Puerto Rico teammates won't out-cool each other for the next decade or so. These are the shortstops of the present and the future.
#20 / #19 / #18: Anthony Rendon / Nolan Arenado / Kris Bryant
We are living in the golden age of third basemen. Rendon, Arenado and Bryant spent 2017 putting up monster numbers at the plate while making the spectacular look routine at the hot corner. All three were key contributors to National League postseason teams, and all three finished in the top seven of NL MVP voting (Arenado fourth, Rendon sixth, Bryant seventh).
And yet, while the stat lines look vaguely similar, each does it in his own brilliant way. Rendon's quiet excellence started to shine through when Bryce Harper hit the DL -- can he keep it up in 2018? We still haven't quite figured out whether Arenado is a better hitter or fielder -- will this be the year he takes one of those skills to astronomical heights? And you don't need us to tell you how perfect Kris Bryant is, but can he be a game-changing force to push the Cubs back to the World Series?
What is important is that each of these superstar third basemen has their sights set on the postseason, and we can count on seeing a lot of their highlights all season long.
#17: Joey Votto
Imagine being so preposterously good that you can spend legitimate time and energy campaigning for, and ultimately organizing, the purchase of a live donkey for a teammate while also putting up one of the great offensive seasons in recent memory. It may be a shame that it took an uptick in off-the-field antics for more people to pay attention to Votto's on-field wonders, but the Reds first baseman is now one of the most lovable superstars in MLB. We are beyond lucky to get to watch Joey Votto do Joey Votto things -- whether that be knocking effortless opposite-field dingers, or incentivizing All-Star appearances with livestock -- for yet another season. But, it remains to be seen just how he'll continue to work his way into our hearts in 2018.
#16: Justin Verlander
In 2014, Verlander looked to be on the downswing. He pitched a full season (32 starts, 206 IP), but put up a 85 ERA+. His velocity was down. The Tigers were swept in the ALDS by the Orioles despite a rotation that also featured Max Scherzer and David Price and that very well could have been it for Verlander. He looked like another in a long line of dominant pitchers who lost the good juice in their early 30s and bowed anticlimactically out of the sport.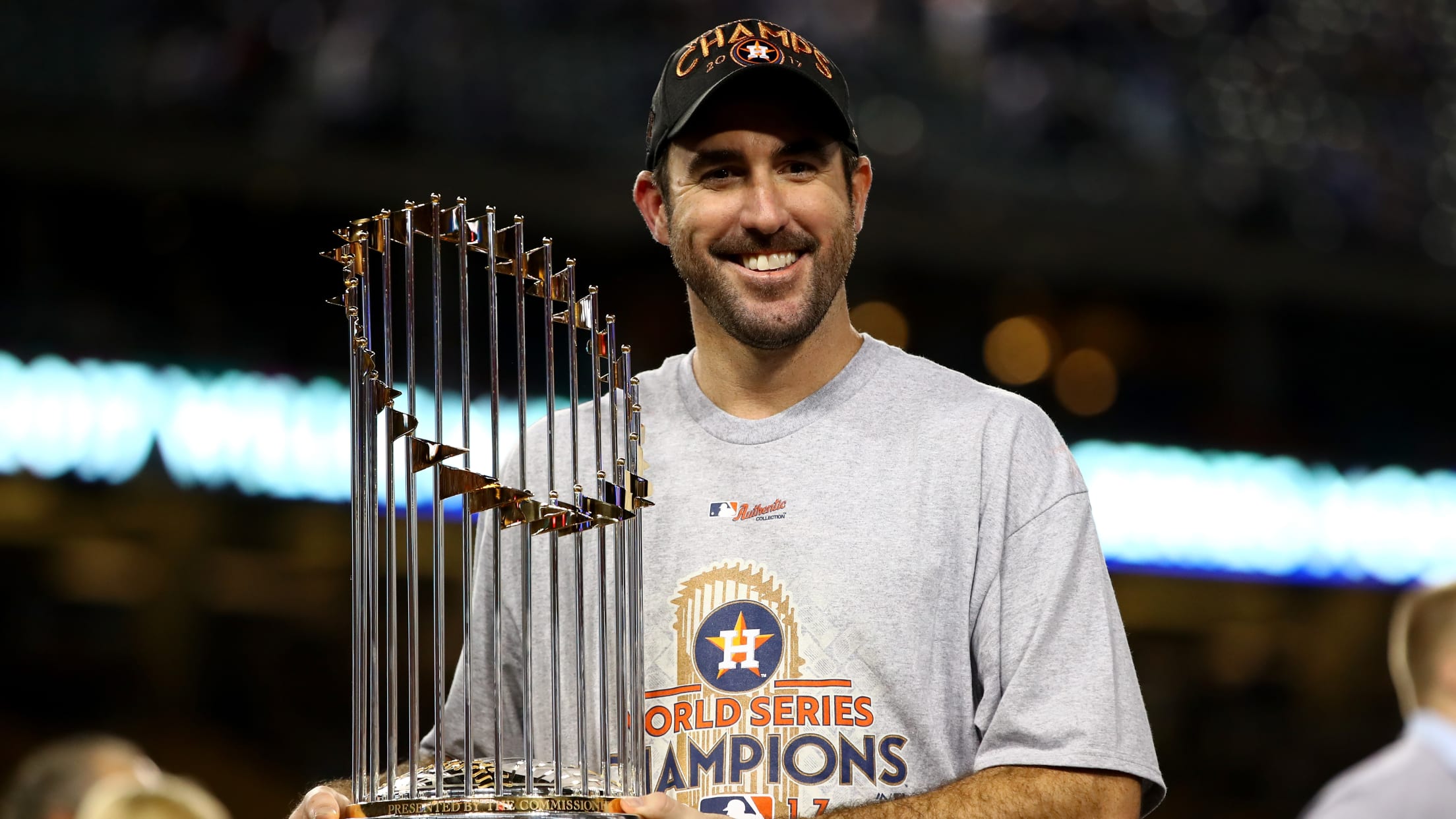 But that didn't happen. After an injury-riddled yet productive 2015, Verlander roared himself back into fifth gear a season later, finishing a close second in the 2016 Cy Young voting. Then, last season Verlander and his wonderful too-tight pants finally ascended the only mountain he'd yet to conquer: a World Series championship
Now, with the indelible components of his legacy solidified in the rear-view mirror, Verlander finds himself in the home stretch of what certainly looks to be a Hall of Fame career. Cooperstown lays in wait for Verlander: All he has to do is decline like a normal pitcher, which, considering all Verlander has accomplished, might be selling him a bit short. But, for the first time in his career, Verlander gets to pitch with the stress-inducing World Series monkey off his back, and that should make him even more fun to watch in 2018.
#15 / #14: Alex Cora / Aaron Boone
As neutrals, there's one major thing we want from a Red Sox-Yankees game: bad blood. Remember those mid-00s Yankees-Sox games when Jason Varitek and A-Rod were jawing at each other all the time?
For the first time in what feels like forever, we head into a baseball season with the Red Sox and Yankees as the consensus, no-doubt two best teams in the AL East. That both of these teams will be helmed by first-time managers should add another layer of intrigue to the proceedings.
Considering Cora and Boone are good buddies after having worked together at ESPN for a few years, this new era could be even more friendly than the "Farrell-Girardi era" that just ended.
But, we're hoping that Cora and Boone can add a little spice, a little pizazz and maybe even some bad blood while somehow remaining friends along the way.
#13 / #12: Josh Donaldson / Manny Machado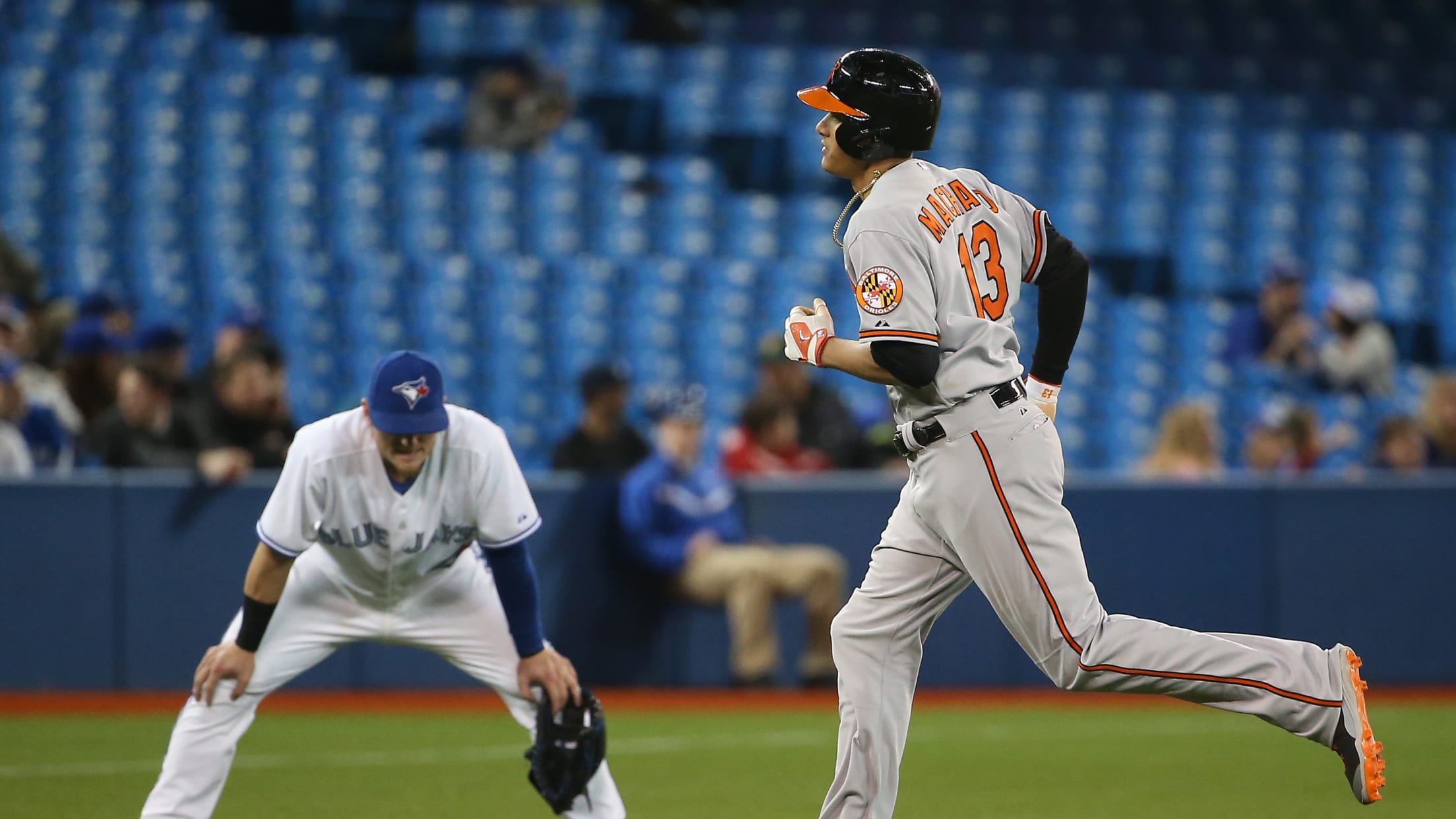 Donaldson and Machado are both set to become free agents after this season, and both play for teams that believe that with a little bit of luck and whole lot of dingers from their superstar infielders, October baseball is in fact within reach. However, the Red Sox and Yankees are still widely projected as the heavy favorites in the loaded AL East, putting the Blue Jays and Orioles in a very delicate spot regarding the best way to handle Donaldson and Machado as the year goes on. The reality is, if Donaldson or Machado is able to carry his team into a legitimate season-long battle with Boston and New York, he will likely be putting up MVP-caliber numbers that everyone will be talking about. If the Orioles and Blue Jays are a ways back in the AL East come the Trade Deadline, there will be a flurry of trade rumors that everyone will be talking about. Donaldson and Machado will be part of some conversation this summer -- it just remains to be seen what kind of conversation that is exactly.
#11: Alex Rodriguez
Where to begin? Since hanging up his spikes, Rodriguez has transformed himself into a beloved baseball figure. A-Rod's post-playing career stardom will only continue to blossom this season, when the former Yankee joins Matt Vasgersian and Jessica Mendoza on ESPN's Sunday Night Baseball broadcasts.
In his successful on-camera career up to this point, A-Rod has relied upon his natural charisma and immense baseball knowledge. He's like the Byron Buxton of baseball commentary: Imagine how good he can be once he racks up more experience on the mic. If Tony Romo did it, why can't the greatest shortstop of a generation?
How A-Rod performs as a full-time broadcaster is certain to be a fun talking point throughout this season and beyond.
#10 / #9: Chris Sale / Corey Kluber
Before Sale K'd 308 batters in 2017, the last three American League pitchers to rack up 300+ strikeouts in a season were Pedro Martinez, Randy Johnson and Nolan Ryan. And somehow, Kluber rather easily beat him out for the Cy Young, earning the second of his career. Sale's second-place finish was his sixth consecutive season finishing in the top six of AL Cy Young voting.
How can such similar dominance look so drastically different on the field? The calm, cool, and collected Kluber will be aiming for his third Cy Young Award in 2018, something only 10 other pitchers in MLB history have accomplished -- seven of which are in the Hall of Fame, with the other three being Roger Clemens, Clayton Kershaw and Max Scherzer. Sale, meanwhile -- in all his low-slot, funky-delivery glory -- will be trying to definitively dethrone Kluber and finally earn his first career Cy Young Award after years of coming up just short. Whether you'd rather have Sale or Kluber at the top of your rotation is a matter of preference, but it's clear these two aces sit firmly atop the pantheon of American League arms.
#8 / #7: Max Scherzer / Clayton Kershaw
Despite those last two names, most baseball fans would agree that Scherzer and Kershaw are the two best pitchers on planet earth. Picking one of them over the other isn't something that anyone ever has to actually do, and thank goodness for that, but the debate is undeniably fun fodder. Here's a look at the facts.
While both guys are sure to battle it out for the NL Cy Young Award yet again, they're both still chasing that first ring. With fellow future HOFer Justin Verlander getting the monkey off his back last year, is 2018 the year we finally see some Schershank/Kershawshank Redemption?
#6: José Altuve
The 2017 Postseason was Altuve's. His journey from getting cut at a tryout as a teenager to AL MVP to postseason hero has been nothing short of phenomenal. Simply put, the man is an Icon.
Icon. pic.twitter.com/HB8TTNk4Pf

— Cespedes Family BBQ (@CespedesBBQ) October 30, 2017
Altuve's hard work was deservingly rewarded by the Astros this offseason to the tune of a five-year, $151-million extension that will keep the Icon in H-Town until 2024. With the Astros bringing back essentially the same cast of characters that just won over 100 games and a World Series title, Altuve should have ample opportunities to add to what is already a legendary legacy. Long live The Icon.
#5: Mike Trout
The six weeks Trout missed due to a broken thumb in the middle of the 2017 season were frustrating not just for Trout and the Angels, but for all baseball fans. More than any other player, every moment we get to watch Trout play baseball should be treasured. At this point, we have definitively moved on from asking whether he is the best player in the game, or even of his generation. It's early, but we've transitioned to G.O.A.T. talk, and we shouldn't even feel bad about it.
The Millville Meteor has already accrued a borderline Hall of Fame résumé before his 27th birthday, and he's comically far up the career WAR leaderboards. He already ranks in the top 10 among active players despite being at least five years younger than every other player close to him on the list.
But as impressive as his regular-season accolades have been (and will continue to be), the next chapter in The Legend of Trout is undeniably set in the postseason, where the Angels star has only appeared once in his career, back in 2014. Trout is already at the top of his craft as an individual. Now it's up to his team to help him ascend even higher in the stratospheres of baseball history. Speaking of which ...
#4: Shohei Ohtani
We've heard about him all winter long, and now we've even gotten a glimpse of Ohtani in his Angels uniform during Spring Training, both on the mound and at the plate -- and he got off to a slow start, hitting .125/.222/.125 in 11 Cactus League games and pitching to a 27.00 ERA in 2 2/3 innings. But it's about to get real.
After months, if not years of anticipation, we are about to watch Ohtani try and become a two-way player in Major League Baseball, and the Angels are prepared to do everything they can to help him succeed.
There will be no player in baseball this year who will be watched more closely, and judged more critically than Ohtani. He will not only have to try to keep up with the new challenges of Major League competition, a new country and a new culture; he will also have to keep up with himself, as every 0-for-4 or rough outing will amplify the cries of many for him to just pick a side already. Quite simply, though, there is basically no Ohtani scenario that won't be a big deal. Ultimately, nobody knows how this is going to play out. Not Ohtani. Not Mike Scioscia. Not Billy Eppler. And definitely not us. But we're glad the pieces are in place for the Angels to give this unprecedented baseball experiment a genuine effort.
#3 / #2: Aaron Judge / Giancarlo Stanton
It's roughly six-and-a-half miles from Yankee Stadium in the Bronx to the Empire State Building in Midtown Manhattan. Last season, Judge and Stanton hit a combined 111 home runs for a combined total of about 45,613 feet, or 8.72 miles. That means that these two baseball behemoths literally hit enough home runs to reach the Empire State Building from the stadium they now both call home, with plenty of room to spare.
In the years after Derek Jeter's retirement, the Yankees lacked that premier, top-of-the-sport superstar. And then, Aaron Judge showed up in 2017 and was all that and more.
Then, this offseason the Yankees went out and got Stanton, and now they have two megastars who have each already transcended the sports world. And who knows, maybe this season Judge and Stanton will hit enough homers to cover the 10.3-mile distance between Yankee Stadium and the Statue of Liberty.
#1: Bryce Harper
Since Sports Illustrated introduced the world to the confident, inconceivably gifted and eye-black-clad 15-year-old high school freshman back in 2009, Harper has been marked not by what he is, but rather by what he could be. Even now in 2018, where he's become one of the faces of the entire sport, he continues to captivate audiences not only with his incredible talent, but with the notion we've yet to see just how high that talent will truly take him.
Now going into 2018, Harper's future is more unpredictable and more fascinating than it's ever been. But, it's more than just his looming free agency that makes Harper the most likely person to influence the upcoming baseball season.
Remember, the last time Harper had a full healthy season was his magnificent 2015, when he ran away with the NL MVP award after posting a mind-boggling .330/.460/.649 line with 42 homers. So if he can stay injury-free, that level is certainly within reach. The All-Star Game this year in Washington will be The Bryce Harper Show -- he'll potentially compete in the Home Run Derby and be the face of all the All-Star festivities. The Nationals are also a pretty good bet to get back to the postseason, where Harper will again find himself in the spotlight.
With Harper, there is always something to dream on; this is what makes him such an enthralling figure. But what we're really trying to say is this: Feel free to imagine the incomprehensible level he still might ascend to, but don't let those dreams inhibit you from appreciating the undeniable superstar he has already become.