The Cut4 Road Trip, Day 15: Bat flipping at the Grand Canyon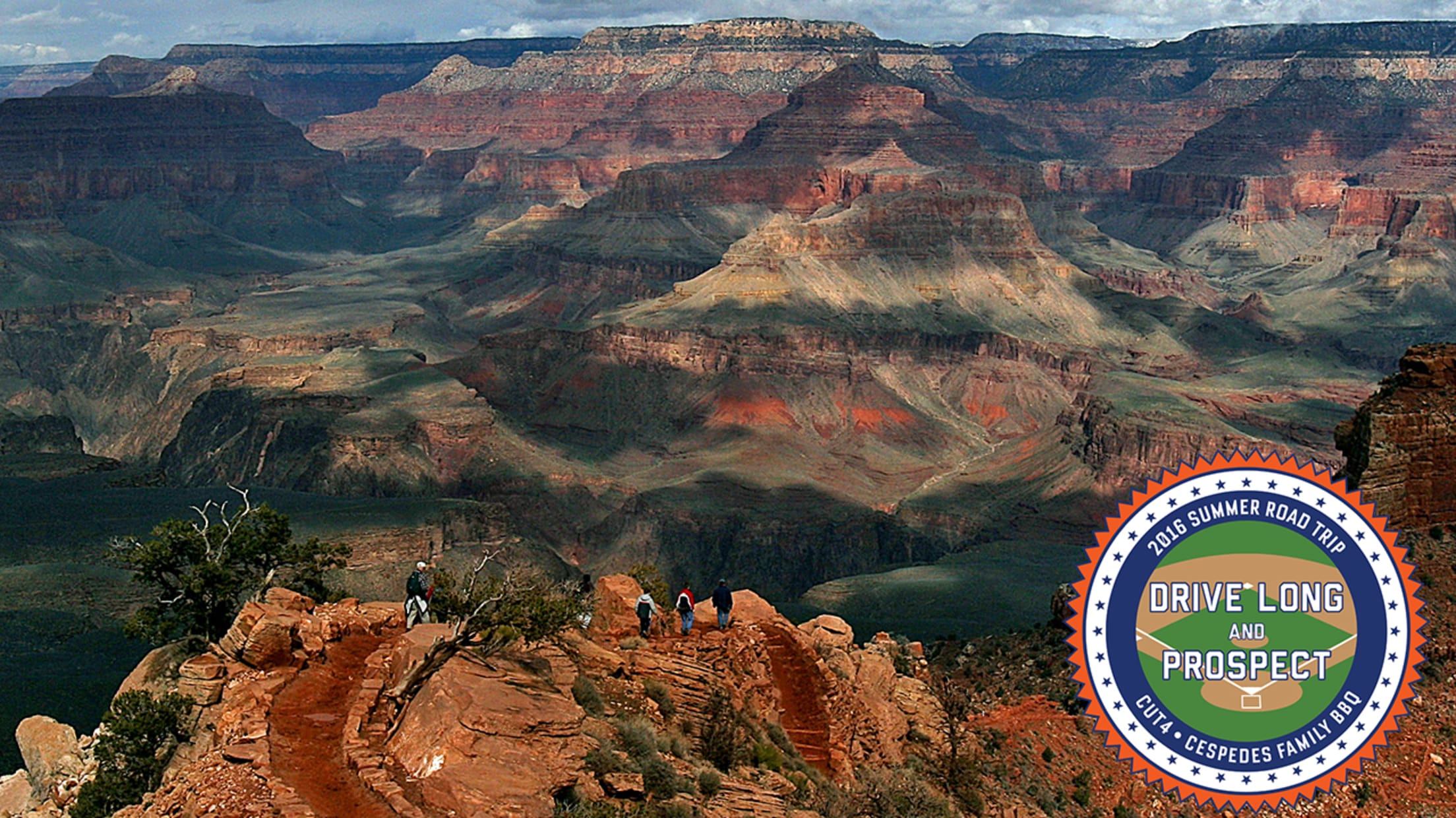 With the North Rim in the background, tourists hike along the South Rim of the Grand Canyon Tuesday, Feb. 22, 2005, in Grand Canyon, Ariz. Conservation groups have finalized the purchase of two private northern Arizona ranches, protecting 900,000 acres of wilderness, including land stretching along 125 miles of the Grand Canyon's North Rim. (AP Photo/Rick Hossman) (RICK HOSSMAN/AP)
If the Grand Canyon was given a name in this current era we probably would have gotten something like "Hella Dope Canyon" or "Big freakin' Canyon" or "Unreal Hole in the Middle Of Nowhere" or "Cool View, Mediocre Wifi Canyon." Ten years ago, it'd be "Hoppin' Canyon." If some laid back Cali surfer dude had found it, it'd be, "Gnarly Canyon."
In summation, the wonder of the Grand Canyon is all in the eye of the beholder. For many, the Grand Canyon is striking for its natural beauty and breathtaking views. For us, it was just a big trench to bat flip at.
Nature friendly Grand Canyon bat flip https://t.co/0rsf5OOvCx

— Cespedes Family BBQ (@CespedesBBQ) July 7, 2016
Keep in mind -- this is graduate-level flippery. DO NOT TRY THIS AT HOME, which should be easy assuming you aren't one of the 1,500 or so people who actually live at the Grand Canyon. We spent about 20 minutes scavenging for bat-like sticks before settling on a 28' - 13'. Then, we experimented with a variety of different shaped rocks. Then we tested the wind. Then we flipped the Grand Canyon into submission. Then we realized that we're one-trick ponies obsessed with an extremely specific and meaningless action in a child's game. Then we looked back at the Grand Canyon and all was well.
Baseball Withdrawal
Yesterday was the first day on the trip that we did not attend a baseball game. The last day we didn't see a game was June 22nd. That's so long ago! Fernando Rodney was still a Padre! Oswaldo Arcía was still a Twin! Aaron Hill was still a Brewer!
Anyway we didn't want to go an entire 24 hours without spending time at a baseball field. So after exploring the canyon itself, we drove to the Grand Canyon Recreation Center, home of the closest (and probably only) baseball field within the national park's boundaries.
A Baseball Game Appeared
Cespedes Family BBQ @ Grand Canyon Recreation Center
Or at least something closely resembling baseball appeared. All we know is that Jake should be in the Home Run Derby. #BloggersWhoRake
Where We Woke Up: Gallup, NM
Where We Slept: Barstow, CA
Miles Driven: 633
Miles Driven To-Date: 5141
Time in Car: 10:22
Time in Car To-Date: 86:19
Tomorrow's Plan: The schedule for tomorrow looks something like this.
Morning: Drive three and a half hours because even though we made it to southern California, America is still gigantic.
Afternoon: A bunch of top prospects in the Futures Game are gonna be playing some baseball with some kids at Play Ball Park in San Diego. We're gonna hit that up and hang out/shoot video/drop taters on children.
Evening: Sleep because we really haven't been doing a whole lot of that.