These are the best players who could make their postseason debuts in 2018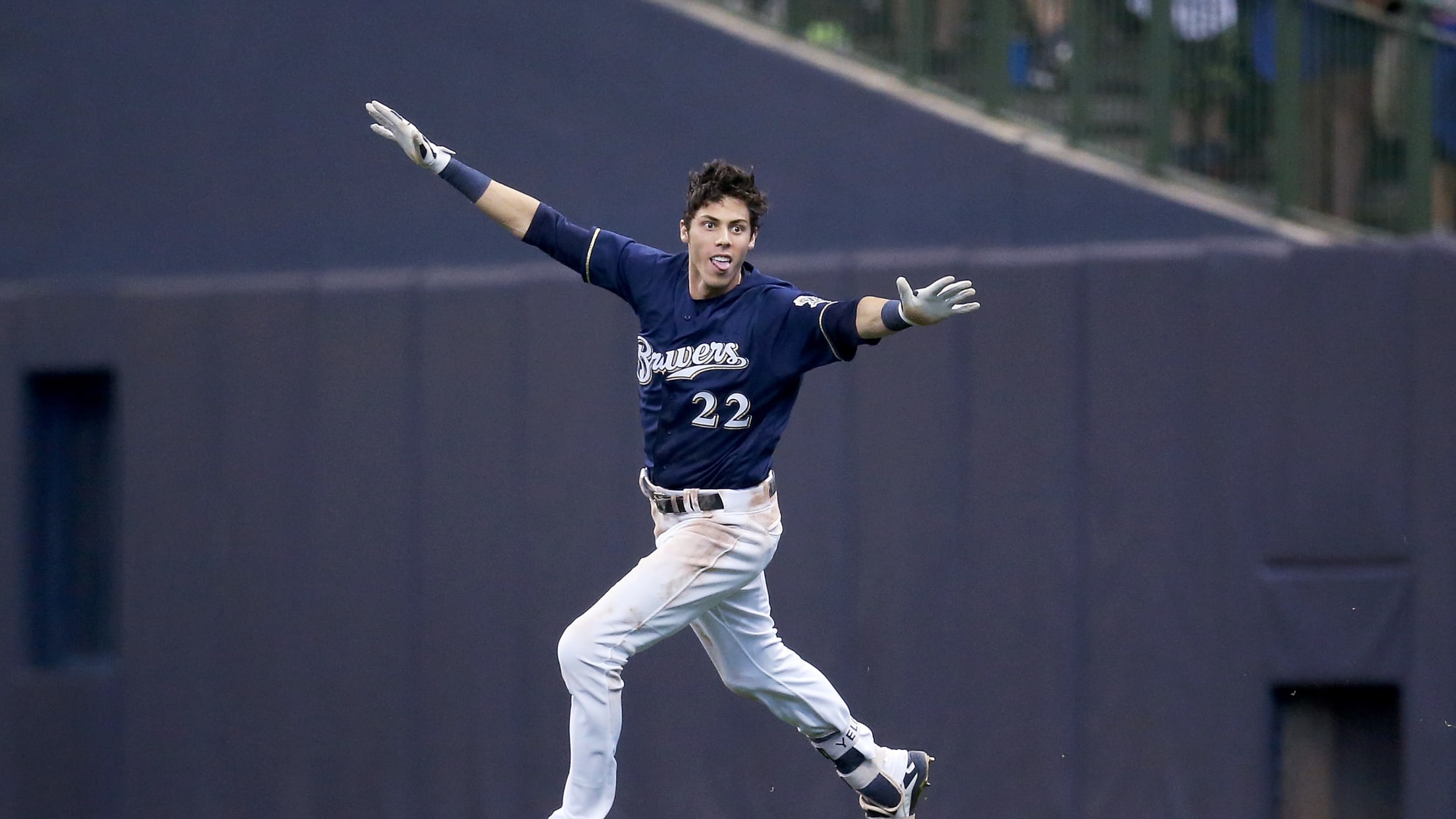 MILWAUKEE, WI - SEPTEMBER 03: Christian Yelich #22 of the Milwaukee Brewers celebrates after hitting a fielder's choice to beat the Chicago Cubs 4-3 at Miller Park on September 3, 2018 in Milwaukee, Wisconsin. (Photo by Dylan Buell/Getty Images (Getty Images)
With October looming, it's only a matter of time before a few select players ascend from regular-season stardom to postseason heroics. But not every player is guaranteed the opportunity to perform on the postseason stage. Some players, like Madison Bumgarner for example, have received ample October exposure in recent years due to his team's repeated postseason berths. Others, despite individual success, have yet to play in a single postseason game.
These are the best players who could experience the magic of October baseball for the first time in 2018 -- with some already confirmed to be participating, and others who could find themselves there after the dust settles in the final weekend of the regular season.
Red Sox: Nathan Eovaldi (7th season)
Though still just 28 years old, Eovaldi is playing for his fifth Major League team after arriving in Boston from Tampa Bay a week before the Trade Deadline. Eovaldi has a history of arm issues, having undergone two Tommy John surgeries (one as a high schooler in 2007, and one in 2016 with the Yankees). But one thing has remained consistent: Eovaldi throws hard. No starting pitcher in baseball has thrown more pitches 100+ mph than Eovaldi (11) this season. He's a surefire bet to bring serious heat when he debuts in October.
Indians: Yonder Alonso (9th season)
After breaking out in 2017 with his first All-Star Game appearance, Alonso signed a two-year deal with Cleveland this past winter with hopes that October baseball could be in the cards with the AL Central powerhouse. He chose wisely, and will now be rewarded with the chance to make an impact in a big moment for his new team.
Astros: Martín Maldonado (8th season)
Acquired at the Deadline from the Angels, Maldonado has unsurprisingly been a steady presence behind the plate for Houston in the second half, consistently showcasing why he earned the Gold Glove Award in 2017. The bulk of the Astros roster is very familiar with October baseball after last year's World Series run, so Maldonado is sure to enjoy his first postseason ride alongside a bunch of teammates who have proven to have what it takes to win it all.
Yankees: Giancarlo Stanton (9th season)
This Yankees team is not just the first October-bound team Stanton has played on, but the first winning team, as the last Marlins team to post a winning season was the 2009 squad, a year before Stanton made his MLB debut with the Fish. Stanton's epic Home Run Derby performances and his 2017 MVP campaign have done plenty to make his name well-known, but a big October home run could take the legend of Giancarlo to another level.
Athletics: Khris Davis (6th season)
The MLB home run leader arrived in Oakland in 2016, a couple years after the A's made three postseason appearances in a row from 2012-2014. With three consecutive 40+ HR seasons, there's no questioning Davis' elite power any longer. His first opportunity to showcase his dinger skills on the big stage will be the AL Wild Card Game against the Yankees, a team known for its own home run ability. Can Khrush extend his magical 2018 season with a deep October run?
Braves: Ender Inciarte (5th season)
The two-time Gold Glove center fielder is known for his exceptional defense, but he has also picked up his performance at the plate in the second half, hitting .303/.346/.457 since the All-Star Break. Few people have more fun on the baseball field than Inciarte, and you can be sure he'll be bringing that energy to the postseason for the NL East champions.
Cubs: Steve Cishek (9th season)
The only pitcher to appear in more games this season than Cishek (77) has been Brad Ziegler (81), but Cishek has been a crucial part of the Cubs bullpen all year long. Chicago is Cishek's fifth Major League team, but his first opportunity to pitch in October. And with Brandon Morrow out for the season, Cishek could factor significantly in the late innings for the Cubs.
Dodgers: Max Muncy (3rd season)
While his Dodger teammates were busy winning the National League pennant a year ago, Muncy had just finished up a full season in Triple-A -- just a year removed from being designated for assignment by the Athletics. Having not appeared in a single Major League game in 2017, there were minimal expectations for Muncy heading into this year. But it didn't take long for the 28-year-old to loudly announce his presence in the Dodgers lineup after being called up on April 17, and he's been one of the best hitters in baseball ever since. Should Los Angeles clinch a playoff berth, it'll be another big moment in Muncy's amazing year.
Brewers: Christian Yelich (6th season)
After five years of stellar play with the Marlins, Yelich has reached new heights individually with the Brewers in 2018 and also helped Milwaukee clinch a postseason berth. The smooth-swinging outfielder has built a strong case for the NL MVP, but you can bet he's every bit as excited about playing into October. Veteran teammates Jhoulys Chacín (10th season), Dan Jennings (7th season), Erik Kratz (9th season) and Wade Miley (8th season) will also be making their postseason debuts in 2018.
Cardinals: Miles Mikolas (4th season)
It's been a winding road for the 30-year-old right-hander, who signed with the Cardinals this past winter after three excellent seasons pitching in Japan. Though it's only technically his fourth MLB season, Mikolas has come a long way since being drafted by the Padres in the 2009 Draft out of Division II Nova Southeastern University in Florida. He's been consistent all year long for St. Louis, with a 2.94 ERA in 31 starts and the lowest walk rate in all of baseball at 1.4 BB/9. Should St. Louis pull off a comeback, Mikolas will bring his elite command and even more elite hair to October. Teammates Marcell Ozuna (6th season), Jedd Gyorko (6th season) and Tyson Ross (9th season) will also be making their postseason debuts in 2018 if the Cardinals qualify.
Rockies: Seunghwan Oh (3rd season)
After 11 fantastic seasons in Japan and Korea, Oh made his MLB debut in 2016 with the Cardinals and looked like one of the most dominant relievers in the world. The Rockies acquired Oh at the Trade Deadline from Toronto with the hopes that he could fortify their shaky bullpen, and he's done just that, with a 2.70 ERA in 20 innings for Colorado. Now the 35-year-old veteran known as The Final Boss could get his first taste of October baseball, should the Rockies emerge with a playoff berth this weekend.