These former top prospects are everywhere from Mexico to graduate school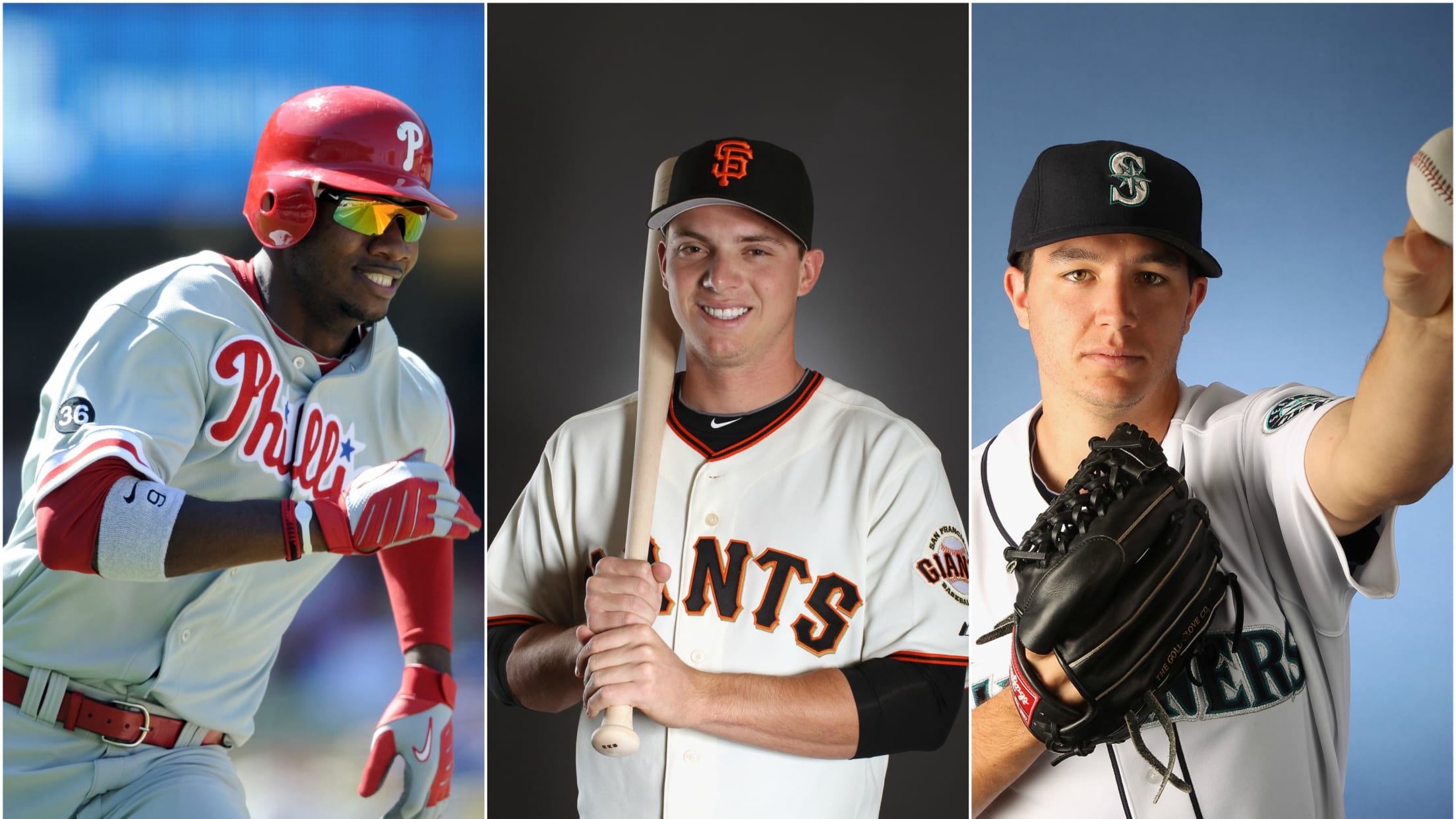 Few things inspire hope and excitement in a fan base quite like a top prospect. Fans fill sports radio airwaves and blog pages with speculation on when that player will join the Major League team and what year to book a hotel in Cooperstown to attend his Hall of Fame induction.
A lot of times it all works out as planned. From Ken Griffey Jr. to Mike Trout and Dwight Gooden to Clayton Kershaw, many top prospects come up to the Majors, instantly realize their potential and carve out long and productive careers. But not every top prospect follows that path. A top-10 ranking in 2013 doesn't guarantee a player will be a household name by 2018. A prospect's path -- like all of ours in life -- often takes unexpected turns.
"What ever happened to that toolsy, yet raw, outfielder I called into the morning show about years ago? What about that guy who threw high 90s with a developing curve?" you ask yourself. Here are your answers.
Dustin Ackley
When the Mariners took Ackley second overall in the 2009 MLB Draft, he seemed as close to a sure thing as a prospect could get -- an advanced college hitter who wasn't confined to first base. He hit his way through the Minors and lived up to his billing as a quick mover by making his Major League debut just two years after he was drafted. However, his contact ability didn't translate to the Majors and he didn't have the power to overcome it.
Though he briefly discovered power after a midseason trade to the Yankees in 2015, a torn labrum sidelined him for 2016 and perhaps sapped his power as well. He spent 2017 with the Salt Lake Bees -- the Angels Triple-A affiliate -- and hit for a .716 OPS as a 29-year-old designated hitter. Halfway through Spring Training in 2018, he remains a free agent.
Kyle Drabek
In December 2009, Drabek was the top prospect the Phillies traded to Toronto for Roy Halladay and dominated Double-A in his first year with the Blue Jays. His control deserted him when he reached the Majors, though, and his career was derailed by Tommy John surgery in 2012.
Since his surgery, Drabek bounced from the Blue Jays to the White Sox to the D-backs. After he was released by the D-backs, he briefly signed a Minor League deal with the Giants to play the infield in 2016. In 2017, he went back to pitching and made six starts with the Sugar Land Skeeters with a 8.33 ERA.
In February, he signed with the Pericos de Puebla of the Mexican Baseball League, where he figures to be part of the team's starting rotation in 2018.
Domonic Brown
Brown is the only player on this list to make an All-Star team at the Major League level, as 23 home runs and a .273/.320/.535 batting line in the first half of the 2013 season with the Phillies earned him a spot on the National League All-Star team.
He followed that up with a measly .723 OPS in the second half and an even worse .634 mark in 2014.
After the 2015 season, the Phillies outrighted Brown off their 40-man roster. He spent 2016 with the Blue Jays on a Minor League deal, posting a .639 OPS in the International League. The Pacific Coast League was better to Brown in 2017, when he hit .304 for the Albuquerque Isotopes. He took that momentum to the Mexican Winter League where he turned a .918 OPS in 45 games into a contract for 2018 with the Sultanes de Monterrey of the Mexican League.
Jacob Turner
For a high school draftee, Turner moved quickly through the Tigers system, making his Major League debut in 2011 as a 20-year-old two years after he was drafted. After a deal at the 2012 Trade Deadline sent Turner to the Marlins, he pitched to a 0.98 WHIP and 3.38 ERA in seven starts. He followed that up with a 3.74 ERA over 20 starts in 2014.
His inability to strike Major Leaguers out, however, has kept him out of a full-time Major League role ever since. He spent 2017 with the Nationals, where he had a 5.08 ERA in 39 innings, primarily as a reliever. He signed a Minor League deal with the Marlins this offseason and has a 2.31 ERA in 11 2/3 innings so far this spring.
Jarrod Parker
From 2011-13, Parker threw 384 innings with a 3.68 ERA and appeared to be a part of a special A's rotation along with Sonny Gray. He missed the 2014 season after suffering an elbow injury in Spring Training and, while rehabbing in 2015 with Triple-A Nashville, he broke his elbow while throwing a pitch.
On Feb. 13, Parker announced his retirement from baseball with the intention to pursue a career in the health industry. He hopes that he can use his experiences with injuries and rehab to help others going through similar things.
Gary Brown
The Giants drafted Brown out of Cal State Fullerton in the first round of the 2010 Draft, and he shot up prospect lists after hitting .336 with 14 home runs over his first full professional season in 2011. By the time he made his Major League debut in 2014, however, his prospect star was diminished as his power never really developed.
He was designated for assignment after failing to make the Giants' Opening Day roster in 2015 and split time in the Cardinals and Angels systems that season. After spending 2016 and 2017 with the Southern Maryland Blue Crabs of the Atlantic League as a player and hitting coach, Brown retired from baseball.
He is currently enrolled in Arizona State University's Sports Law and Business program and hopes to work in a front office or college athletics department after earning his Master's.
Danny Hultzen
The Mariners used the second overall pick in the 2011 Draft on Hultzen, a college pitcher out of the University of Virginia. He was moving quickly through the team's system before a shoulder injury ended his 2013 season prematurely and kept him out for 2014 as well.
After struggling in 2015 and 2016, Hultzen sat out the 2017 season to return to UVA to complete his degree in history. This offseason, he signed a Minor League contract with the Cubs as he tries to make a comeback.
Mark Appel
The former No. 1 overall pick retired this offseason before ever making his Major League debut. After struggling with command in the Astros' system, the team traded him to the Phillies as part of a package to acquire closer Ken Giles. He suffered a shoulder injury in his first year with the Phillies in 2016 and was designated for assignment following the 2017 season.
On Feb. 1, Appel announced that he was retiring from baseball at 26 years old. Going forward, he hopes to use his Stanford degree -- the Astros drafted him after his senior year -- to land an internship with a private equity firm and then apply to top business schools.