Looking back at five great baseball moments at RFK Stadium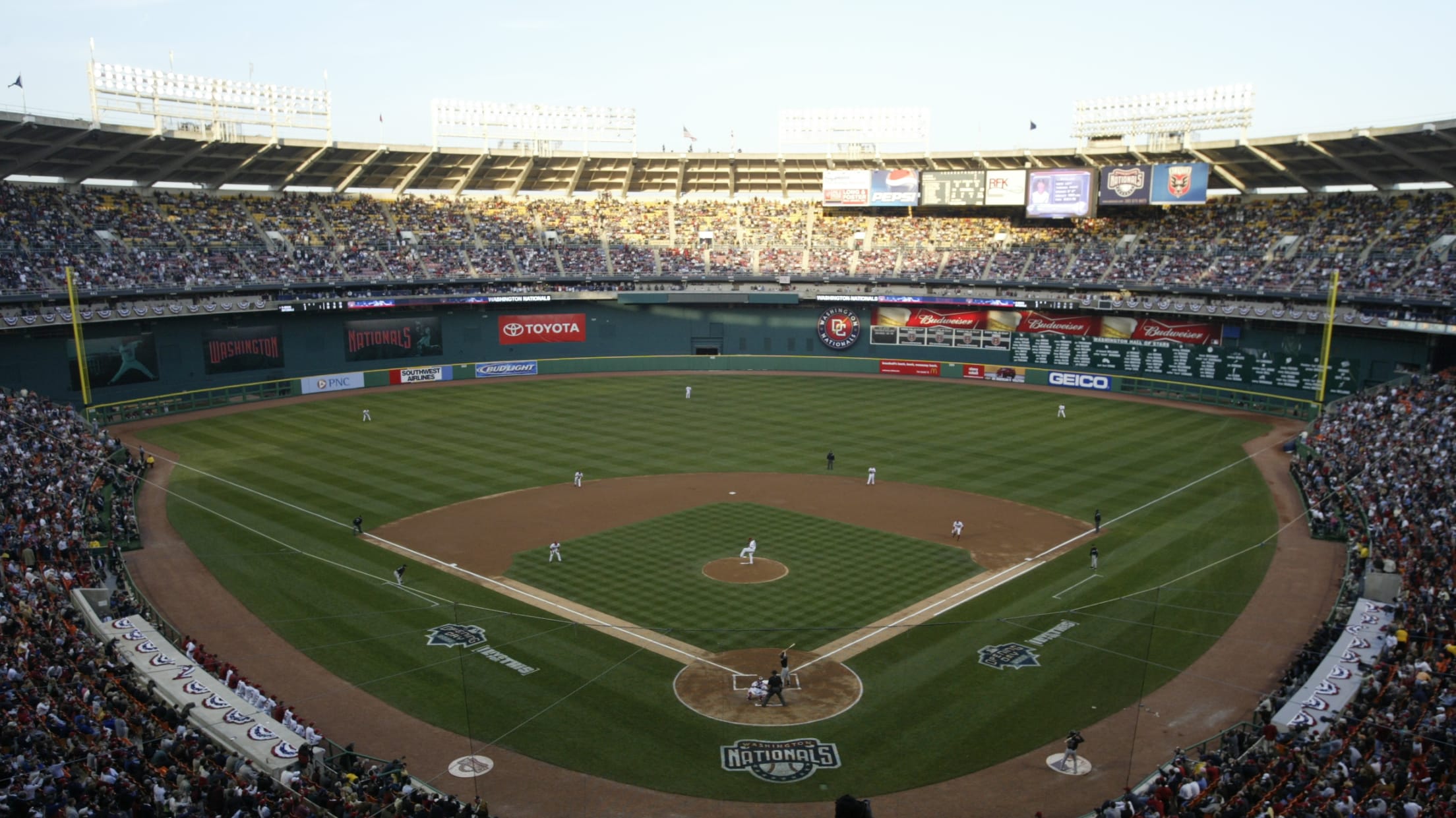 Sunday night was quiet around the baseball world in anticipation of the World Series, but it was also quietly the end of a small era connected to the sport's history. Robert F. Kennedy Stadium, which was previously home to the Nationals and the second iteration of the Washington Senators, bid farewell to its last tenant, Major League Soccer's D.C. United club.
We're not crying, you're crying. #LastCallatRFK | #DCU pic.twitter.com/ttsnFxQ071

— D.C. United (@dcunited) October 22, 2017
Soccer had been a staple at RFK for decades, but it wasn't so long ago that the old stadium hosted baseball as well. So with its future uncertain, let's look back at some of RFK's top baseball moments.
5. JFK provides an appropriate introduction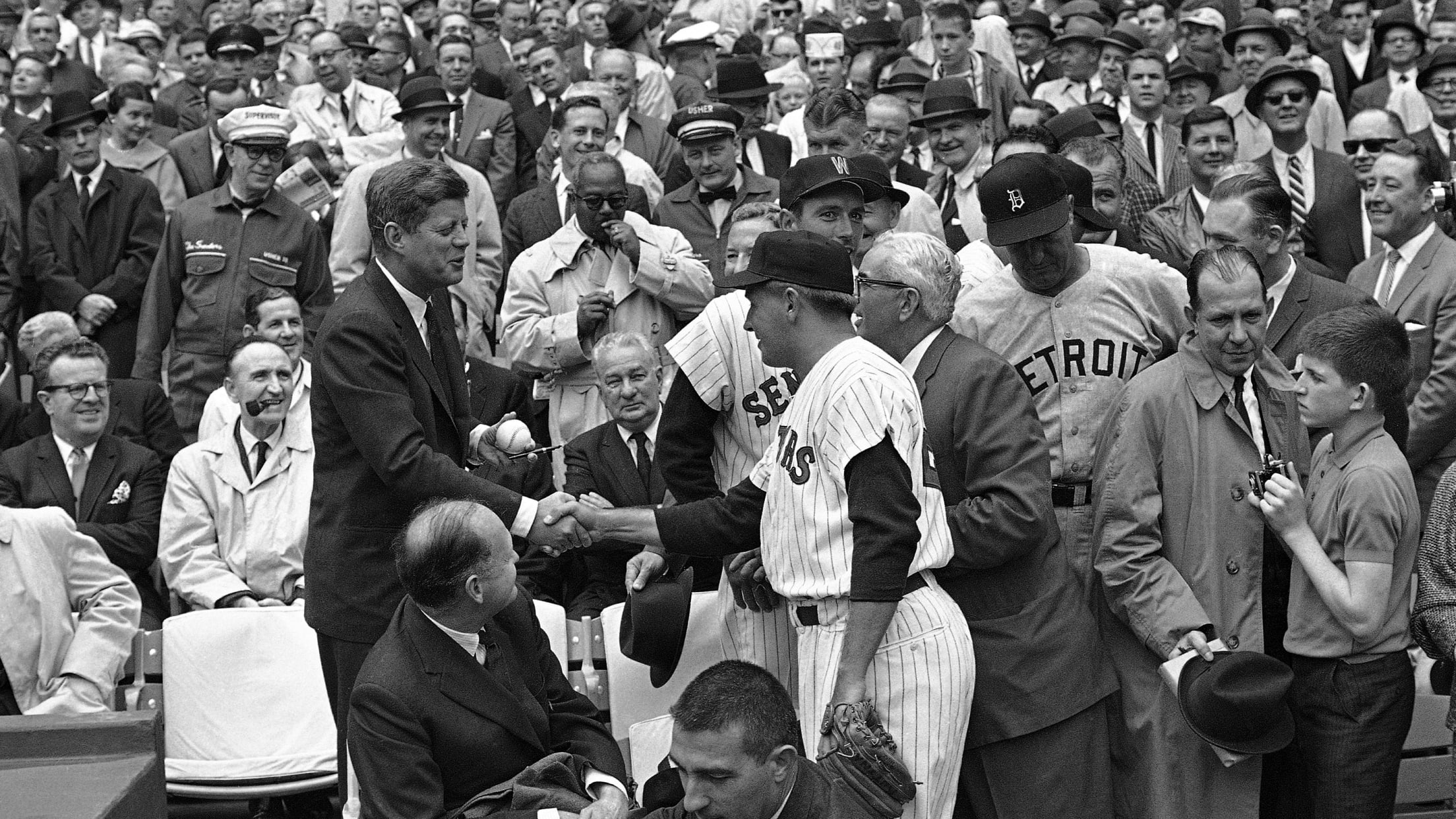 The start of a new chapter in Washington baseball history began April 9, 1962. That was Opening Day for the Senators' new stadium, and the first time in 51 years that Senators baseball had been played in D.C. outside of Griffith Stadium.
The benefits of playing in the U.S. capitol were immediately apparent, as the man who delivered the ceremonial first pitch was none other than President John F. Kennedy himself (seen here munching on a hot dog). Thanks to a two-run homer from shortstop Bob Johnson and a complete-game five-hitter from starter Bernie Daniels, the Senators beat the Tigers in D.C. Stadium's opener, 4-1.
Seven years later, D.C. Stadium would be renamed in memory of Kennedy's brother, Robert.
4. Alfonso Soriano joins the 40-40 Club
Slugger Frank Howard had his share of memorable homers for the old Senators franchise in the 1960s, and the club even painted a few of RFK's upper-deck seats white in his honor to mark his longest blasts. However, not even Howard had a season quite as dynamic as the lone year Alfonso Soriano spent in D.C.
In 2006, the Nationals made a splash in their second year of play by making a trade with the Rangers for Soriano, who was in the middle of seven straight All-Star seasons. A threat at both the plate and on the bases, Soriano had come one homer shy of becoming just the fourth member of the 40-40 club in 2002 with the Yankees, but this time, he punched his ticket seemingly without breaking a sweat.
It was no easy feat reaching 40 homers at cavernous RFK, but the powerful Soriano was undaunted and belted 46 long balls on the year. Once No. 40 arrived off Cole Hamels in Philadelphia, the pressure was on for him to reach his 40th stolen base. That came on Sept. 16 against the Brewers, and the hometown fans gave him a huge hand:
No one else has reached the 40-40 Club since.
3. Luke Appling defies Father Time
There were 34 years between the Senators' last game in D.C. and the Nationals' arrival in 2005, but RFK was not totally deprived of baseball. On several occasions, the stadium played host to Old-Timers Games between American League and National League legends.
The most unbelievable feat in these contests happened on July 19, 1982. Luke Appling was a Hall of Fame shortstop for the White Sox, but it had been 32 years since he had last suited up in the Majors. That didn't mean that his abilities had totally vanished, though.
Appling was facing another Hall of Famer in Warren Spahn. Appling was 75 years old. He had only homered 45 times in 20 years as a Major Leaguer. It didn't matter -- Appling got him:
Amazing.
Julio Franco might have homered at age 48, but let's see him do this in 2033.
2. Baseball returns to D.C.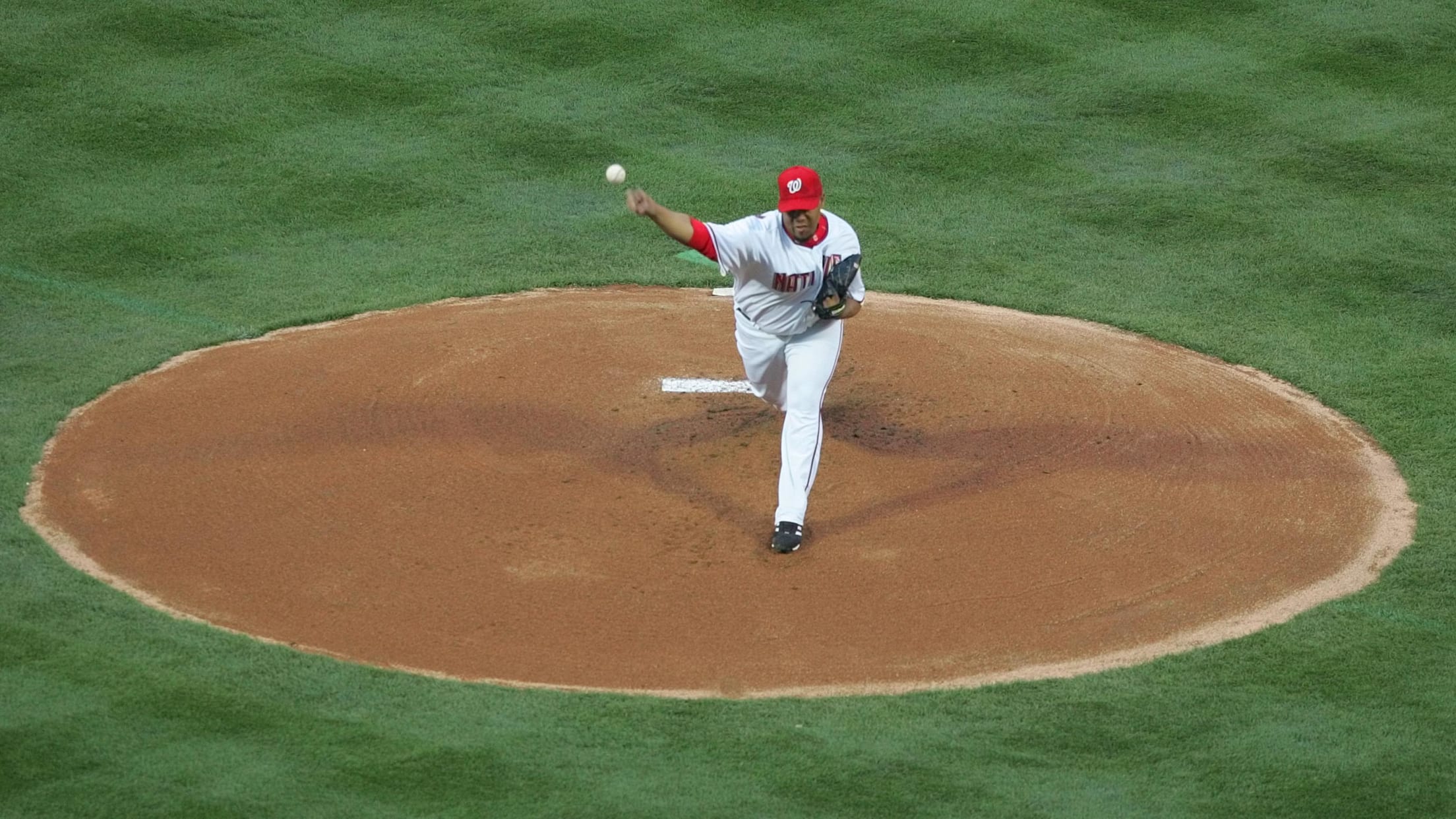 The Senators' move to Texas to become the Rangers in 1972 had left a gaping hole in the hearts of thousands of D.C. sports fans. It took a long time, but that void was finally filled in 2005, when the Expos moved from Montreal to D.C. and became the Nationals.
Plans for the team's new home at Nationals Park were underway, but for their first three years, the Nationals played at RFK Stadium. A sellout crowd of 45,596 was on hand for Opening Day on April 14, when the Nationals faced the D-backs.
Veteran Livan Hernandez was spectacular, holding Arizona to just one hit through eight innings, a measly infield single by Luis Gonzalez in the fourth. Vinny Castilla was on top of his game too, coming a single shy of the cycle and crushing a two-run long ball off Javier Vazquez for the team's first homer. A blast by Chad Tracy knocked Hernandez out in the ninth, but eventual All-Star closer Chad Cordero came on to finish off the 5-3 victory.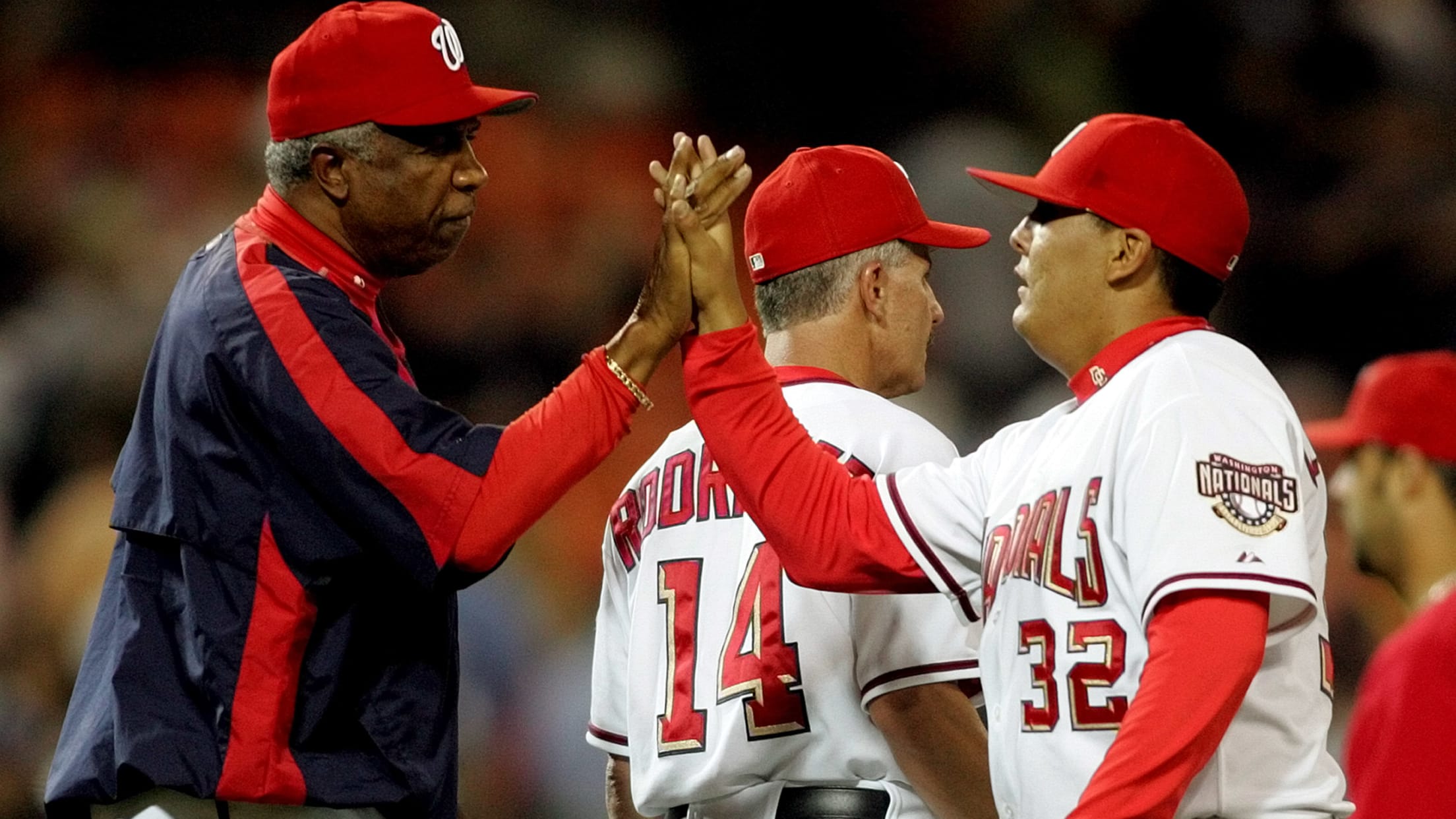 D.C. baseball was back.
1. "Mr. Walk-off" earns his nickname
Ryan Zimmerman was the first player the Nationals drafted, and he wasted no time joining the big league club later in their inaugural season. He's the one man left from that 2005 club, having played all 13 years of his career in D.C.
One of Zimmerman's trademarks has been his penchant for walk-off homers -- his 10 rank second among all active players, trailing only Albert Pujols. Three of those game-enders came at RFK Stadium, but the one that people remember most was his first.
The Nationals had a tough draw on June 18, 2006, as they faced a Yankees team that was en route to 97 wins and their ninth AL East division title in a row. They hung with them, though, and Zimmerman stepped up to bat in the ninth with one out and a chance to win the game. On the mound was American League Cy Young Award runner-up Chien-Ming Wang, whose sinker had mystified the Nationals all day.
However, Wang's last pitch of the day did not break, and Zimmerman destroyed it:
The Nationals had beaten the Yankees, 3-2, and a hero was born.
Teams in this article:
Players in this article: