The Cut4 Road Trip, Day 11: Hater gonna say it's fake, and a chat with Braves prospect Ozzie Albies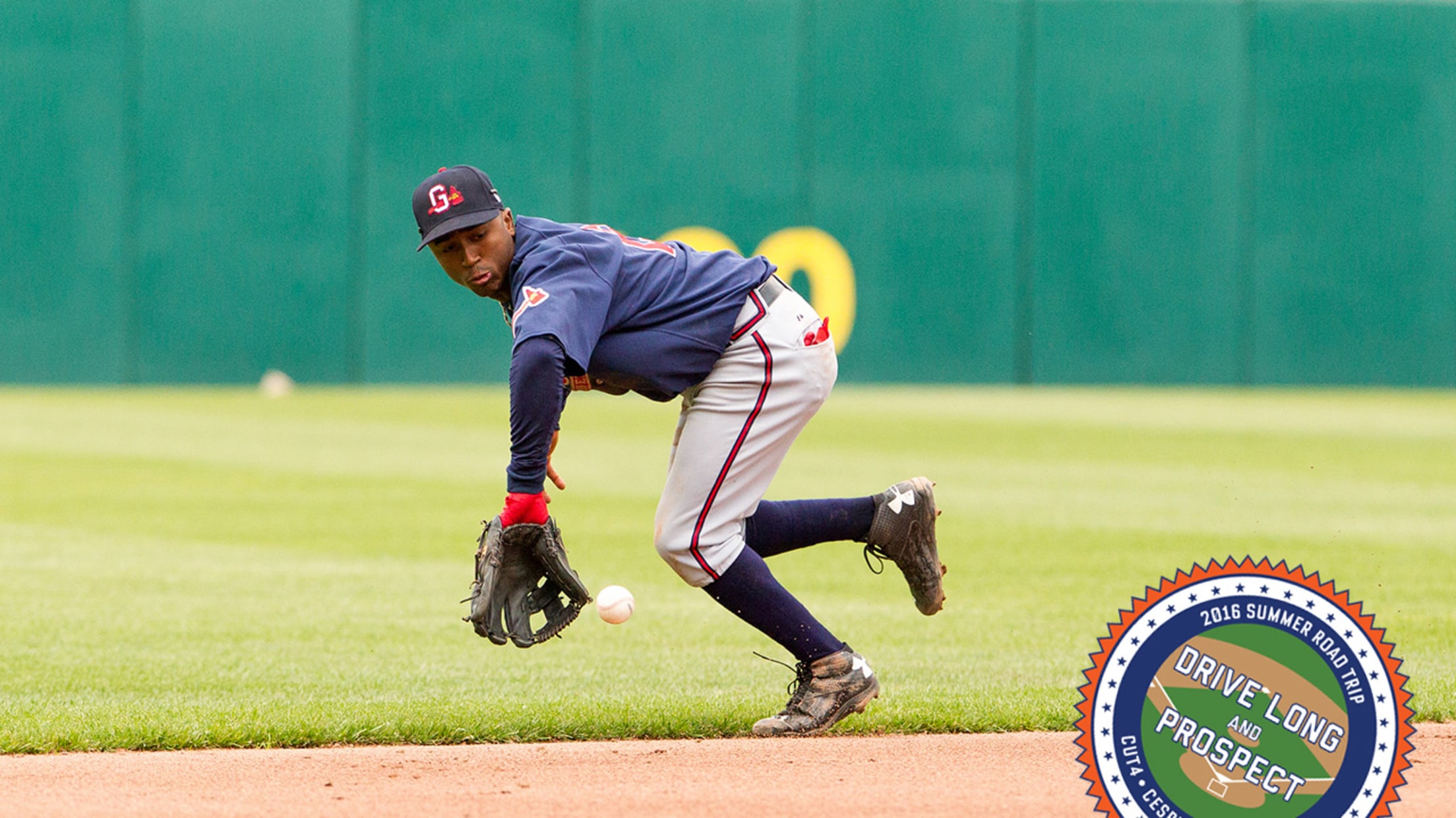 The guys behind Cespedes Family BBQ have embarked on a cross-country road trip to see as many Top-100 MLB prospects as possible.You can find an introduction to the trip and their full schedule by clicking here.
A friend of ours named Kanye once posed the question, can we get much higher? If he was referring to our actions in the state of Mississippi yesterday, then "no" would be the correct answer to Mr. West. While many states boast peaks that stretch over 10,000 feet into the sky, Mississippi's tallest point, Woodall Mountain in Tishomingo County, stands only 806 feet high. We don't discriminate, so we drove up to the top and bat-flipped it because that's who we are and that's what we do:
Highest point in Mississippi bat flip pic.twitter.com/U5Ao4VgON8

— Cespedes Family BBQ (@CespedesBBQ) July 3, 2016
From there we drove north, down shockingly straight highways toward Jackson, Tenn., where an impressive gaggle of prospects lay in wait. But before talking to guys like Tyler O'Neill, Ozzie Albies, and Dansby Swanson, we felt it necessary to make a PSA of sorts for the viewing public
There's a great meme out there known as Haters Gonna Say It's Fake. As young rip-roaring millennials ourselves, we thought we'd offer our best rendition. Give it a watch:
After goofing around like a bunch of complete doofuses, we put on our big-boy pants and our reporter hats and actually asked some prospects some questions. First, we chatted with MLB Pipeline's No. 1 Braves prospect, fantastic hair-haver and totally normal good dude Swanson. His girlfriend's dog makes an appearance at the end of the interview, which was definitely a first for us.
Then we performed -- performed? Performed -- a Facebook Live interview with other super awesome Braves middle infield-prospect Ozhaino Albies. You should probably just call him Ozzie. For whatever reason, Albies was absolutely convinced that we had interviewed him before, even though it was our first time ever meeting the talented young player. It took us about five minutes to convince Albies that this truly was our first encounter, but once we got that out of the way, our chat with him was smooth sailing:
Albies is from Curacao, which is objectively far away from Jackson. Even further away from Jackson is Canberra, Australia. In fact, it's around 6,000 miles further away. Why am I telling you this? Because Ozzie's Mississippi Braves teammate, Steve Kent, is from there. Kent actually spent some time working for the Australian Department of Immigration and Border Protection a few years ago while rehabbing from surgery. Now he's worked his way back into pro ball and talked to us about his unconventional path to Double-A.
A Baseball Game Appeared: Mississippi Braves at Jackson Generals
This wasn't a particularly close game, with the Generals benefitting from the all-powerful #BBQBump en route to a comfortable 7-0 victory. Not quite as fortunate was Braves No. 2 prospect Sean Newcomb. The big lefty allowed five runs on eight hits and walked five in his four innings of work for Mississippi. We could see the stuff (mid-90's fastball, sharp slider) that has him at No. 17 on MLB Pipeline's Top 100, but the command was nowhere to be found, and the Generals were squaring the ball up all night long.
Two other awesome things from the game:
1) Mississippi right fielder Jordy Lara coming in to pitch the bottom of the eighth and throwing straight fire:
Corner outfielder Jordy Lara just pitched a 1-2-3 8th. He was throwing 95-97 with a sharp mid-80s slider. #Braves @MBraves

— Kyle Tait (@TaitVoice) July 4, 2016
2) Recently acquired from the Dodgers, Jackson second baseman Adam Law hit an inside-the-park home run (his first career HR!) in his first game with the Generals. He also happened to do it while one of us (Jordan) was on the Jackson radio broadcast. Check it out:
Where We Woke Up: Hartselle, AL
Where We Slept: Forrest City, AR
Miles Driven: 307
Miles Driven To-Date: 3309
Time in Car: 5:37
Time in Car To-Date: 56:29
Tomorrow's Plan: 36.277300, -92.598729. Take a wild guess what we'll be doing there.