A look back at the inning that made Texas vs. Toronto baseball's best new rivalry
Red Sox-Yankees. Dodgers-Giants. Cubs-Cardinals. These are the rivalries steeped in tradition that electrify baseball on the regular, but this year, the greatest rivalry isn't some decades-old history lesson. This year, the rivalry that promises to captivate the baseball world is one that dates back just one single year -- almost to the day.
The Rangers and Blue Jays are back at it. They starred in a dramatic five-game ALDS last year which ended in an unforgettable Blue Jays victory. Beginning Thursday afternoon, the Rangers will get a do-over while Toronto hopes history repeats itself.
In order to fully prepare for this rematch, it's important to take a look back and remember what brought us baseball's newest rivalry.
The date: Oct. 14, 2015
The setting: Rogers Centre -- Toronto, Canada
The game: ALDS Game 5, series tied 2-2
The inning: 7th
Baseball is reliable and dependable. For all the incredible variety of outcomes we've come to know in baseball, play proceeds in normal fashion more often than not. On occasion, however, it gets weird … and did it ever get weird in that fateful seventh inning.
In the video up top you can watch the entirety of the inning -- all 53 minutes of it! But, on the off-chance you don't have an hour to devote to rehashing one of the most bizarre innings of baseball any of us have ever seen, let's take a moment to relive the highlights.
Here are the five most absurd things to happen in that seventh inning, in chronological order:
#1 Josh Donaldson made an absolutely absurd play
On the weird baseball scale of 0 to 10, this beautiful barehanded play is no higher than a three, but, in retrospect, the bad hop to which Donaldson so flawlessly adjusted may have been the very first sign that things were about to get weird.
#2 Martin's throw gets deflected
Here we go. Peak baseball weirdness fully achieved. You can watch every Major League Baseball game from now until the end of your life and chances are you'll never see this again. With the game tied 2-2, with two outs, and Rougned Odor on third base, catcher Russell Martin's throw back to Aaron Sanchez was deflected by Shin-Soo Choo's bat. The live ball trickled down the third-base line and Odor alertly seized the opportunity to cross the plate and give Texas a one-run lead.
The immediate result was a delay lasting more than 15 minutes as umpires made sure the call was correct. The Toronto dugout was angry and, as a result, the umpires ejected a player who complained a bit too vociferously. But, the only problem was…
#3 Who's ejected?
Who me?! It ended up being Mark Buehrle -- a pitcher who luckily wasn't even on the active roster.
#4 A third consecutive fielding error loads the bases
The Blue Jays got their revenge on offense in the bottom of the inning as three consecutive errors on infield grounders -- two by Elvis Andrus and one by Mitch Moreland -- loaded the bases with nobody out.
A fielder's choice followed by another infield blunder -- this time a missed popup by Odor -- brought home the tying run. That led to José Bautista stepping to the plate with one out, two on and the game knotted at 3.
You know what happened next:
#5 Bautista's bomb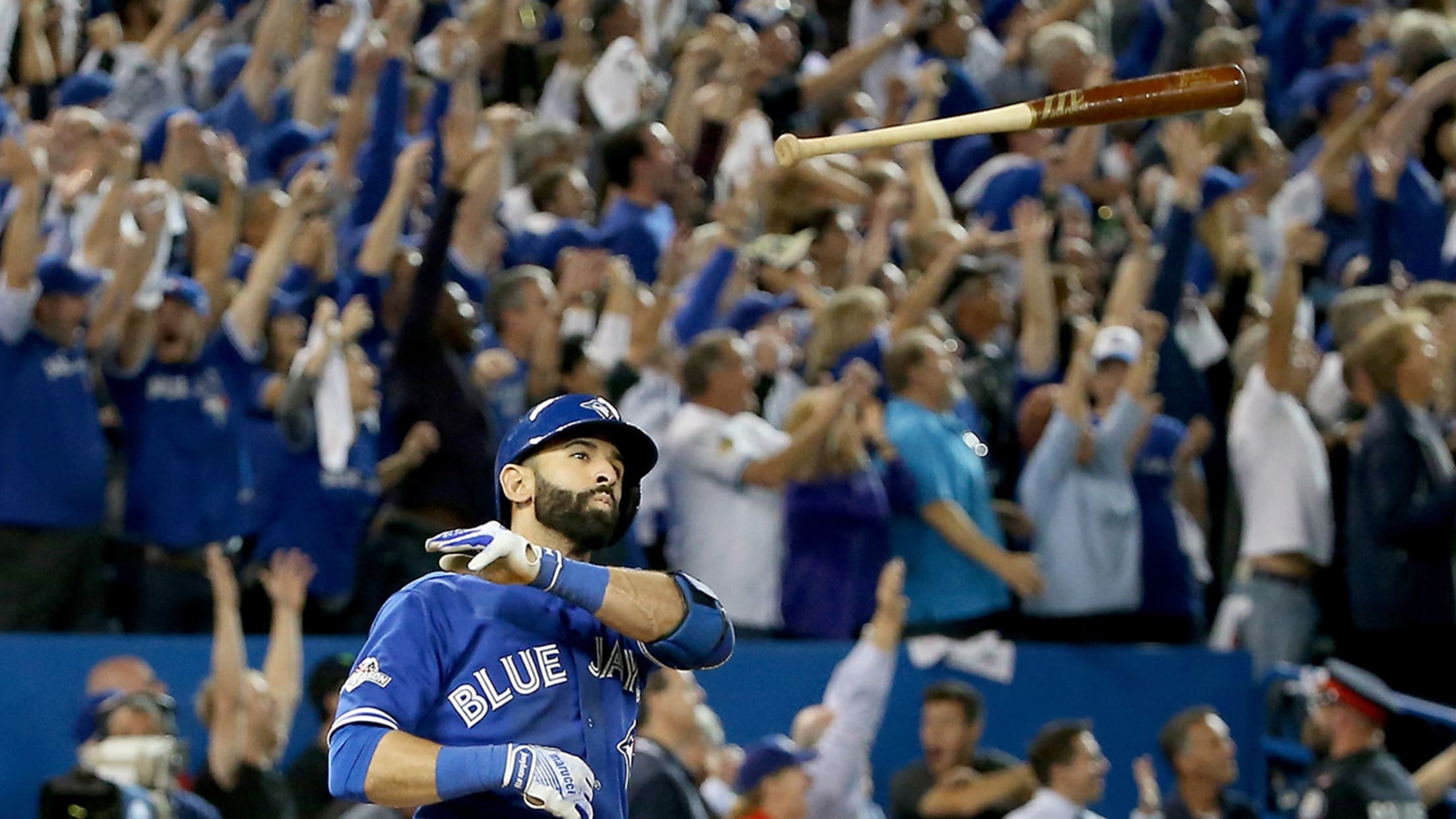 A home run, an epic bat flip and a 6-3 lead for Toronto, which stuck.
It was one of the most bizarre innings of baseball we have ever watched. The Rangers were enraged by Bautista's showmanship which led to the benches clearing in the bottom of the inning. Emotions were highly charged, and they carried over into the 2016 season.
The two teams met up again seven times this year, and Toronto came out the victor once again, winning four of seven. But it was the final game of the series that we all remember. On May 15, the Rangers finally retaliated by hitting Bautista with a pitch, and Bautista's subsequent hard slide into Odor at second base led to an unforgettable punch.
These two teams have not forgotten what brought them here. The rivalry resumes beginning this afternoon at 4:30 ET on TBS (Sportsnet in Canada) with one more five-game set.
Teams in this article:
Players in this article: