These are the very best reaction videos from the first day of the MLB Draft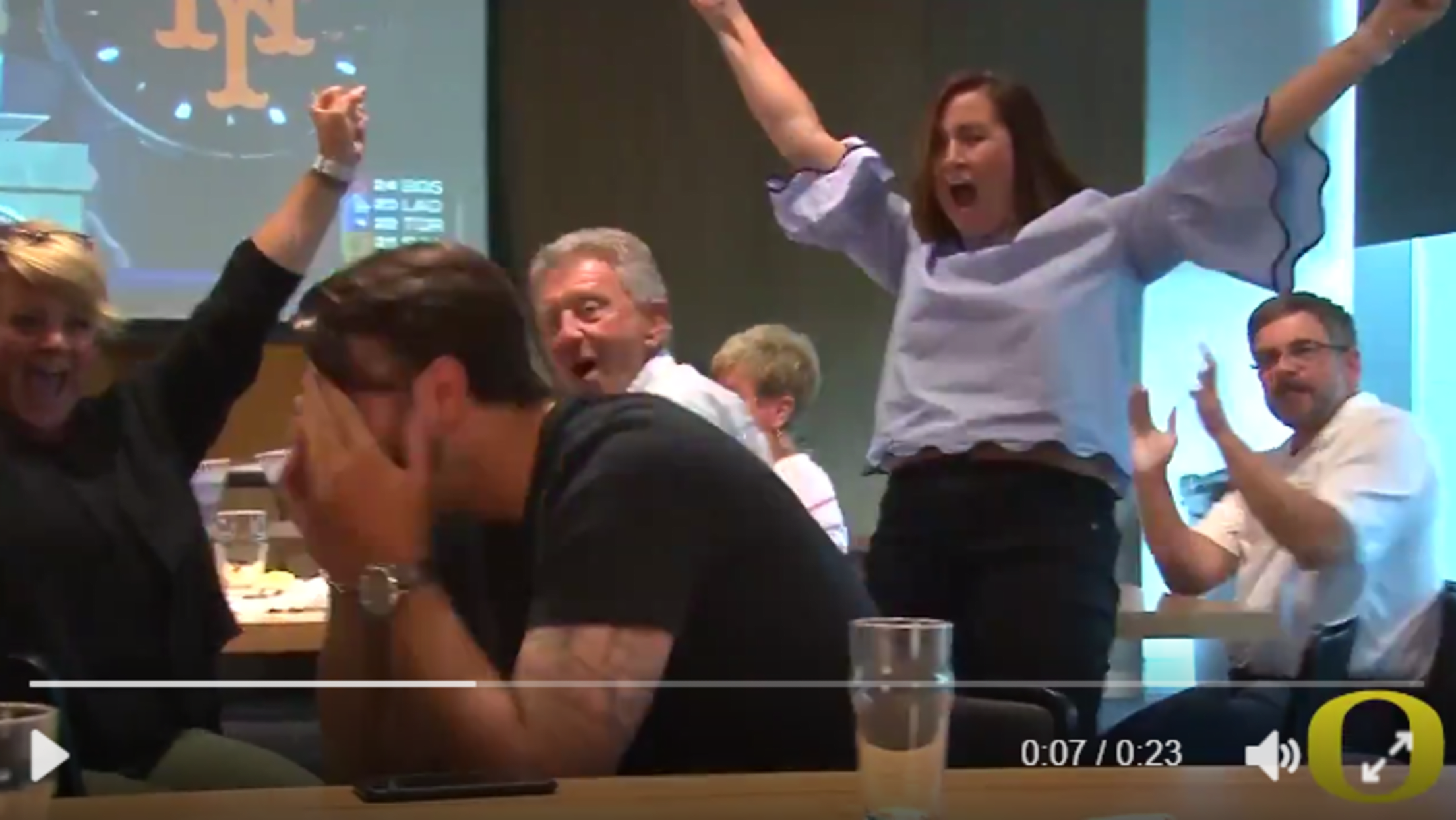 There are many cool things about draft night. Fans get to see their favorite teams add an infusion of exciting new talent into the farm system. Scouts get to end a year-long saga of countless hours spent behind the wheel and at ballfields near and far searching for the next big thing. But for us, there's nothing cooler than getting to watch players and their families react to their dreams coming true. There were a bunch of awesome home video reactions from draft night, and these were some of our favorites:
1B/LHP Brendan McKay -- 4th Overall -- Rays
McKay has been one of the biggest stories in college baseball all season long. The two-way standout has dominated headlines with his absolutely dynamite arm and bat. While McKay's talent speaks volumes, he's also well-known as a particularly quiet and subdued player. That trademark stoic demeanor was hilariously on display in his reaction video. While every other person in the room was hootin' and hollerin', McKay barely moved -- he might as well have been watching a documentary on woodworking.
The moment Brendan McKay was selected by the Tampa Bay Rays. pic.twitter.com/1deiLgSwP1

— Jeremy Vernon (@jbo_vernon) June 13, 2017
The Rays and their fans won't care how often McKay smiles as long as he keeps the excitement going on the diamond.
RHP Kyle Wright -- 5th overall -- Braves
One pick later, we saw a nearly polar opposite reaction of McKay's:
While Wright and his Vanderbilt teammates recently got eliminated during the regionals of the College World Series, they still got the excitement of celebrating Wright's fifth overall selection -- to his favorite childhood team. We've seen a few guys get hurt in dogpiles already, so it's probably a good thing the Commodores didn't go too far.
LHP David Peterson -- 20th overall -- Mets
Often times, it seems like the players know ahead of time which teams are going to take them. In those situations, the ecstatic reaction is rooted more in hearing their name actually called than finding out any new information. But for University of Oregon left-hander David Peterson, it sure looked like a total surprise.
When dreams come true. David Peterson gets drafted by @Mets in the first round. #GoDucks pic.twitter.com/aWYrJA8nqT

— GoDucks (@GoDucks) June 13, 2017
In an instant, Peterson and his crew went from a regular family gathering at the table to an overwhelming volcano of emotion. Outstanding.
1B J.J. Matijevic -- 75th overall -- Astros
After two decent years at the University of Arizona, Matijevic emerged this season as a force with the bat, slugging his way to a late second-round pick. Though technically "Mr. Irrelevent" of Day 1, there was nothing irrelevant about J.J.'s family's reaction to his selection.
And now it begins...@TweetinJ_23 let's go! pic.twitter.com/GgGA7qbKU9

— m fajt (@mfido25) June 13, 2017
A few observations about the celebration:
Good luck to all these men and their families. May their baseball endeavors go as planned.