Prepare for World Series Game 6 with MLB's All-Elimination Game lineup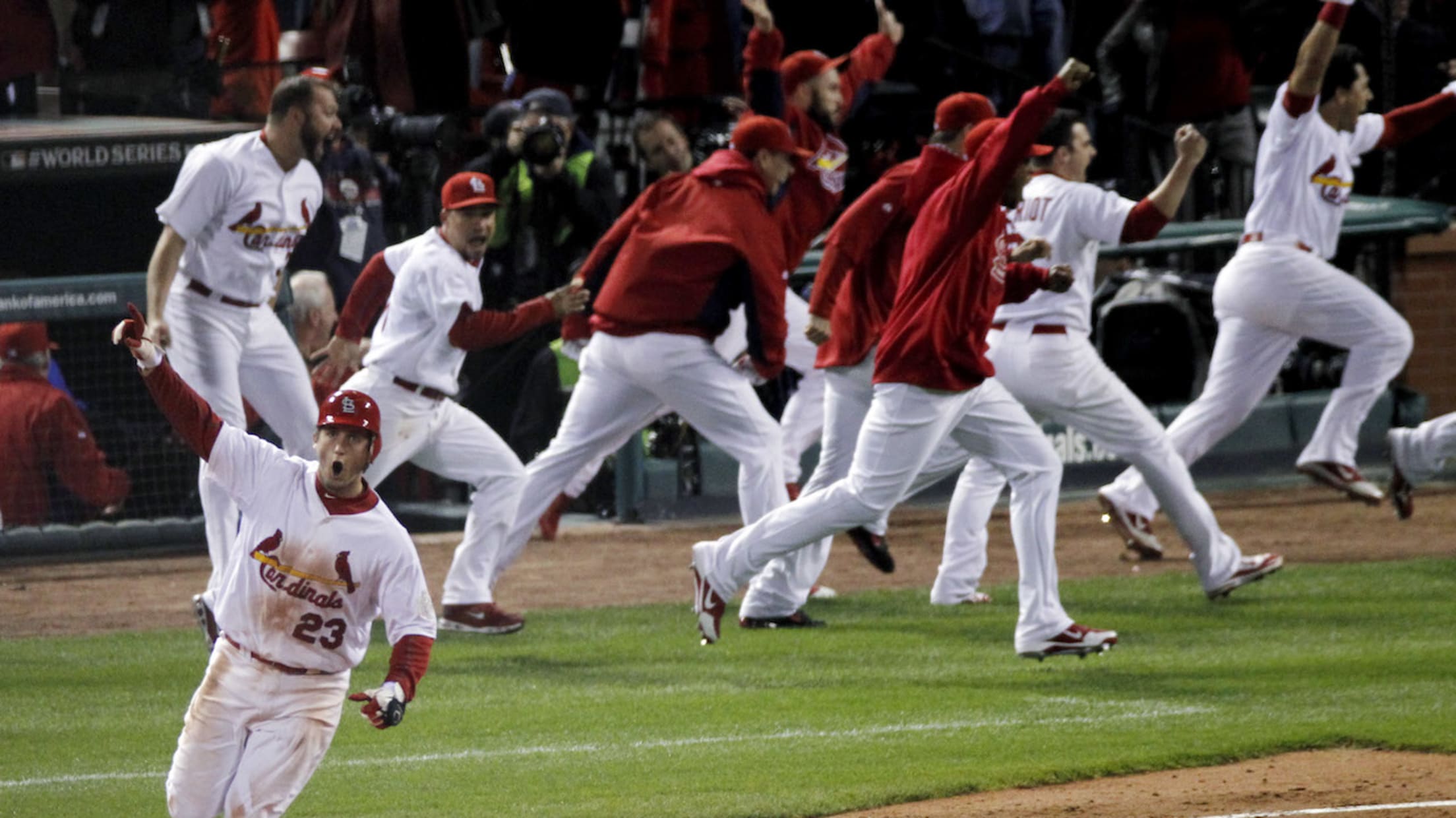 St. Louis Cardinals' David Freese hits a solo home run off a pitch by Texas Rangers' Mark Lowe in the 11th inning of Game 6 of baseball's World Series Thursday, Oct. 27, 2011, in St. Louis. The Cardinals won 10-9. (AP Photo/Jeff Roberson) (Jeff Roberson/AP)
After more than six months of baseball, it could all end tonight: The Astros meet the Dodgers in World Series Game 6 (7:30 p.m. ET air time | 8 p.m. ET game time on FOX) needing just one win to bring home the first championship in franchise history.
Alas, we've still got a few hours to kill. So, to help get you prepared for some elimination baseball, allow us to present MLB's All-Elimination Game Team: a lineup of the players who've shined the brightest with everything on the line. (One quick note: This is limited to the World Series only. Sorry, Papi.)
C: Gene Tenace
Carlton Fisk hit one of the most iconic home runs in World Series history -- but even his postseason heroics can't match Gene Tenace.
Tenace struggled for the 1972 A's, hitting just .225 with five homers in the regular season. So naturally, with Oakland facing Johnny Bench and the Reds in Game 7 of the World Series, he was the best catcher on the field: Tenace went 2-for-3 that afternoon, including a go-ahead double in the sixth.
1B: Willie Stargell
Down 3-1 to the Orioles in the 1979 World Series, the "We Are Family" Pirates looked finished. But Pittsburgh took Game 5 behind a dominant Bert Blyleven, then blanked the O's in Baltimore to force a Game 7 -- and from there, Stargell took over.
With the season on the line, Pops was a one-man wrecking crew, going 4-for-5 with a two-run homer in the sixth that put Pittsburgh up for good:
2B: Bill Mazeroski
It's hard to make a better case for inclusion on the All-Elimination Game Team than hitting the first and only Game 7 walk-off homer in World Series history. Of course, doing it against a Yankees team that had won seven of the previous 11 Fall Classics is just gravy:
SS: Edgar Renteria
In addition to his inclusion in arguably the greatest photograph in baseball history, Renteria can hang his hat on an unforgettable elimination game moment: His walk-off single in Game 7 of the 1997 World Series to give the then-Florida Marlins their first World Series championship in franchise history.
3B: David Freese
The Rangers were one out away from a World Series title in 2011, and then David Freese happened. First, with his Cardinals down two with two outs in the ninth of Game 6, he drilled a game-tying RBI triple to right:
Then, with the game still tied in the 11th, he sent everybody home:
Oh, and he also smacked a game-tying double in Game 7 the next night for good measure.
LF: Lou Brock
A key part of the legendary 1960s Cardinals, Brock played in three World Series Game 7s over a five-year span. His line in those games? Five hits in 11 at-bats, two walks and three steals.
CF: Kirby Puckett
Perhaps a better question would be what didn't Puckett do in Game 6 of the 1991 World Series. With the Twins facing elimination, their star played the game of his life: He started the scoring with an RBI triple in the first, then made sure Minnesota kept that lead with a robbery of Ron Gant in the third.
And for his last trick, he made sure that everyone would see the Twins tomorrow night:
RF: Mel Ott
Ott won one World Series in his Hall of Fame career with the New York Giants, but it could've been a lot more. Twice New York reached the Fall Classic in the mid-1930s, and twice they were denied by the Yankees in Game 7. You can't blame their star, though: Ott homered in each of those games and drove in a combined five runs.
SP: Sandy Koufax
The history of elimination games is chock full of great pitching performances. In the end, though, we could only choose one.
Heading into Game 7 of the 1965 World Series, Koufax had already begun to suffer from the arthritis that would abruptly end his career a year later. He'd just pitched two days prior, shutting out the Twins in Game 5. And yet, despite all that, he still struck out 10 in a complete-game shutout win over the Twins:
RP: Rollie Fingers
Mariano Rivera is the greatest postseason reliever of all-time, but the Yankees lost each of the World Series elimination games in which he pitched -- most notably in 2001, when Luis Gonzalez capped a miraculous D-backs rally.
Rollie Fingers, on the other hand, excelled in those spots. In both 1972 and 1973, the A's called on him for a multiple-inning save in Game 7 of the World Series. Both times, he slammed the door.