To break Yan Gomes out of his slump, the Indians had a clubhouse sacrifice to the baseball gods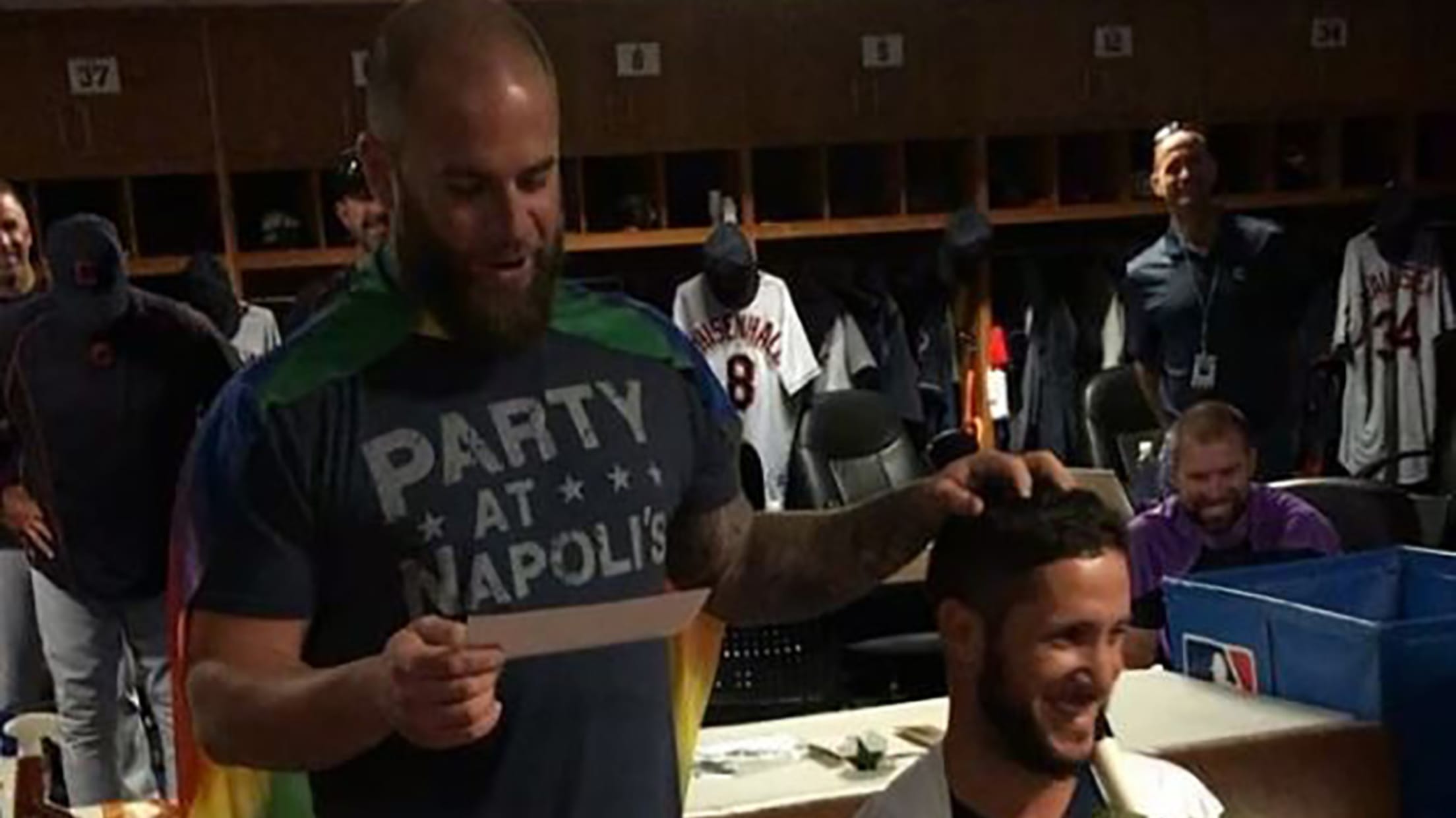 (Clair, Michael)
Almost everything that could go right has gone right for the Indians this year. Entering Saturday's game against the Twins, the Indians were leading the AL Central by 6 1/2 games and had the best record in the American League. Unfortunately, Yan Gomes is one of the few players not having great year. With the catcher hitting just .163/.198/.310, his Indians teammates knew just what they needed to do: Make a sacrificial offering to the baseball gods and banish Gomes' baseball demons.
All makes perfect sense -- for in his house at R'lyeh, the baseball gods wait dreaming.
Organized by Jason Kipnis, Mike Napoli, Lonnie Chisenhall and Chris Gimenez, the ceremony began with Gomes wearing a white robe and kneeling before an altar, a bouquet and baseball bat in his hands:
Napoli then read the traditional words that need to be recited at all baseball god sacrifices:
Gomes then needed to slice the chicken they purchased from the grocery store:
Of course, it ended with Gomes smashing a pinata to celebrate with his "first hard contact" post-blessing.
Said Kipnis to MLB.com's Jordan Bastian after it was all over: "We bought a chicken from [Target]. We bought a little blade and we had him chop it in half. We sacrificed a chicken to the baseball gods and Jobu. We gave them gifts and peace offerings. Hopefully, they'll accept them and turn the tide on our catcher."
With Gomes laughing throughout, manager Terry Francona also enjoyed it. "I thought it was funny," he said. "I thought that was probably clubhouse humor to the nth degree. That's probably stuff you don't do in the regular workplace, but I thought it was good. I think it showed Gomer how much they care about him, which is good. Somebody went to a lot of trouble to get all that [stuff]."
That's certainly true. According to Gimenez, the group "spent like $500."
Teams in this article:
Players in this article: