Goldschmidt reflects on trade, facing D-backs
First baseman takes on former club for 1st time since joining Cardinals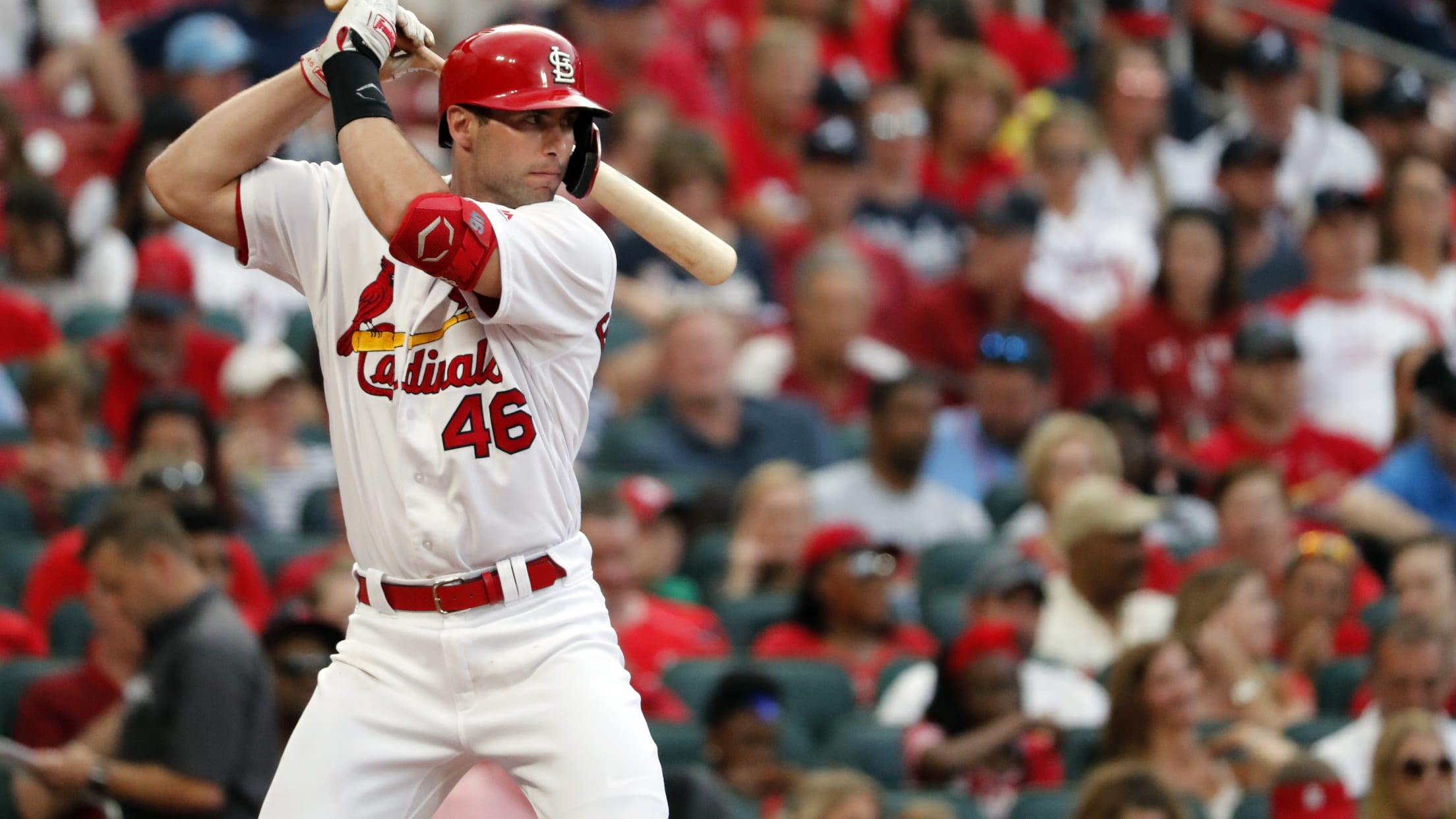 ST. LOUIS -- For eight years, Paul Goldschmidt was "the guy" for the Arizona Diamondbacks. A six-time All-Star and three-time Gold Glove winner, Goldschmidt was a staple at first base in Arizona as other players came and went. On Friday night, he was at first base at Busch Stadium in
ST. LOUIS -- For eight years, Paul Goldschmidt was "the guy" for the Arizona Diamondbacks. A six-time All-Star and three-time Gold Glove winner, Goldschmidt was a staple at first base in Arizona as other players came and went.
On Friday night, he was at first base at Busch Stadium in a Cardinals jersey, greeting his former teammates when they get on base.
"For my entire career until this year being in the big leagues, Goldy was our guy," D-backs right-hander Archie Bradley said. "He was the guy that we counted on to carry us when we were down, carry us when we were good, lead by example, lead by face. And now he's essentially the face of another team already, and you're game planning. He's still one of those guys you're not going to let beat you. Now you're going to do your best to contain him."
Goldschmidt isn't making too big a deal of seeing his former team. He'll return to Arizona in September, when the Cardinals play the D-backs at Chase Field. He arrived at the ballpark early Friday to meet up with his close friends, coaches and training staff before getting ready for the game.
"Honestly once the game starts, it won't be anything too different," Goldschmidt said. "You go out there and try to win a ballgame."
Before Friday's game, Goldschmidt reflected on the trade that sent catcher Carson Kelly -- who started Friday -- and pitcher Luke Weaver to the D-backs. Goldschmidt said he had a sense a trade was coming, and when he got to Spring Training with the Cardinals, he fit right in.
"The only organization I knew was the Diamondbacks, and it was almost a decade of me being there," Goldschmidt said. "You go somewhere new, you don't know what's going to happen. Definitely [went] in with an open mind, I'm the new guy, trying to fit in. It happened pretty quickly. Once the game starts, baseball is baseball, and that's what I thought going in, but for it to actually happen like that, you're not really sure. That's what happened."
Goldschmidt signed a six-year extension with the Cardinals before the 2019 season even started, an indication of how the Cardinals think Goldschmidt fits in St. Louis -- and how Goldschmidt thinks he fits with the Cardinals.
"I always had respect for this organization playing against them," Goldschmidt said. "Not just the success they've had, just knowing the guys here and the organization. I was more excited they wanted to keep me more than anything. It was definitely a big honor. Try to go out there and play well and help us win."
While Goldschmidt didn't comment on if an extension would have happened if he had stayed with the D-backs, he had nothing but high praise for his former team.
"I loved my time with Arizona," Goldschmidt said. "I loved everything about it. I can't say enough good things, from ownership down to the people at the ballpark that were taking care of my family. I lived there, everything was great about it. The players, the coaching staff, front office, I don't have a bad thing to say. [An extension is] not what happened, but whatever was going to happen -- it is what it is."
Goldschmidt is hoping to start off the second half of the season building upon what he did over the last two weeks of the first half. In his last seven games, he's slashing .346/.433/.654 with six RBIs and two home runs. And the Cardinals are hoping that once Goldschmidt gets going, the rest of the team will follow suit and climb away from .500.
Although this first half is the worst of Goldschmidt's career, it's not the first time Goldschmidt has struggled before the All-Star break. In 2018, he hit .144 in May before breaking out to make his sixth straight All-Star Game.
Through it all, he's kept steady, making adjustments as they come and trying to build off the positive aspects of his game.
"I want to go out there and play better," Goldschmidt said. "My whole career, you have times where -- last year stood out a little more because it was the start of the season -- you always have times where you're struggling and not getting results. You know just as quickly you can go from good to bad, you can go from bad to good. That's how I look at it, that's how the game of baseball goes."