ALDS Game 4 among Rays' best wins of 2019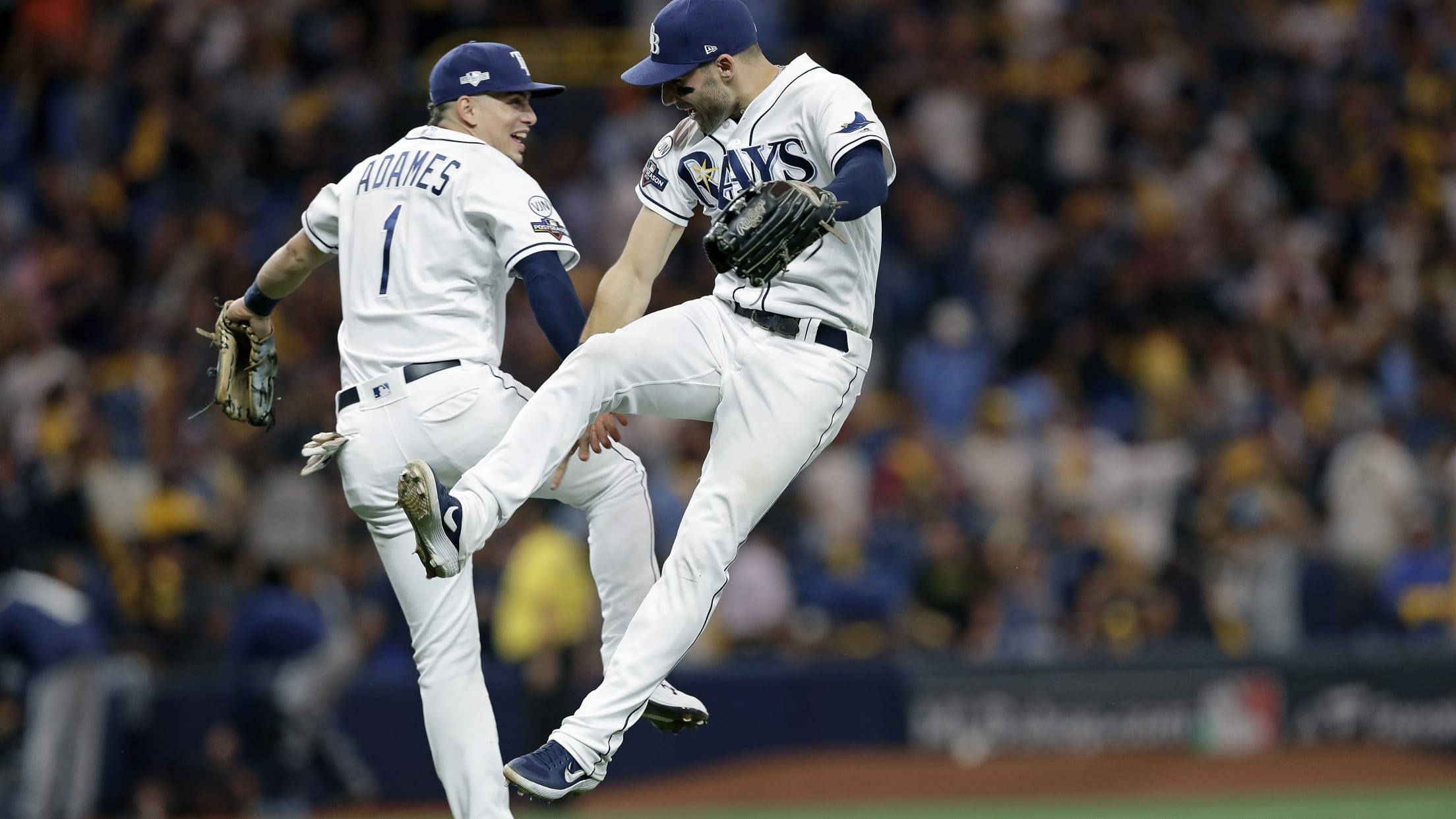 ST. PETERSBURG -- Once Spring Training starts, the Rays will no longer look back at what they accomplished in 2019, since last year's success won't necessarily translate to the new season. However, for a team like Tampa Bay that clinched a postseason appearance in 2019 and returns its core group
ST. PETERSBURG -- Once Spring Training starts, the Rays will no longer look back at what they accomplished in 2019, since last year's success won't necessarily translate to the new season.
However, for a team like Tampa Bay that clinched a postseason appearance in 2019 and returns its core group of players, some of the games it managed to win last season could serve as building blocks for '20.
Each year is different, but let's take a look at the five best wins of 2019 and what they could tell us about the Rays heading into next season.
1. American League Division Series Game 4 vs. Astros
October 8
Let's start off with a key playoff win. Facing elimination, the Rays went with Diego Castillo as the opener in what ultimately turned out to be a very successful bullpen game. They used six pitchers en route to a 4-1 win over Justin Verlander and the Astros. This game provided a chance for Tampa Bay's pitching staff to show a national audience just how dominant it was for six months during the regular season, and the Rays lived up to the hype.
What does it tell us about 2020?
While playoff games are managed differently, this game displayed the Rays' willingness to trot out an opener whenever they feel it gives the team a good chance to win. Tampa Bay has five quality starters on the roster in Blake Snell, Tyler Glasnow, Charlie Morton, Ryan Yarbrough and Yonny Chirinos, but don't be surprised if the Rays still use an opener throughout next season. With rosters expanding to 26 players in 2020, they could start the year with a six-man rotation -- with the sixth being a bullpen game -- in order to keep their starters fresh.
2. Comeback win vs. Dodgers at Dodger Stadium
September 18
This was arguably the biggest win of the season for the Rays -- or at least the win that gave them the most momentum heading into the final two weeks of the regular season. With Tampa Bay staring at a two-game sweep at Dodger Stadium, it instead rallied back, scoring two runs off Los Angeles closer Kenley Jansen in the ninth inning before Austin Meadows hit a go-ahead solo home run in the 11th to lead to an eventual 8-7 win.
What does it tell us about 2020?
The Rays and Dodgers won't face each other next season, but that road game at Dodger Stadium gave Tampa Bay another look at what it's like to play in hostile environments during the regular season. The Rays are used to playing at Yankee Stadium and Fenway Park, but this was a good test at a ballpark they weren't familiar with, which could help them moving forward. It also showed them that they could go toe-to-toe with the league's best, which should also inspire confidence in 2020.
3. Comeback in Toronto
July 28
Just a day after blowing a seven-run lead in the final three innings of the game, the Rays returned the favor, erasing a seven-run deficit to beat the Blue Jays, 10-9. Willy Adames and Guillermo Heredia hit key home runs late, and Castillo pitched a scoreless ninth to earn the save.
What does it tell us about 2020?
With the Rays returning most of their roster, this win showed the type of culture Tampa Bay was able to build last season. Come-from-behind wins aren't easy to accomplish, but the Rays had a knack for fighting back in games.
4. Sweeping the Yankees
September 25
Morton tossed six shutout innings as the Rays finished off a two-game sweep of the Yankees with a 4-0 win at Tropicana Field. With the win, they closed out their final homestand of the season with a 5-1 record against the Red Sox and Yanks.
What does it tell us about 2020?
While the Red Sox and Yankees will surely make moves during the offseason, it does help that the Rays have positive thoughts about their most recent meetings against their division rivals.
5. Offense erupts vs. Orioles
July 12
In the first game after the All-Star break, the Rays put on quite an offensive performance at Camden Yards. They collected 20 hits en route to a 16-4 win over the Orioles, with seven hitters managing two or more hits.
What does it tell us about 2020?
While the Rays did this against the worst pitching staff in the Majors, it was still a reminder of what this offense is capable of when every hitter is clicking. Tommy Pham and Meadows are going to lead the way offensively, but having Adames, Nate Lowe, Kevin Kiermaier and others contributing elevates the team to another level. Tampa Bay will be able to pitch at a high level in 2020; it will be up to the offense to match the superb pitching staff.
Juan Toribio covers the Rays for MLB.com. Follow him on Twitter @juanctoribio.