Notes: Rays' arms look strong; '21 schedule out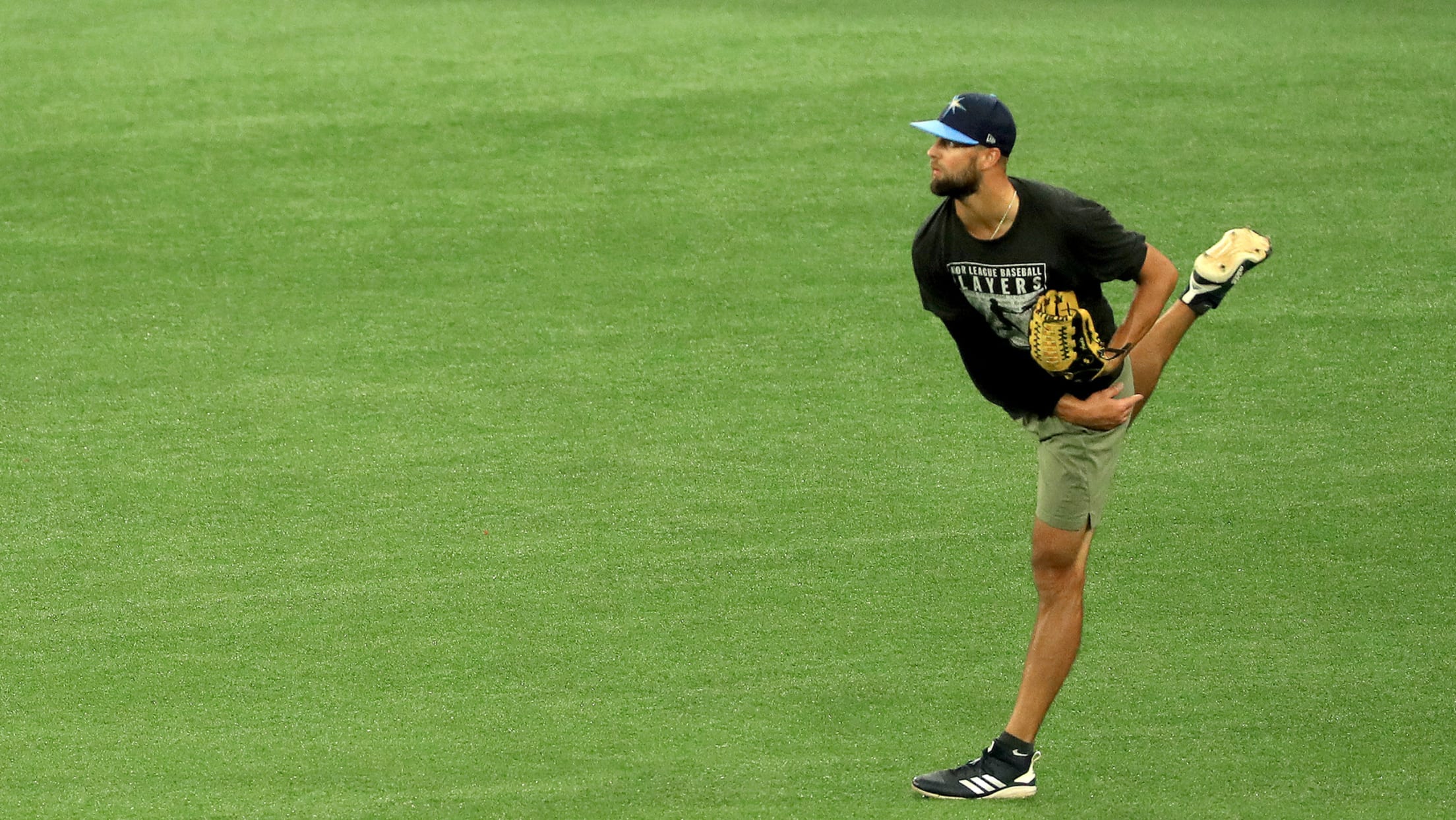 ST. PETERSBURG -- For the second consecutive day, the Rays went through a simulated game on Thursday, but this time it was four relievers that took the mound. Nick Anderson, Colin Poche, Pete Fairbanks and Aaron Loup -- all of whom are expected to be key parts of Tampa Bay's
ST. PETERSBURG -- For the second consecutive day, the Rays went through a simulated game on Thursday, but this time it was four relievers that took the mound.
Nick Anderson, Colin Poche, Pete Fairbanks and Aaron Loup -- all of whom are expected to be key parts of Tampa Bay's bullpen in 2020 -- were the pitchers who participated in Thursday's sim game.
Of the group who pitched on Thursday, Anderson is the one who is expected to carry the biggest role. Anderson won't be named the official closer, but chances are that he'll be called upon in high-leverage situations.
After being acquired in a 2019 Trade Deadline deal from the Marlins, Anderson was one of the best relievers in baseball, striking out 41 batters in just 21 1/3 innings with the Rays. As expected, Anderson wasn't quite in midseason form during his first simulated game of Summer Camp, but the right-hander still managed to fill up the zone and toss a scoreless inning against Kevin Kiermaier, Hunter Renfroe, Nate Lowe and Chris Herrmann.
Anderson threw 17 pitches on Thursday with 13 landing for strikes. He struck out Lowe on a breaking ball to end his outing.
#Rays Anderson gets Nate Lowe on a nasty breaking ball pic.twitter.com/gGz03DbFwd

— Juan Toribio (@juanctoribio) July 9, 2020
"He looks good," said Rays manager Kevin Cash. "We talked about the workload we put on him last year when we acquired him and I thought we managed it fairly well. He may benefit from those three months off, just letting his arm recover. … His stuff actually looks better now than it did early in spring in Port Charlotte."
Loup and Fairbanks also tossed scoreless frames on Thursday. Loup -- who is competing for a spot on the active roster as a non-roster invitee -- threw 20 pitches, 12 for strikes, and one strikeout. He faced Manuel Margot, Yoshitomo Tsutsugo, Kevan Smith and Mike Brosseau.
Tsutsugo was the only one to get a hit off Loup, sending a single back up the middle. Tsutsugo went 1-for-2 with a strikeout, but looked fairly comfortable at the plate against Loup and Poche.
Smith, who is competing for the backup catcher role, hit a two-run home run against Poche. Smith made an impression on the Rays during Spring Training and his ability to hit could be a reason the club decides to add him to the 40-man and active roster.
Poche gave up the home run to Smith and struggled to find the zone early in his outing, but was able to settle down, striking out Margot, Tsutsugo and Brosseau to end the inning. Overall he threw 21 pitches with 11 landing for strikes.
"It took me a little while to get going and get my rhythm and my feel," Poche said. "Towards the end, I felt like I was locking in a little bit and throwing pitches where I wanted to. That's why I asked for an extra hitter at the end just because I felt like once I was getting into my rhythm, I wanted to face another hitter and just try to build off that so I can piggyback that into my next outing."
2021 schedule
While the Rays continue to get ready for the 2020 season, Major League Baseball released the schedule for 2021 on Thursday. For the first time since '09, the Rays will start the season on the road as they're scheduled to travel to Miami to play the Marlins on April 1, 2021. The Rays' streak of hosting 11 straight Opening Day contests was the longest in the American League.
The opening road trip continues in Boston, before the club returns home for its home opener against the Yankees on April 9. Another notable point on the schedule is the Rays will travel to Philadelphia, Washington D.C. and Atlanta during interleague play.
Tampa Bay is also scheduled to end the season on the road with a road trip that begins in Houston against the Astros and ends in New York against the Yankees.
2020 will end at some point

So here's some good news for 2021!

— Tampa Bay Rays (@RaysBaseball) July 9, 2020
Thursday's attendance
Thursday was another lighter day at the Trop as only eight position players were seen on the field. Tyler Glasnow, Randy Arozarena, Yonny Chirinos and José Martínez have still not been spotted during workouts.
Austin Meadows attended Friday's workout, but he has not been on the field since. Brendan McKay participated in the first couple of workouts, but he has not been seen on the field in the last three days. Due to the health protocols, the Rays won't disclose which players have attended each workout.
Juan Toribio covers the Rays for MLB.com. Follow him on Twitter @juanctoribio.