Hernandez eager to 'contribute in any way'
No. 11 prospect impresses at camp; O'Grady goes deep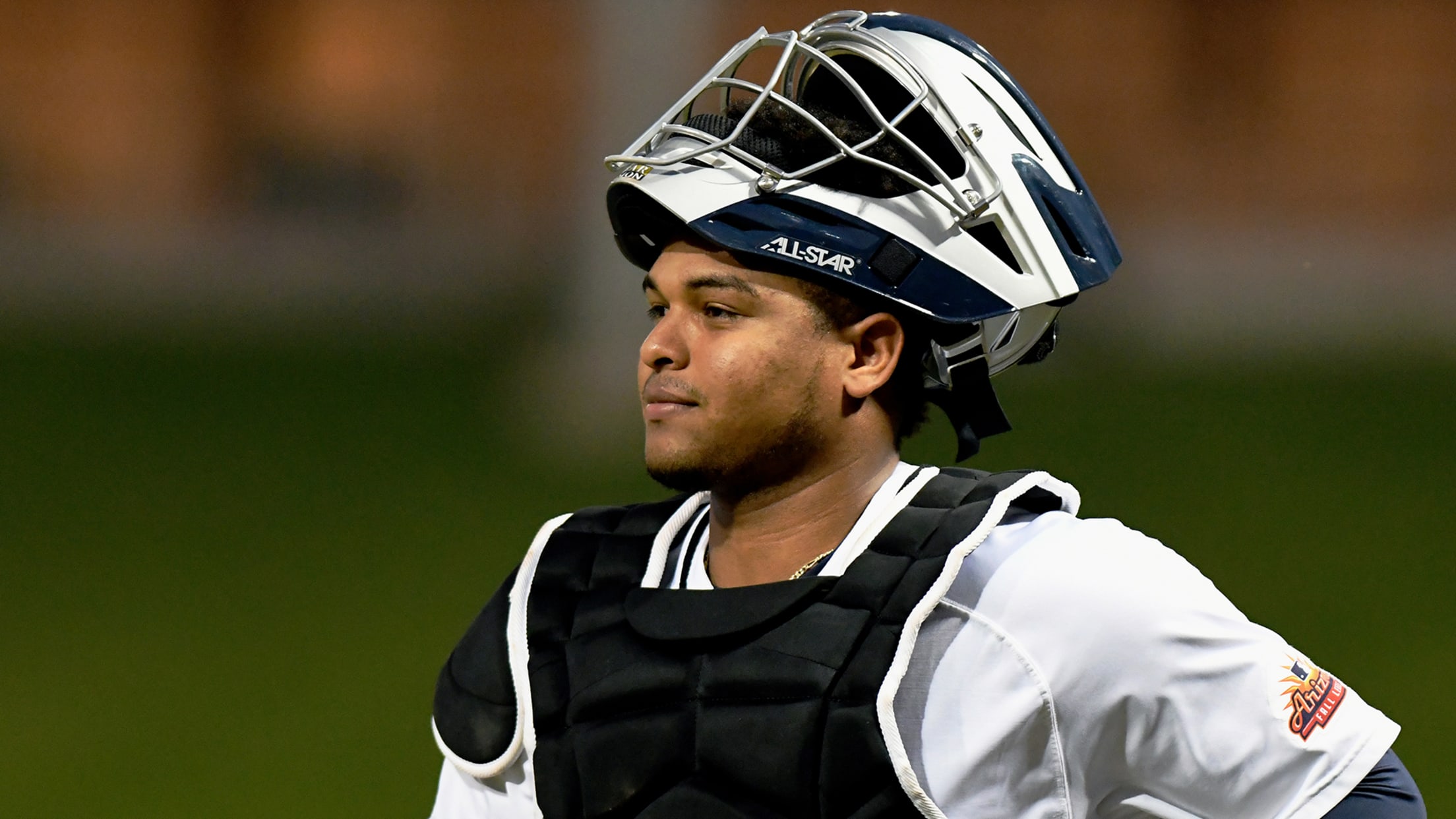 ST. PETERSBURG -- Since veteran catcher Chris Herrmann was granted his release and became a free agent, the Rays are actively looking for catching depth behind Mike Zunino, Michael Perez and Kevan Smith. The Rays will be aggressive in the free-agent and trade market, but maybe one solution could be
ST. PETERSBURG -- Since veteran catcher Chris Herrmann was granted his release and became a free agent, the Rays are actively looking for catching depth behind Mike Zunino, Michael Perez and Kevan Smith.
The Rays will be aggressive in the free-agent and trade market, but maybe one solution could be to give top catching prospect Ronaldo Hernandez some added reps over the course of the next two months. Hernandez participated in his first intrasquad game on Monday, and he did not disappoint.
Hernandez snuck a double down the left-field line off Ryan Yarbrough in his first at-bat, driving in a run in the process. In his next at-bat, Hernandez battled in a two-strike count and was ultimately rewarded with an opposite-field single off Yarbrough. In the last inning of the game, Hernandez showed off his defensive prowess, throwing a strike to second base to get Dylan Cozens out on a steal attempt.
After the intrasquad game, manager Kevin Cash went on to say that Hernandez's build reminds him of former Rays catcher Wilson Ramos.
"I was excited for him," Cash said. "He has a lot of power, a lot of bat speed. The throw that he made was really impressive. … He has a chance to be a special player."
#Rays top catching prospect Ronaldo Hernandez with a broken bat single off Yarbrough pic.twitter.com/KumGIjLfQl

— Juan Toribio (@juanctoribio) July 20, 2020
Hernandez, the team's No. 11 prospect per MLB Pipeline, recorded nine home runs and 60 RBIs in 103 games with Class A Advanced Charlotte last season. In 2018, Hernandez smashed 21 homers, making him one of the top catching prospects in baseball.
The Rays added Hernandez to the 40-man roster in November in order to protect him from the Rule 5 Draft. In a normal season, it's safe to assume that Hernandez would have started the year at Double-A Montgomery, and would have been unlikely to make his Major League debut. But in a shortened season that is filled with uncertainty, Hernandez certainly has a chance to make it to The Show.
"That's what every baseball player wants," Hernandez said, when asked if he'll be ready to contribute this season. "I think if they give me the opportunity, then I'm going to try and contribute in any way I can in order for us to win."
In case Hernandez doesn't debut this season, the experience of being around big leaguers for the next two or three months is invaluable for a player, especially a catcher. Hernandez will be back at Tropicana Field for Tuesday's intrasquad game, and he'll look to show that, if called upon, he'll be ready to contribute in 2020.
"Things happen naturally when you enjoy the game," Hernandez said. "[Monday] was one of the best moments for me, because I was able to show what they've been teaching me. I just need to keep working hard."
O'Grady's big night
Brian O'Grady has been in the Port Charlotte, Fla., alternate training site for most of Summer Camp, but with Austin Meadows still recovering from COVID-19, the Rays have been giving O'Grady some more looks at Tropicana Field.
O'Grady was one of the standouts during Spring Training, and he reminded everyone of that during Monday's intrasquad game. O'Grady hit a ringing double off Yarbrough in his first at-bat, but his loudest swing of the day came on his home run off Anthony Banda.
"We like him," Cash said. "We've seen nothing not to like about his bat. He can catch a fastball, and he works really hard."
The biggest weapon for O'Grady is his versatility. He played left field on Monday, but he is capable of playing third base, first base and center field. In a season like this, the added versatility is welcomed.
"We talk about those pitchers that come over, whether it's [Ryan] Thompson or [John] Curtiss -- I think O'Grady is in the same category," Cash said. "It's tough to envision a scenario where he doesn't help us at some point."
Around the horn
• Cash said that Yoshi Tsutsugo "probably won't" hit leadoff at the beginning of the season, but that he'll be in the upper part of the lineup. With Meadows still recovering from a positive COVID-19 test, the Rays are looking for a left-handed bat that could hit atop the lineup against righties.
• Zunino and Hunter Renfroe had two of the most impressive swings of the day, both launching long home runs. Zunino's homer came off Colin Poche and it was recorded, unofficially, at 106.2 mph on the video board. Renfroe's homer, a three-run blast, came against José Alvarado.
• Yarbrough made his final tuneup on Monday and he's slated to start Saturday's game against the Blue Jays. Yarbrough allowed five runs over 4 1/3 innings, but he was able to throw 87 pitches, which should allow him to give the team plenty of length.
• Cash said Blake Snell, Trevor Richards and Tyler Glasnow will all pitch in Tuesday's intrasquad game. The game will be televised on FOX Sports Sun.
Juan Toribio covers the Rays for MLB.com. Follow him on Twitter @juanctoribio.