Johnny Bench Home Run Collection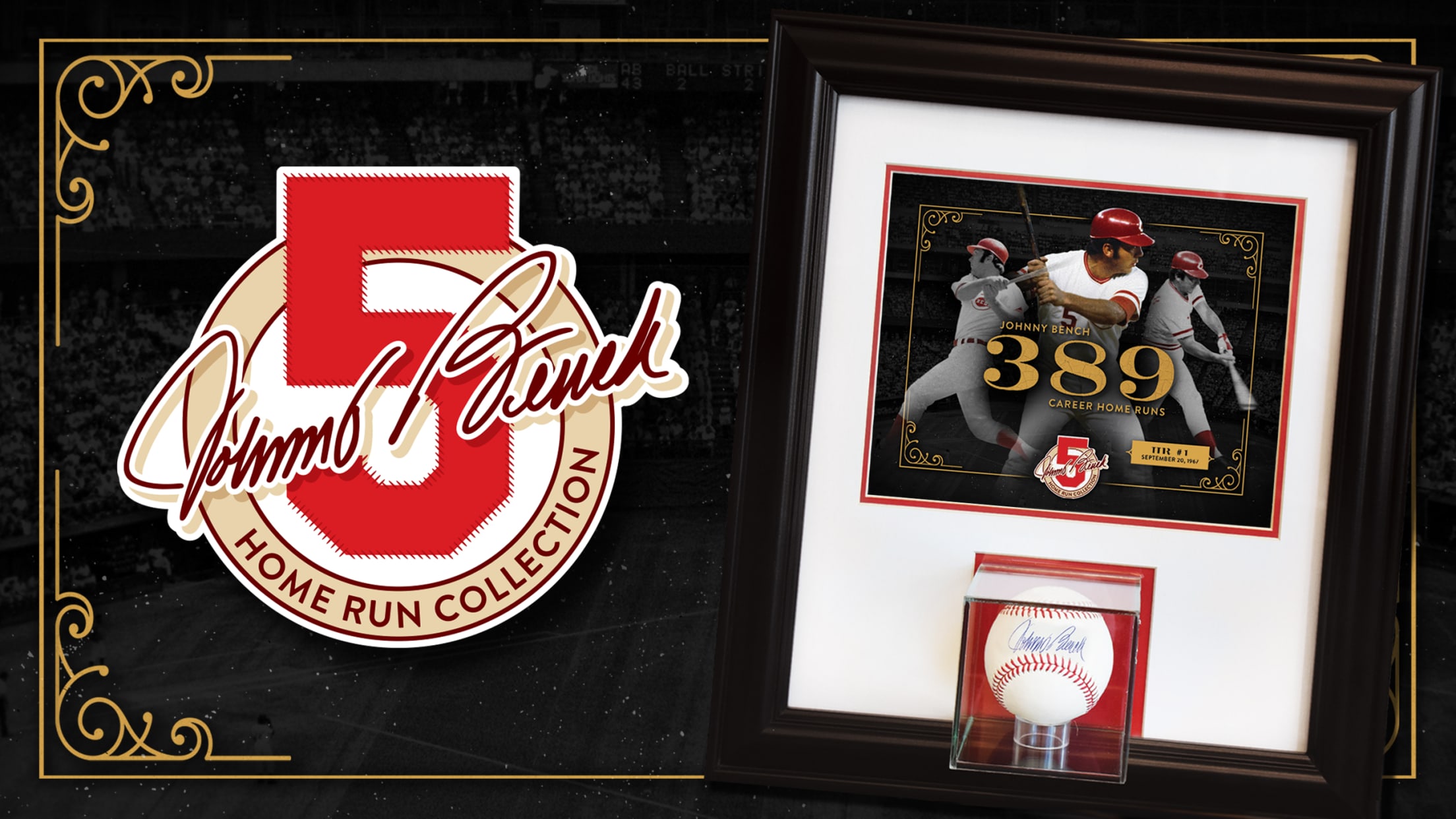 Johnny Bench's phenomenal career home run total of 389 is just one of the reasons why he is considered Baseball's Greatest Catcher! Fans now have the chance to own one of the most unique collectibles inspired by Johnny's incomparable career and legacy.
The Reds Hall of Fame and Museum is proud to present the Johnny Bench Home Run Collection. Johnny has signed and numbered 389 Official Major League Baseballs, each of which has been marked as a part of the official Johnny Bench Home Run Collection with that baseball's unique home run number. Johnny has also signed 10 additional balls representing each of his postseason home runs and three balls representing his All-Star Game home runs. These home runs, along with select regular season home runs, will be available for auction at a later date. Only one of each baseball exists. By purchasing a Home Run Collection baseball, you become the owner of that hit in perpetuity. The owner's name will appear on that home run's listing in the Hall of Fame's online Home Run Collection Database.
Each baseball is delivered in a deluxe, 13.5" W X 18"H display that includes an exclusive photo collage that references your baseball's unique home run number and date. Also included is a Certificate of Ownership from the Reds Hall of Fame that is suitable for framing.
Price: $250
Gift Orders: If you are purchasing a Bench Home Run Collection baseball as a gift, you will have the opportunity to specify a gift recipient's name by following instructions found in a confirmation e-mail that will be sent to you within 3-5 business days of your order being processed.
You can choose from 2 delivery options:
HOF WILL CALL – FREE
Orders under HOF Will Call can be picked up at the Reds Hall of Fame and Museum during normal operating hours (photo ID required for verification). You will receive email verification when your order is available for pickup (please allow 2-3 weeks after order processing).
SHIPPING (US orders only – international not available) - $25
You can choose to have your order professionally packed and shipped to an address of your choice (NO PO BOXES PLEASE). Tracking details will be provided via email prior to delivery. Again, please allow 2-3 weeks for delivery.
If you have any questions, please contact the Hall of Fame at (513) 765-7923 or send an email us at [email protected].
In order to find a particular ball, simply enter the home run number, date, opposing pitcher, opposing team or ballpark below, and click on "SEARCH FOR BALL".
To search for Postseason Home Runs, type "P" then the number in the HR Number Box (ex. P1 = Postseason Home Run #1). For All-Star Game Home Runs, type "AS" then the number (ex. AS1 – All-Star Game Home Run #1).