Camargo replaces Duvall on Braves roster
Injured outfielder would be ineligible for World Series if Atlanta makes it
Major League Baseball approved the Braves' request to replace outfielder Adam Duvall with versatile infielder Johan Camargo on their National League Championship Series roster on Tuesday. Duvall exited the field in pain after straining his left oblique during the second inning of the Braves' 5-1 win in Game 1 on
Major League Baseball approved the Braves' request to replace outfielder Adam Duvall with versatile infielder Johan Camargo on their National League Championship Series roster on Tuesday.
Duvall exited the field in pain after straining his left oblique during the second inning of the Braves' 5-1 win in Game 1 on Monday night at Globe Life Field in Arlington. Dr. Gary Green, MLB's medical director, confirmed the injury after speaking with the evaluating physician.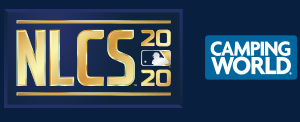 MLB postseason rules provide that a club may request permission from the Commissioner's Office to replace a player who is unable to play because of an injury. The Commissioner's Office may approve or disapprove the request based on the specific facts and circumstances. In accordance with the rules, Duvall will be ineligible to return in the World Series if Atlanta qualifies.
"He's hurting," manager Brian Snitker said. "It's really sore. He's not going to be at the ballpark today. But he'll probably come to get treatment tomorrow. He's hurt about not being able to be here with the guys and see this thing through. I hate this for him, because he's such a great kid and he's worked so hard. It's a tough injury."
Duvall hit 16 homers during the regular season but faded down the stretch. He has gone 2-for-20 with a homer and 11 strikeouts during the playoffs.
Camargo hit just .200 with a .611 OPS over 127 plate appearances this season. He was optioned to the alternate training site on Sept. 9, then returned to fill a spot on the Wild Card Series roster. His only career postseason experience came in 2018, when he went 0-for-15 against the Dodgers in the NL Division Series.
To account for Duvall's absence in Tuesday's Game 2, the Braves gave top prospect Cristian Pache just his second start as a big leaguer and his first in center field, flanked on the corners by Ronald Acuña Jr. in right field and Nick Markakis in left.
Pache had recorded just four plate appearances as a big leaguer before being pressed into duty after Duvall exited Monday's game. Still, his tremendous defense more than makes up for his offensive limitations, and that could prove valuable at the cavernous Globe Life Park.
"That's a big outfield out there," Snitker said. "Having him run around in center field is a pretty good option."
The Braves had originally planned to move Austin Riley to left field and have Camargo start at third base in Game 2 to avoid having Markakis play against the Dodgers' Clayton Kershaw, but the plan changed when the veteran lefty was scratched with back spasms.
Mark Bowman has covered the Braves for MLB.com since 2001.