Epstein: Maddon's contract remarks not an issue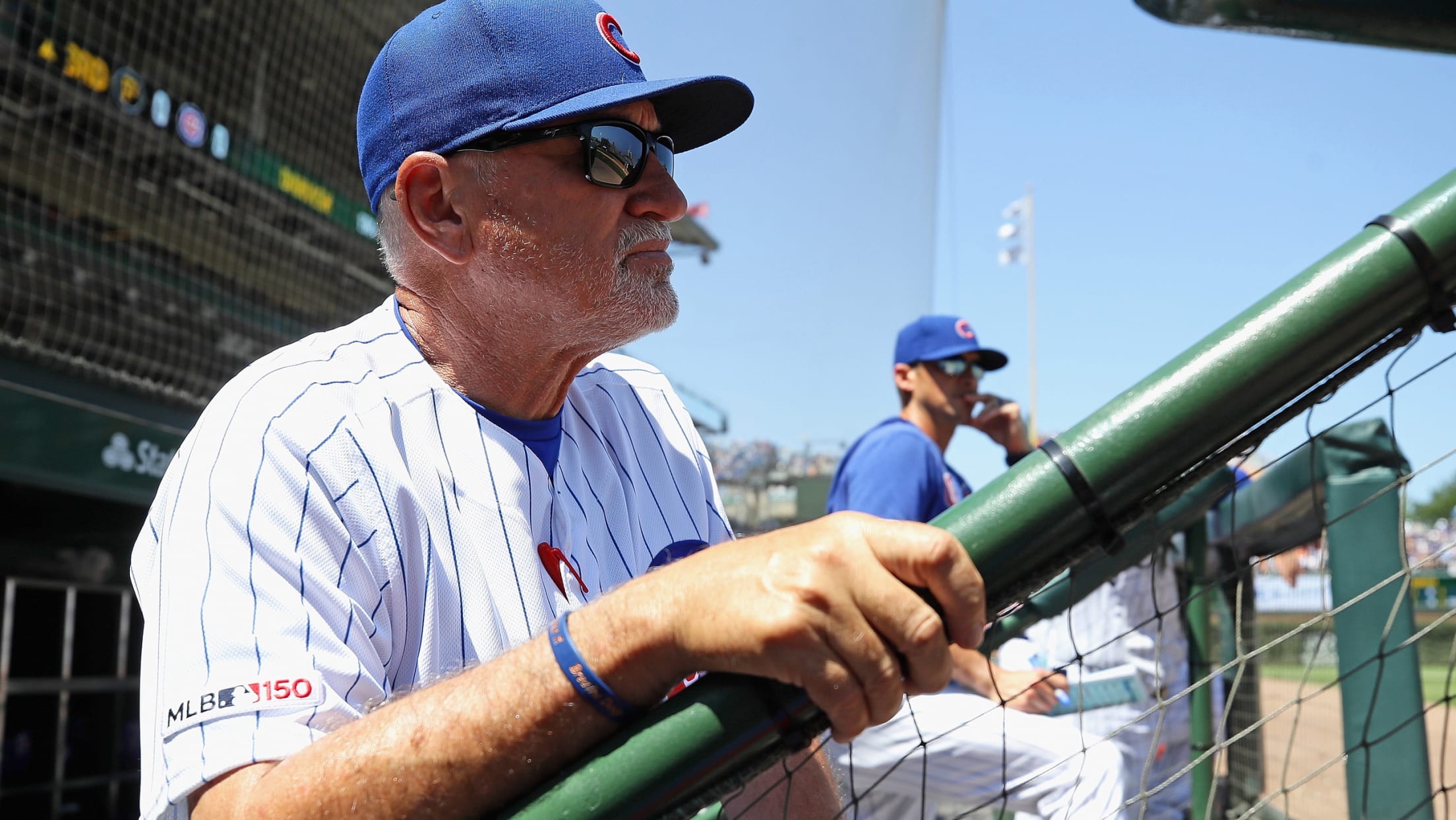 CHICAGO -- There will be an appropriate time for Cubs president of baseball operations Theo Epstein to sit down with Joe Maddon to discuss the manager's potential future with the ballclub. In the meantime, Epstein had no issues with Maddon's recent comments about the unsettled situation. On Tuesday afternoon, Epstein
CHICAGO -- There will be an appropriate time for Cubs president of baseball operations Theo Epstein to sit down with Joe Maddon to discuss the manager's potential future with the ballclub. In the meantime, Epstein had no issues with Maddon's recent comments about the unsettled situation.
On Tuesday afternoon, Epstein shot down a Chicago radio report indicating that some members of the front office were not happy that Maddon discussed the topic on Sunday in Cincinnati.
"Totally baseless," Epstein said via text. "We had no problems with Joe's comments. He has to talk to you guys twice a day and does a great job with it."
Prior to Sunday's game against the Reds, the topic of Maddon's future was brought up during the manager's regular pregame meeting with beat reporters. The 65-year-old expressed that he feels like he can keep managing for several more seasons, adding that his optimism remains "very high" that he will remain with the Cubs for "a couple more years at least."
In the wake of losing Game 163 to the Brewers and then the National League Wild Card Game to the Rockies last season, Epstein made it known during the General Managers Meetings in November that contract talks with Maddon would be shelved until later this year. Maddon is in the final season under a five-year deal he signed with Chicago ahead of the 2015 campaign.
Maddon is the only manager in Cubs history to lead the team to four consecutive postseason berths, and he oversaw the end of the franchise's 108-year World Series drought with the triumph over Cleveland in 2016. Entering this week's series with the Phillies, the Cubs are again in first place in the NL Central, despite a wave of injuries and inconsistencies this year.
"Everything about what we do at the Cubs and where we do it at is -- you can't beat it. It's impossible to beat it on every level."

Maddon remains optimistic about getting a new contract with Cubs: https://t.co/YNUdbzodoC via @MLB

— Jordan Bastian (@MLBastian) August 11, 2019
During Sunday's discussion, Maddon said he did not believe the team's decision on his future would be made on wins and losses.
"I think it has nothing to do with wins and losses," Maddon said. "If that's the case, I would've signed the contract at the end of last season, if it came down to wins and losses only. Our success even to this point today -- August whatever it is -- it's been pretty good. ... To just reduce it to wins and losses, that makes no sense at all."
Starting in Spring Training, Maddon adopted a more hands-on approach this season, both with his players and an overhauled coaching staff. He also listened to feedback from players and altered his approach to making out lineups, doing so a series in advance.
"What I have done to this point and what we're doing right now," Maddon said, "I think it's easy to understand that I would easily fit into anybody's methods or schemes right now, because I am open to all new thoughts and suggestions.
"So, if you're looking for somebody to team up with, I would never walk into a door with preconceived notions and say, 'No, I'm not going to do that,' or 'That's wrong.' I've always been interested in that. Even this year, I'm trying different methods this year based on requests."
Even with that said, Maddon added that he does not want to be anywhere else.
"I'm not going to sit here and proclaim that I'm looking to go elsewhere. That's not true," Maddon said. "It's about where both sides want each other, really. It's a marriage, in a sense, that the group would want me to be here and I'd want to be here also in return. And that would be the reason why you'd stay. It has to be mutual."