10 amazingly creative Minor League promotional nights we're looking forward to in 2016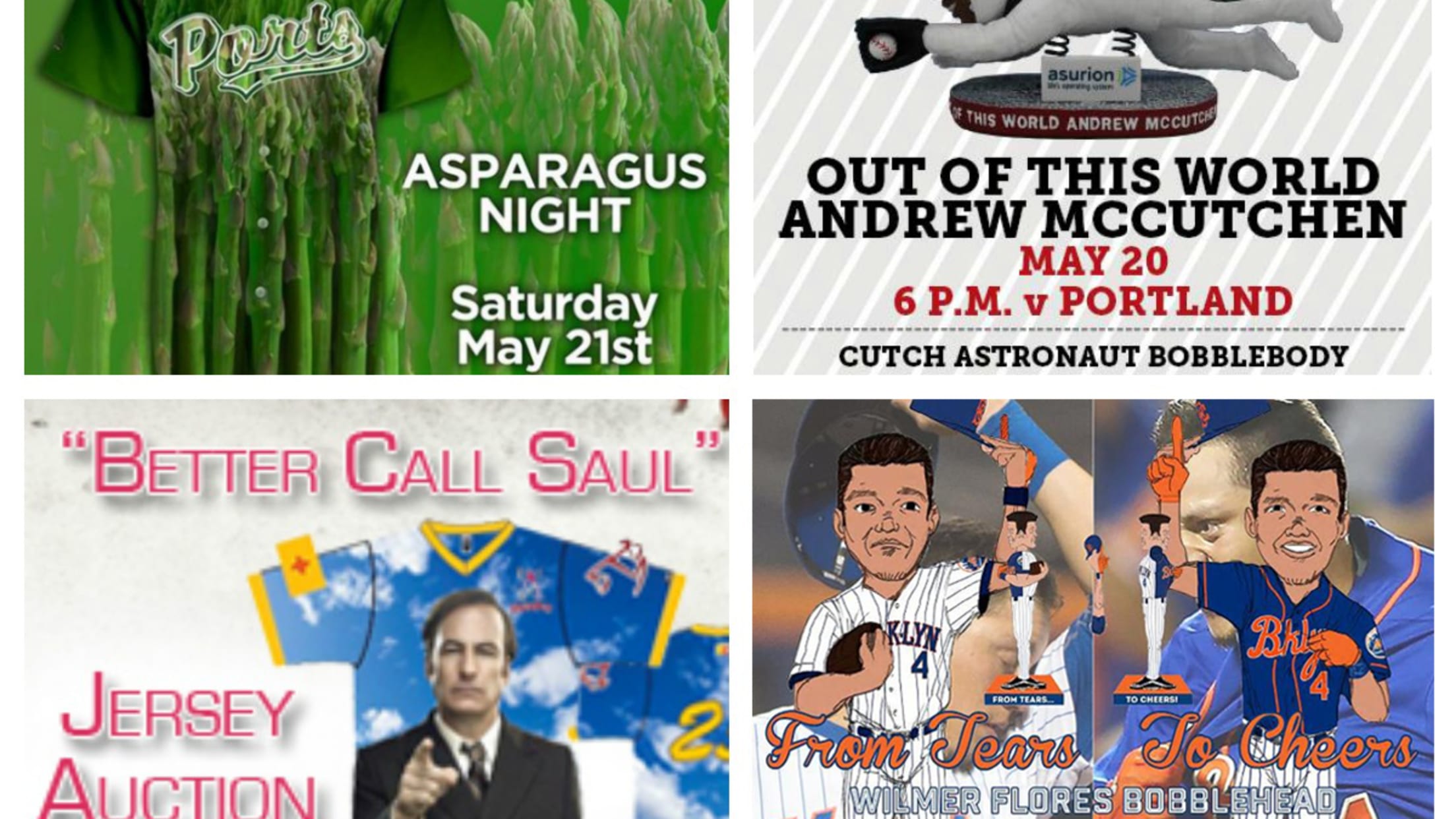 Minor League parks are a great place to take the family, grab a hot dog, watch some baseball ... and pick up the strangest, coolest, and most out-there giveaways in human existence. At this point, the creative minds in Minor League marketing departments rival those on the cutting edge of the arts and sciences.
We're enthralled that the Altoona Curve will put a spin on their Star Wars night by embracing Jar Jar Binks when no one else would dare, and that the Frisco RoughRiders will wear Game Boy-inspired uniforms. But those didn't crack the top 10 promos in an exceedingly competitive 2016 field. What made our cut? Read on -- and then book a dozen flights to travel the country from giveaway to giveaway. After all, Thursday is Minor League Baseball Opening Day, so you should start making your plans right now.
What made our cut? Read on -- and then book about a dozen flights as your travel about the country, going from giveaway to giveaway.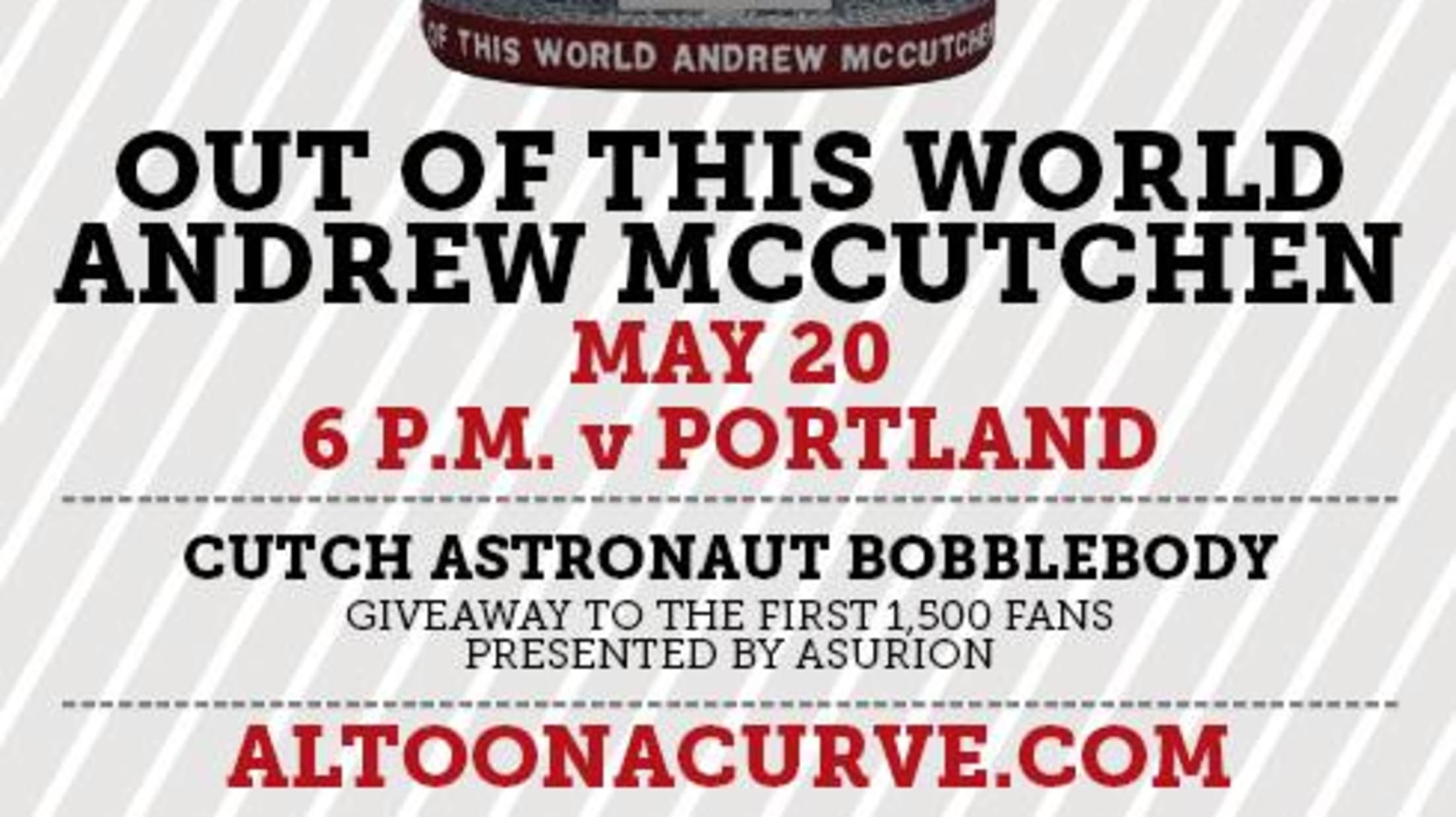 If you miss wandering down the toy aisle and picking up things like "Space Action Batman: Complete with Zero-Gravity Sword," the Altoona Curve have you covered. Because astronauts are cool, Andrew McCutchen is cool, and can you imagine how cool baseball would be in outer space?
This isn't the only great promotion that the Curve have planned this season. They'll also hand out a Gregory Polanco "El Coffee" bobblehead on June 17 for "A Salute to Coffee Night."
Stadium races are great. Pierogies, Presidents, Sausages -- they're all wonderful. But, and I hope I won't be ruining a long-held belief of yours, those are just people inside of suits. Heroes, sure, especially when it's 105 degrees in the middle of July, but just people.
But these are alpacas. This is bigger and far more important than the Kentucky Derby.
Film nostalgia is a constant among Minor League promo nights, with Back to the Future, Ghostbusters and even Top Gun receiving tribute in the last few years. Finally, finally, Space Jam will get its due in 2016, with multiple teams (including the Stockton Ports) getting in on the act. But only the Charlotte Knights will have local 5-foot-3 legend Muggsy Bogues in attendance.
Our hearts will surely grow 5 feet and three inches that day.
While the Inland Empire sparked our interest with an evening devoted to the joy of breakfast cereal (June 24, if you were curious), it's their Nothing Night that really captured our attention. In a land where the glitziest and strangest pop culture evenings win, the 66ers will turn off the music and let the natural crowd noise and the sound of gloves popping and bats cracking fill the air.
The Red Sox celebrated this way in 2011 when the Cubs came to Fenway for their first trip since 1918: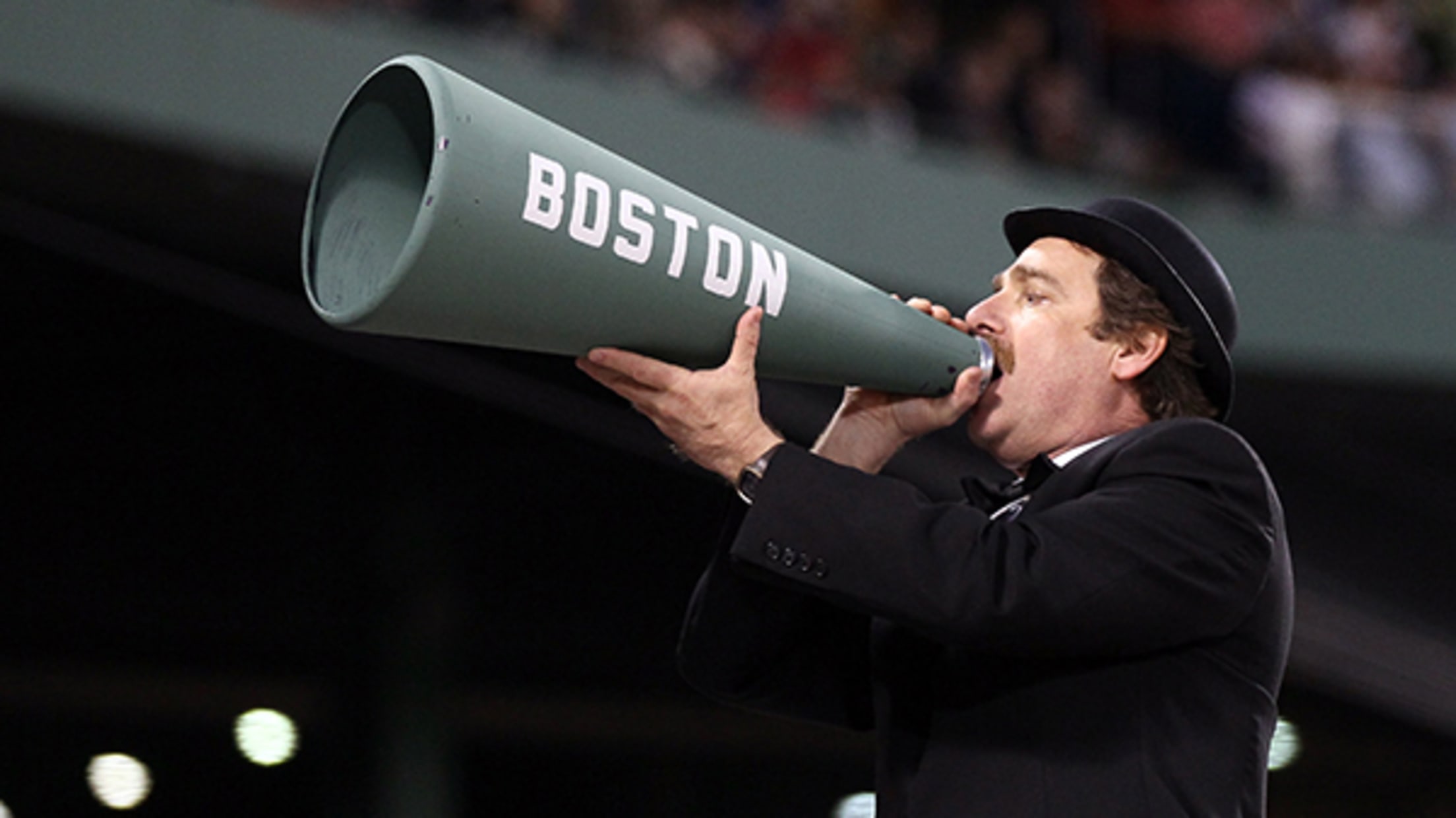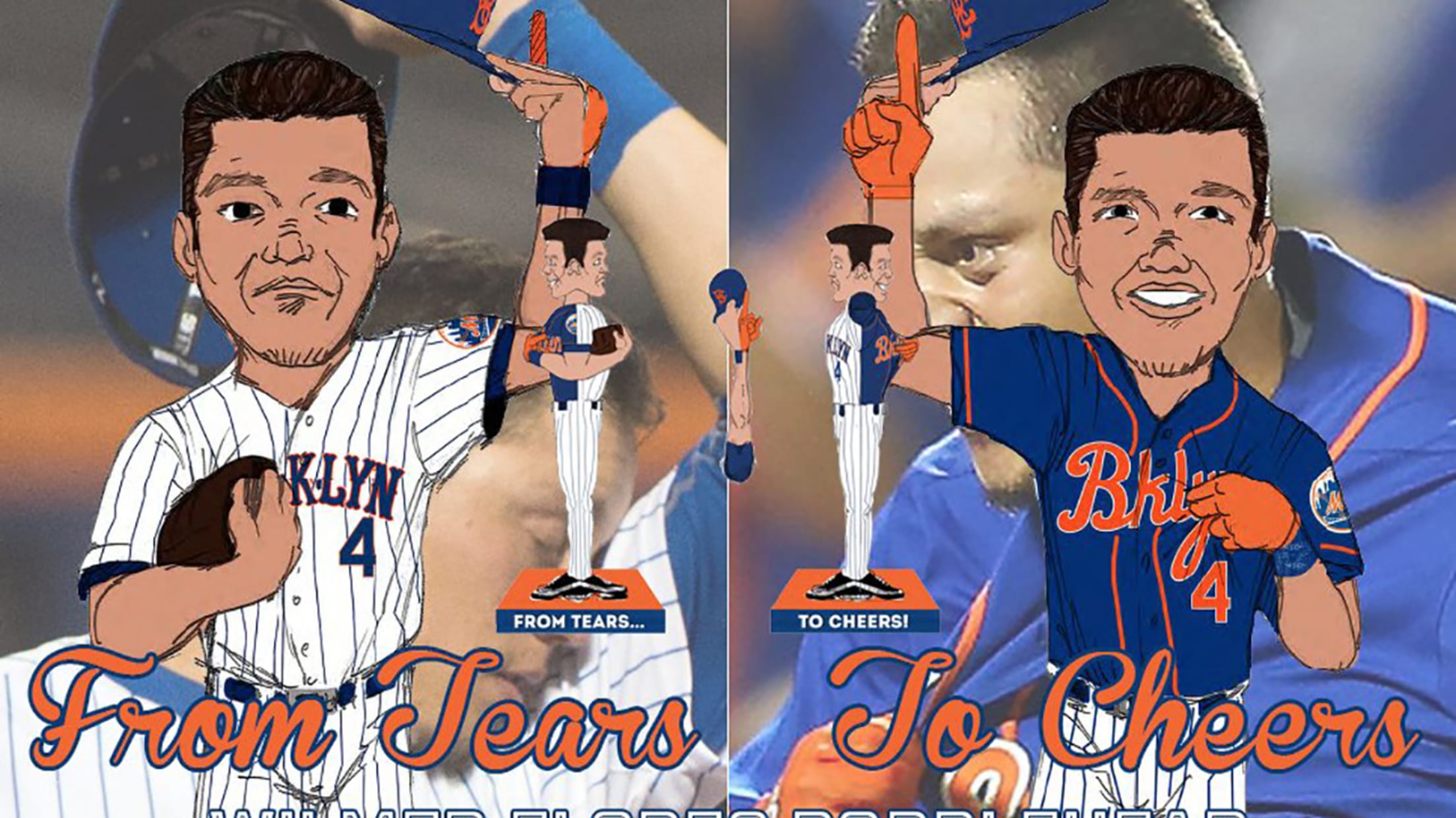 With apologies to Yoenis Cespedes and his fluorescent arm, Wilmer Flores fighting back tears at shortstop was perhaps the most memorable moment from the Mets' first pennant season since 2000. Becoming the embodiment of fan emotions, Flores not only remained with the team that originally signed him in 2007, but hit a walk-off home run on July 31 after the Trade Deadline had passed. That's a moment that won't fade from memories for a long time.
And now you don't need to worry about it ever slipping from your mind, as the homer has been forever captured in the Brooklyn Cyclones' amazing two-sided bobblehead. July 31, 2016 will be a day for tears of joy.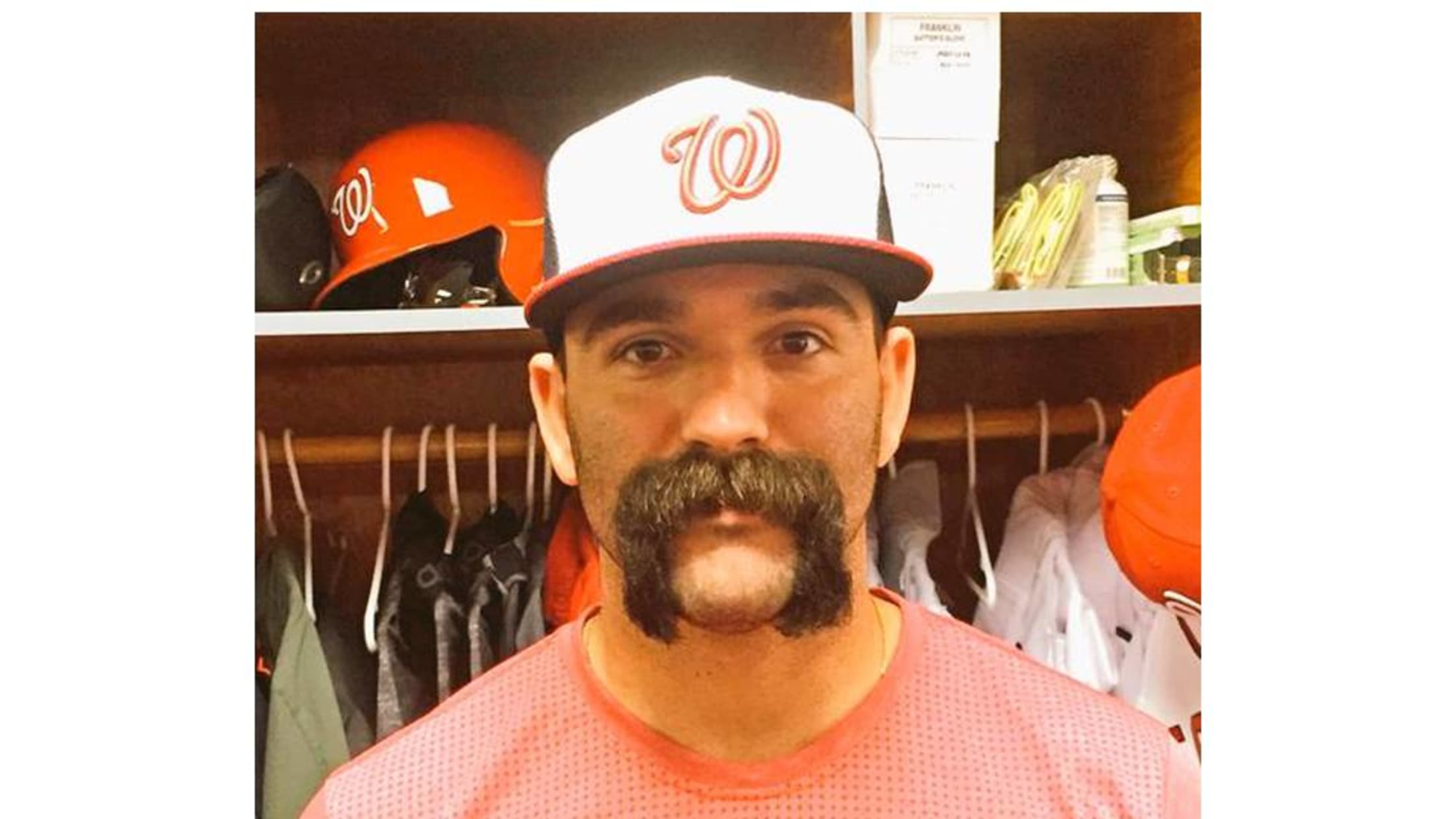 The Potomac Nats have one of the best promotional schedules out there, complete with a continuation of their David Cronenberg-esque series of mad creations: an Anthony "The Ant" Rendon bobblehead, something called Hog Night (no idea, but very excited) and a Halfway to Festivus jersey night complete with George Costanza bobblehead. Yes, you read that right.
But the one that truly won our hearts was the Danny Espinosa Fu Manchu Bobblehead. That's right, a bobblehead of a player's facial hair that he had for a couple of weeks a year ago. For us facial hair fanatics who thrive on small moments like that, this is our Holy Grail.
If you like the Minors because of their focus on local communities, then you have to love the Isotopes for remaining local and wearing a pop culture-inspired jersey. "Better Call Saul," a spin-off from "Breaking Bad," is set in Albuquerque, which makes it the perfect choice. Assuming, of course, that the team couldn't come out wearing Walter White's yellow biohazard suit.
If there was an award given out for the best promotions team in baseball (and it should be named after Bill Veeck), the Grizzlies would likely win it every year. They're the team that first busted out Teenage Mutant Ninja Turtle uniforms, then had the taco truck throwdown and now even have taco uniforms to wear.
In addition to hosting a home run derby where you (yes, you!) can take on Eric Byrnes, the team is bringing back Halfway To Halloween. Last year saw horror mazes at the stadium, along with the glorious FRANKENSLICE: A hot dog/pizza beast. Once again, Halfway to Halloween is split over two days. The first is a "Party day" with a great beer deal and plenty of gore, and the next will feature "Friday the 13th" jerseys on a less gorey, more family-friendly day. This may be the first time that "Friday the 13th" has been mentioned along with a "family day."
And while there's no word on any specialty food, we're certain the team will have something up their sleeve. Perhaps a Crystal Lake Crystal Pepsi.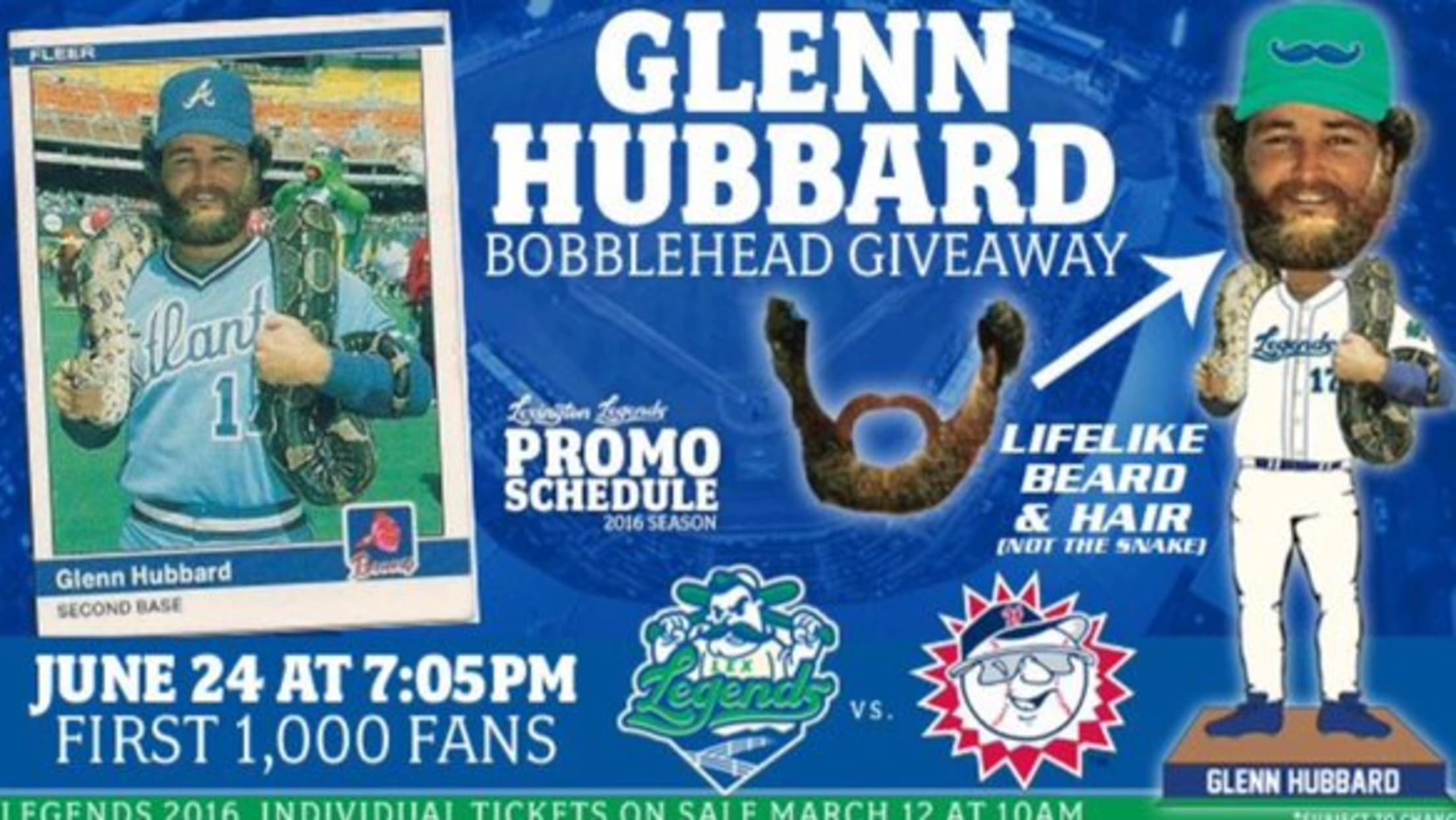 But none can top a bobblehead devoted to one of the greatest baseball cards ever produced. That's right, that little piece of cardboard featuring Glenn Hubbard with a snake around his shoulders -- the one that you have framed and by your bed -- can now be augmented by this glorious, glorious bobblehead that comes complete with a lifelike beard!
Whoever had the honor of sculpting this masterpiece should be known alongside Donatello and Michelangelo as the best in mankind's history.
Most ballpark cuisine is about as far away from a vegetable as genetically possible. We dream of meats cooked inside of other meats and then deep fried in a chocolate cheese sauce. Burgerizzas are our jam.
But the Stockton Ports are paying homage to none other than the vegetable that has its own little hat: Asparagus.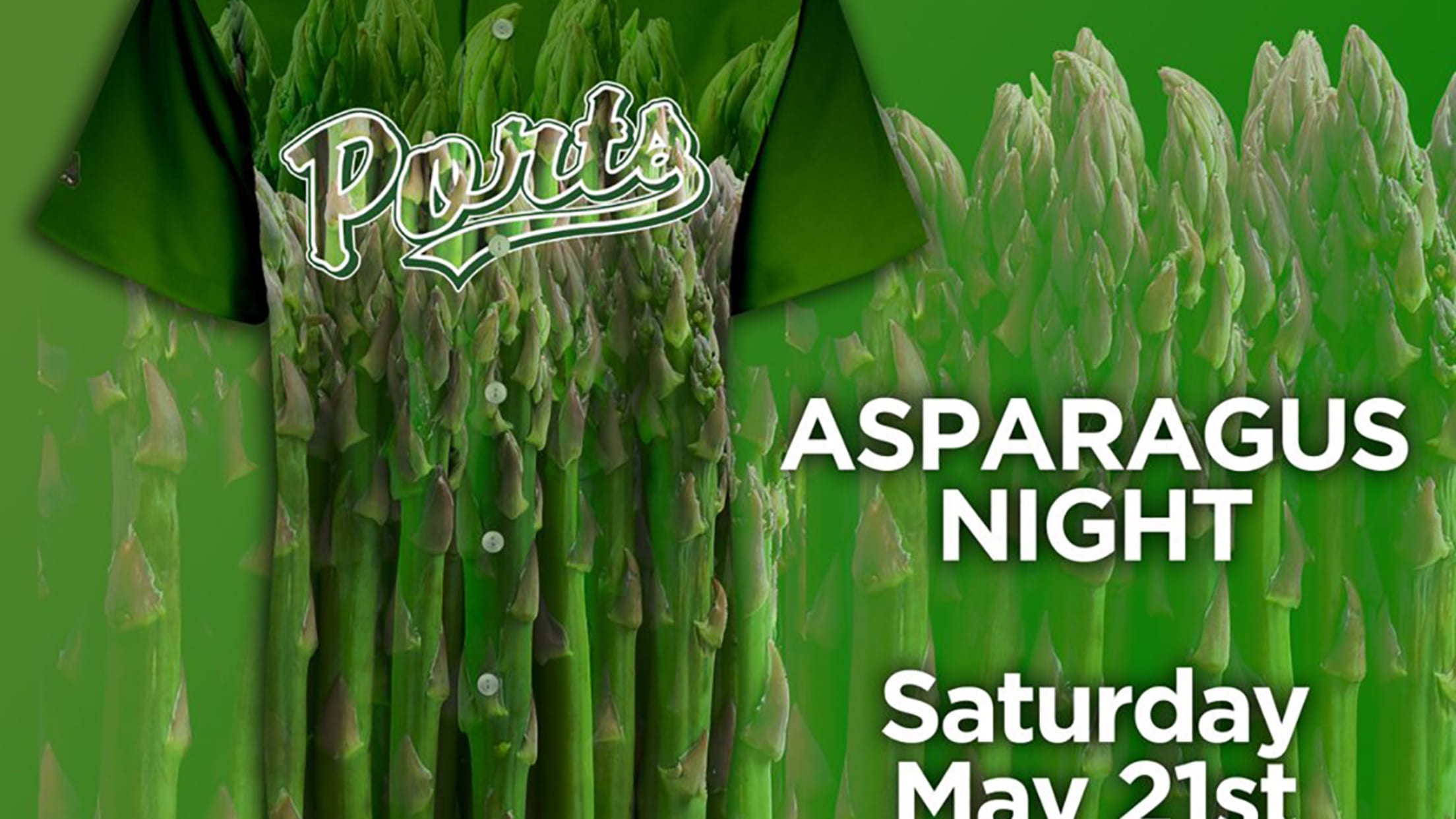 We don't just love it for the fact that it's the heart healthy option, or because of the truly absurd jerseys the team will wear, but because it's also a truly community-focused event. Stockton is a major hub in asparagus growth and export, with a yearly asparagus festival being held in the town. If Minor League Baseball is about the local experience, this is a celebration of it.
Have a favorite that we missed? Let us know in the comments.