These were 10 moments from June that reminded us why baseball is the greatest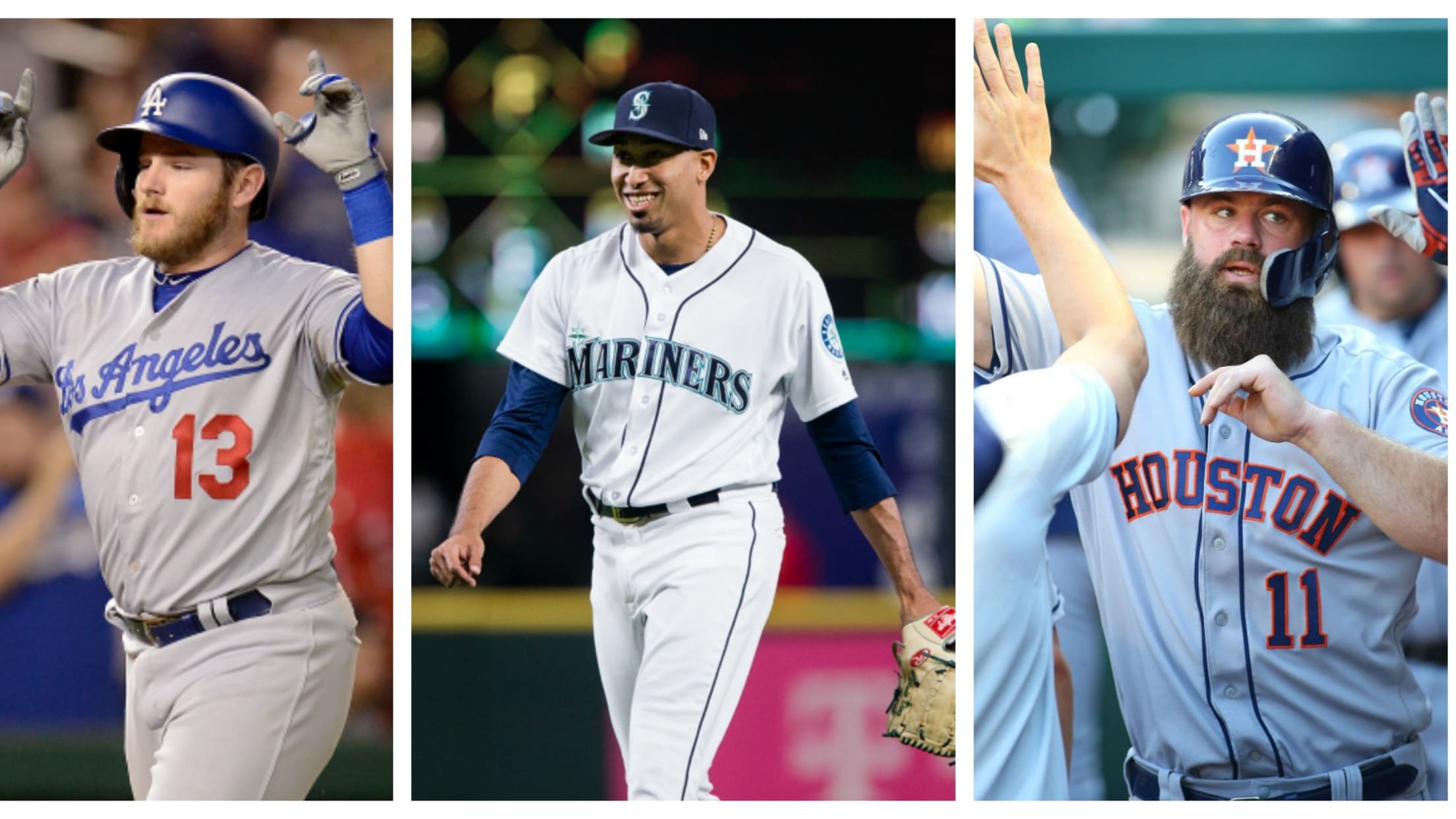 The All-Star Break is almost here, which, terrifyingly, means we're at the halfway point of the season. Before we look ahead to the Midsummer Classic or the postseason races to come, let's look back at the 10 very best moments from the month that was.
All stats as of June 30.
10. Nick Swisher's having the time of his life
Rarely does a former player make the list. After all -- they don't play anymore. Nick Swisher, the broiest bro to ever play a game chock full of bros, found a way.
Playing in the Yankees' Old-Timer's Game, Swisher launched a ball into the second deck. What made this one so special was his reaction after: As he ran the bases, an enormous smile was plastered upon his face.
HOME RUN! Nick Swisher drives one into the 2nd deck on #OldTimersDay. pic.twitter.com/i3vjgDegij

— YES Network (@YESNetwork) June 17, 2018
When Swisher got back to the dugout -- still smiling, natch -- he said, "I'm just a little kid! I was a little kid when I was a player. I feel like every time you take the field, you have a lifetime pass to be a little kid for as long as you want. For me, I'm just happy to be here. I couldn't believe that [homer] -- you only dream of stuff like that!"
9. Johnny Cueto's hat game
Cueto has been injured for much of the year -- save for five sparkling starts (0.84 ERA) on his ledger. That has deprived us of one of the most exciting, endlessly watchable players in baseball -- whether through his laissez-faire attitude to running the bases or his ability to wiggle upon the mound mid-pitch. But even on the DL, he's managed to enthrall us.
First, he showed up with a hat with his own visage upon it. Strange to be sure, but still -- who wouldn't wear a hat with their own face on it if such a thing existed?
But then … the best thing happened: He wore a hat featuring him wearing a hat that had himself in said hat. Cue the "Inception" music.
8. Marcell Ozuna's hang time
Ninety-nine percent of the time, we watch baseball to see the unbelievable. We want to witness athletes perform Herculean feats that a mere mortal could only dream of. But sometimes we want to see them come down to our level -- if just for a moment.
Enter: Marcell Ozuna, hanging on the wall like a cat stuck in a tree.
7. Billy Hamilton can catch anything
While we can laugh with Ozuna in the play above, Hamilton's supersonic legs are simply a marvel. How can someone cover so much ground with so much speed and still manage to track a fly ball? Shouldn't it all just be a blur before his eyes?
This catch -- nearly scooped up off the ground like Superman saving a small child -- had only a two percent catch probability. Absurd.
6. The most crushing of walk-off home runs
In case you didn't follow the College World Series, know this:
It was the ninth inning of an elimination game. One team was the heavily-favored and nationally-ranked Florida State. The other was Mississippi State, whose fans rallied around bananas (yeah, I can't help you there.)
So, the Florida State pitcher, on his 132nd pitch of the day -- and after waiting out a two-hour rain delay -- made a pitch to Elijah MacNamee that was not good enough.
If you want to see pain, look at how the left fielder reacts, before the camera cuts back to MacNamee's full-body celebration twitch.
Down 2-0 in the 9th with two outs.

Mississippi State's Elijah MacNamee lived out every backyard baseball player's dream. #SCtop10 pic.twitter.com/lpe5fWySA9

— SportsCenter (@SportsCenter) June 2, 2018

5. Giancarlo's HR to a bachelorette party
For this bachelorette party at Camden Yards, they received the greatest gift possible: A homer from shirtless "Men's Health" starGiancarlo Stanton directly to them:
4. Paul Goldschmidt is back
Goldschmidt -- America's First Baseman -- was about as automatic as they come. You knew exactly what to expect year in and year out from one of the game's greatest players. But then, entering June of this year, he was hitting just .209/.326/.393. That slugging percentage was lower than his career on-base percentage.
Fortunately, the calendar turned over and the real deal Goldschmidt replaced the Dark Universe imposter. The D-backs slugger hit .364/.460/.738 with 10 home runs in June.
That included his very best stretch from June 5 to June 10, when he rattled off five consecutive multi-hit games. That included four straight multi-extra-base-hit games.
3. The Maximum Amount of Muncy that the FDA will allow
You are excused if you didn't know who Max Muncy was before this month. A former fifth-round pick by the A's, he had two brief stints in the big leagues in 2015 and '16, but didn't show much with a .195/.290/.321 line. He didn't even display much power in the Minor Leagues -- save for a stint in the California League, a league where even your grandfather could crack a dozen long balls.
Something changed this year. Playing all over the field -- 1B, 2B, 3B, and LF -- Muncy slugged .711 with 10 HRs in June. That included this home run that, to add insult to injury, bopped Albert Almora Jr. in the head:
Heads up! pic.twitter.com/WJCRwrp1CI

— Cut4 (@Cut4) June 28, 2018
While this is almost certainly too good to continue, Muncy has the fourth-best wRC+ in all of baseball -- just behind J.D. Martinez and in front of MVP Award candidates like Jose Ramirez and Aaron Judge.
2. The Mariners can't lose* one-run games
*Sometimes they do lose them. But it's not often.
One-run games are supposed to be a crapshoot. You're supposed to, regardless of talent, finish with a record somewhere around .500. Don't tell the Mariners that.
They've gone 25-11 this year in one-run games, with eight wins in June alone. They got them thanks to Mitch Haniger dingers:
Guillermo Heredia walk-off singles:
And, of course, there's Edwin Díaz. Armed with a blazing fastball and darting slider, Diaz is the Mariners' final boss. Manage to make it through eight innings only to face arguably the best closer in baseball in the ninth? Yeah, that can't be fun.
This is pretty amazing. Edwin Diaz has entered with a lead 38 times this year and Mariners are 38-0 in those games, including 21-0 with a one-run lead. He's blown 3 saves (in 33 chances), but M's came back to win all of them. #sugar

— Greg Johns (@GregJohnsMLB) June 29, 2018
1. The Astros are the best
Unfortunately for the Mariners, even winning endless one-run games won't be enough. Not if the Astros keep playing the way they have. The Astros played .704 ball in June, which included a streak of 12 consecutive victories.
One of those came from a game-winning balk. When you're the Astros, things just go your way:
Evan Gattis bashed eight home runs in June, which may be the only thing on Earth more impressive than his beard. And Alex Bregman went supernova with 11 homers of his own, including his first career walk-off:
Though the rotation took a step backward -- drawing comparisons to the best all time -- the bullpen stepped up. Brad Peacock, Chris Devenski, Hector Rondon and Collin McHugh combined for 36 ⅓ IP while allowing only 5 runs for the month. Yeah, that'll work.
With the season, thermometer and trade rumors heating up, July will surely be amazing. Take your time and savor all the baseball -- because when it's gone, it's gone.