Here's how the Twitter world reacted to Johan Santana's no-hitter back in 2012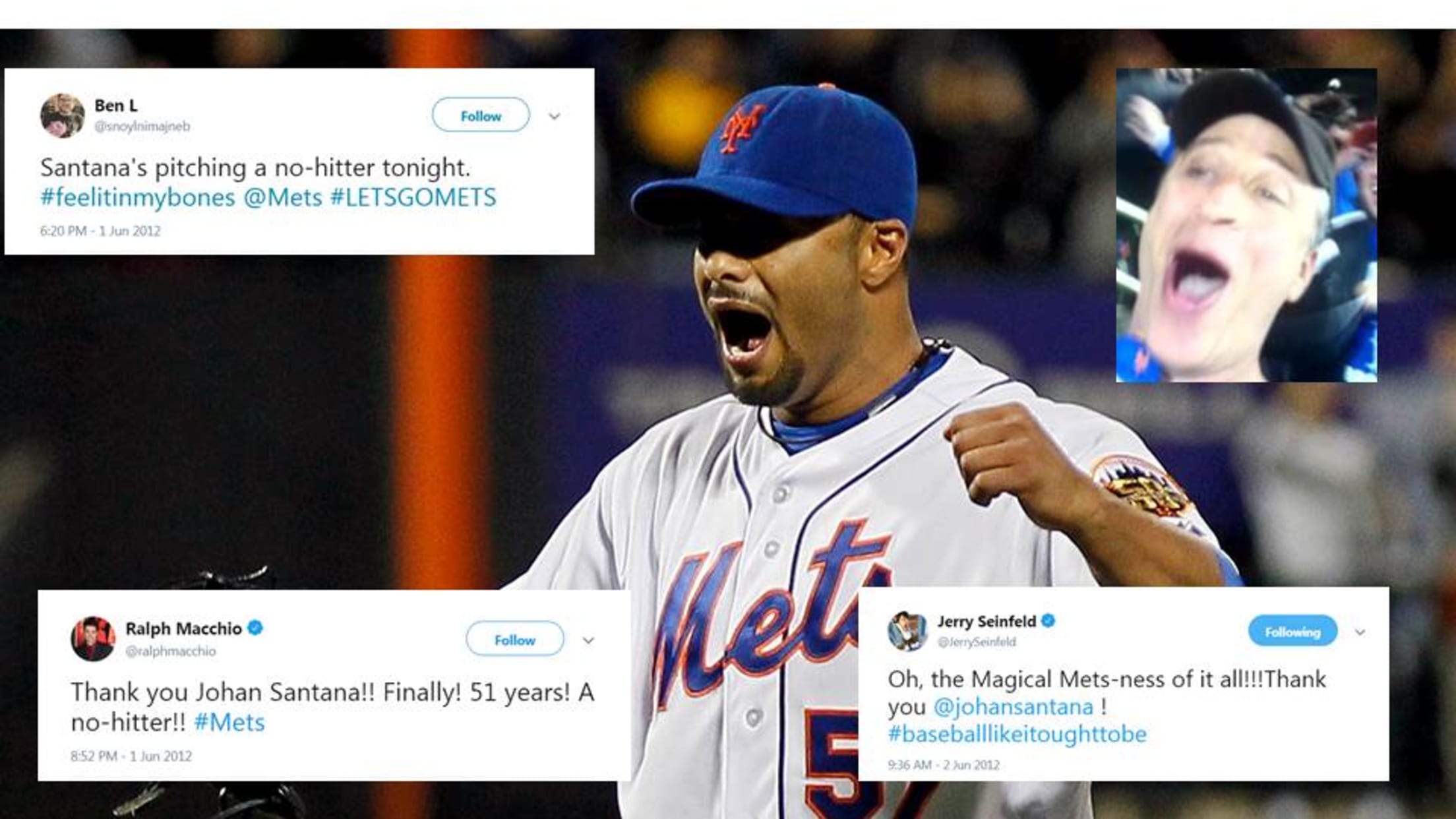 Six years ago today, Johan Santana threw the first and only no-hitter in Mets franchise history. It took him 134 pitches, the most controversial foul ball Carlos Beltran had ever hit and a career-defining catch by Mike Baxter.
But why describe the game to you when we can take you back, in real-time, to the moment it happened? Here is a brief time capsule of No-han's moment of brilliance, courtesy of Twitter dot com.
Former ESPN beat reporter Adam Rubin had been hoping for Santana to break the team's no-hitter drought for much of the season:
If the Mets keep rotation in order, Johan Santana is due to pitch the 8,000th Mets game without a no-hitter on May 11 in Miami.

— Adam Rubin (@AdamRubinMedia) May 1, 2012
Like on a weekly basis:
Johan Santana's start Friday could become 8,000th straight #Mets game without no-hitter. It will be 8,000th game in franchise history too.

— Adam Rubin (@AdamRubinMedia) May 7, 2012


At least one fan would see history in his very first game at Citi Field:
While one tweeter, Ben L., somehow predicted the no-no before the game even started. Figures it says he's a "Data Scientist" in his bio. Scientists are smart.
Santana's pitching a no-hitter tonight. #feelitinmybones @Mets #LETSGOMETS

— Ben L (@snoylnimajneb) June 1, 2012

On to the game: Santana started off just OK -- striking out three through three innings, while walking two and throwing 50 pitches. Matt Adams was amped for the start against Johan pregame:
Matt Adams said he was looking forward to facing Johan Santana tonight

— RotoExperts.com (@rotoexperts) June 1, 2012

But Santana's changeup quickly made him wish he never even came to the park that day.
Johan Santana just schooled Matt Adams on four smart pitches. Throw that clip immediately on the next Emanski tape.

— scott pianowski (@scott_pianowski) June 1, 2012
Santana was much of the same over the next couple of innings -- walking and striking out two more, but not really giving up any hard-hit outs. And then, while facing Carlos Beltran in the sixth, this happened:
With replay review still on the horizon, the hit was ruled foul. And FWIW, CC Sabathia, a man with 239 career wins, said he didn't care:
I told Sabathia about the blown call on Beltran. CC: "It doesn't matter." He's very happy for Santana. #Mets #Yankees #Cardinals

— Ken Davidoff (@KenDavidoff) June 2, 2012
Although the St. Louis Post-Dispatch definitely did.
Santana got through the rest of the inning unscathed, retiring Beltran on a hard ground ball to David Wright:
The seventh inning brought with it the play of the game and perhaps the greatest moment of Mike Baxter's career. Yadier Molina hit a long fly ball to left field and the 27-year-old made an outstanding running catch while crashing hard into the wall:
Baxter would come out of the game and go on the disabled list for two months with a shoulder injury. People watching the moment were appreciative of his sacrifice:
Mike Baxter looked like a NASCAR driver hitting a wall directly, in making a catch and maintaining no-hitter for Santana.

— Buster Olney (@Buster_ESPN) June 2, 2012
"I ain't afraid of no stinking' wall." -Mike Baxter.
"I ain't afraid of no stinking' pitch count" -Johan Santana

— Christine (@NYMLifeSentence) June 2, 2012


Fans would even re-enact the play for years to come ... in the dead of winter:


Santana worked his way around a walk in the eighth and, of course, Twitter was getting dramatic:
NO-HITTER ALERT: Watch LIVE as Johan Santana looks to complete first no-no in Mets history: http://t.co/set6I79z

— MLB (@MLB) June 2, 2012
Johan Santana three outs away from throwing first no-hitter in #Mets franchise history...

— Mike Greenberg (@Espngreeny) June 2, 2012
Mets pitcher Johan Santana has a no-hitter thru eight innings. The franchise has never had a no-hitter.

— Sports Illustrated (@SInow) June 2, 2012


With the weight of 51 years on his shoulders, Santana set down the Cards 1-2-3 -- finishing with a flurry against David Freese:
MLB.com's Anthony DiComo was gentlemanly and congratulatory:
Congratulations to Johan Santana on the first no-hitter in Mets history.

— Anthony DiComo (@AnthonyDiComo) June 2, 2012
The Karate Kid was thrilled:
Thank you Johan Santana!! Finally! 51 years! A no-hitter!! #Mets

— Ralph Macchio (@ralphmacchio) June 2, 2012

As was super celebrity fan Jerry Seinfeld:
Oh, the Magical Mets-ness of it all!!!Thank you @johansantana !#baseballlikeitoughttobe

— Jerry Seinfeld (@JerrySeinfeld) June 2, 2012

Then-NYC Mayor Michael Bloomberg:
Congrats @Johansantana for pitching the first no-hitter in #Mets history! http://t.co/yX8ZR9ZG

— Mike Bloomberg (@MikeBloomberg) June 2, 2012
Funkmaster Flex!
#IFWT MLB: Johan Santana Throws 1st No-Hitter In Mets History! - http://t.co/chEhntXz

— Funk Flex !!!!! (@funkflex) June 2, 2012



And Jon Stewart -- who was actually at the game and recorded his pure ecstasy come the final out: