A roundup of Cespedes Family BBQ at All-Star Week in Miami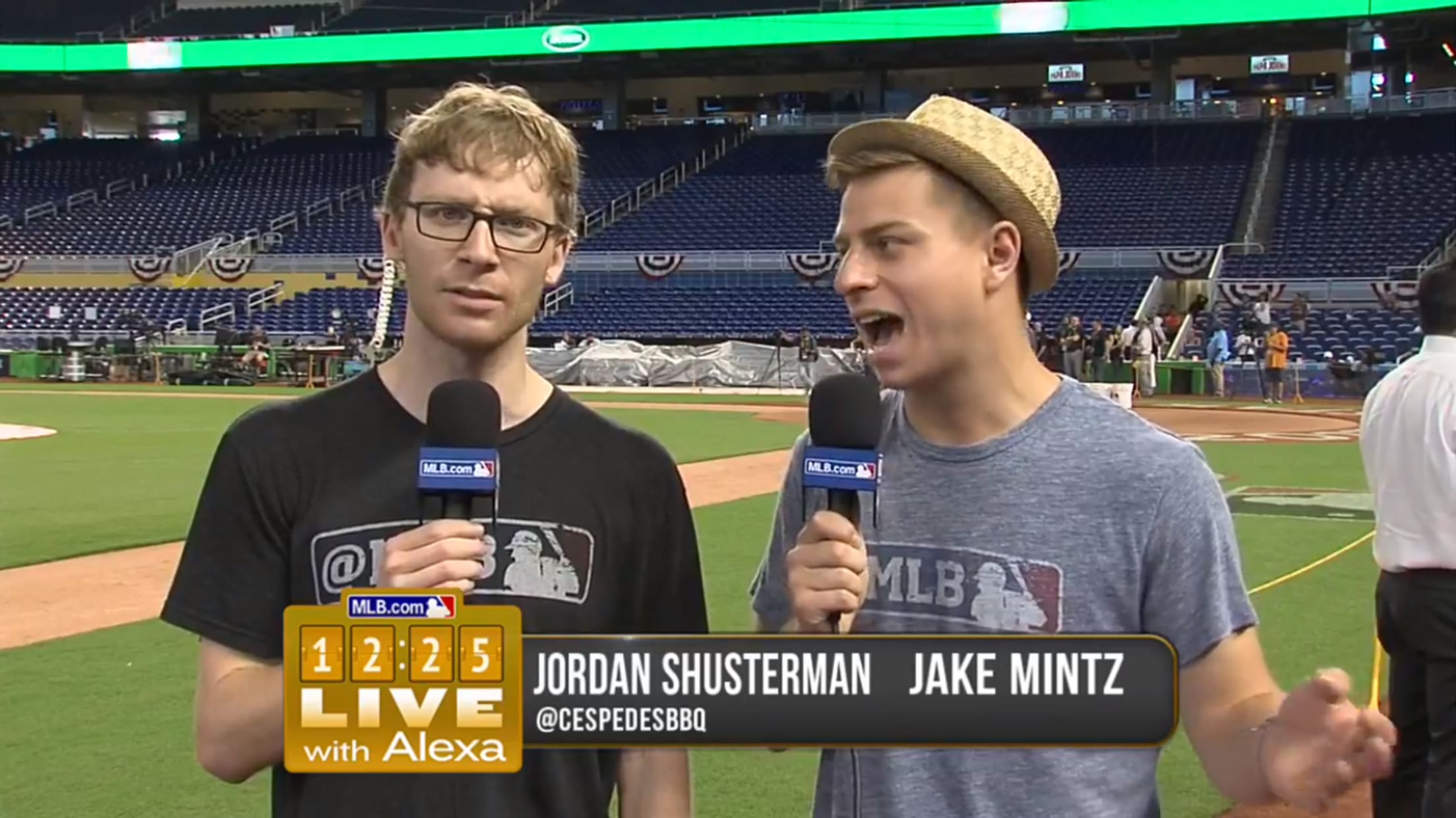 It was a busy few days for the BBQ at our second ever All-Star Week, this one in Miami, Fla., home of hellacious humidity and the humongous home run sculpture. Since it was difficult to keep track of the whirlwind of videos and interviews we did throughout the week, we decided to round (almost) all of it up in one place for one big ICYMI.
Saturday: Futures check-in
Futures Game: Miami: the 2017 Futures Gamers pay their tribute to a Miami icon ... YEAHHHHHHHHHHHHHHHHHH
Yes, we had a pun ready for nearly every single player. Yes, we recorded that song ourselves. Yes, Jake recorded the scream in a closet of the hotel lobby. You're welcome.
Futures Game participants reveal their biggest fears
The highlight of this one was Triston McKenzie, one of the tallest players in the Futures Game, telling us he was afraid of heights.
Rays prospect Brent Honeywell gives us some huntin' and fishin' tips
We knew Honeywell was pretty good at pitching -- he went on to win Futures Game MVP for his dominant two innings on the mound. We also knew the Georgia native was a hunting and fishing enthusiast. What we didn't know is that he's bad at chess, and even worse at Connect4.
Padres prospect Cal Quantrill talks about growing up with a major league dad
Cal did this entire interview with a child-sized plastic baseball mitt for absolutely no reason other than that we tossed it to him. Cheers to him for playing along.
Delightful human being/Mariners prospect Thyago Vieira talks about playing baseball growing up in Brazil
Thyago was easily the happiest baseball player we've ever interacted with. Get you a reliever who throws 101 and then beams an earth-shattering smile afterward.
Brewers prospect Mauricio Dubon on representing Honduras in the Futures Game
Dubon: My mom has never seen me play baseball professionally.
Us: That's crazy, is she here yet?
Dubon: I actually haven't seen her yet.
Us: Why are you talking to us? Go see your mom!
Sunday: The Futures Game, Celebrity Softball, and the tweet of a lifetime:
Acuña Moncada -- it means a lot of retweets
What a wonderful phrase. pic.twitter.com/nqR4CijsAV

— Cespedes Family BBQ (@CespedesBBQ) July 9, 2017
We had this planned a week in advance, but didn't think the photo would occur naturally. We assumed we were going to have to tell them, "just stand together, we'll explain it after!" Fortunately, the two uber-prospects were in the same batting practice group, so they were hovering around each other outside the cage for several minutes while we feverishly snapped probably hundreds of photos in hope that one would be tweet-able. We are such losers. (But hey, it was a good tweet).
Asking Celebrity Softball participants if they could hit prime Jennie Finch
Even two Hall of Famers admitted they probably had no chance.
Monday: All-Star Media Availability and the Home Run Derby
All-Stars discuss their guilty pleasure foods
We knew they couldn't keep up their Major League diets 24/7.
All-Stars reminisce about memorable home runs
Not everyone can be in the Home Run Derby, but everyone has a favorite home run of their own.
Brewers pitcher Corey Knebel is also a brewer
How fitting. Also, heck of a Ross Detwiler shout-out.
Michael Fulmer discusses his offseason hobby -- plumbing (!)
Imagine waiting around all day for a plumber. Your sink is broken, you're all angry. And then bam, it's All-Star pitcher Michael Fulmer at the front door ready to fix some pipes.
Josh Harrison tries to explain his newfound propensity for getting beaned
J-Hay must have done something to anger the baseball gods because he has no idea why he keeps getting plunked.
Asking fans about All-Star Week before the Derby
We also had to ask their opinions on Jake's hat and white pants. Slider, the Indians mascot, had a strong opinion.
Visiting with Futures Game MVP Brent Honeywell during the Home Run Derby before he stole our jobs
Brent Honeywell is a national treasure.
Tuesday: FanFest and the All-Star Game
Jake threw a crowhop-assisted 82 mph
Jake's college career may be over, but he still throws cheddar for a side-armer whose ERA used to be 27.00.
Our subtle attempt to improve the FanFest shop:
hmmm how can we improve the FanFest shop... pic.twitter.com/4jxugs0QsT

— Cespedes Family BBQ (@CespedesBBQ) July 11, 2017
Interviewing Mr. OxiClean, Anthony Sullivan at FanFest about his baseball knowledge
Apparently, Joe Maddon is his homeboy. What a world.
Checking in with Pro Bowl quarterback Jameis Winston during All-Star batting practice
.@CespedesBBQ goes one-on-one with huge baseball fan @Jaboowins.

Of course, he loves the #HRDerby. pic.twitter.com/NxJoOIKaNp

— Cut4 (@Cut4) July 11, 2017
We easily spotted the Jake Lamb fan club:
Oh damn, it's the Lamb fam pic.twitter.com/xwFDze2jTr

— Cespedes Family BBQ (@CespedesBBQ) July 11, 2017
Appreciating Joey Votto's Choke Up-meter
A tribute to the Reds first baseman and donkey enthusiast.
And finally, a comprehensive look at every starter in All-Star Game history
What you didn't realize you've always wanted.

Now you can visualize every starter in @AllStarGame history: https://t.co/s9M8BSTrzs pic.twitter.com/xXqgLBh4Yl

— Cut4 (@Cut4) July 12, 2017
A gift to all you visual learners out there, courtesy of Gemma Kaneko and the MLB design team. See if you can spot Cal Ripken.
Thanks for following along all week. We can't wait for All-Star next year in Washington, D.C. Let us know your favorite thing we did this week at @CespedesBBQ.
Teams in this article:
Players in this article: