Five postseason records and the stars who could make a run at them this October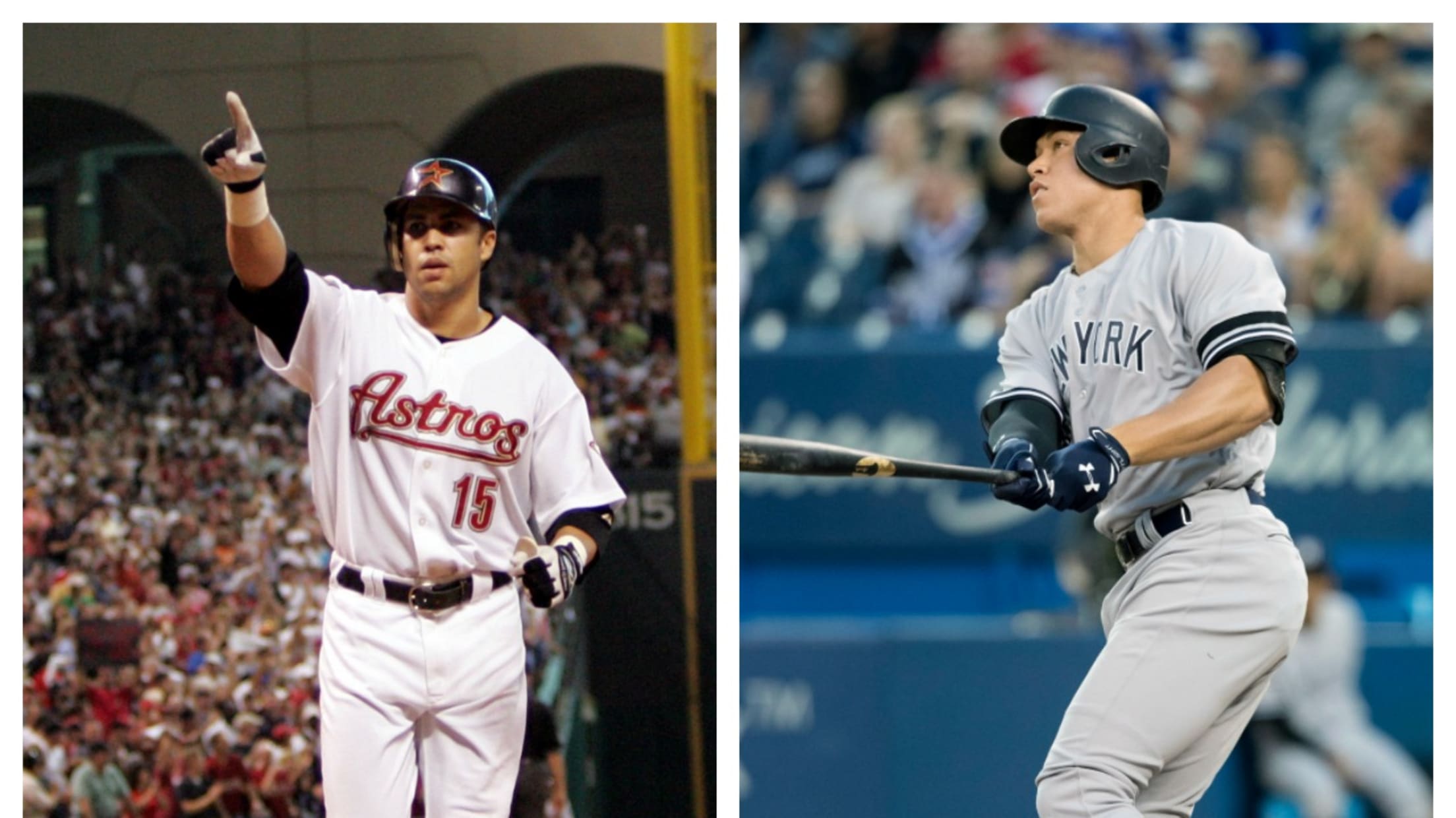 On Monday afternoon, Aaron Judge set a new single-season record for homers by a rookie. Just a couple weeks ago, the Indians put together the longest winning streak in 100 years, while Alex Gordon ensured that 2017 would go down as the most dinger-happy year in history.
It's been an unprecedented season in MLB, and in just a few days, the postseason will provide Major League stars with a whole different record book to take a run at. But which marks are most likely to fall, and which players will be the ones to do it? Read on to find out. And, when history gets made this October, you'll be able to say you saw it coming.
Aaron Judge, home runs in a single postseason
Current record: 8 (Carlos Beltran, 2004; Barry Bonds, 2002; Nelson Cruz, 2011)
While there's a three-way tie at the top, Beltran's historic tear with the Astros deserves special mention. Not only did he hit eight homers in one postseason, he did it in just 56 plate appearances -- compared to 74 for Bonds and 70 for Cruz, whose teams both advanced to the World Series. (Despite Beltran's heroics, Houston bowed out in the NLCS to the Cardinals in 2004.)
Of course, this season has had plenty of historic sluggers of its own -- including the aforementioned Judge, who has so much power that even his routine fly balls seem to end up over the fence.
But what are the chances Judge actually ties or breaks the mark? The Yankees will likely have to get past the AL Wild Card Game first, but if they do, look out: Judge hit eight homers over a comparable span three times this year, including from June 10 to June 24, when he did it in 65 plate appearances. And one of those hasn't even landed yet:
Corey Kluber and Chris Sale, strikeouts in a single postseason
Current record: 56 (Curt Schilling, 2001)
Sure, Schilling's World Series run with the 2001 D-backs was awesome -- over six starts, he fanned 9, 9, 12, 8, 9 and 9 batters -- but this October will give us not one but two starters who could top it.
In one corner: Corey Kluber, who's already made some history this year by becoming just the fourth pitcher ever to record at least eight strikeouts in 12 or more straight games. He also set a franchise record with double-digit K's in five consecutive starts.
In the other: Chris Sale, who spent his first year in Boston nearly breaking Pedro Martinez's franchise record for strikeouts in a season. He also has a slider that defies physics:
Of course, Sale's Red Sox and Kluber's Indians will meet no later than the ALCS, so only one of them can rack up enough starts to put the record in their sights. (And if the single-game strikeout mark is more your speed, keep an eye on Max Scherzer: Bob Gibson currently holds the record with 17 in the 1968 World Series, but Mad Max has already eclipsed that before.)
J.D. Martinez, homers in a single postseason game
Current record: 3 (Nine players)
Nine players have gone deep three times in a postseason game, most recently Pablo Sandovalback in 2012. But chances are you remember one in particular: Reggie Jackson in the 1977 Fall Classic.
Hitting four homers in a game is one of the rarest feats in baseball. If only there were a 2017 All-Star who 1) is already guaranteed to be playing in October 2) will play at least one game in a hitter-friendly park and 3) has already had a four-dinger game this season.
J.D. Martinez and the D-backs will have to go through the do-or-die NL Wild Card Game, but Martinez has hit 29 homers over 59 games in Arizona, and he's a good bet to go off at any moment.
José Altuve, most hits in a single postseason
Current record: 26 (Pablo Sandoval, 2014)
Altuve has his work cut out for him: Panda needed every game of the 2014 postseason to make history, notching record-setting hit No. 26 in Game 7 of the World Series.
But if there's one guy who can top that mark, it's the current Major League batting champion -- a man who's compiled 200 hits in four straight seasons. Need more proof? From July 4 to July 25 of this year, Altuve was about as hot as hot can get: Over 75 plate appearances, he banged out 37 hits (!), good for a .544/.587/.824 slash line.
Craig Kimbrel, best K/9 in a single postseason
Current record: 13.96 (Andrew Miller, 2016)
Just last year, Andrew Miller made us rethink what a reliever could do. The lefty appeared in 10 games for the Indians last October, in just about every situation imaginable, and he was practically unhittable in all of them. Over 19 1/3 innings, he posted a 1.40 ERA and 30 K's -- nearly 14 per nine innings, a new postseason record.
That new mark might be short-lived, though, because Craig Kimbrel is about to take centerstage. After struggling (by his standards) in his first year in Boston, the flamethrower rebounded in a big way in 2017, saving 35 games with a 1.34 ERA.
And all he'll have to do to surpass Miller this October is be himself: Kimbrel has fanned 122 batters over 67 innings, good for a still mind-boggling 16.4 K/9.