Adam Koss is going on a ballpark road trip for his bar mitzvah and raising money for charity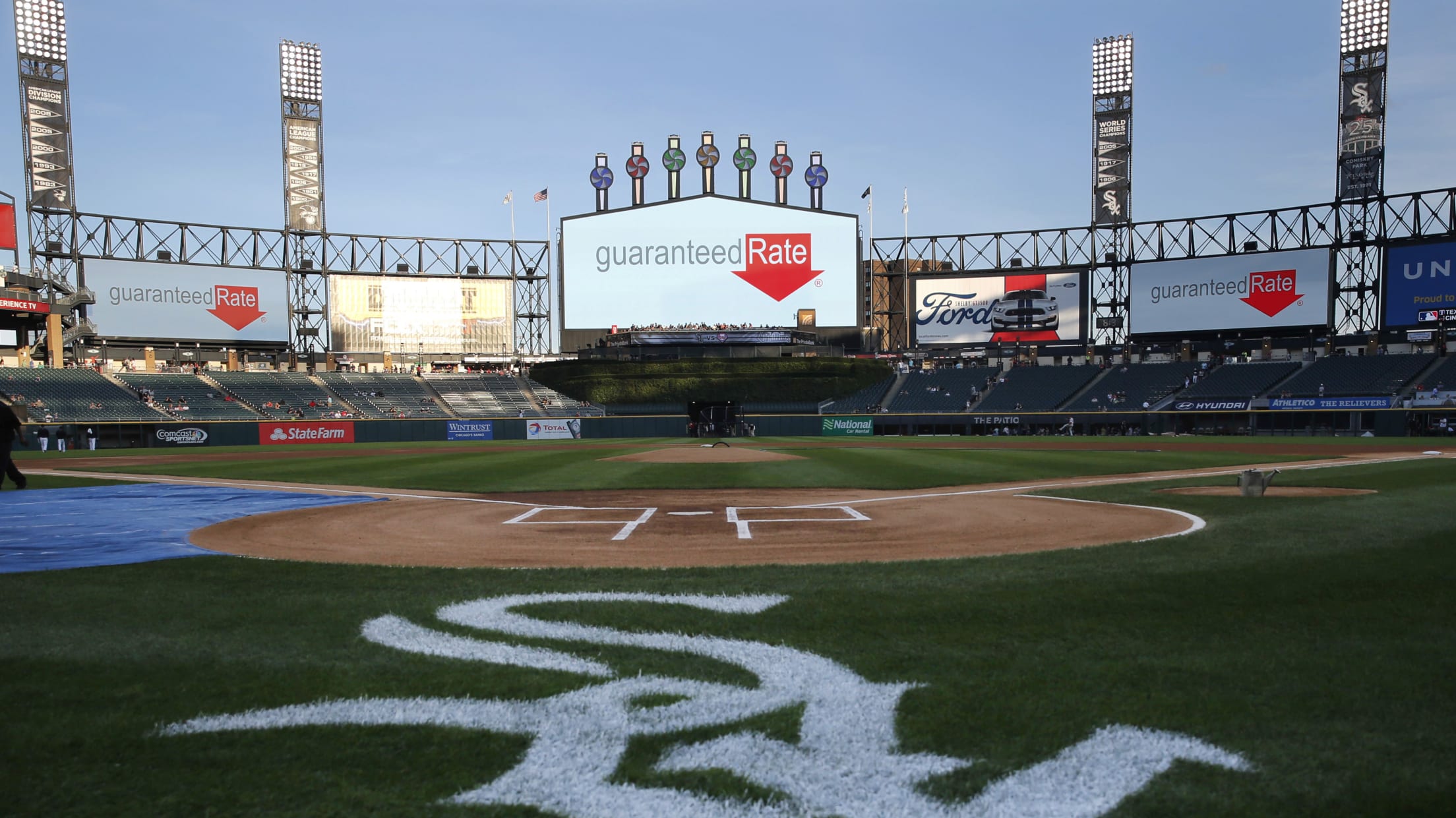 The Chicago White Sox logo is painted behind home plate at US Cellular Field before an interleague baseball game between the Chicago White Sox and the Philadelphia Phillies Wednesday, Aug. 24, 2016, in Chicago. U.S. Cellular Field will become known as Guaranteed Rate Field starting in November. The team and the mortgage company announced a 13-year naming rights deal on Wednesday. The ballpark has been named U.S. Cellular Field since 2003 after being called new Comiskey Park from 1991 to 2002. (AP Photo/Charles Rex Arbogast) (Charles Rex Arbogast/AP)
When the vast majority of fans go to a baseball game, it's for personal entertainment. Aside from helping the home team by cheering, attending a baseball game serves the attendee. We buy concessions, enjoy the atmosphere of the ballpark and maybe even buy a new shirsey or hat.
Adam Koss, a 12-year-old boy from Syracuse, N.Y., is using the occasion of his bar mitzvah to show that traveling the country and seeing a bunch of Major League Baseball games can be an act of charity. Instead of having a party, he has embarked on a road trip to see a game at each of the 30 MLB ballparks this summer. He started on June 22 at Camden Yards and will finish his journey at Citi Field on Aug. 24.
The trip itself is entirely financed by Adam and his family, though they have gotten help along the way from the teams and hotels to minimize the costs. Donations will go to three charities: The Make-A-Wish Foundation, St. Baldrick's Foundation and the Juvenile Diabetes Research Foundation. If you join Adam's Home Run Club, you can pledge a donation for each home run he witnesses on his road trip. For example, someone who pledges $1 to the Home Run Club would give $60 dollars to charity if Adam witnesses 60 home runs on his trip. He's seen 22 home runs so far through 10 games.
He is in Chicago Sunday night visiting Guaranteed Rate Field for the 10th stop on his tour; he'll visit Wrigley Tuesday for his 11th before moving on from Chicago.
While in Chicago, Adam spoke to MLB.com's Scott Merkin about his trip. He decided to do this because a tradition in his family is to give back. "A family tradition is to give back as part of your bar mitzvah and so it was just something that really worked and fit together," Koss said. Koss plays baseball, primarily as a left fielder and third baseman, so combining baseball with his bar mitzvah made perfect sense. "This is one of my dreams," he said. "So it has been a dream come true so far."
His father, Lawrence Koss, made clear that all donations will go directly to the stated charities. "We are not taking any donations for any of the trip," he said. "Literally 100 percent of any donation that comes in is going back to charity."
If you want to support Adam Koss living out his dream of seeing all 30 Major League parks and feel good about yourself in the process, you can visit his website to either donate to the charities directly or join the Home Run Club.