Seven times Alex Bregman was the most competitive player in baseball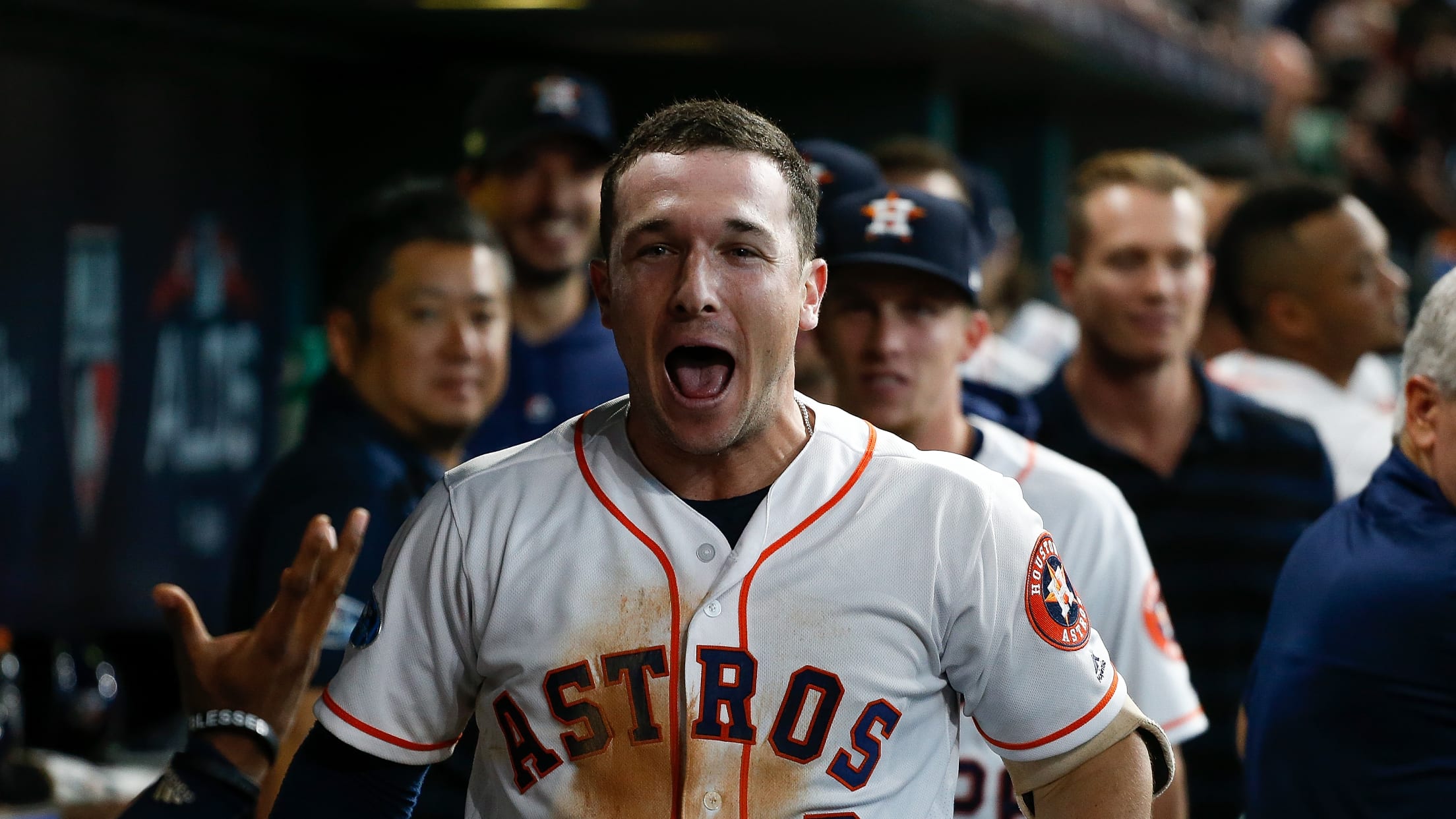 during Game Two of the American League Division Series at Minute Maid Park on October 6, 2018 in Houston, Texas. (Bob Levey)
Alex Bregman and his Astros didn't play a baseball game Monday afternoon, but the all-star third baseman and still found a way to make headlines. In an act of harmless internet trolling, Bregman posted a video on his Instagram story of himself and teammates George Springer and Jose Altuve hitting back-to-back-to-back dingers off Red Sox Game 3 starter Nate Eovaldi, with the caption "lil pregame video work."
Bregman's instagram story right is a video of the Astros going back-to-back-to-back dingers off Nate Eovaldi in June.

🔥🌶🔥🌶🔥🌶🔥🌶 pic.twitter.com/HzPS0W2DKW

— Cespedes Family BBQ (@CespedesBBQ) October 15, 2018
While many baseball players shy away from confrontation off the field, Bregman has shown a consistent willingness to engage in playful and petty banter with his opponents.
Here are seven other times Bregman's self-confidence and insane competitive fire were on display.
His uniform number
At first glance, it doesn't seem that notable for an infielder who grew up during Derek Jeter's prime to wear No. 2 on his back, but Bregman's reasoning for his number has another layer to it. Bregman was the second overall pick in the 2015 draft, one spot behind Braves shortstop Dansby Swanson. Most baseball players would be happy with such a high selection, but Bregman used getting passed over (by literally a single team) as motivation and wears No. 2 as a reminder that he wasn't the first pick.
Similarly, he wore No. 30 in college as a freshman to represent the 30 teams that passed him over in the first round when he was coming out of high school.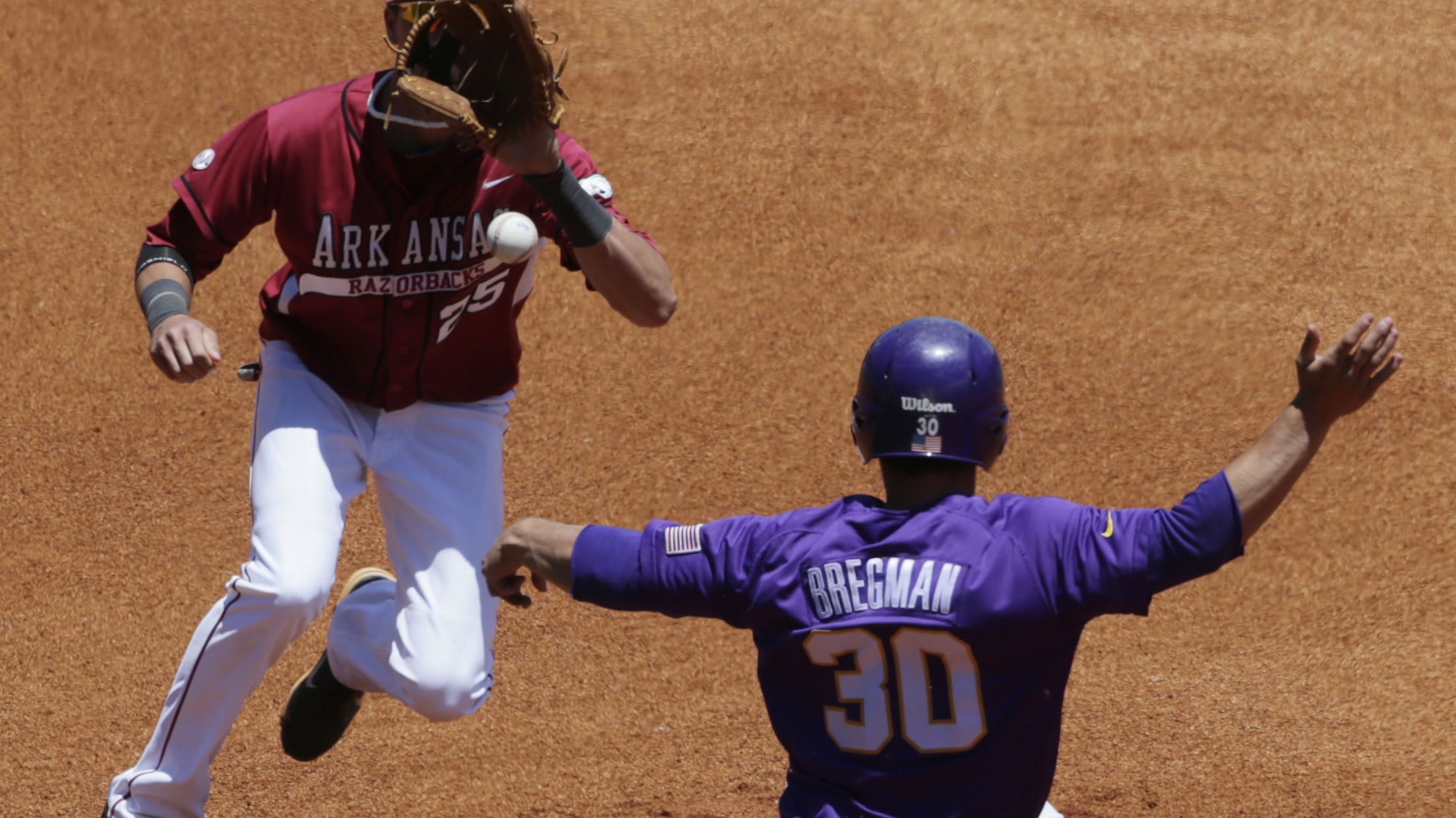 He remembers everything
Game 5 of last year's World Series has gone down in history as one of the most action-packed games in baseball history. With all the lead changes and mood swings that went down, it's basically impossible to remember everything that happened.
Unless, of course, you're Bregman. Last year, Bregman walked us through, in impressive detail, a hefty handful of moments from Game 5 including his walk-off single and the rest of Houston's postseason run.
Back to back guarantees
No more than 20 hours after the Astros beat the Dodgers in Game 7 to win the 2017 World Series, Bregman tweeted this.
November 2, 2017
While most human beings would be content with celebrating a World Series ring the day after winning it, one championship was clearly not enough for Bregman. Since that tweet, he has only continued to proclaim the inevitability of an Astros' repeat. He posted this on Instagram just before Opening Day ...
And, he wore a Back To The Future style t-shirt that read "Back To Back" to a press conference before the ALCS.
Primetime quotes
After sweeping the Indians in the ALDS, Bregman used his postgame interview as an opportunity to remind the world that the defending champion Astros deserved to be in primetime instead of the other ALDS series between the Yankees and Red Sox.
Here's the full Bregman quote from earlier about the Stros not playing in the primetime ALDS series. Big fire. pic.twitter.com/MhnnrxF7ku

— Cespedes Family BBQ (@CespedesBBQ) October 9, 2018
Greatest team of all time
In the locker room celebration after the deciding Game 3 win against Cleveland, Bregman wondered out loud about how many games the Astros might have won if not for injuries.
Alex Bregman, ladies and gentlemen. pic.twitter.com/mgRPfe00O8

— Anthony Castrovince (@castrovince) October 8, 2018
Twitter beef
Earlier in the regular season, before the Astros sent Cleveland into a cold, dark winter, Bregman found himself in the middle of some Twitter beef with Indians pitcher Trevor Bauer. After Bauer accused Houston pitchers of doctoring baseballs, Bregman hopped on to the Internet to poke fun at his adversary.
Relax Tyler ... those World Series balls spin a little different.... 😭 https://t.co/MZ7iIPXhbC

— Alex Bregman (@ABREG_1) May 1, 2018
His yearbook quote
Granted, Bregman's high school yearbook quote predates his time as a big leaguer, but it's a hilarious example of how Bregman has always been the insanely confident and fired-up dude we see now.
Teams in this article:
Players in this article: