The Angels' no-hitter while honoring Tyler Skaggs is an incredible reminder of the magic of baseball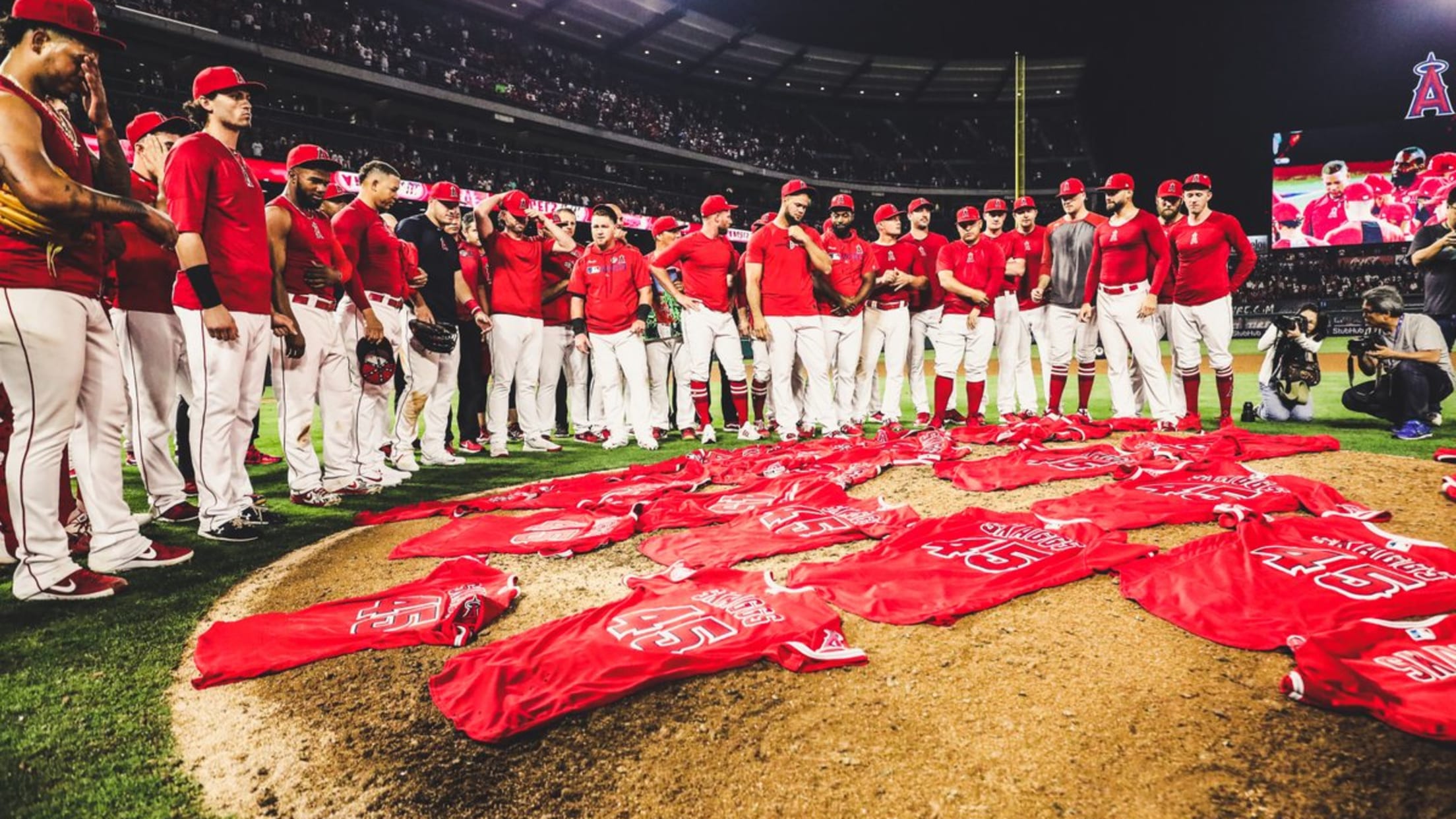 I like to think that I've seen a lot in my few decades of baseball fandom, but then something happens that transcends all the rest. Something bigger than the game, bigger than rooting for a specific team. Something affecting on a deep, emotional level, appealing to the human element of what we otherwise take for granted.
On Friday night, the Angels hosted the Mariners in their first home game at Angel Stadium since the passing of pitcher Tyler Skaggs. The Angels all wore red alternate jerseys, each emblazoned with "SKAGGS 45" on the back in tribute to their fallen teammate. On the Angels' television broadcast, Mark Gubicza and Terry Smith noted that Skaggs always chose the red jerseys, as they were his favorite.
Tonight, we all wear 45. pic.twitter.com/IQ5pDzGSQD

— Los Angeles Angels (@Angels) July 13, 2019
But this night was about more than just a gesture -- even one as touching and emotive as the above. What transpired over the next few hours, frankly, was unlike anything I've ever seen on the baseball diamond, and it's something nobody who witnessed it will ever forget.
It all began with Tyler Skaggs' mother, Debbie, throwing a ceremonial first pitch. It was a perfect strike.
Looking back, Debbie's pitch really set the tone for the night ahead, as opener Taylor Cole and Felix Pena combined for a no-hitter -- the 11th no-hitter in Angels history. But this was obviously much more than just a no-hitter. This one was for Tyler.
After the final out, the scene on the pitching mound was surreal and indescribable.
For Tyler. pic.twitter.com/yJLRnfv7c9

— Los Angeles Angels (@Angels) July 13, 2019
Sitting at home, I found myself going through a myriad of emotions at this moment. Pride -- pride in Skaggs' Angels teammates for putting together the most unbelievable tribute they possibly could have imagined. But it also reminded me of something we as fans can overlook in the day-to-day: Baseball can be pure magic.
It really can. Losing a friend, teammate, colleague, family member such as Skaggs is an unfathomable loss for those directly and personally affected by his passing, but Friday night? That was pure love, pure magic and an example of this sport transcending the "normal" and achieving something cathartic, reverent and affecting on a deep level.
I never met Tyler Skaggs, and I'm not in the clubhouse every day interviewing players. But due to the inherent close-knit aspect of the game and the intimacy we can feel with the players, watching them at their best (and worst, sometimes) affords a feeling of connection. (Side note: I'd seen Skaggs pitch several times in person, including his final start against the A's on June 29 at Angel Stadium -- just two days before his death).
But Friday night's no-hitter brought with it some coincidences that gave me chills upon learning them after the final out.
This was the first combined no-hitter in the state of California since July 13, 1991 -- which was the day Tyler Skaggs was born. Yes, really.
The @Angels paid tribute to Tyler Skaggs by throwing a combined no-hitter against the Mariners in Anaheim.

The last time there was a combined no-hitter in the state of California? Orioles-A's in Oakland on July 13, 1991 - the same day Tyler Skaggs was born.#TheHaloWay

— Stats By STATS (@StatsBySTATS) July 13, 2019
That also, of course, means the Angels did all of this on the eve of what would have been Skaggs' 28th birthday, too.
It was the Angels' 11th no-hitter in franchise history, too. Skaggs wore No. 11 pitching for Santa Monica High School.
And, as Mike Trout pointed out after the game, the Angels scored seven runs in the first inning and finished the game with 13 -- both figures relevant to Skaggs' birthday, as well.
Mike Trout: "You can't make this stuff up." Pointed out they scored seven runs in first and had 13 hits. Skaggs' 28th birthday would've been tomorrow on 7/13

— Rhett Bollinger (@RhettBollinger) July 13, 2019
That's just ... wow, man. This would have been a special, unforgettable evening for everyone involved even if there hadn't been a no-hitter thrown.
But with all of these other circumstances going into effect, plus an entire roster of Angels players wearing No. 45 in reverence for Skaggs, celebrating a no-hitter together on the pitching mound he called home for years, it hit another level.
Goodnight. #TheHaloWay

📷 » https://t.co/MWmBSYDm36 pic.twitter.com/0nyB3rZB6t

— Los Angeles Angels (@Angels) July 13, 2019
Hyperbolic as it sounds, this was one of the most incredible things I have ever seen in my life, and I won't ever forget it.
I was lucky enough to know someone as special as Tyler. You were there last night, 45... we'll always have you in our hearts. I love and miss you. pic.twitter.com/TMIgSTTpJz

— Mike Trout (@MikeTrout) July 13, 2019
Rest in peace, Tyler Skaggs.
From the first pitch to the last pitch, we're nasty. pic.twitter.com/qcp1El3vFQ

— Los Angeles Angels (@Angels) July 13, 2019
Teams in this article:
Players in this article:
Topics in this article: