Auburn's SEC Tournament ended in devastating fashion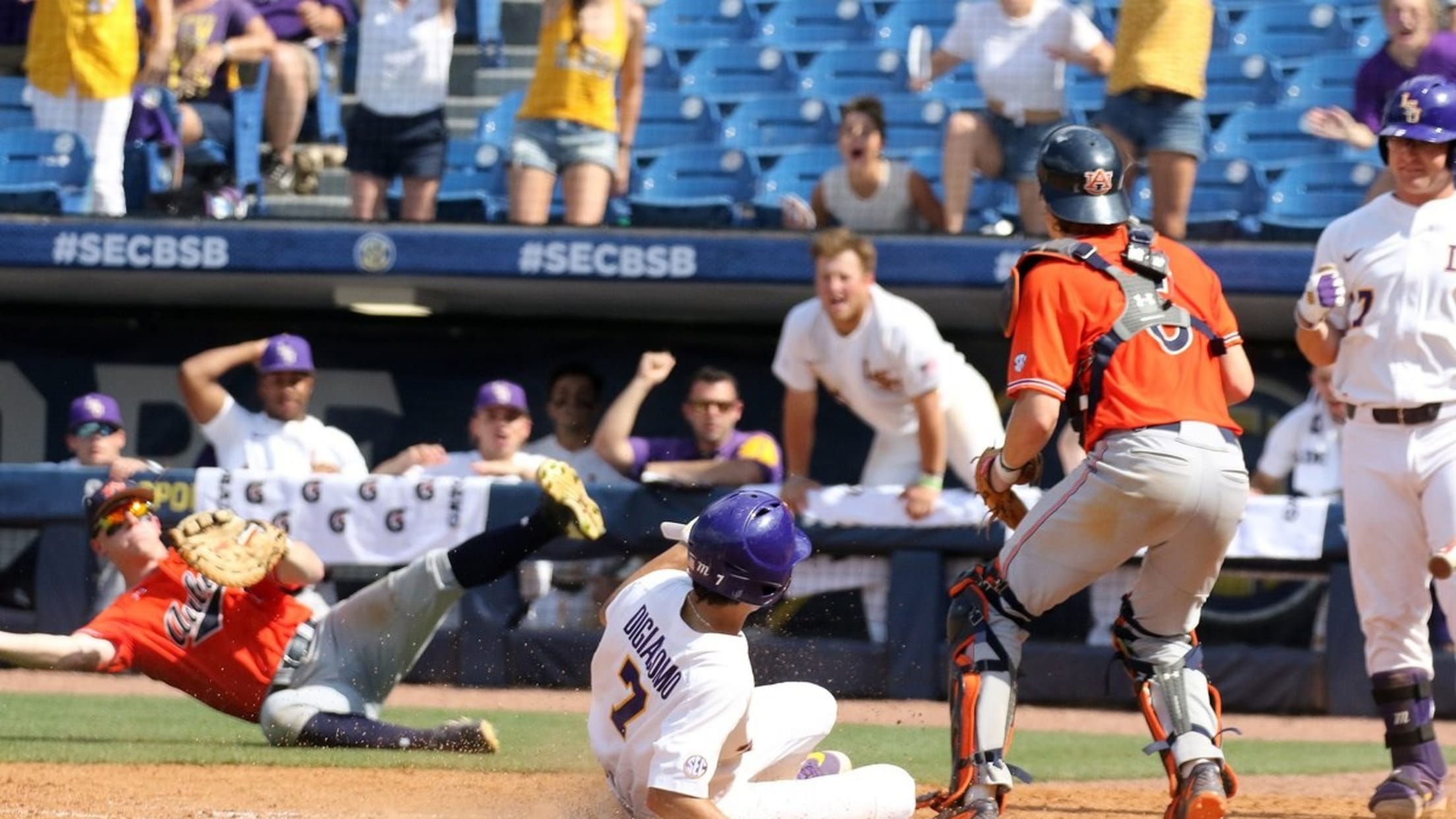 After all the thrills of a typical baseball season, no one wants to see it end. But if it must be snuffed out, fans hope that their team at least loses with some grace.
Tell that to the unfortunate supporters of the Auburn Tigers. They faced LSU in the third round of the SEC Tournament on Thursday afternoon and held a 3-2 lead in the bottom of the ninth. LSU had two runners on, though, and when Brooks Fuller uncorked a wild pitch, chaos ensued:
WHATEVER IT TAKES 😱 pic.twitter.com/mlKxPwqfQM

— LSU Baseball (@LSUbaseball) May 23, 2019
An accidental kick by Auburn catcher Matt Scheffler and an immediate error from first baseman Rankin Woley proved to be a devastating combination. Just like that, their dreams of winning the SEC Tournament were dashed, and their College World Series bid was put in serious jeopardy.
You might be sitting at home thinking that this is an inconceivably sad way to lose a baseball game. You're right, but the heartbreak is just more of the same for Auburn.
In 2017, Auburn was one win away from a Super Regional berth and held a one-run lead in the ninth over Florida State. It vanished on a game-tying triple by Dylan Busby, and in the 10th, the Seminoles walked off when JC Flowers got plunked.
These Noles never quit. #WinTheDay pic.twitter.com/aYsSOpNlwI

— FSU Baseball (@FSUBaseball) June 5, 2017
Florida State shut Auburn out the next day, 6-0, to eliminate them.
A year later, Auburn was even closer to the College World Series. A win over Florida would have sent them to Omaha, but thanks to the baserunning heroics of Gators Blake Reese and Nick Horvath, they were forced into extra innings.
Auburn lost in the 11th when right fielder Steven Williams accidentally tipped a long drive by Austin Langworthy over the wall for a walk-off homer:
Obviously the most fitting way to send the No. 1 seed into the final #CWS spot! 🤯

For the 1️⃣2️⃣th time in program history, @GatorsBB is headed to the College World Series! pic.twitter.com/Lnt38ZojTE

— NCAA Baseball (@NCAACWS) June 12, 2018
At that point, Auburn fans must have been asking "What could possibly happen next?"
Well, now they know. Given the events on Thursday, Auburn has quite the dubious hat trick of painful losses.
Condolences to Josh Donaldson, Casey Mize and all the other wounded Tigers out there. We would say "There's always 2020," but at this point, it's hard not to foresee disappointment.