Bill Belichick, sans short-sleeve hoodie, visited Tony La Russa and A.J. Pollock in D-backs camp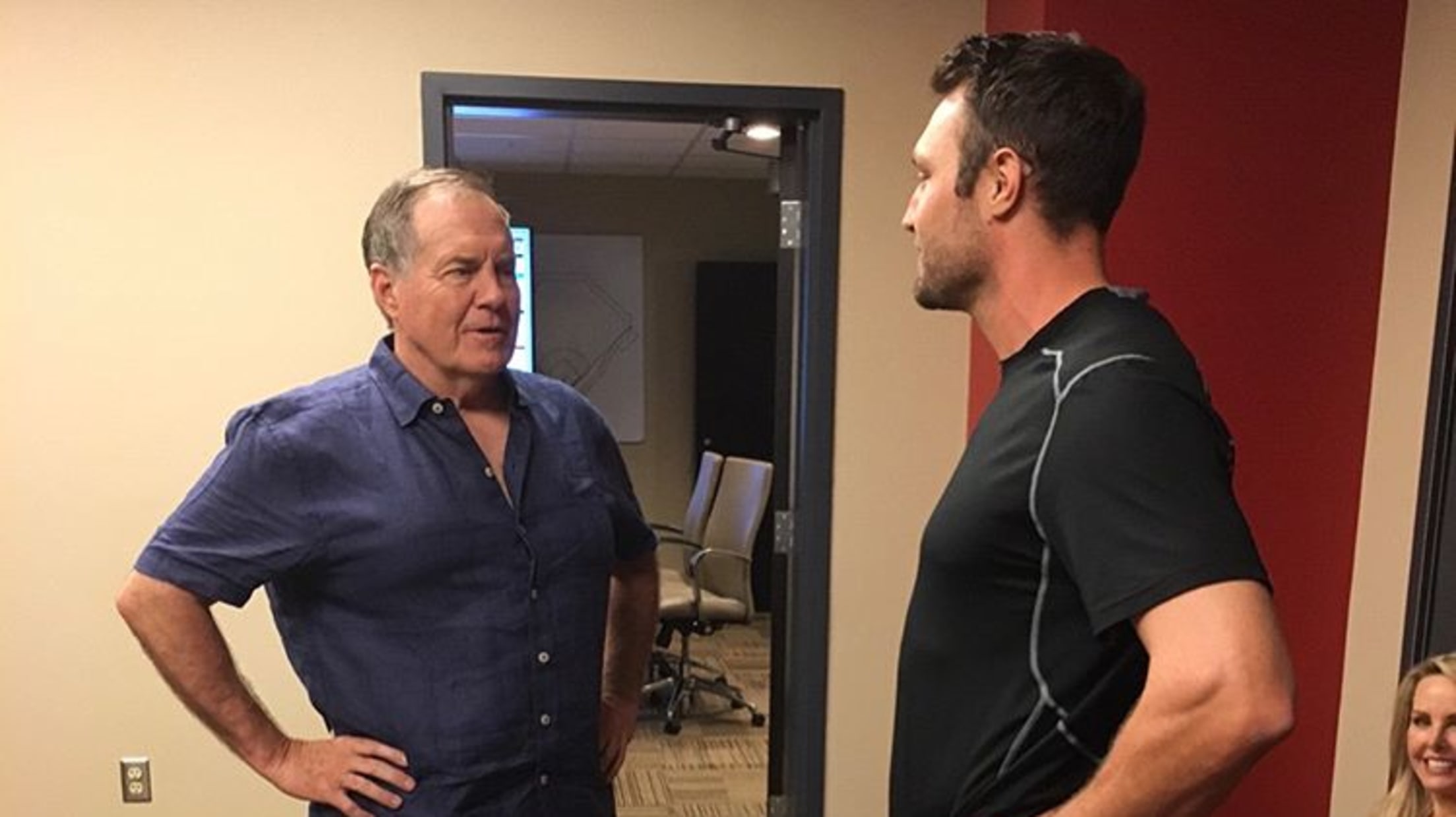 Two legends got together at D-backs Spring Training on Sunday afternoon at Salt River Fields. There was just one baseball icon, though. New England Patriots head coach Bill Belichick was visiting an old friend, Tony La Russa, the D-backs' chief baseball analyst and adviser.
Since Belichick was attending the NFL meetings in Phoenix, it was an opportune time for him to say hello to La Russa, who gave him a tour of the D-backs' complex. The five-time Super Bowl champion coach also greeted All-Star outfielder A.J. Pollock, a Connecticut native and Patriots fan who was thrilled to meet him.
Belichick can absolutely fill out a button-down shirt. He has the Spring Training guest look down, complete with shorts and flip-flops. Someone just needs to hand him a dad hat, and he'd be the perfect visitor to camp.
Belichick and La Russa have a friendship that goes way back, and in the past, La Russa has returned the favor by visiting Belichick in Patriots minicamp. Belichick also donned a La Russa Cardinals jersey on the eve of Game 7 of the 2011 World Series. (If it was a good luck charm, it worked, as the Cardinals won the Fall Classic in the last game of La Russa's managerial career.)
A pair of living legends.

Great having Coach Belichick at #DbacksSpring camp today! pic.twitter.com/utYDXvkGly

— Arizona Diamondbacks (@Dbacks) March 26, 2017
There are eight combined championships between these two men, so it's not difficult to see why there is so much mutual admiration. Now, MLB and the NFL need to combine on some kind of buddy comedy for them. A variation on Trading Places? Bill and Tony's Excellent Adventure? There's potential.
Teams in this article:
Players in this article: