Bill Murray gave a random Cubs fan a ticket to Game 6 and let her sit next to him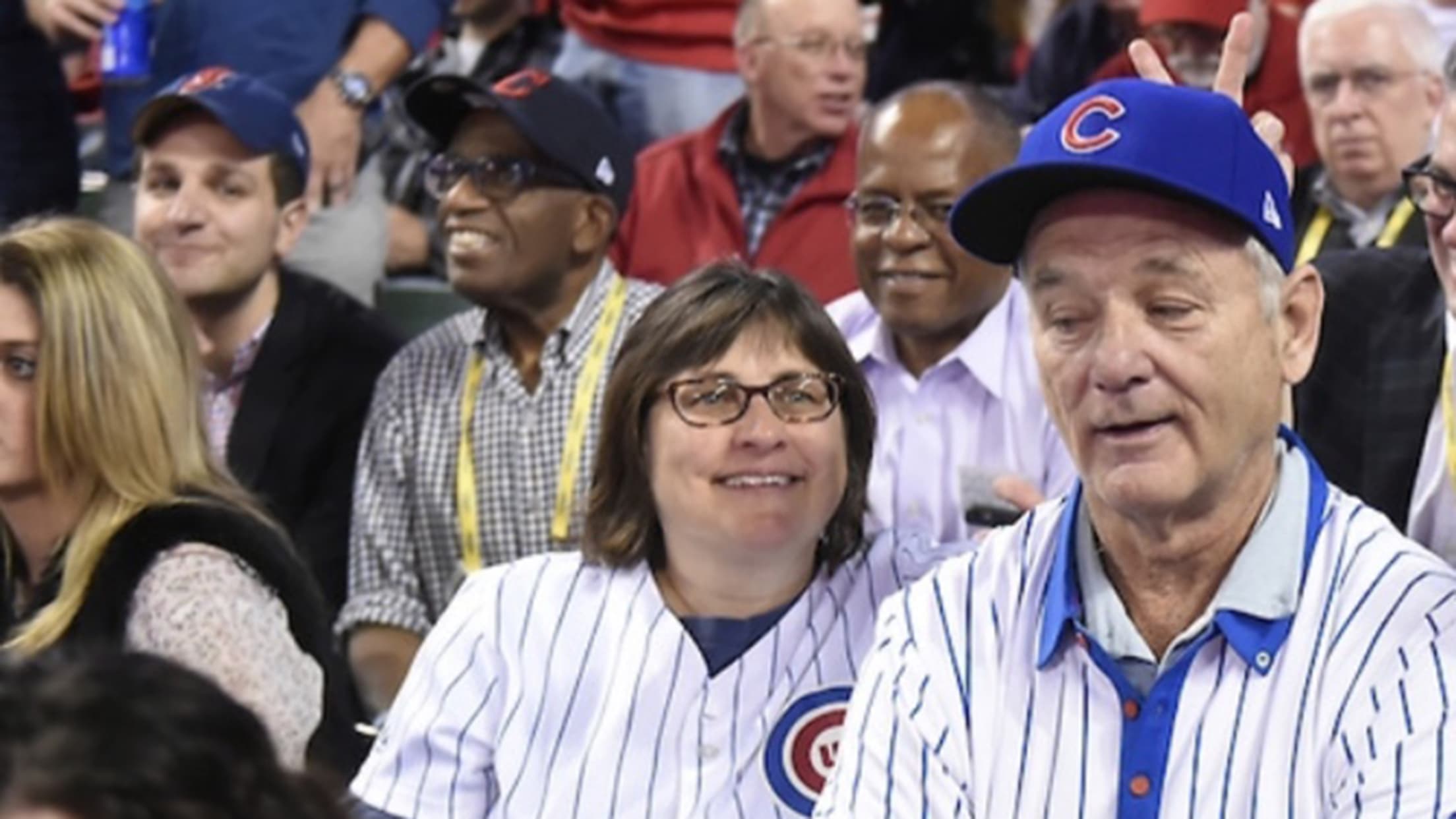 Cubs fan Karen Michel was at the Progressive Field box office before Game 6 of the World Series on Tuesday, hoping that she'd have a little luck on her side and a single ticket would miraculously be available for purchase.
"I was thinking, maybe somebody didn't use their ticket and they'll want to resell it," she said.
That, predictably, didn't work. This time of year, in the postseason, there usually aren't random single tickets floating around unused, especially the night of a possible clinching situation for the home team.
Disappointed but not surprised by her luck, Michel turned away from the ticket window. She soon noticed actor Bill Murray walking by, and, her interest piqued, she started to follow him.
What she wasn't expecting was for Murray to turn around and hand her his extra World Series ticket.
"He turns around and says, 'Here, here's a ticket,'" she said. "And he kind of shuttled me into the door. I thought it was just a ticket to get in. But it was a ticket to sit right here."
By "here," Michel meant the seat right next to Murray, in the box section closest to the field, a few rows behind home plate.
Best-dressed @Cubs fan: Bill Murray.https://t.co/Gakb3YrlAB #WorldSeries pic.twitter.com/SftDtm6En7

— MLB (@MLB) November 2, 2016

"I watched five games at home and they're showing Eddie Vedder, [Chris] Chelios, whatever, and I'm like, 'I wonder if I'll see any of those people,'" Michel said. "Of course now, I'm here, and I see all kinds of people."
Vedder, the lead singer of Pearl Jam and one of the Cubs' most famous fans, sat a few rows in front of Murray and Michel, as did Chelios, the NHL Hall of Famer. Also in that section: high-ranking baseball executives, former Major League players and several on-air broadcast personalities.
Michel, a loyal Cubs fan from Whiting, Ind., seemed to fit right in as she celebrated the Cubs' 9-3 win in Game 6, which forced a final, and decisive, Game 7.
Regarding her interactions with Murray, Michel said they chatted about their childhoods and growing up rooting for the Cubs.
"I asked, 'When you went to the Cubs game, who did you go with?'" Michel said. "He said his brother and his father. I have all sisters, and me and my dad would go to the baseball games. We talked about stuff like that."
Michel normally wears a Kris Bryant jersey when she attends Cubs games, but she noticed lately that when she wears that particular jersey, Bryant doesn't do so well. So Michel decided to change things up and wear her No. 18 Geovany Soto jersey instead, and she was delighted to watch Bryant go 4-for-5 in Game 6.
She just never imagined she'd be sitting so close to Bryant, and to the field, while the third baseman logged all of those hits.
And it was all thanks to the kindness of a stranger -- a stranger who happens to be one of the best-known comedic actors of his generation.
"I thought it was just a ticket to get in," Michel said of Murray's generosity. "I didn't think it would be anything like this."
Hey, Bill, what about Game 7? The Cubs and Indians will play a winner-take-all Game 7: Tonight, 7 p.m. ET air time | 8 ET game time on FOX.
Alyson Footer is a national correspondent for MLB.com. Follow her on Twitter @alysonfooter.
Teams in this article:
Players in this article: