J.A. Happ wants to know why milk is sold in bags in Canada, and he isn't afraid to ask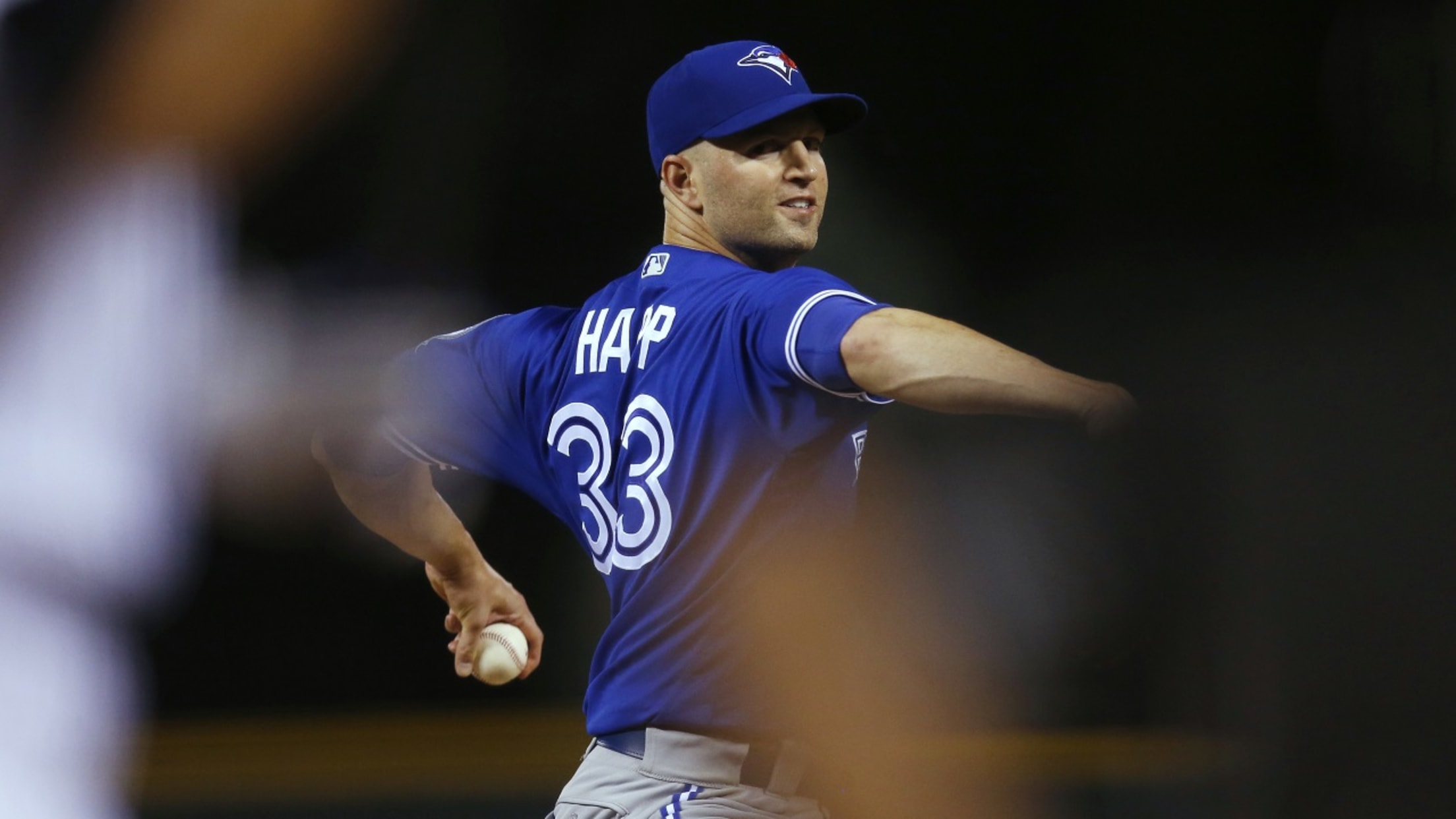 Toronto Blue Jays starting pitcher J.A. Happ, center, is framed by Colorado Rockies' Nolan Arenado, left, and home plate umpire Laz Diaz in the first inning of a baseball game Tuesday, June 28, 2016, in Denver. (AP Photo/David Zalubowski) (David Zalubowski/AP)
Blue Jays lefty J.A. Happ is a product of Illinois -- but now he spends much of the year in Canada.
As one might expect moving north from the United States, there are some distinct differences between the two countries, something Happ has definitely experienced since returning to Toronto on a free-agent deal in 2015.
One particular area of confusion for Happ, provocatively enough, has to do with the Canadian practice of selling milk in bags. This big reveal came in a new interview with Sportsnet's Kristina Rutherford, where he laid out some direct questions about the whole situation:
Is there anything you're still not used to in Canada?
"I think I've gotten used to most of the stuff. Grocery shopping is a little different. I still don't understand the bagged milk situation here."
What?
"You guys sell milk in bags and I don't really get why, or what you do then with the bags. Other than that it seems like Canada's doing a pretty good job. [Laughs.] But I don't get the milk. Put it in a gallon jug so you don't have the sloppy, messy bag."
You know you put the bag in a milk jug, right?
"Where's the jug? Do you have to buy the jug separately? Why are they not in the jug already?"
Oh my gosh. You have to ask someone at the grocery store for help.
"Why do I have to ask? I should just grab it from the counter and it should be ready for me to drink."
Happ ends that portion of the interview with a suggestion:
"We need a memo sent out to all American players on how Canada dispenses its milk. Would you prefer to have a gallon of milk or a bag or milk? You can pick up a gallon and walk out of the store. Or you can try to figure out how to drink your bagged milk."
Thankfully for him and other potentially bewildered Americans, this video sheds some light onto the matter:
The whole "Why does milk come in bags in Canada?" question became such a concern a few years ago that the Toronto Star put together a lengthy piece about it in 2010, all geared around the instructional video seen above.
If there's one major takeaway from all of this, it's that Happ clearly isn't the only non-Canadian befuddled by this ... even if it has a reasonable explanation pertaining to manufacturing costs and the like.
If there's another takeaway, it's that "J.A. Happ and the Canadian Milk Confusion" would make a great band name.
Teams in this article:
Players in this article: