165-pound Ozzie Albies has become arguably baseball's least likely slugger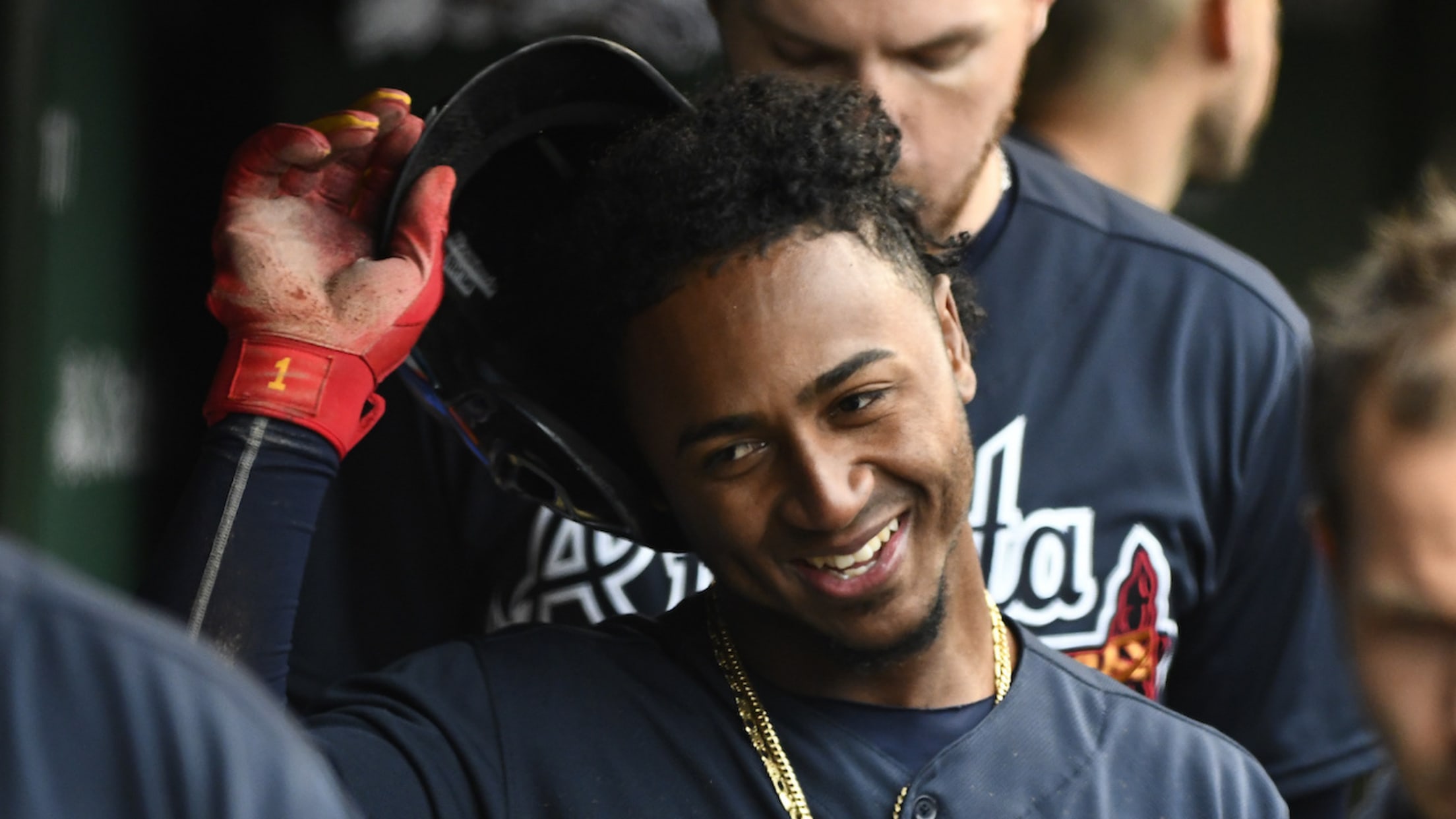 Atlanta Braves' Ozzie Albies celebrates in the dugout after he scored on a wild pitch by Chicago Cubs starting pitcher Yu Darvish during the fifth inning of a baseball game on Friday, April 13, 2018, in Chicago. (AP Photo/Matt Marton) (Matt Marton/AP)
When the Braves first signed Ozzie Albies, as a 16-year-old out of Curacao, there were plenty of reasons to be excited. He was, in a lot of ways, your prototypical light-hitting, fast-twitch middle infielder: small build, good glove and great speed, like a next-gen version of Rafael Furcal. Just about the only thing missing from his game was the ability to hit for power.
"Albies makes a lot of contact, thanks to his quick swing, excellent hand-eye coordination and innate feel for the barrel," MLB Pipeline wrote prior to the 2015 season. "He has a line-drive stroke and, while power will never be a part of his game, drives the gaps well." They graded his power as a 20, the lowest number possible on the 20-to-80 scale.
For a while, that report seemed right on the money. In his first Minor League season in 2014, Albies hit .364/.446/.444, with just one homer and three triples across 57 games. The next year, at Class A Rome, he again hit over .300 -- and again hit more triples (8) than homers (0). In fact, prior to 2018, he'd never hit more than nine in a season at any professional level. Now, let's just take a quick glance over at this year's MLB statistical leaderboard and ...
That's right: Albies -- 5-foot-8, 165-pound, 20-grade power Ozzie Albies -- has the second-most homers in baseball with nine through his first 27 games. Sure, he's not the only unconventional name up there, but Didi Gregorius has seven inches and 40 pounds on his fellow infielder while Mitch Haniger has long had the ability to absolutely clobber a baseball.
Albies is also 12th in OPS and tied with Miguel Andújar for the overall lead in doubles, which means that one of the very best hitters in the Majors could comfortably fit inside of Sean Newcomb's armpit: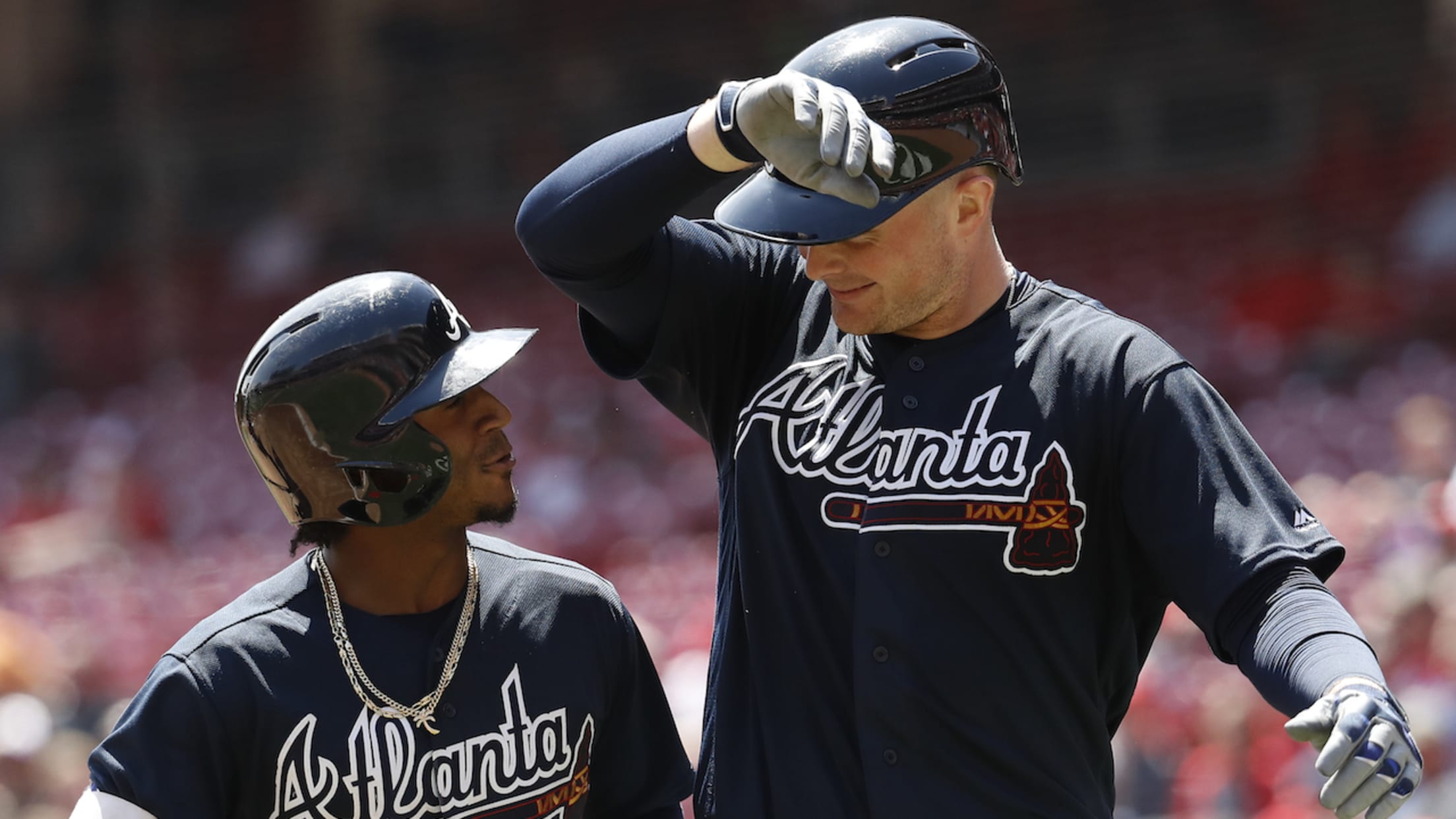 Lest you think this is just some fluke, consider that Albies seems to have made a real change to his swing; He's upped his fly-ball rate from 40.3 percent to 47.3 -- and a whole lot of those extra fly balls are carrying. Here he is nearly reaching the upper deck at Citizens Bank Park:
Here he is promptly redirecting a 100-mph fastball from Noah Syndergaard himself -- the fastest pitch hit for a homer in the Majors this year:
Albies is currently on pace for an astounding 54 dingers, and though he almost certainly won't keep that pace up, he could very well be in for a historic season. The list of players players at or below Albies' listed height and weight who have hit 20 homers in a season is a very exclusive one: Joe Morgan, who did it four times, and José Altuve, who's done it twice -- including a 24-dinger campaign last year.
Morgan holds the all-time record at 27, meaning that Albies is already a third of the way there ... with some 135 games still to play.
Teams in this article:
Players in this article: