Relive Brett Gardner's unforgettable 12-pitch at-bat in the Yankees' ALDS Game 5 victory
If you're reading this, Brett Gardner is still in the batter's box.
OK, so that's not quite true, but the Yankees outfielder had one of the best at-bats of the postseason in New York's dramatic 5-2 win over the Indians in Game 5 of the ALDS presented by Doosan on Wednesday night. The victory means the Yankees will now face the Astros in the ALCS.
But the game was a bit dicier than its final score in the top of the ninth, with the Yankees clinging to a 3-2 lead provided entirely by Didi Gregorius' two homers. Gardner strode to the plate against the Indians' Cody Allen and put on his focus goggles.
That's what we'll call the intense, unwavering focus he had at the dish ... since the at-bat went on for 12 pitches. After the count drew full, Gardner fouled away four straight pitches before lacing a two-run single to right field to further distance the Yankees from Cleveland.
It makes for a rather lengthy .GIF:
And a soon-to-be iconic photo: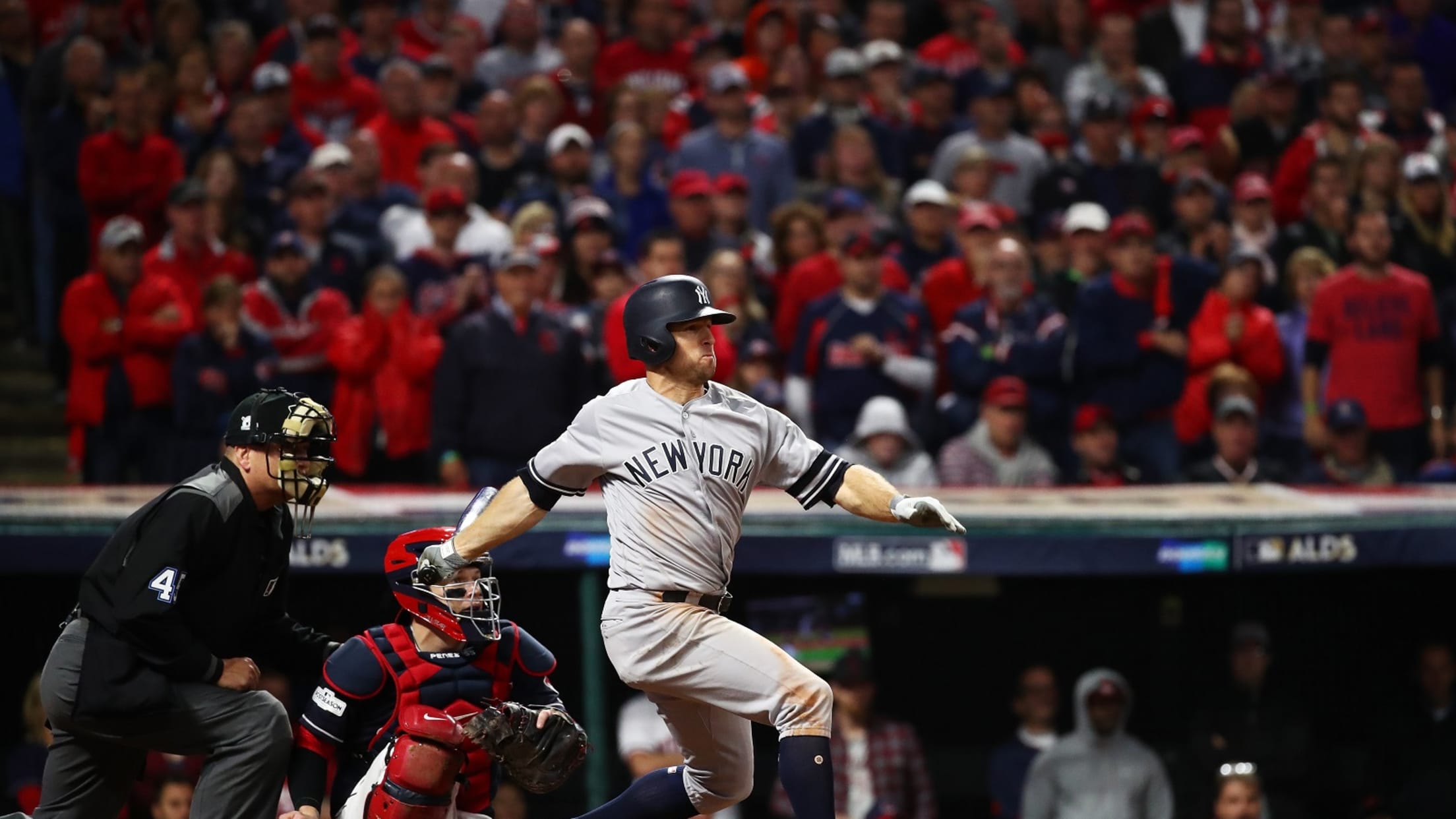 (You can view the extended cut right here.)
The at-bat was pretty epic:
Bask in it. pic.twitter.com/0dFhytTFtn

— Mike Petriello (@mike_petriello) October 12, 2017
In more ways than one.
That epic Brett Gardner AB requires two screencaps on the @MLB AtBat app. #Yankees pic.twitter.com/zThhDKU3yX

— Adrian Garro (@adriangarro) October 12, 2017
Fun fact: Gardner's battle with Allen was the second 12-pitch at-bat he had in the game, as he staged another drawn-out appearance against Indians reliever Andrew Miller in the fifth before striking out.
On the FS1 postgame show, David Ortiz (no slouch when it comes to hitting feats himself) said of Gardner's at-bat that, "It was one of the best at-bats I've seen in a long time," and that sounds about right. It was the type of at-bat that draws you in as each pitch is thrown and each foul ball is hit. It felt like appointment viewing, and looking back, it really was.
It helped the Yankees reach the ALCS for the first time since 2012 and complete a comeback a lot of people probably didn't anticipate once they went down 0-2 in the series.
The Yankees will now face off against the Astros in the ALCS -- tune in to Game 1, Friday, 8 p.m. ET on FS1.
Teams in this article:
Players in this article: