Brewers catcher and postseason hero Erik Kratz is 2018's David Ross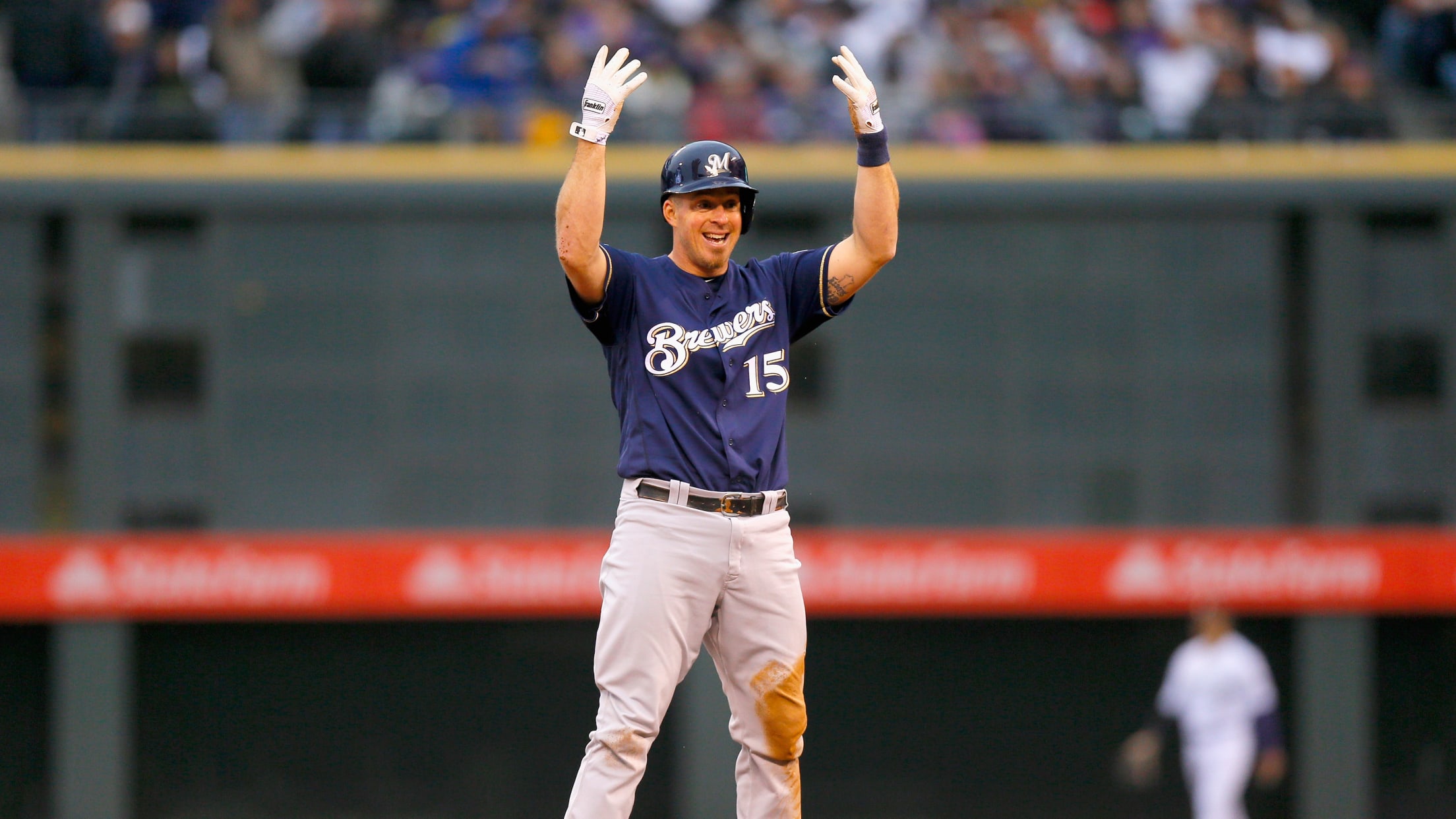 Game Three of the National League Division Series at Coors Field on October 7, 2018 in Denver, Colorado. (Justin Edmonds)
The Brewers are moving on to the NLCS, thanks in large part to the remarkable play of 38-year-old catcher Erik Kratz, who became the oldest player to make his postseason debut since Lave Cross in 1905 and immediately made his mark with five hits in two games, including an adventurous double.
Erik Kratz MLB hits in ...

2015: five
2016: eight
2017: two

2018 NLDS: five

— Andrew Simon (@AndrewSimonMLB) October 7, 2018
A 38-year-old journeyman backup catcher making an impact for a team with World Series aspirations is truly a remarkable story. And yet, it all seems so familiar ...
Remember this guy?
It's been two years since David Ross, then a 39-year-old catcher who never had more than 348 plate appearances in a season and was on his seventh Major League team, helped the Cubs end the 108-year World Series drought with an October for the ages. His home run off Andrew Miller was one of the many incredible moments of that legendary Game 7:
Ross immediately attained cult hero status, and with good reason. His 'Grandpa Rossy' persona meshed perfectly with the young core of the 2016 Cubs, and his infectious personality combined with his clutch on-field performance to become one of the faces of one of the most iconic teams in baseball history.
A David Ross-level outcome is certainly a lot to expect from Kratz and the Brewers, of course, and it is still early in October. But many of the same ingredients are in play. Nearly 40 years old? Check. On his seventh MLB team? Check. Exceptionally likable? Check.
King Kratz mic'd up for the final out. 🎤 pic.twitter.com/fSbvfZ1MJU

— MLB (@MLB) October 8, 2018
As Milwaukee advances and Kratz continues to collect timely hits, his legend may grow similarly. And yet while Kratz's narrative may lack in terms of historical significance -- nothing can really top breaking the Cubs' World Series drought -- it is made up for in part by Kratz's personal journey to this point.
Unlike Kratz, who is making his postseason debut this October, Ross entered the 2016 postseason with four previous postseason appearances, including a run with the 2013 World Series champion Red Sox. He also had 883 games of Major League experience under his belt, compared to Kratz's 295 career games heading into this postseason. While Ross never made an All-Star team, he did have seasons of 21 and 17 home runs with the Reds in 2006 and 2007. Kratz has never hit more than nine in a season.
Ross was a seventh-round Draft pick in 1998 as a junior out of the University of Florida, one of the strongest Division I programs in the country. Kratz was a 29th-round selection by the Blue Jays as a senior out of Eastern Mennonite University, a small Division III school in Harrisonburg, Va. Ross made his MLB debut at age 25; Kratz debuted at age 30. Ross' journey to his postseason moment was unlikely. Kratz's was borderline inconceivable.
While we knew Ross was retiring heading into the 2016 postseason, we do not know if this October run could be Kratz's last hurrah. But regardless of whether Milwaukee completes its run through the postseason with a World Series title, we'll be enjoying every Erik Kratz moment along the way. Because sometimes, the sequel can be just as good as the original.
Teams in this article:
Players in this article: