The California and Carolina Leagues held a HR Derby on an aircraft carrier and it was the best
Launching a home run in a baseball stadium is possibly the most face-meltingly awesome thing a human being can do.
… Except for launching dingers from an aircraft carrier -- that 970-foot, 64,000-ton chunk of floating fury that transports fighter jets all around the world.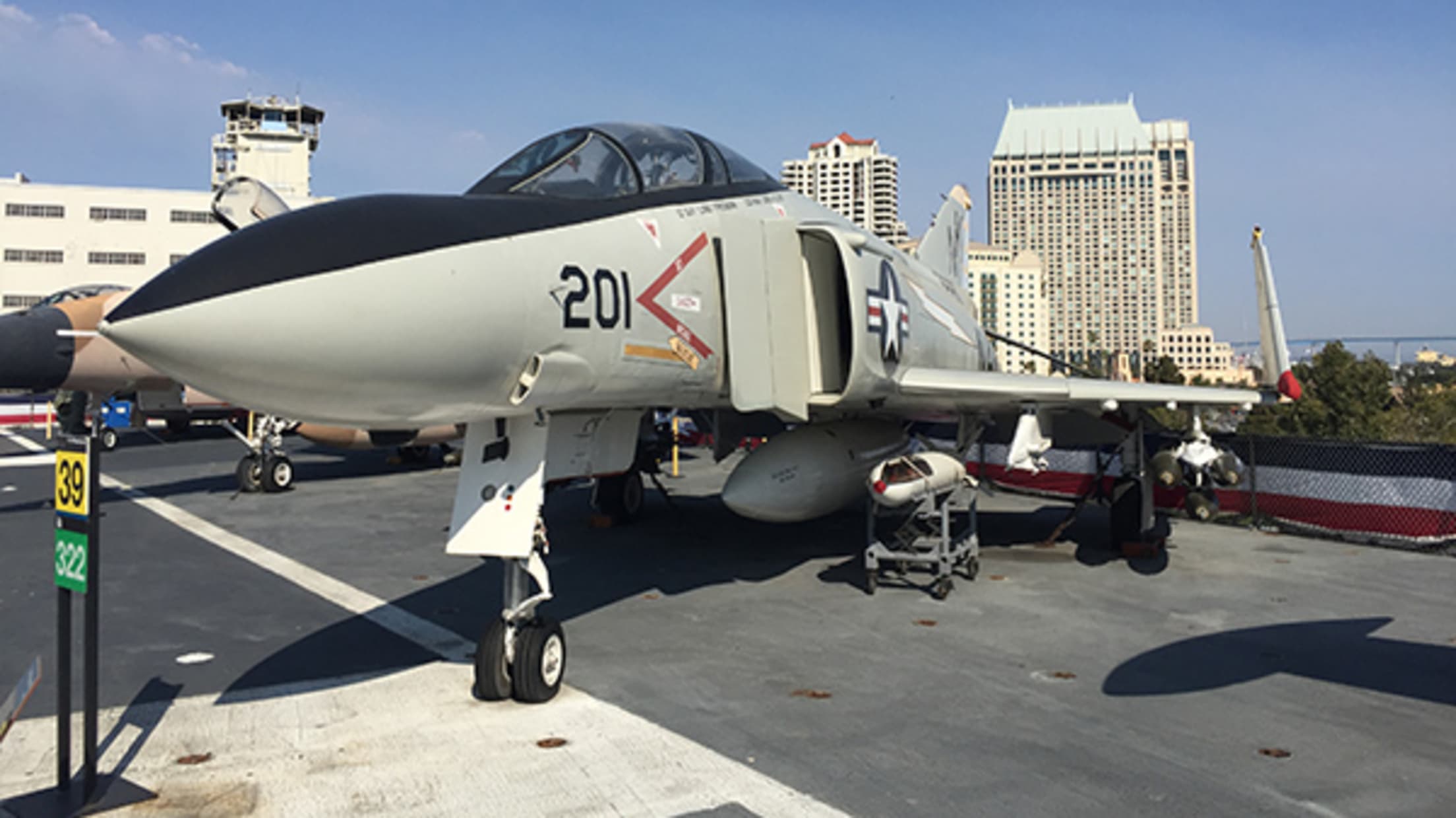 That's just what happened on Monday night as the Lake Elsinore Storm held the Midway Classic Home Run Derby aboard San Diego's USS Midway.
Yes: A home run derby on an aircraft carrier.
On the eve of this year's Class A Advanced California League vs. Carolina League All-Star Game, eight of the biggest and best home run hitters from the two leagues came together to bash dingers into the Pacific Ocean. Also, you've never even heard AC/DC until you've heard it on an aircraft carrier.
Here's who took part:
California League
Kyle Petty -- Mariners system, unranked
Dawel Lugo -- D-backs, No. 15 prospect
Chris Shaw -- Giants, No. 5 prospect
Travis Demeritte -- Rangers, No. 20 prospect
Carolina League
Bobby Bradley -- Indians, No. 3 prospect
Yu-Cheng Chang -- Indians, No. 12 prospect
Aderlin Rodriguez -- Orioles, unranked
Drew Ward -- Nationals, unranked
Batters received 10 swings each and first needed to clear a tall, makeshift chain-link fence about 150 feet from the batter's box to account for height on their blasts. Then, to count as a home run, the ball needed to pass a marker of buoys in the water 350 feet from home plate. From there, these guys would handle the duties of collecting the water-logged baseballs.
Whoever hits this guy should win #MidwayClassic. pic.twitter.com/7c6liyKyFJ

— Jeff Sanders (@sdutSanders) June 21, 2016
Easy enough, right? Oh, did I forget to mention that this all went down with the setting sun shining in the players' eyes? Beautiful to look at, harder to hit.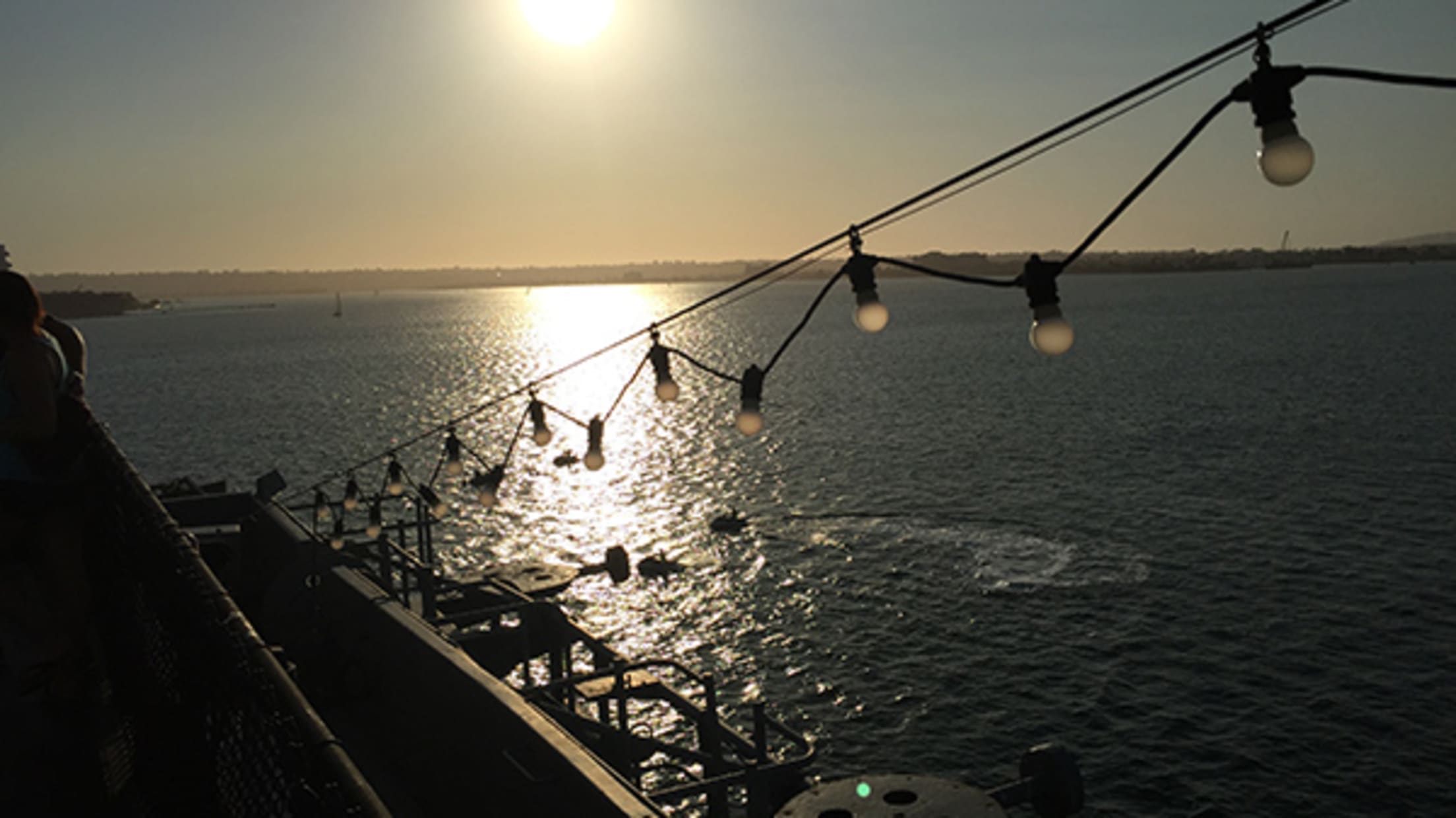 With fans standing either behind the batting cage or around the chain-link fence, the intimacy provided an electric atmosphere from the first swing. In fact, that was pretty much the theme of the entire night.
From the moment the fans got on board, they were given the chance to mingle with both the Derby participants and the rest of the All-Star rosters in attendance -- even playing cornhole and Jenga with the Minor League stars just moments before the Derby started.
You've never played cornhole until you've played it with a professional athlete -- the grace and skill with which they toss that beanbag is a sight to behold.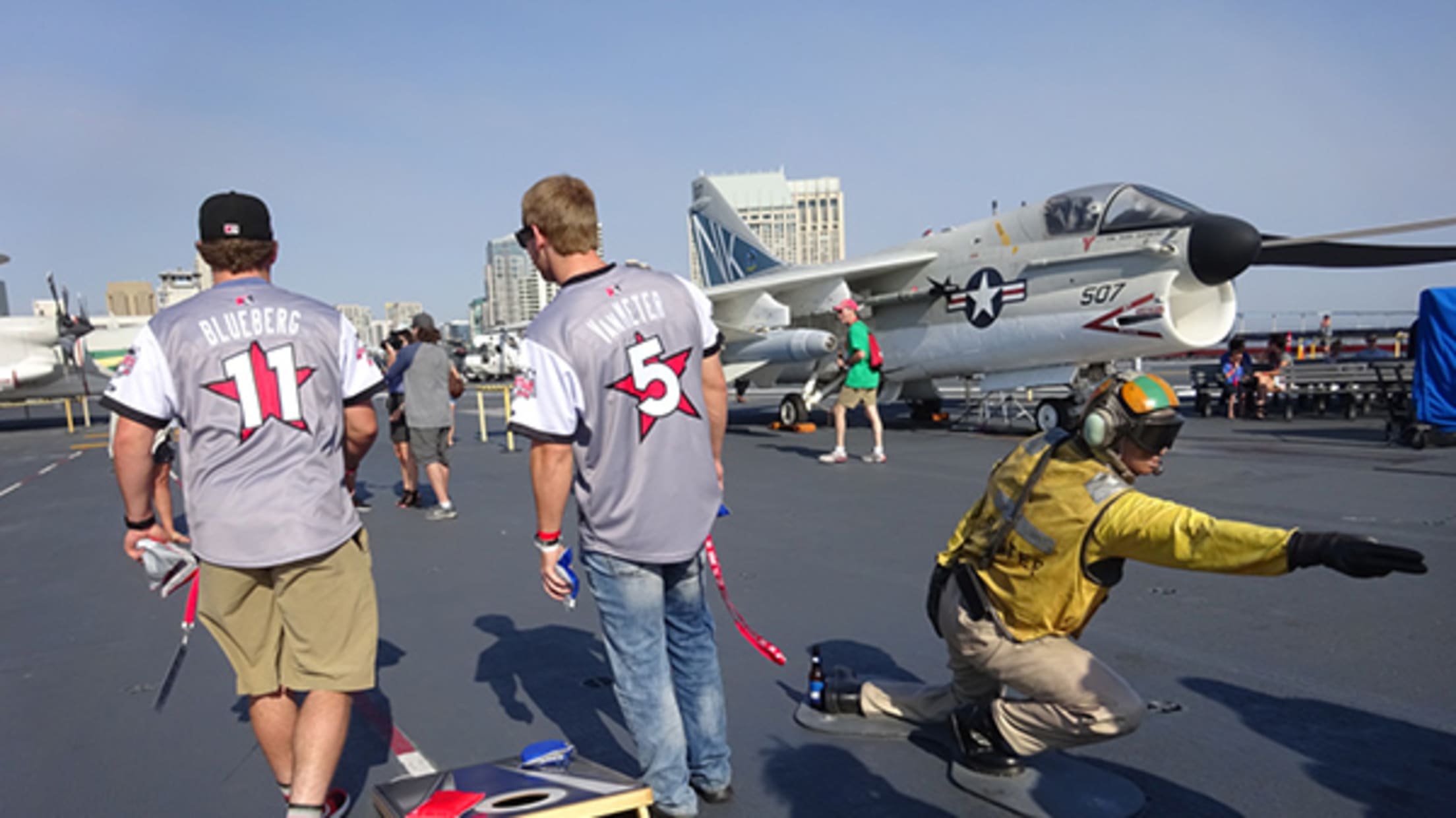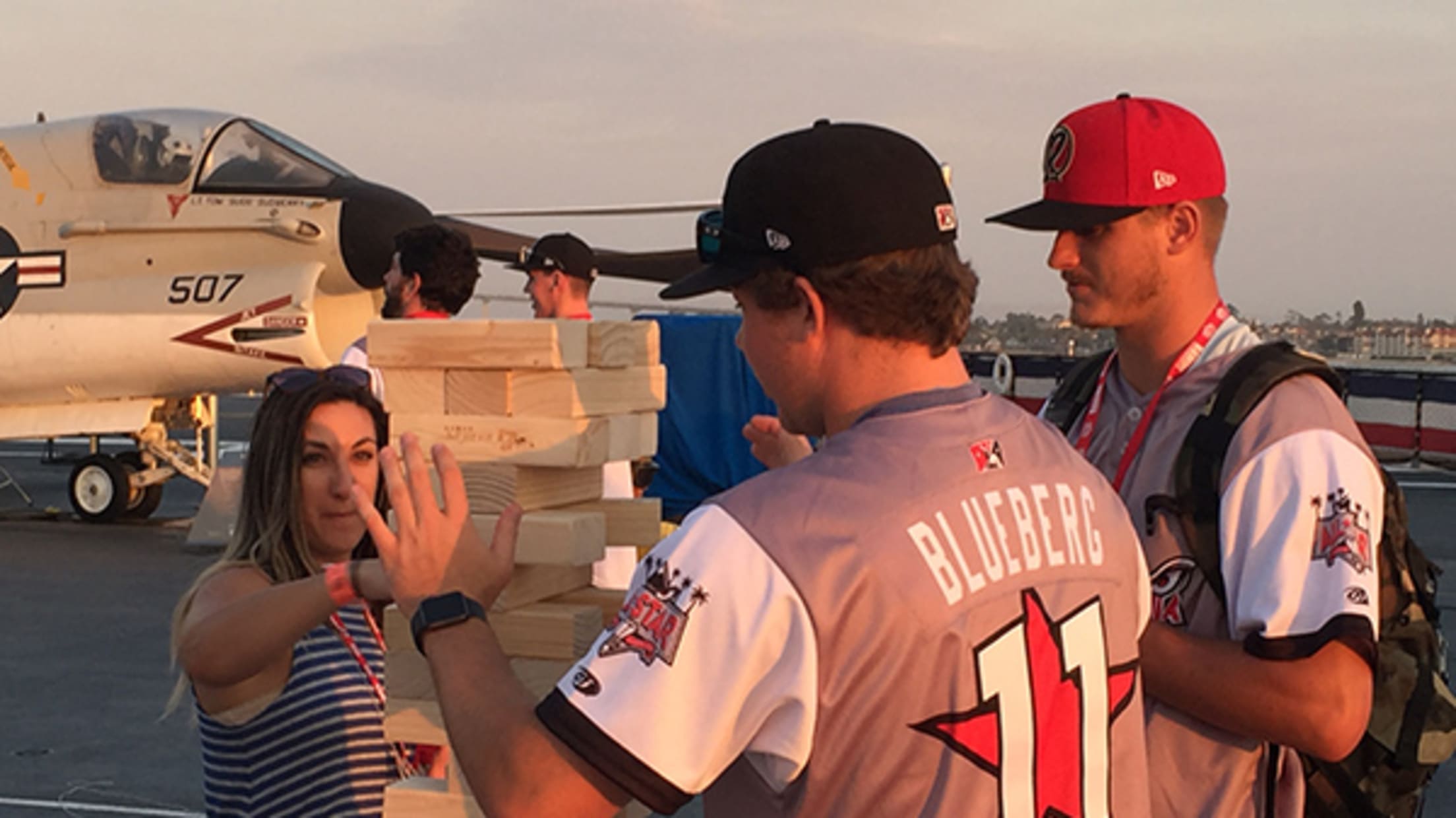 In an even-more-tense-than-a-Jenga-game affair that required two different five-swing tiebreakers to decide rounds, Petty came out on top.
Needing five home runs to beat Rodriguez in the final round, Petty smashed the winner and then motioned for the pitcher to keep tossing. Who wouldn't want to keep on smashing dingers into the ocean? That's downright poetic.
Kyle Petty is your Midway Classic HR derby champion. Here is the winner #Mariners @BakoBlaze pic.twitter.com/FlTxWvHBoV

— Kyle Glaser (@KyleAGlaser) June 21, 2016
After his victory, Petty said, "There's not many chances to hit a baseball into the Pacific Ocean, so you just want to embrace it and take it all in."
It's a sentiment every player in attendance echoed. Shaw called it "the coolest derby I've ever been a part of." Demeritte said it was "unreal." Even Demeritte's teammate, Jose Trevino, said it was the "cream of the crop" ... when he wasn't teasing the Mavericks slugger for not putting on a "better show tonight."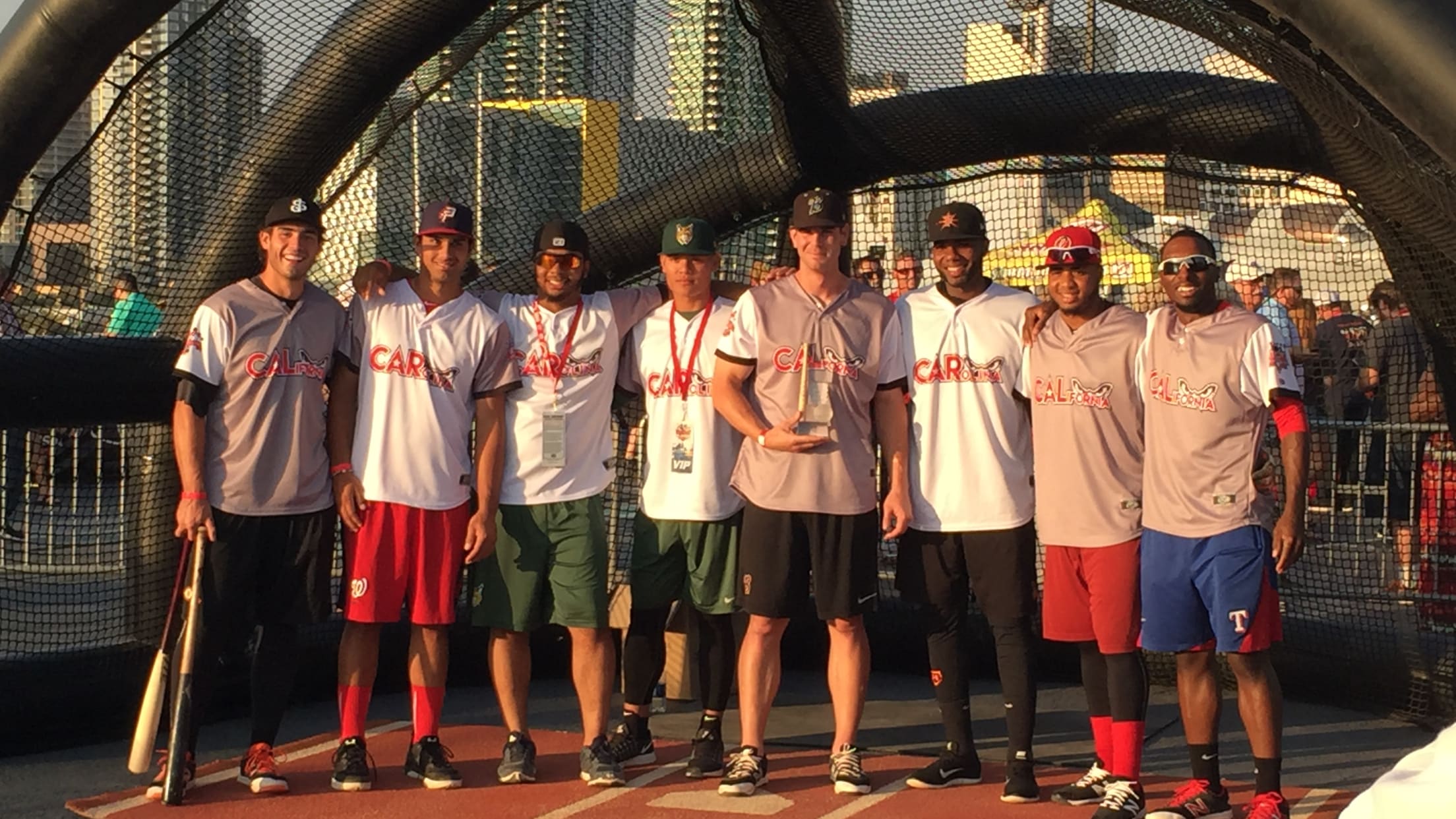 The famous evening was the result of a full year of planning, dedication and creativity. Tyler Zickel, the Storm's Digital Media and Marketing Coordinator, explained:
"We thought early in the process we could do a home run derby at The Diamond, but despite the Cal League being a hitter's league, The Diamond is not very hitter's friendly. So we thought our proximity to San Diego, our unique affiliation with the Padres, what could we do differently to make it stand out? And here we are, on the deck of the USS Midway."
Just like their Major League counterparts in Madison Bumgarner and Jake Arrieta, pitching prospects Justus Sheffield (Indians) and Ryan Castellani (Rockies) wanted in on the Derby.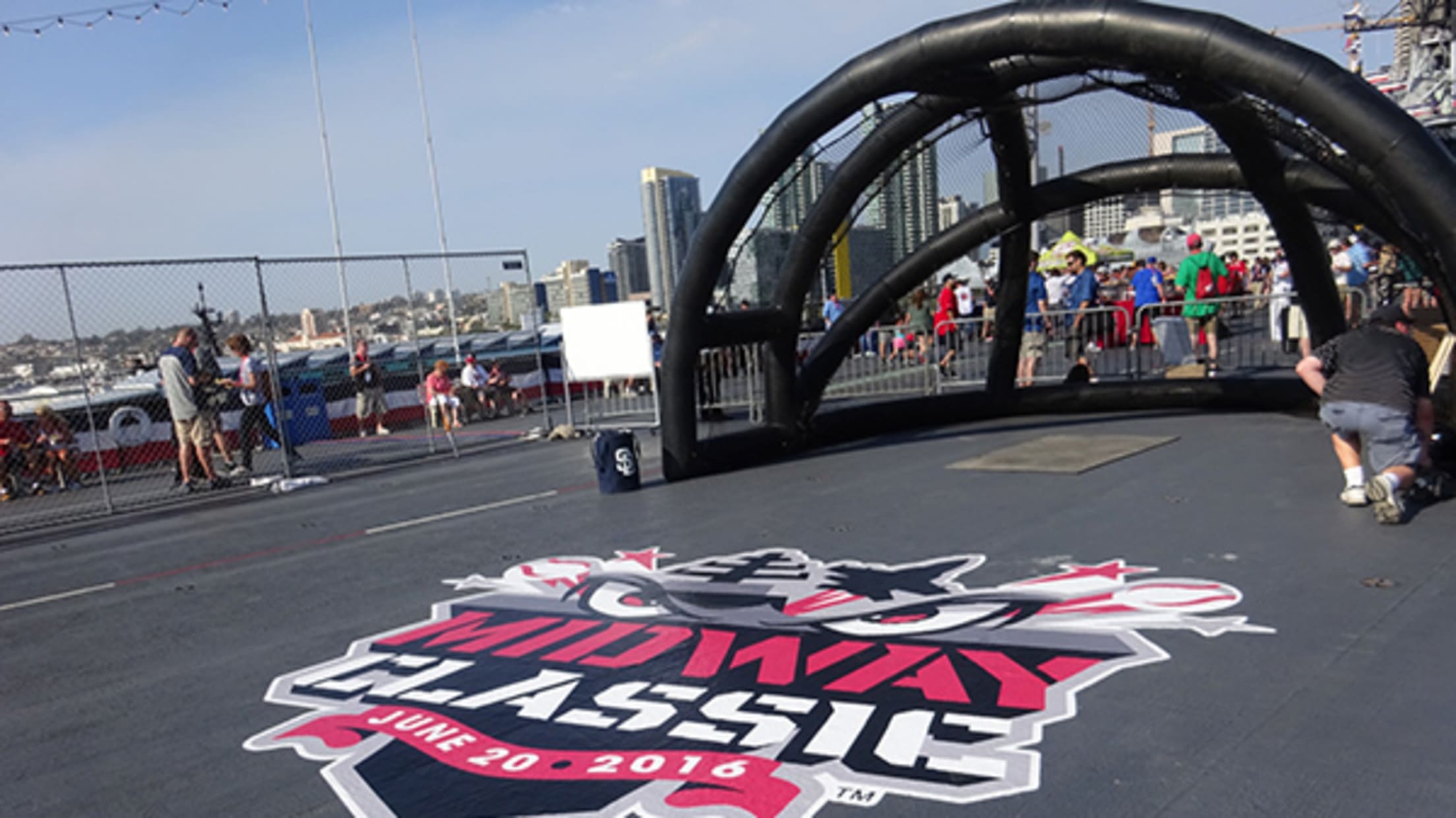 "I tell the guys I got a little pop on me," Sheffield said. "They don't like to believe me, but I don't want to gloat about my past days. I might be able to pop a few out, but keep that quiet because the guys might get mad at me."
Castellani even brought his bat along, "in case they need an extra pitcher to hit." Of course, even with the lumber on hand, he wasn't the most confident in his ability to reach the 350-foot mark -- though he did promise, "I could get every single one in the water."
Endless splash hits, fighter jets, dudes on jet skis and professional cornhole -- turns out heaven isn't a place on Earth. It's on an aircraft carrier.
(Additional photos by Jenna Boras / MLB.com Real-Time Correspondent)