Carlos Beltran is an Astro again, so let's watch every dinger from his iconic 2004 postseason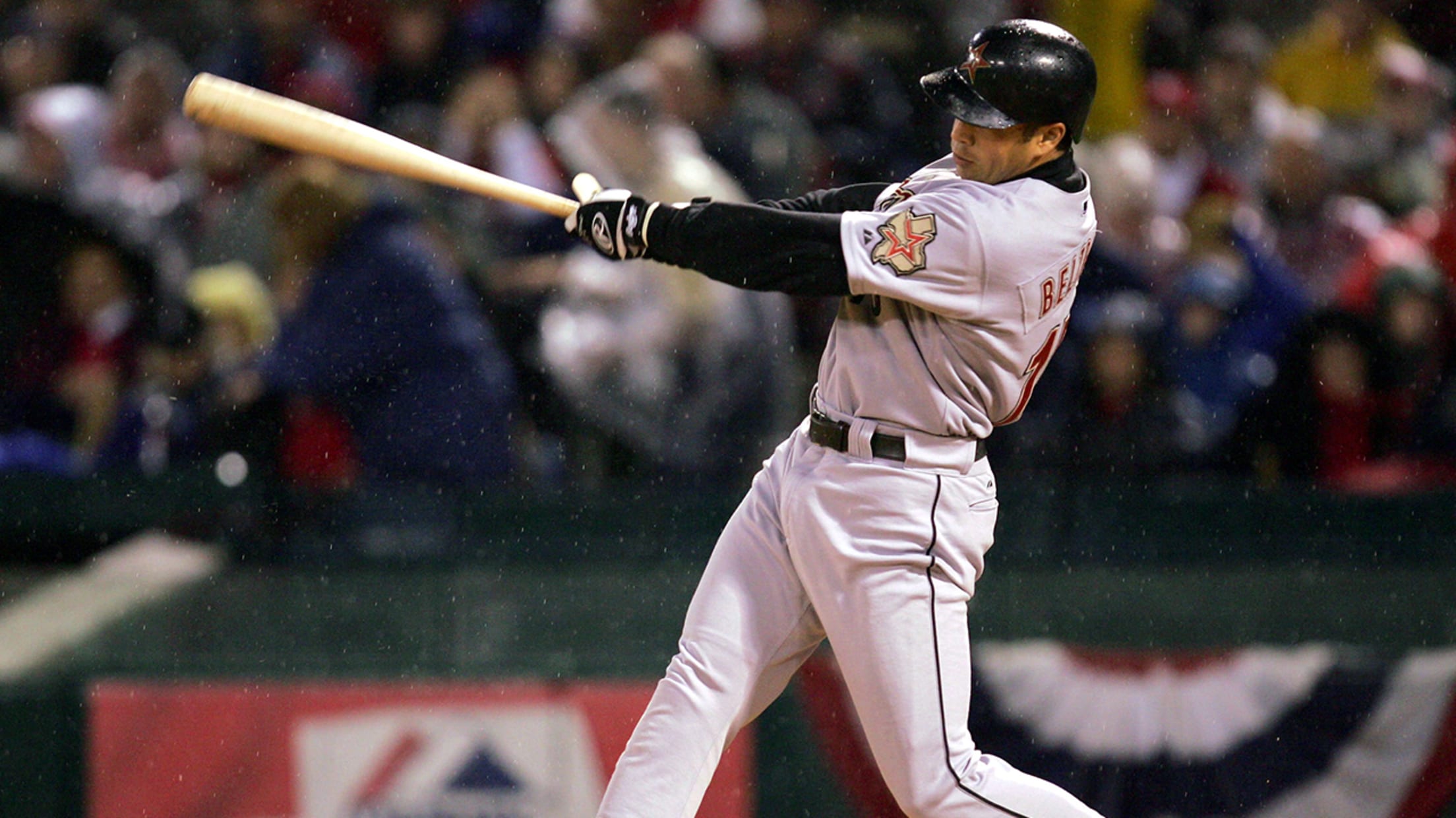 ST. LOUIS - OCTOBER 14: Carlos Beltran #15 of the Houston Astros hits a solo home run in the first inning of Game two of National League Championship Series against the St. Louis Cardinals during the 2004 Major League Baseball Playoffs on October 14, 2004 at Busch Stadium in St. Louis, Missouri. (Photo By Ronald Martinez/Getty Images) (Ronald Martinez/Getty Images)
When the Astros traded for Carlos Beltrán at the 2004 non-waiver Trade Deadline, they thought they had acquired a very good two-way player. And, for the remainder of the regular season, they were correct. Beltran hit 23 homers and posted a .926 OPS over 90 games in Houston, helping lead the team to a Wild Card berth.
And then October came around, and Beltran morphed from "very good two-way player" to "dinger demigod intent on waging war against every postseason record imaginable." Even more than a decade later, the numbers defy belief: 12 games, a .435/.536/1.022 slash line and eight dingers -- including an absurd stretch of six in five games. So, now that Beltran is officially headed back to Houston, what better way to celebrate than to watch every single one of them?
Beltran wasted absolutely no time getting his dinger party started. In his very first postseason game, he took Braves starter Jaret Wright deep for a two-run shot in the fifth inning of NLDS Game 1 en route to a 9-3 Astros win.
After failing to hit a homer in Game 2 -- presumably in order to lure Atlanta into a false sense of security -- Beltran was right back at it as the series shifted back to Houston. This time, he opened the scoring with a two-run blast in the third off of Paul Byrd, as Houston took a 2-1 series lead with an 8-5 win.
Alas, Beltran went dingerless again in Game 4. He would make up for it by going deep in the deciding Game 5 -- twice:
Next up: the Cardinals in the NLCS, and for a while it seemed like Beltran may never stop hitting homers. He went yard in his first at-bat in Game 1 against St. Louis starter Woody Williams:
Then he went deep against Matt Morris the very next night:
Beltran didn't go deep the next night, but in his defense, the series was taking a day off to travel back to Houston. Once things picked up again for Game 3, well:
And, finally, the cherry on top: Another homer in Game 4, his fifth straight game with a dinger, and this one ended up being the game-winner as Houston evened the series:
Sure, he didn't hit another homer for the remainder of the series, and Jim Edmonds eventually got the last laugh with a long ball of his own. That just means one thing: Beltran's got some room for improvement this time around.
Teams in this article:
Players in this article: