After the Cavaliers won, their arena turned into an Indians World Series viewing party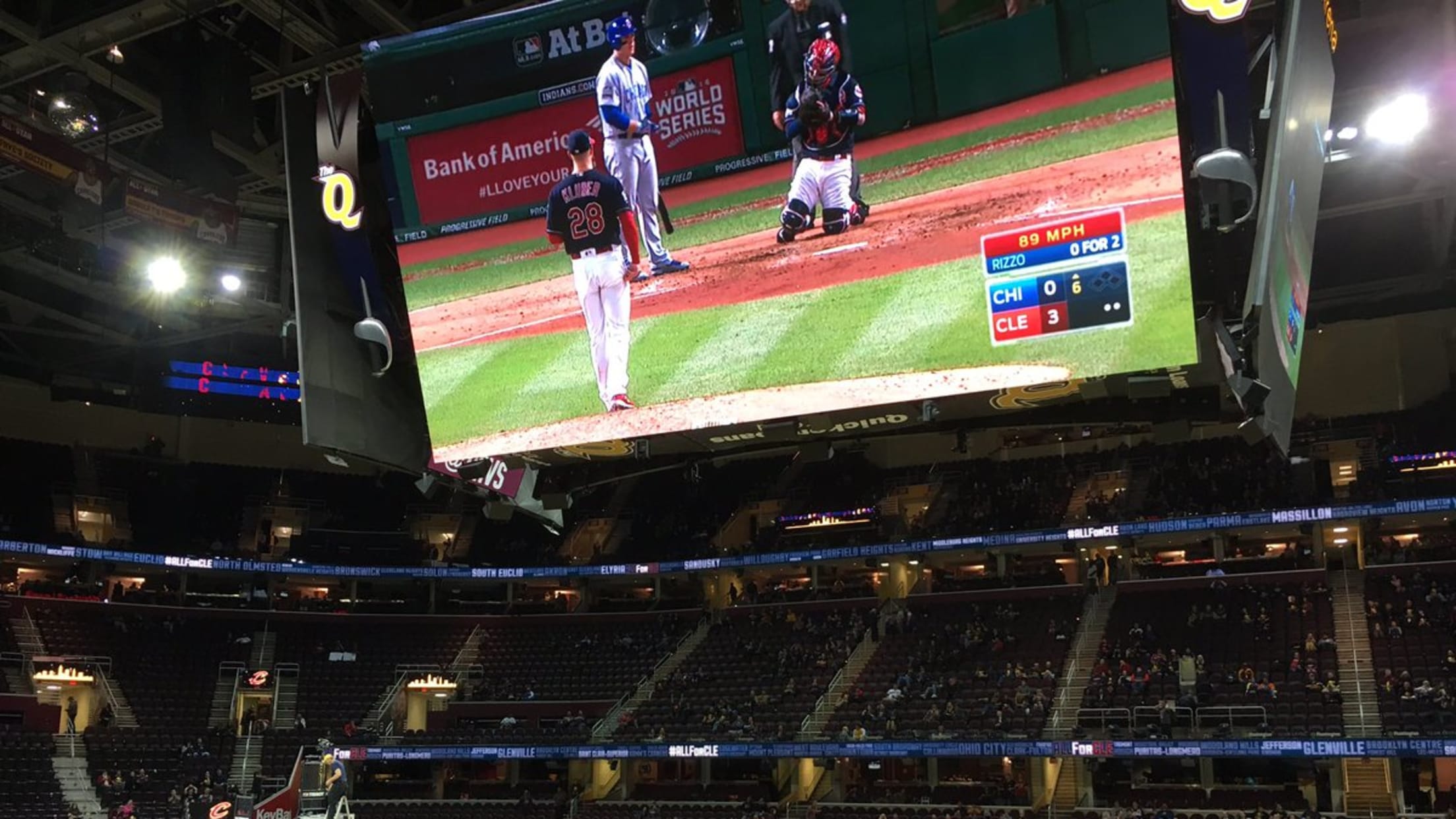 Cleveland is on top of the sports world tonight. It began with the Cavaliers getting their championship rings in a pregame ceremony and continued on with their decisive 117-88 victory over the Knicks in their first game of the season. At the same time, Game 1 of the World Series was being played next door as the Indians attempted to follow up the Cavs with a championship of their own.
Cleveland sports fans faced the predicament -- a wonderful predicament, but a predicament, nonetheless -- of which exciting sporting event to follow. Fortunately, the fans who opted to go to the Cavs game were able to keep tabs on the Indians.
During breaks in play at the Cavs game, the World Series game was broadcast for the crowd.
Folks are asking. The Indians are on in the concourses here at The Q and during timeouts in the bowl

— Joe Vardon (@joevardon) October 26, 2016
When the Cavs game ended, the World Series game was still going strong. With available video screens hanging over the court, they opted to show the baseball game and effectively turned the arena into a makeshift World Series viewing party.
Many Cavs fans are staying to watch the rest of WS Game 1 here at the Q. pic.twitter.com/4SCB4KiTvh

— Marc Kestecher (@marckestecher) October 26, 2016
It's safe to say the fans liked what they saw.
Crowd at the Q reacts to Andrew Miller getting out of a bases-loaded jam. pic.twitter.com/tOZpCAdnw1

— Scott Patsko (@ScottPatsko) October 26, 2016
But the fans weren't the only ones paying attention to the baseball world. During the pregame ceremony, LeBron James gave the Indians a shoutout and declared "Cleveland against the world.":
After winning his game, James couldn't resist keeping an eye on the Indians when the ALCS MVP, Andrew Miller, took the mound.
LeBron James in middle of postgame interview, catches quick glance of World Series: "It's Miller time."

— Sam Amico (@AmicoHoops) October 26, 2016
Fans were also able to leave the arena and join the massive outdoor watch party occurring between the two venues.
To top off the great day, the Indians held on to defeat the Cubs, 6-0, and take the first game of the Series. Find out if the Indians can keep this remarkable run going with Game 2 of the World Series tonight (7 p.m. ET game time on FOX, 6 p.m. ET pregame show on FS1).