CC Sabathia's pure will drove the Brewers to a long-awaited postseason berth 10 years ago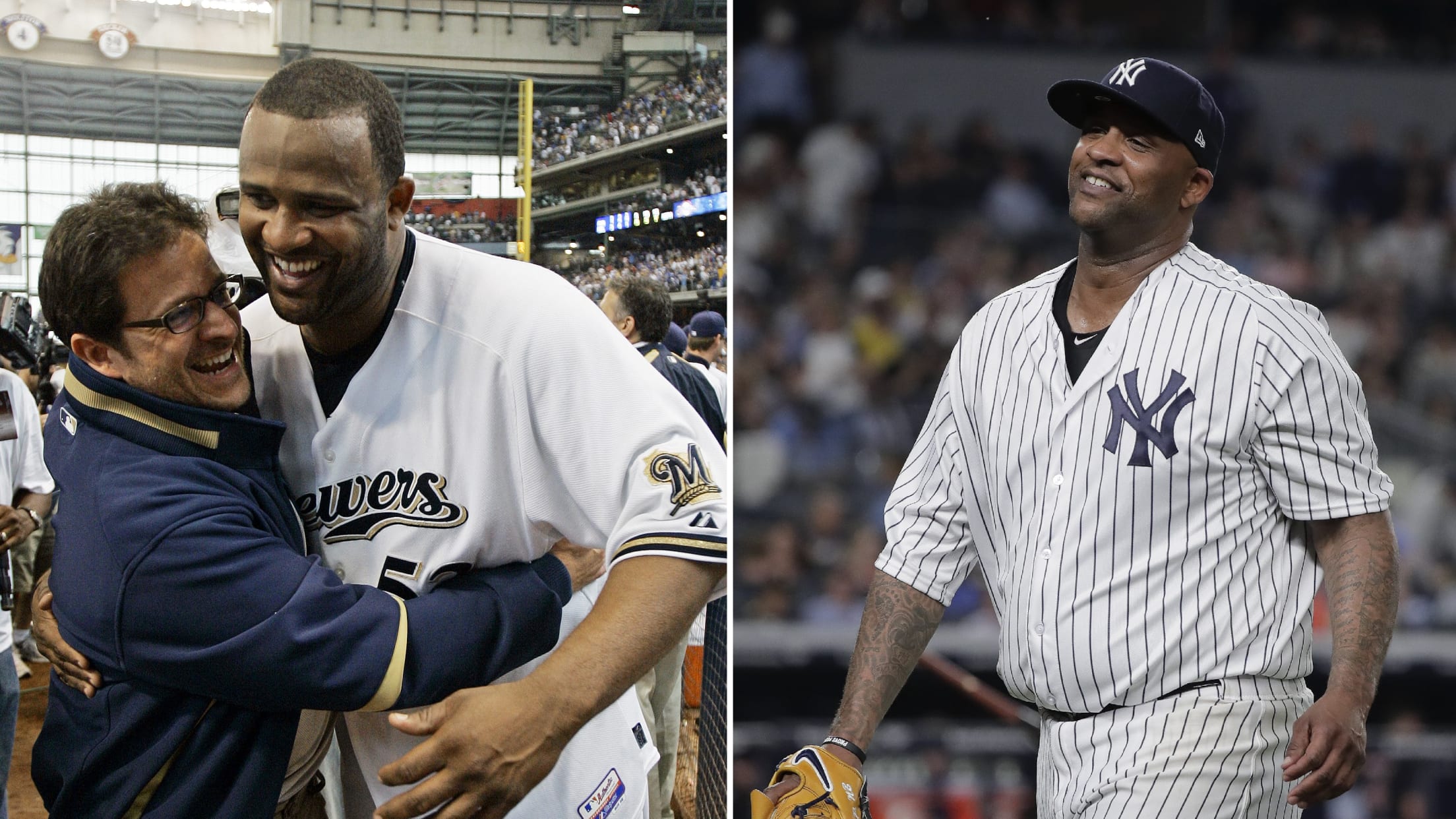 Milwaukee Brewers starting pitcher CC Sabathia, left, is congratulated by owner Mark Attanasio after beating the Chicago Cubs 3-1in a baseball game Sunday, Sept. 28, 2008, in Milwaukee. The Brewers clinched the National League wild card after the New York Mets lost to the Florida Marlins. (AP Photo/Morry Gash) (Morry Gash/AP)
There was a definite buzz in the air across Major League Baseball in July as trade rumors swirled about Manny Machado. Would he be going to the Dodgers? The Brewers? Where?
This had to be a familiar feeling to veteran lefty CC Sabathia, who turns 38 on Saturday. It was 10 years ago this month that the trade winds were blowing around him as he entered his last season with the Indians. In fact, the very same two teams in pursuit of Machado in 2018 were angling for Sabathia's services in 2008.
The Indians had expected to contend again after winning the American League Central division title in 2007, but slow starts from both Sabathia and the rest of the team motivated them to shop the defending Cy Young Award winner. Before long, Sabathia had worked himself back into typical dominant form:
The Brewers ultimately won the bidding for Sabathia and made the trade for him on July 7, 2008. Going to Cleveland in the deal were top prospect Matt LaPorta, pitchers Zach Jackson and Rob Bryson, and a player to be named later, who turned out to be future All-Star Michael Brantley.
It was a hefty cost for Brewers general manager Doug Melvin, but he was determined. His team hadn't made the postseason since the 1982 World Series, when it wasn't even in the same league. The Brewers entered July 7 tied with the Cardinals for the NL Wild Card lead and just 3 1/2 games behind the Cubs in the NL Central, so they had a real opportunity to snap their October drought.
So in came Sabathia and up went the zeros on the scoreboard ...
... at least when he wasn't crushing homers himself:
Sabathia was simply stunning over the next three months for the Brewers. He had a 1.65 ERA and 1.003 WHIP in 17 starts, including seven complete games and three shutouts, a workload that in almost any other instance this century would be considered unmanageable.
In late September, Sabathia took his heroics to the next level. The Brewers were slumping and thus neck-and-neck with the Phillies and Mets for the lone Wild Card spot. Melvin had even fired skipper Ned Yost during their off-day on Sep. 15, hoping that they would find a spark under interim manager Dale Sveum. They needed every win they could get.
Even though he was about to be a free agent, Sabathia stepped up, taking the ball on three days' rest for each of his final three starts. "It was no conversation between me and the Brewers," he said to MLB.com's Anthony Castrovince. "We didn't have pitching, so I just told them, 'I'm pitching.' It was me telling them I'm pitching on three days' rest. I was young, I felt good, I was having fun, the team was good, and I didn't want the season to end. If that meant I had to pitch on three days' rest, then that's what I had to do."
In the season finale, Sabathia once again pitched on short rest and delivered the goods, firing a four-hitter against the division champion Cubs:
Ryan Braun's clutch two-run blast in the eighth gave Sabathia the run support he needed to beat the Cubs, 3-1. Shortly after the Brewers' victory, the Mets fell to the Marlins, 4-2, clinching Milwaukee's first postseason appearance in 26 years.
That's a true ace for you and a memory that will last a lifetime for Brewers fans. So break out a smile, CC.
Teams in this article:
Players in this article: