24 times that the now-24-year-old Shohei Ohtani has made our jaws drop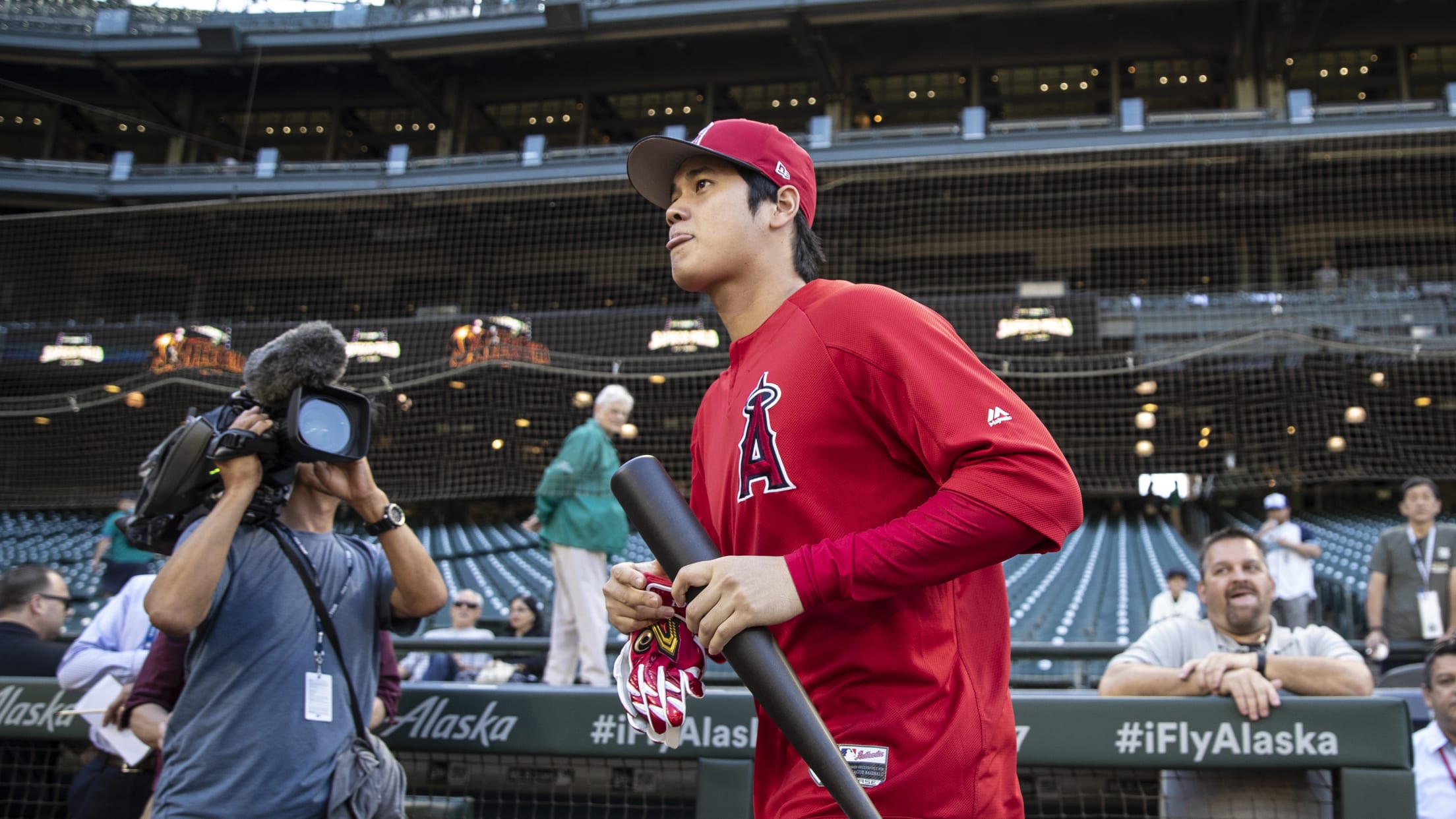 Los Angeles Angels' Shohei Ohtani of the Los Angeles Angels of Anaheim take the field for warm up before a baseball game against the Seattle Mariners, Tuesday, July 3, 2018, in Seattle. (AP Photo/Stephen Brashear) (Stephen Brashear/AP)
Now that we've devoured all the hot dogs we can possibly handle, it's time to move on to that other momentous July birthday: Shohei Ohtani. The Angels' two-way phenom turns 24 on Thursday, so to celebrate -- and to recognize his return from the DL on Tuesday (at least as a hitter) -- we've put together the 24 most jaw-dropping moments of his young career in both Japan and the States.
1. The time he struck out 17 of 18 batters faced ... in middle school
In case you were wondering, yes, Ohtani has always been ridiculous:
Shohei Ohtani as a middle schooler: pic.twitter.com/7stQtBPFno

— Sung Min Kim (@sung_minkim) November 25, 2017
2. The time he homered in his first Angel Stadium at-bat ...
Ever since he announced that he was signing with the Angels, fans in Southern California couldn't wait to get their first look at the man billed as the Japanese Babe Ruth. How did he respond to that pressure in his home debut? He hit a three-run dinger:
3. ... then made it three homers in his first three home games
As if that wasn't enough, he took reigning AL Cy Young winner Corey Kluber deep the next day, then went yard again in the series finale:
4. The time he singled on the first pitch he saw
Not sure what to expect in your first official Major League at-bat? Come out swinging anyway:
5. The time he struck out the first batter he faced
Poor Marcus Semien never knew what hit him:
6. The time he showed out in the 2014 Japan All-Star Series
A then-20-year-old Ohtani had already drawn the attention of MLB scouts, and in the Japan All-Star Series -- in which a team of big league stars faced off against the best of the NPB -- he showed everyone why. The righty gave up a couple runs in his four innings of work, but he also struck out seven, including Yasiel Puig, Evan Longoria and Justin Morneau in the first:
7. The time he unleashed a 101-mph fastball
It was the fastest by a starter to that point in 2018, and even better, he spotted it on the outside corner:
8. The time he gave MLB its first taste of his splitter
Of course, Ohtani doesn't just have easy gas. He also has one of the most devastating breaking balls in the game, a splitter that just disappears -- as Matt Olson discovered in Ohtani's first start.
April 1, 2018
9. And his curveball
If you somehow prepared for those first two offerings, he had another trick up his sleeve:
Shohei Ohtani, Disgusting 3 pitch K. 🤢

On, probably, his 3rd and 4th best pitches (slider/curve).

When you can throw 100+mph & have a ridiculous Splitter...well, this is not fair. pic.twitter.com/XcY7NuRO2h

— Rob Friedman (@PitchingNinja) May 31, 2018
10. The time he moonwalked
It seems unfair that a guy who can hit and pitch at an elite level can also dance at an elite level, but some people are just different:
11. The time he won Japan's Home Run Derby
Sure, why not:
Year of the pitcher

Japanese HR Derby won by P/DH Shohei Ohtani. Season stats: 115 IP, 2.03 ERA, 140 Ks. Story: http://atmlb.com/29YiWuV

Posted by Cut4 on Saturday, July 16, 2016
12. The time he dented a railing at Coors Field
What happens when you take that power into altitude? This:
Sho putting on a show: Ohtani just lifted one into the third deck during BP about 3-4 rows shy of the Rooftop patio at Coors. pic.twitter.com/FEptr9KKDi

— Daniel Kramer (@DKramer_) May 9, 2018
13. The time he hosed a runner at home in high school
As you might imagine, the 100-mph velocity plays in right field, too:
Shohei Ohtani's OF throw from high school. pic.twitter.com/6Evi6RXxfc

— Sung Min Kim (@sung_minkim) November 13, 2017
14. The time he flirted with a perfect game in his first Angel Stadium start
After the dinger show against Cleveland, Ohtani took the mound for his first home start -- and took a perfect game into the seventh:
15. The time he broke an NPB record with a 102.5-mph heater
Japan has literally never seen a faster pitch.
16. The time he threw 31 pitches between 98-101 mph in one game
Ohtani isn't just a power arm, though -- he's a power arm with the endurance to light up radar guns all game long:
17. The time he hit a ball to the roof at the Tokyo Dome
Sorry, he hit a ball through the roof:
18. The time the Pacific League named him both its best pitcher and its best DH
Do not adjust your screens:
NPB Best Nine teams. Shohei Otani the first-ever to be named at pitcher and DH in the same season. #NPB pic.twitter.com/cSSsxEsQn8

— Jason Coskrey (@JCoskrey) November 25, 2016
19. The time he was good enough to make Mike Trout stop in his tracks
Mike Trout is the best hitter in baseball, and even he had to take in Ohtani's first batting practice:
.@MikeTrout enjoying the Sho. #LAASpring #ShoTime pic.twitter.com/BmXTbW8cTl

— Los Angeles Angels (@Angels) February 19, 2018
20. The time he gave a young fan his bat ...
Before an Angels-Royals game in April, a kid asked Ohtani if he could give him one of his bats. Ohtani disappeared after signing some autographs -- only to reappear later with a gift:
Four minutes later, as Leo is about to head with his dad to their seats, Shohei Ohtani walks back across the field, leans over the rope and hands Leo a bat. Imprinted on the barrel, in kanji, is Ohtani's name.

— Jeff Passan (@JeffPassan) April 12, 2018
21. ... then hit a triple with the replacement
Thankfully, that wasn't Ohtani's only bat, and he used lumber No. 2 to leg out his first Major League triple.
22. The time he said goodbye to Japan with a shutout in front of a crowd full of scouts
Injuries limited Ohtani in 2017, but with a jump to the Majors reportedly looming, he gave everybody -- including prospective big league teams -- one last glimpse of what he could do:
23. The time he retired 27 straight hitters (across multiple starts)
Sure, it's not actually a perfect game, but it's still pretty good:
Since allowing a walk in the 4th inning LAST Sunday, Shohei Ohtani has retired the last 27 batters he has faced. 👀 pic.twitter.com/p0k1pMqU6G

— MLB Stats (@MLBStats) April 8, 2018
24. The time he turned around a Luis Severino fastball
When he came to America, the book on Ohtani as a hitter was relatively straight-forward: Pound him with fastballs on the inside corner. About that, though:
Teams in this article:
Players in this article: