Chase Utley was reunited with Minor Leaguer Devin Smeltzer, who first met him during cancer treatment
We hear hundreds of stories every year about Major Leaguers visiting children in need. It isn't every day, however, that one of those kids ends up becoming a professional baseball player himself.
That success story belongs to Minor League pitcher Devin Smeltzer, whose dream came true when the Dodgers selected him in the fifth round of the 2016 MLB Draft out of San Jacinto Junior College. Smeltzer is originally from the Philadelphia area, though, and he had different hopes on his mind when he was nine: He simply wanted to live.
In early 2005, Smeltzer started experiencing unusual symptoms, and in August of that year, doctors discovered a malignant tumor against his bladder. It was a month before his 10th birthday. One of the few bright spots for Smeltzer during that time was a trip to Citizens Bank Park, where he got to meet two of the up-and-coming stars from his favorite team, the Phillies -- Chase Utley and Cole Hamels: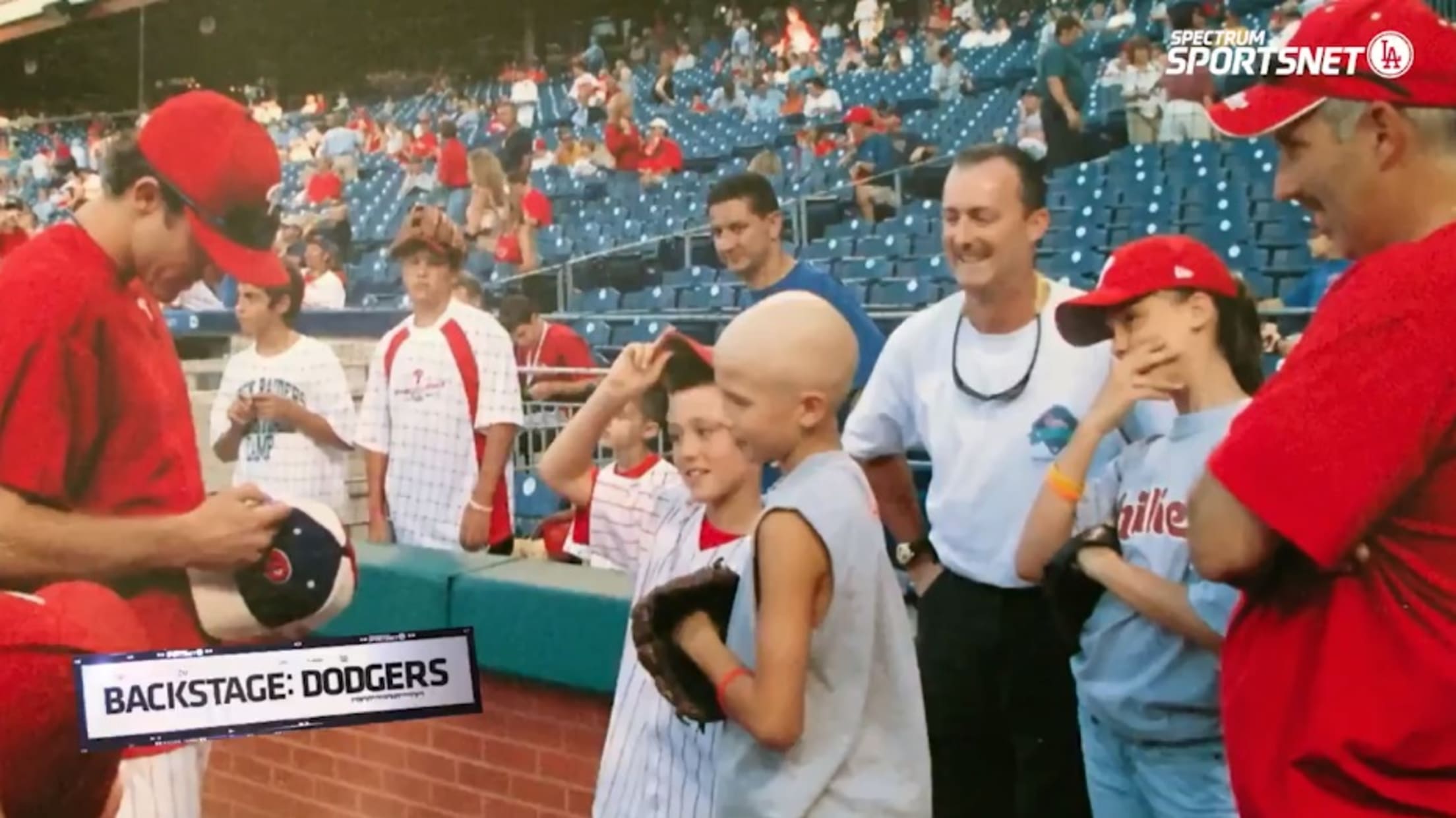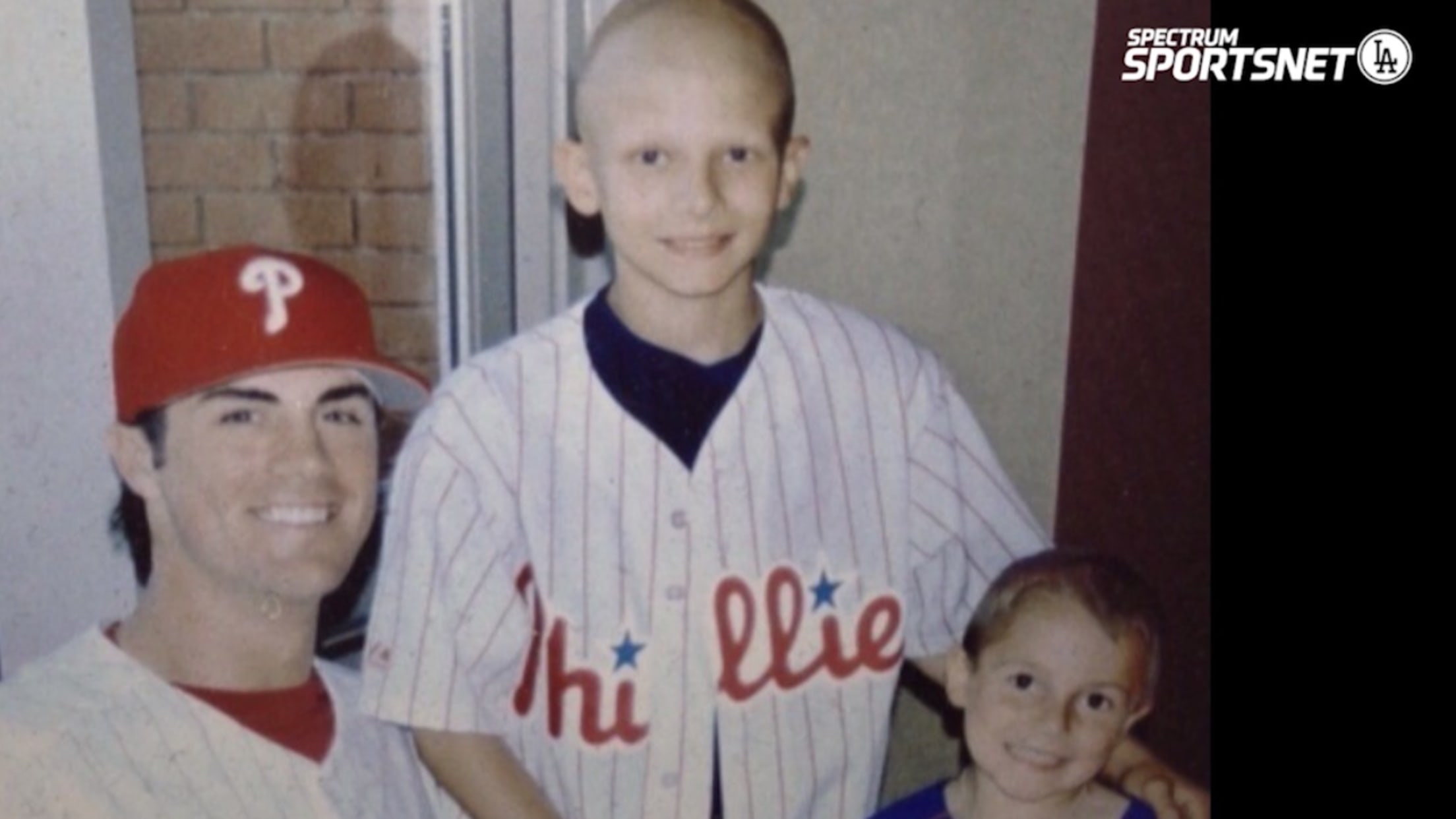 "The picture of me and Chase has been in the living room for a long time," said Smeltzer to SportsNet LA. "When I go back home, it's always very humbling to see that picture because of where I'm at today. It's crazy to believe that I was going through such a hard time at such a young age, and how far I've grown."
Thankfully, Smeltzer survived his cancer scare and was eventually deemed cancer-free. Now, he finds himself in the same organization as Utley, so during Spring Training, he visited him in the Dodgers clubhouse. Manager Dave Roberts explained the story to Utley and his teammates:
Hear about the incredible story of #Dodgers minor leaguer @alka_SMELTZer who survived cancer at the age of 9 and his special connection with a current Dodger.

This story & more on an all-new #BackstageDodgers tonight after the post-game show. pic.twitter.com/76ZKaB5xtp

— SportsNet LA (@SportsNetLA) March 30, 2018
The expression of surprised delight on the Dodgers' faces when Roberts revealed who the kid from the picture was is excellent.
"I was able to play through it," Smeltzer said to Utley in the Dodgers clubhouse. "I just wanted to thank you for everything you did. It means a lot."
Roberts was blown away. "It's crazy how we impact guys every single day," he said. "We have no idea what kind of impact we can have on a 10-year-old Devin Smeltzer."
Utley agreed. "It's a pretty special and unique story," he said. "I can't even imagine what he was going through, what his parents were going through. Hopefully at some point, he'll be pitching at Dodger Stadium."
The reunion inspired Utley to give Smeltzer a hug and ask him for another picture, which he happily obliged:
"As a Major League Baseball player, we're pretty fortunate to play a sport that we grew up playing," said Utley. "To be able to give back in any way, I think is important. To put a smile on their face, to have them step into a big league stadium, meet some of their idols, people that they look up to -- it's important."
It absolutely is, and Smeltzer is living proof.
Watch the whole segment on SportsNet LA here.
Equipos en este artículo:
Jugadores en este artículo: