Checking in on Postseason Bingo: We got Bingo!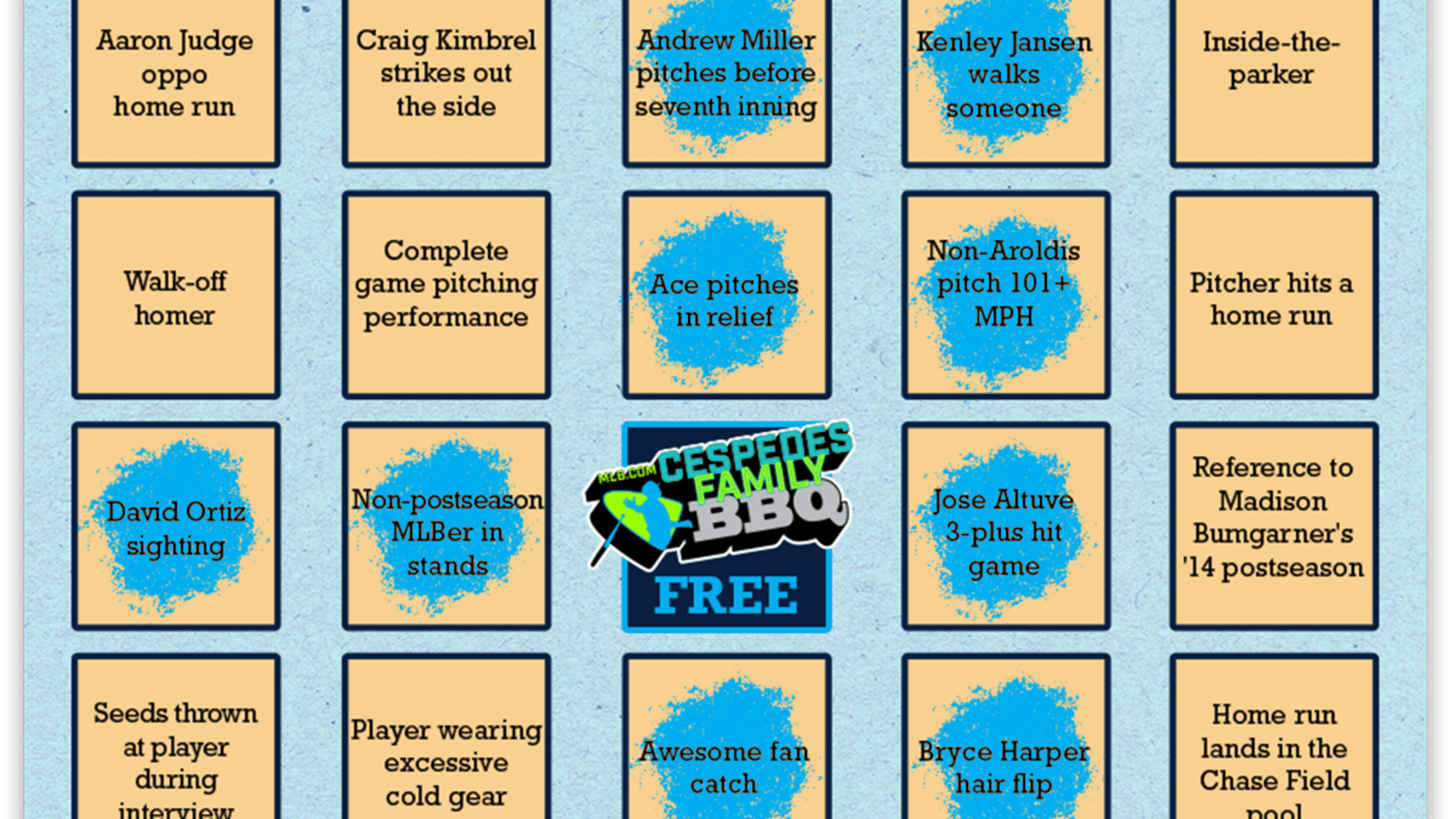 We're less than a week into the postseason and we already got bingo! Thanks to Chris Sale and Justin Verlander's relief appearances in Game 4 of the ALDS presented by Doosan and the free space we generously provided, the postseason bingo dream has become a reality.


A lot has happened since we introduced the Cut4 Postseason Bingo Board last week, so we felt like an update was in order. Here's everything that's happened:
Things we've seen:
Non-Aroldis pitch 101+ MPH
We thought this was going to take more time, but Rockies flamethrower Carlos Estévezhit 101 twice in the NL Wild Card Game. (Meanwhile, Chapman has already thrown 44 pitches 101+ MPH in his first three outings.)
José Altuve 3-hit game
Altuve crossed this one off in a big way with 3 home runs in Game 1 against Boston:
And, just for good measure, he also added a regular, zero-homer three-hit day in Game 3:
Kenley Jansen walks someone
The impossible happened. Jansen -- who walked only seven batters during the regular season -- walked Daniel Descalso in the ninth inning of Game 1.
Awesome fan catch
This Astros fan made a great barehanded snag on George Springer's opposite-field home run in Game 2.
Bat flip + Bryce Harper hair flip
This was a 2-for-1, as Harper's epic bat flip following his game-tying moonshot in Game 2 was punctuated by a trademark hair flip.
Bryce forever.
Andrew Miller pitches before the seventh inning
He came into Game 3 for Carlos Carrasco with the bases loaded in the 6th and got Starlin Castro to pop out.
David Ortiz sighting
Big Papi and his infectious smile have been all over our television sets, and we love it.
Non-postseason MLBer in stands
Not just any players -- we've already seen three Hall of Famers cheering their teams on: Jeff Bagwell, Craig Biggio and Randy Johnson
Ace pitches in relief
Many people have mentioned David Price as qualifying for this category, but we aren't counting him because we already knew he would pitch in relief going into the postseason. But Chris Sale and Justin Verlander coming out of the pen in Game 4 against the Stros definitely counts. Bingo, y'all.
Now that we've gotten five in a row, the next challenge is filling out the entire board. Seems unlikely, but this is October... anything could happen.