Max Scherzer vs. Clayton Kershaw: The Tale of the Tape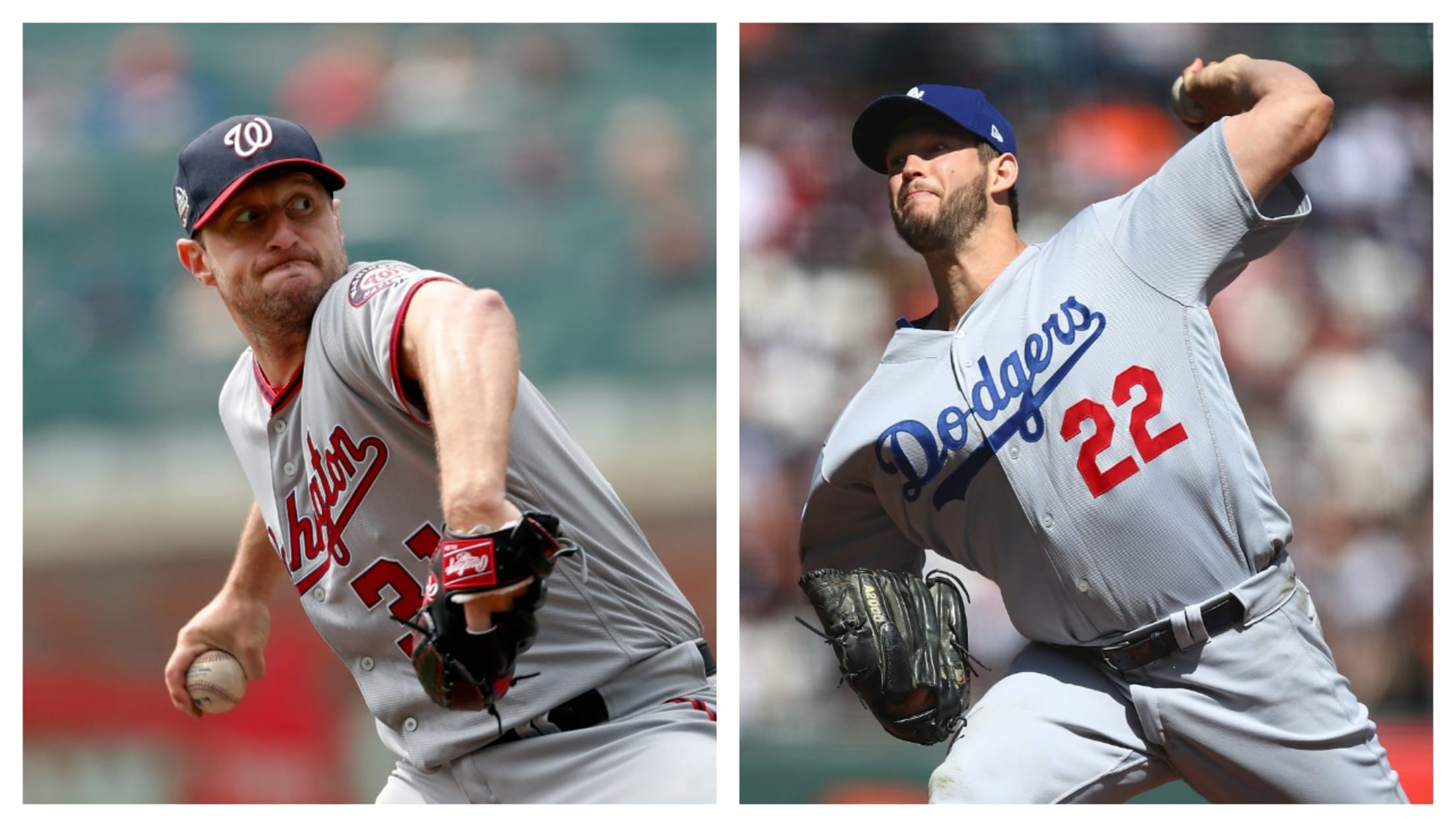 No one has defined pitching in the 2010s more than Max Scherzer and Clayton Kershaw. Over the last five years, the two have appeared in every All-Star Game; they rank in the top four in ERA, strikeouts and wins; and they've combined for one MVP, two championship belts and five Cy Young Awards, while never finishing outside the top five in Cy Young voting. They are, put simply, the two best pitchers on the planet -- and on Friday night, they'll start opposite each other for just the third time in their careers.
If it seems like a historically rare matchup, well, that's because it is. This is just the 10th time in Major League history that two pitchers with at least three Cy Young Awards to their names will start against each other. The full list:
Before we get to the actual game, though, we need to take stock of just how great Kershaw and Scherzer have been -- and try to figure out who has the edge. They're both on a path to Cooperstown, but which one has had the best career? Check out the tale of the tape below (click on the image below for a larger version):


Pedigree
The two have been connected from the very beginning: They were both first-round picks in the 2006 Draft, Kershaw seventh overall to the Dodgers and Scherzer 11th overall to the D-backs. And, as you might imagine, it didn't take either of them very long to make it to the Show.
Kershaw was so impressive that he reached Double-A in less than a year, establishing himself as one of the best prospects in baseball before he even turned 20. After the lefty put up a 1.91 ERA over 13 appearances at the same level in 2008, L.A. decided to bring him straight to Chavez Ravine -- he made his debut on May 25 against the Cardinals, giving up two runs while striking out seven over six strong innings:
Scherzer, meanwhile, was slightly less heralded but no less dominant. Having spent four years at the University of Missouri, the 22-year-old moved quickly: In his first pro season, he posted a 3.28 ERA and struck out 106 batters in 90 2/3 innings across two levels of the Minors. By April 2008, he too was ready for his callup -- and while he wasn't a top-10 prospect like Kershaw, he put everybody on notice in his MLB debut:
Stats and awards
These two have been so dominant for so long that it's almost become rote. It's easier to remember the starts in which they don't utterly dominate: Scherzer had three times as many games with double-digit strikeouts last year (15) as he did games with more than three earned runs allowed (5), while Kershaw's so consistently awesome that we might have to name a stat after him.
Still, while you might know this already, it bears repeating: Kershaw and Scherzer have been astonishingly good for a long time, as this handy Cespedes Family BBQ infographic from earlier this year demonstrates.
At this point, it's sort of like choosing between your two favorite flavors of ice cream -- there are pros and cons, but you can't go wrong with either. Scherzer gobbles up strikeouts better than anyone in the big leagues, and he's been more of a workhorse over the last couple of years as Kershaw has dealt with injuries. But Kershaw's combination of stuff and command is historically rare, which is why he's been a bit more efficient when he's able to take the mound.
Postseason
For all that success, though, how you perform in October looms just a little bit larger. Both Kershaw and Scherzer have taken some well-publicized lumps in the postseason, but it's worth noting that for every rough seventh inning there's also been a masterpiece.
Take Game 4 of the 2015 NLDS, for example, when Kershaw took the mound at Citi Field facing elimination against the white-hot Mets ... and proceeded to dominate: seven innings, three hits, one run, eight K's and a silenced crowd.
Or Game 2 of the 2016 NLCS, when Kershaw outdueledKyle Hendricks in a 1-0 win at Wrigley. Or Game 1 of the 2017 World Series, when the lefty celebrated his Fall Classic debut by striking out 11 over seven innings.
Scherzer's no different. He began his postseason career by firing six shutout innings at Yankee Stadium, then came on in relief in the win-or-go-home Game 5 a few days later. And if David Ortiz doesn't hit that iconic grand slam in Game 2 of the 2013 ALCS, everyone remembers Scherzer striking out 13 over seven one-run innings:
Overall, neither's postseason numbers are quite as sparkling, though Scherzer does have the advantage: His ERA sits at 3.73, while Kershaw's is 4.35. But they've both shined brightly on the biggest stage, and the peripheral numbers -- 100 K's in 82 innings with a 1.120 WHIP for Scherzer, 139 K's in 122 innings with a 1.098 WHIP for Kershaw -- suggest they've both gotten a bit unlucky in October.
Head-to-head performances
Somewhat surprisingly, Kershaw and Scherzer have started opposite each other only twice -- and just once in the regular season. That was all the way back in Sept. 2008, when both rookies struggled in a 5-3 Dodgers win. (If you'd like to feel old today: L.A. got some great bullpen work from Scott Proctor and Chan Ho Park, while Manny Ramirez -- in full-on Mannywood mode -- went 2-for-3 with a walk.)
We'd have to wait a while for their next meeting, but it came on a much bigger stage: Game 1 of the 2016 NLDS, with both pitchers trying to help their teams exorcise some postseason demons. Neither one of them had their A+ stuff, but they battled all day -- even against each other:
Kershaw gave up eight hits and three runs in his five innings of work, but it was good enough, as the Dodgers got to Scherzer and held on for a 4-3 win.
That was the second and final time the two started against each other ... but it's not the final time they both pitched in the same game. Just a few days later, Scherzer took the hill for the deciding Game 5, striking out seven in six solid innings. But L.A. rallied against the Nationals bullpen, and again went to the ninth clinging to a 4-3 lead. And even though Kershaw had just pitched the day before, even though the Dodgers already had the lights-out Kenley Jansen on the mound, Dave Roberts made a very special call to the bullpen:
In all, Scherzer has been the better pitcher when the two face off head-to-head, posting a 4.24 ERA to Kershaw's 5.59 and striking out 23 batters to Kershaw's 12. The lefty has had the last laugh, though: The Dodgers have won all three games in which the two have appeared.
Hitting
Of course, it's impossible to determine who is the best pitcher without first determining who is the best #PitcherWhoRakes. Even here, it's pretty close: Both Kershaw and Scherzer have hit exactly one dinger in their careers. The former came on Opening Day 2013 (in the midst of a shutout, because of course):
And Scherzer went yard just last year:
On the whole, though, a slight edge must be given to Mad Max. Because he spent five years in the American League with the Tigers, the righty has less than half as many plate appearances as Kershaw has, but he's still put up slightly better numbers: Scherzer's career slash line sits at .186/.219/.210, while Kershaw has put up a line of .158/.198/.180.
We've touched on just about every facet of their games, from dingers allowed to dingers hit and everything in between. The only thing left to do now is make your voice heard: Kershaw or Scherzer, who ya got? (Oh, and watching the game tonight at 10:10 p.m. ET. Definitely make sure you do that.)
Teams in this article:
Players in this article: