A wild treat named after A's president Dave Kaval is here, and celebrity chef Graham Elliot approves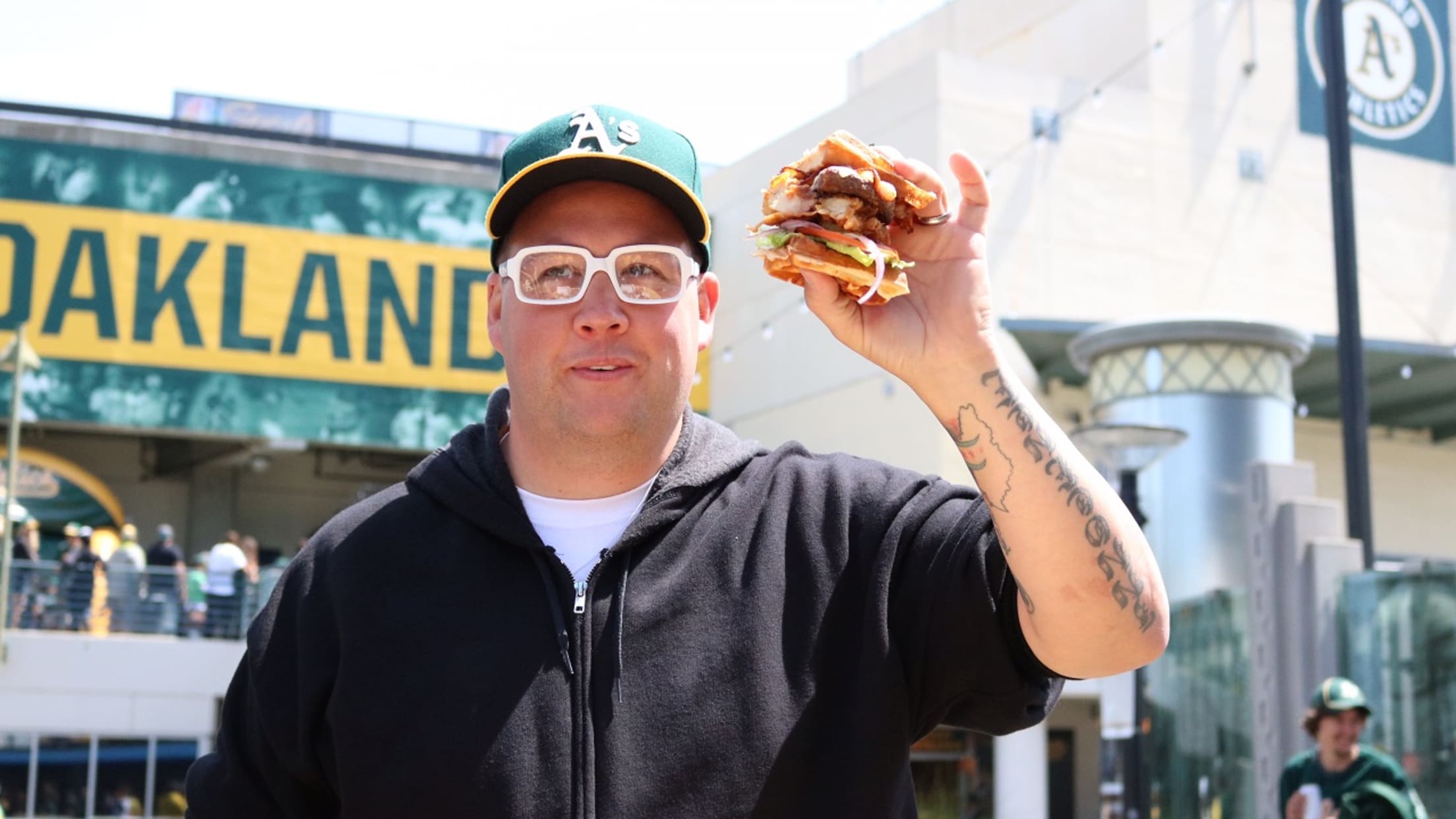 You can eat a variety of tasty things at a baseball game. Hot dogs, popcorn, cotton candy, nachos, ice cream served in plastic helmets, and so on. Some ballpark experiences bring with them opportunities for something really "out there," either in terms of its ability to shock (hello, Mariners' crunchy grasshopper treats) or in sheer caloric weight.
This weekend, a new delicacy made an appearance at the Oakland Coliseum called the "Kaval Sandwich." Named after new team president Dave Kaval, it was offered up by a food truck stationed in Oakland's new Championship Plaza area adjacent to the Coliseum and features all of the following nestled between two waffles: fried chicken breast, burger patty, bacon, lettuce, tomato, onions, pickles, cheese, mayonnaise and mustard. Just look at it:
Kaval visited the A's TV booth on Friday night for a conversation about a few topics, among them this behemoth of a culinary delight:
And during Sunday's 11-1 loss to the Mariners, celebrity chef and "MLB Grub Tour" host Graham Elliot showed up at the Coliseum to recreate his Little League days and toss out a first pitch:
Chef @grahamelliot serving up the first pitch. #RootedInOakland pic.twitter.com/XF3rDhOUiI

— Oakland A's (@Athletics) April 23, 2017
He also tried out the Kaval Sandwich, and gave it his illustrious thumbs-up of approval:
.@grahamelliot approves. 👍 pic.twitter.com/vc2Clc0iTp

— Oakland A's (@Athletics) April 23, 2017
Hungry? Yes, you are. We all are. Too bad we can't all have one of these whenever we want.