The Cubs and superfan Bill Murray appeared on SNL to sing 'Go Cubs Go'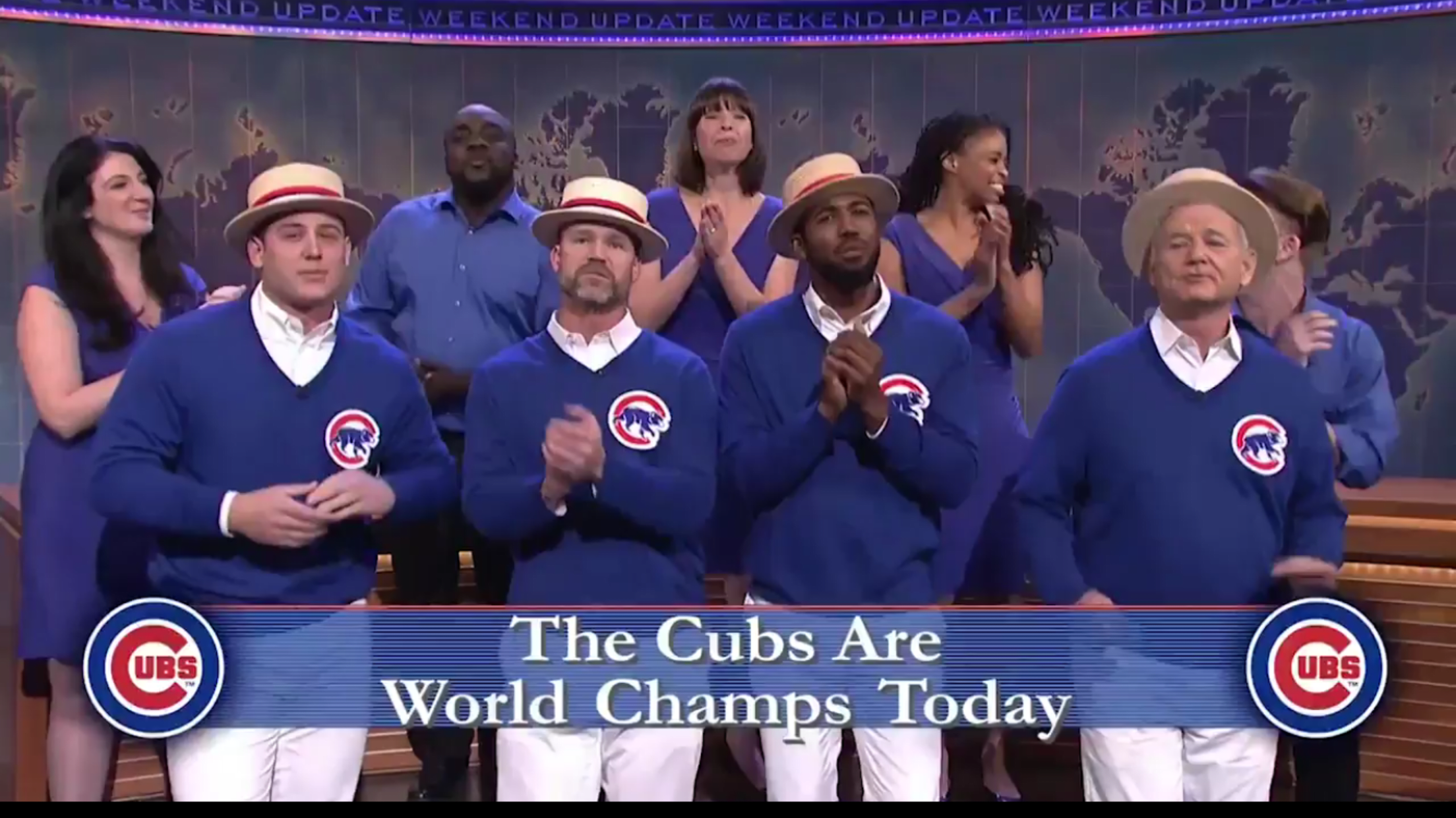 Winning the World Series brings a lot of positives: Being a part of baseball history; Getting to party with your teammates; and, really, the whole city; Meeting the President.
After breaking their 108-year World Series drought, the Cubs got at least one more perk: Going on "Saturday Night Live."
Anthony Rizzo put together an entire entourage to head out:
Rizzo, David Ross and Dexter Fowler appeared at the end of Weekend Update and, after introducing themselves with broad smiles, the crowd met a special guest ... Bill Murray. Dressed as a Cubs-themed barbershop quartet, the group discussed winning the singing competition show, "The Voice," with Fowler deadpanning that it was the "best thing" they had ever done.
This was clearly the highlight of their week. #SNL pic.twitter.com/AELyOHk1qL

— Saturday Night Live - SNL (@nbcsnl) November 6, 2016
Hey, Chicago, what do you say? #SNL pic.twitter.com/zBxeLT71Wm

— Saturday Night Live - SNL (@nbcsnl) November 6, 2016
With a full group of background singers emerging, the group sang -- what else? -- "Go Cubs Go." They even adjusted the lyrics slightly to reflect current events. The white win flag then filled the screen before cutting to commercial at the end of the song.
Will this represent the start of a Cubs touring band? While fans would most definitely buy tickets, and Ross definitely gave it his all in the performance, they are a little better at playing baseball than they are at singing.
The trio also appeared earlier in the episode as Cubs vest-wearing dancers at an elderly woman's surprise bachelorette party.
Go Cubs Go! #SNL pic.twitter.com/HUuOXfyKzD

— Saturday Night Live - SNL (@nbcsnl) November 6, 2016
As for the the critical reception of the episode, Kris Bryant gave his approval:
@ARizzo44 @D_Ross3 @DexterFowler have me dying on SNL!!😂😂😂

— Kris Bryant (@KrisBryant_23) November 6, 2016