The Cut4 Road Trip, Day 16: Four Futures Game players face off against a bunch of children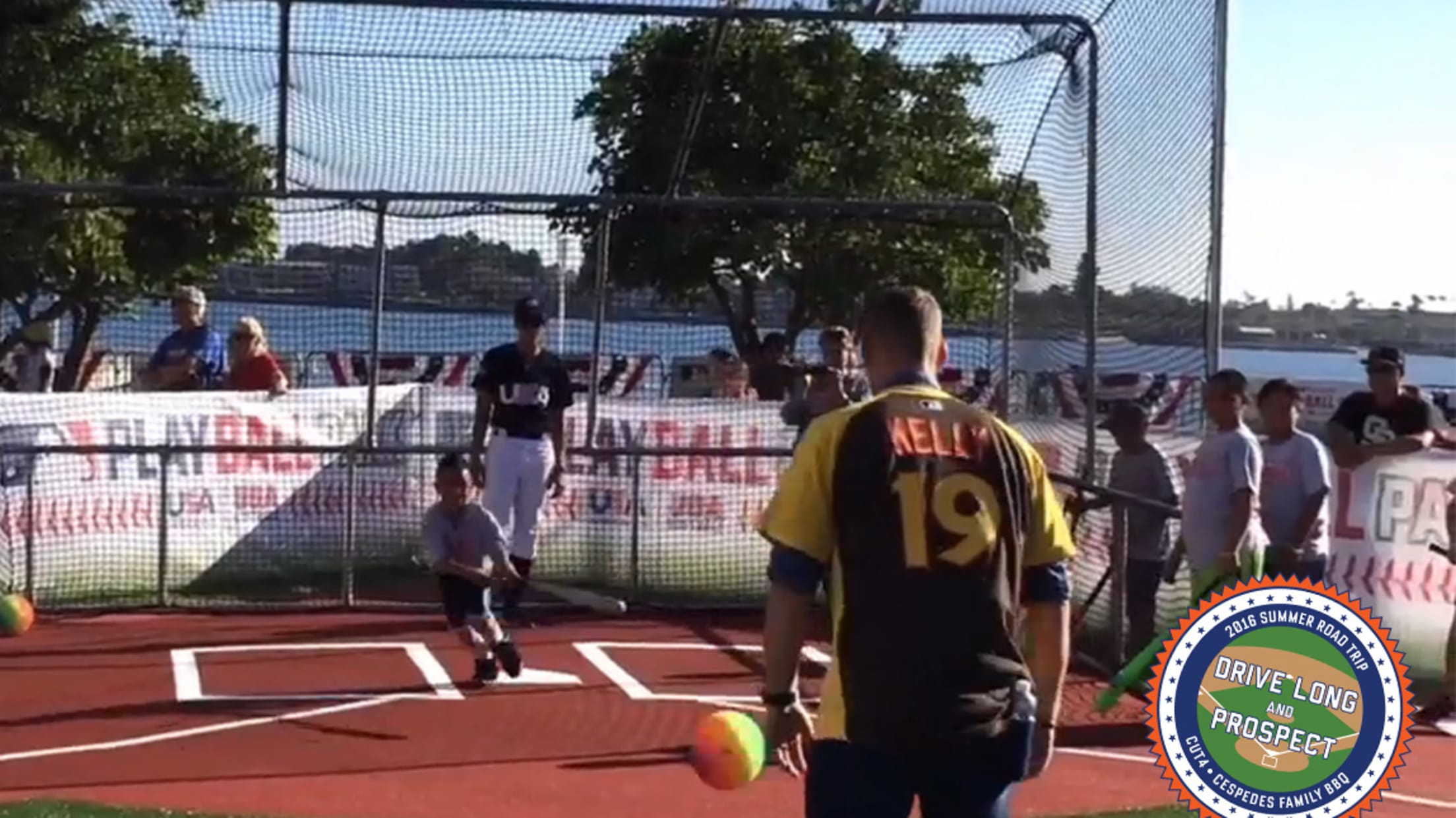 The guys behind Cespedes Family BBQ have embarked on a cross-country road trip to see as many Top-100 MLB prospects as possible.You can find an introduction to the trip and their full schedule by clicking here.
Sixteen days ago we embarked on a journey. 12 days ago, Jake jumped into the Atlantic Ocean. Yesterday, after 90+ hours in the car, and over 5,000 miles driven, Jake hopped into the Pacific Ocean:
We made it to San Diego for All-Star Week. Follow us on Snapchat for extra nonsense all week: cespedesbbq pic.twitter.com/tq34qpC1RR

— Cespedes Family BBQ (@CespedesBBQ) July 9, 2016
It's been a heck of an adventure. We could try and wrap it all together in a clean, eloquent closing post in which we shed light on the wonder of the open road or some other grandiose rubbish, but instead we'll just list some of the cool things that happened:
- We found Nick Swisher
- We saw Aaron Judge get robbed
- We checked out Cy Young's razor
- We saw Rowdy Tellez kill a fly
- We threw 86 MPH
- We witnessed the wonder of the human cannonball
- We flipped some bats with Rafael Devers and Nick Longhi
- We bothered Lucas Giolito
- We performed an inaugural bat flip at the new Braves stadium
- We got hustled by Carson Fulmer in fungo golf
- We hung out with Dansby Swanson's dog
- We proved the haters wrong
- We flipped in Flippin
- We scarfed down some apple pie and named some states
- We were featured in a northwest Arkansas newspaper
- We caught some #views
- We interviewed Homer Simpson
- We bat flipped at the grand canyon
A Baseball Game Appeared: Four Futures Gamers vs. Gaggle of Children
Our first stop of All-Star Week was at Play Ball Park across from Petco Park, a makeshift mini ballfield open all week long for the baseballing youths of America to enjoy. After a clinic with some USA Baseball and Softball coaches, the kids were surprised by four special guests: Futures Game participants Alex Reyes, Carson Kelly, Alex Bregman and Dominic Smith. While all four guys have enjoyed success this year in the upper levels of the minors, they seemed to struggle against younger competition. Amidst the chaos, we asked a few of the guys how they've handled the Play Ball Park spotlight:
We also caught up with Smith about his last few weeks of utter dominance with the Binghamton Mets. We spent some time with Smith way back on Day 2 of the trip, and he's been on fire ever since. He was hitting .259/.318/.367 with 4 HR in 67 games before our visit, then .357/.438/.750 with 6 HR in 16 games since we talked. We asked him about benefitting from the #BBQBump, the last game he played in California, and more:
Where We Woke Up: Barstow, CA
Where We Slept: Encinitas, CA
Miles Driven: 244
Miles Driven To-Date: 5,385
Time in Car: 4:01
Time in Car To-Date: 90:20
Tomorrow's Plan: Just because we've arrived in San Diego, that doesn't mean we're going away. This will be the last daily road trip post, but the Cespedes Family Barbecue does not trot off quietly into the sunset. You should expect a bunch more videos from us this upcoming week during the All-Star festivities. Not to mention the fact we still have to drive home.
Regardless, this has been the excursion of a lifetime. Thanks to our parents for letting us drive across the country. Thanks to the folks at MLB for supporting us throughout. Most importantly thanks to you, the reader, for reading... duh. Without you all, we'd just be two college kids making each other laugh in a basement somewhere. Well, I guess that's kinda what we are anyway.
People tell us all the time that they're jealous of our set-up. That's somewhat fair -- we think what we've done/doing is pretty awesome. But organizing and carrying out a baseball roadtrip is not that hard to do. You have to be willing to drive outrageous distances and you have to be willing to either pay for hotels or sleep in your car. But at the end of the day, the country, and all its wonderful baseball, is out there waiting for you. Go see it, make it yours. The journey itself is the centerpiece, baseball is simply the vehicle to experience it. In conclusion, we drove long and we prospected, and you can too.
Stay adventurous, friends. This is Jake and Jordan, signing off.