Which MLB players deserve their own promotional nights?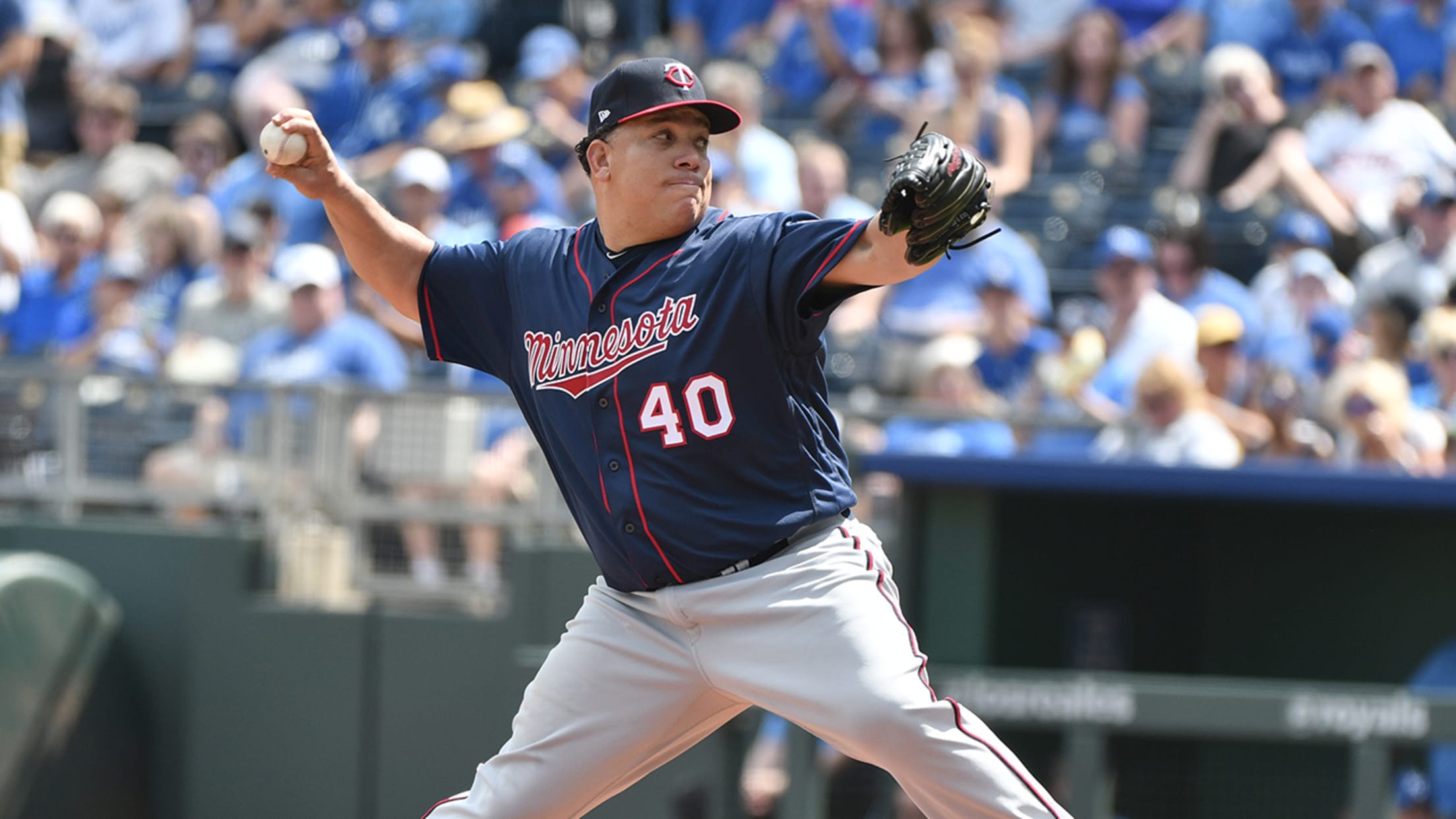 KANSAS CITY, MO - SEPTEMBER 10: Bartolo Colon #40 of the Minnesota Twins throws in the first inning against the Kansas City Royals at Kauffman Stadium on September 10, 2017 in Kansas City, Missouri. (Photo by Ed Zurga/Getty Images) (Ed Zurga/Getty Images)
The following is a transcript of a segment from this week's episode of the Cut4Cast podcast. To hear more of the Cut4 staff's weekly banterings about which position player is the best at pitching or how baseball would work in outer space, subscribe to the Cut4Cast by clicking here.
Tomorrow, the Twins will host the first ever "Big Sexy Night" in honor of the one and only Bartolo Colon. It is, of course, an honor entirely deserved. But which other players deserve their own promotional night? On this week's Cut4Cast, Dakota Gardner, Gemma Kaneko and Ian Kay make their picks:
Dakota: My question to the two of you, though, is who else deserves a special night? Maybe themed around their nickname, maybe not. What is another sort of veteran player that you would like to see have this same appreciation? Maybe not even a veteran. I don't know. Gemma, what do you think?
Gemma: Well the Rangers did something like this for Beltre's 3,000th hit. They gave out special caps, which I thought was cool. But again, it could've gone a little bit further than that.
Dakota: Yes, and when some teams do like bobblehead night. But I want like big picture.
Gemma: Yeah, well OK. So do you remember last year - I don't remember who tweeted this, but they tweeted a picture of the Marlins' elevator and it just has Ichiro's face on it? Like his giant head on the elevator doors and it's everywhere. Obviously, I was going to say Ichiro deserves his own night.
Dakota: I saw that photo. I thought it was your apartment.
Gemma: I mean, reasonable, because they look exactly the same. But yeah, I think he should have a night. I think that would be great. There could be like a pregame stretching where everyone could just learn his little routine that he does. That would be fun. Yep, yep, yep, yep that's my answer.
Dakota: That's good. I like that. Ian, what do you think? Who deserves a special night of appreciation?
Ian: Well, I think that now that we have all of these players on record with their cool nicknames, that that is something we should take more advantage of, and also teams should plan more nights around players that are things beyond just a bobblehead. So, I think like combining those two and also like the Minor League gimmick where if you fit some consideration and attend a game, then you get something.
I think that the Astros should host 100-miles Giles Night. Any fan who can prove that they drove at least 100 miles to attend a game gets tickets to another game or something, or gets free gas to drive back 100 miles. Just like a can of gas. What could go wrong? It's oil country.
I think the Mariners should hold Kyle Seager Night. If you can prove that you have a brother named Corey, he gets a free t-shirt or you get a free t-shirt, either way. I also think that [in] Toronto, there's a potential for a Bringer of Rain promotion, especially because they play in a dome, and if it starts raining and Donaldson homers, then everybody does a rain dance. I don't know. You get something. You have the Bringer of Rain delay. Everyone gets a t-shirt.
Gemma: There's crafts. Remember in crafts at summer camp, when you would make the little rain cups and it made the rain sound? Everyone can just do that.
Dakota: I always remember like a big stick.
Gemma: Yeah, yes, the rain sticks. I don't know why Toronto fans don't have those. They should have those, and whenever Donaldson homers, you should just turn your rain stick.
Dakota: Or yeah, you know how the Rays fans, they do the cowbells. They should just do that during all the Donaldson at-bats.
Gemma: Yeah, that would be really cool. Get it together, Jays fans.
Ian: I've never been to Rogers Centre. Can you hear it if it rains? Like, if it's pouring?
Dakota: Probably. You can hear it at the Trop.
Gemma: Hey, Blue Jays fans, let us know.
Dakota: Yeah, tweet us @Cut4, #Cut4Cast. Tell us if you can hear if it's raining in Rogers Centre. We want to know.
Gemma: Do you have one, Dakota?
Dakota: I do have one. One of the things that I like about Bartolo Night is that it honors a player who really hasn't had like a 'Let's honor this guy night.' And he's been around for a while. He's played for a few teams. He's had a lot of appreciation. And so I thought -- maybe he's played for fewer teams, maybe he doesn't have as long of a career, but somebody who really deserves the same love is Robinson Canó
So I thought you could do a 'Don't You Know? Night.' You know how a lot of teams do this, where they'll have the players ask a trivia question on the videoboard. You could just have him host a gameshow. It could be about him, for sure. Like at the start of every question, it could be like 'Don't you know who was the 13th President of the United States?' I thought that would be a really fun, really fun thing.