Before Seattle retires Edgar Martinez's number, let's look at his transformation into a DH legend
By now, the name Edgar Martinez likely inspires visions of greatness. He's credited with the hit that saved baseball in Seattle by manager Lou Piniella, the award for DHs is named after him and he's one of only 21 players with at least 2,000 plate appearances to hold up that perfect ratio of a .300/.400/.500 batting line. So, yes, when you picture Edgar, you likely think of a mixture of Thor, Hercules and Beowulf. Basically, this:
Happy '80s Birthday to #Mariners Edgar Martinez, who made his debut in 1987 and did nothing but rake for the next 18 years. pic.twitter.com/CkmgljWoZi

— ⚾ J. Daniel ⚾ (@JDaniel2033) January 2, 2017
The Mariners will now honor that legacy, as they announced that they will be retiring Martinez's No. 11 in August.
Congratulations, @11EdgarMartinez. pic.twitter.com/VLH9Xt9aFN

— Seattle Mariners (@Mariners) January 24, 2017
Before he was a DH that inspired fear every time he walked to the plate, he was a defensively-challenged third baseman just trying to break into the Mariners lineup.
Oh yeah, he also looked like your Dad. Just check out the ill-fitting cap and mustache. Looks more like he was set to bring the oranges to his son's Little League games than to lace another double to the gap: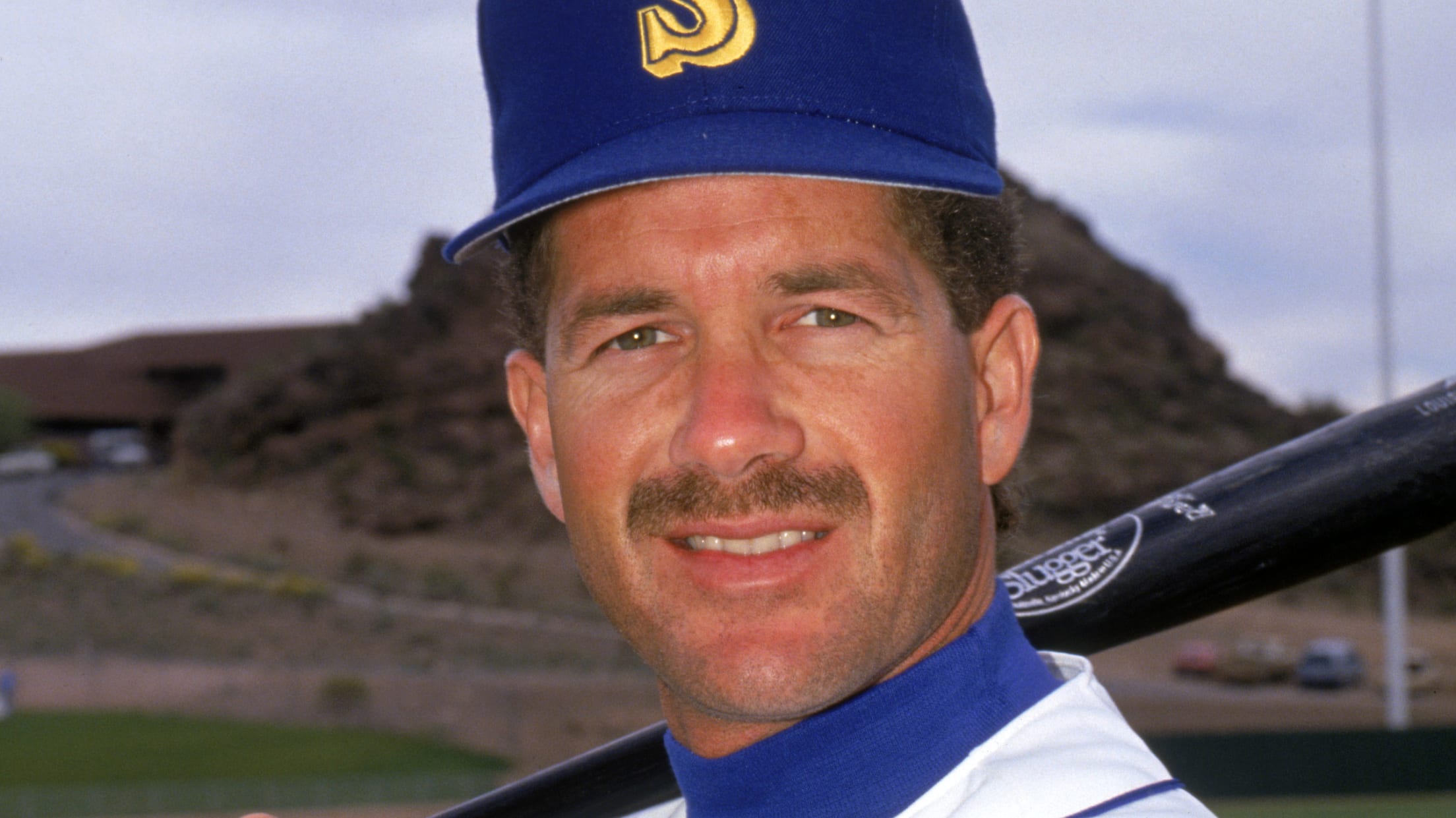 Regardless of his peak Dad status, he hit in the Minors just as he would in the Majors. At the age of 24 in 1987, he posted a .907 OPS at Triple-A, which earned him a 13-game stint in the Majors. The next year, a .983 mark that earned him 14 games. The year after, .979, which finally got him up for good.
With a shaky glove (Martinez once committed four errors in a single game) and a number of players ahead of him on the depth chart, Martinez didn't receive a full season of at-bats until he was 27 years old. Even if he wasn't known for the glove, he could still pick it:
Just imagine what his career home run (309) or hits (2,247) totals would have been if he got to show off the sweet swing just a few years earlier.
His career took a fateful turn when he suffered a knee injury in 1994. Still a third baseman at that point, Martinez had one batting title to his name, but was not yet the fearsome slugger we would come to know.
When he returned in 1995 and took on full-time DH duties, all that changed. The professional hitter was born. With Ken Griffey Jr. out for much of the '95 season due to a wrist injury, Martinez's league-leading average (.356), on-base percentage (.479), runs (121) and doubles (52) were vital as the Mariners stormed back from a 13-game deficit in the AL West to force a one-game playoff for the division. Naturally, in that must-win play-in, 'Gar went 2-for-3 with a run scored.
Of course, we all know what happened next: In the ALDS against the Yankees, Martinez continued his hot hitting with a scorching 12 hits in just five games. That included this Game 4 shot which gave Dave Niehaus reason to erupt with "Get out the rye bread and the mustard this time, Grandma, it is a grand salami:"
Martinez then finished off the comeback and the series when he smashed this double to drive in Griffey that give the Mariners their iconic moment:
From 1995-2000, Martinez never hit below .324 or knocked out fewer than 24 home runs. As the other stars on that team left -- Griffey to Cincinnati, Alex Rodriguez to Texas and Randy Johnson to Houston -- Martinez was the rock at the center of the lineup.
He was there in 2001 when, thanks to one of the greatest infield defenses in memory, the Mariners won an MLB-record 116 games. But that never would have happened without another stellar year from the 38-year-old slugger, who hit .306/.423/.543 for the team.
Naturally, he kept hitting in the playoffs that year, too. He delivered two more home runs in the Mariners' victory over the Indians in the ALDS:
Baseball offered up the very best pitchers to Martinez and he battered their offerings all over the park. He hit five home runs against Mike Mussina; hit .370 against Andy Pettitte and had a .937 OPS against David Cone.
Somehow, in 23 plate appearances against Mariano Rivera -- the closer seemingly no batter had an answer for -- Edgar Martinez did. With his coiled bat perched high above his head, the DH hit .579/.652/1.053. Those numbers aren't misprints, so it's no surprise why Rivera called him the toughest hitter he ever had to face.
You can't tell the story of the Seattle Mariners without Edgar Martinez and now, the two will never be separated. When Martinez eventually leaves his role as the hitting coach, no Mariner will ever wear the No. 11 again. Given how many Mariners team records Martinez holds (three single-season, two single-game, five all-time), that's only fitting.